Disclosure: I was sent a free copy of the book in order to participate in this blog book study, but all my opinions are my own.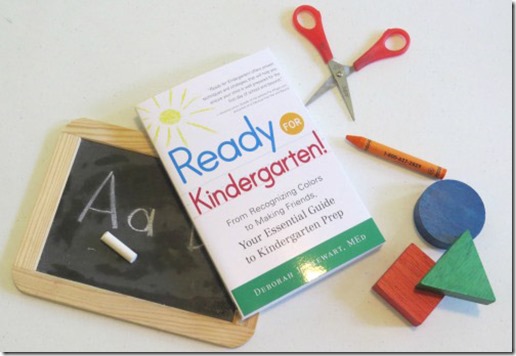 (image courtesy of Deborah Stewart from Teach Preschool )
When Deborah, from Teach Preschool offered several kid bloggers the opportunity to review her book – I literally jumped at the chance!  I always tell Hubs what an extraordinary teacher she is, and that if she lived near us I would wait in line for days to be able to have her as a teacher for V&T.  I would – she is incredible, thoughtful, and a wealth of information when comes to teaching preschool and preparing for kindergarten.  Now she has all that amazing-ness in this lovely book, Ready for Kindergarten
.  Her book offers proven techniques and strategies that will help and encourage parents to ensure your child is well prepared for the first day of kindergarten, and further.
I have already tabbed & sticky noted the entire book!  This book is such an amazing resource – my brain was on complete overload when I got my hands on it – it was tough to decide which activity to do with V.   The book is spectacular and broken down in easy-to-read terms.  I highly recommend to any parent it if you have a little one at this developmental level.
As part of the blog book study, several other kid bloggers and I are breaking down the chapters in the book with corresponding activities to relate to each section.  I chose Color Recognition, part of the Core Concepts, which is covered in Chapter 10 of the book.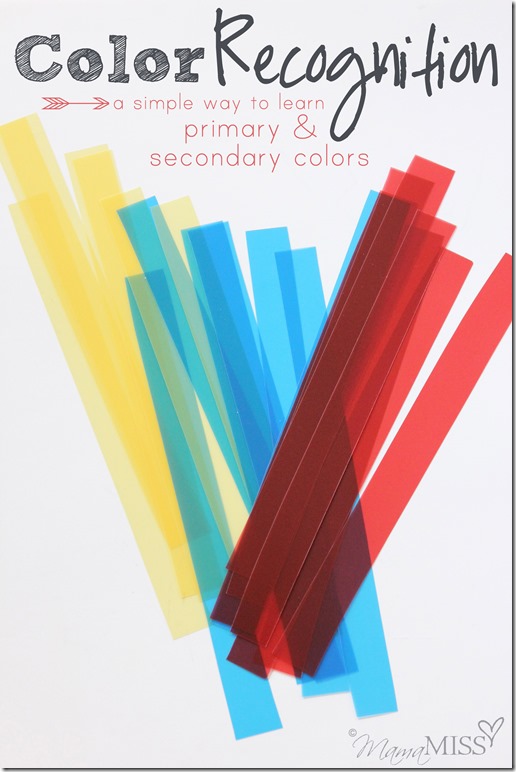 scissors
3 translucent plastic file folders in the primary colors; red, yellow, blue
white poster board (or any white surface)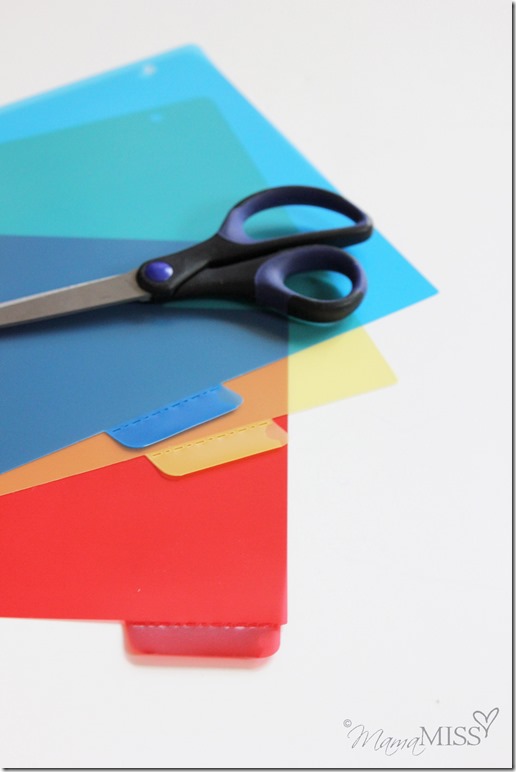 Cut the plastic file folders into even strips, approximately one inch in width (I got 7 strips out of each one)
Using your white surface, lay a red strip over a blue strip.  It makes purple, a secondary color.
Next lay a yellow strip over a blue strip – you will see it makes green, another secondary color.
Lastly, lay a yellow strip over a red strip – what color does it make?  Orange – the last of the secondary colors.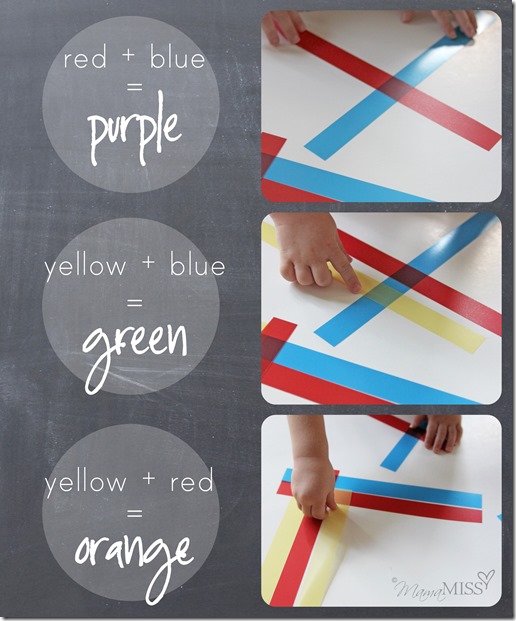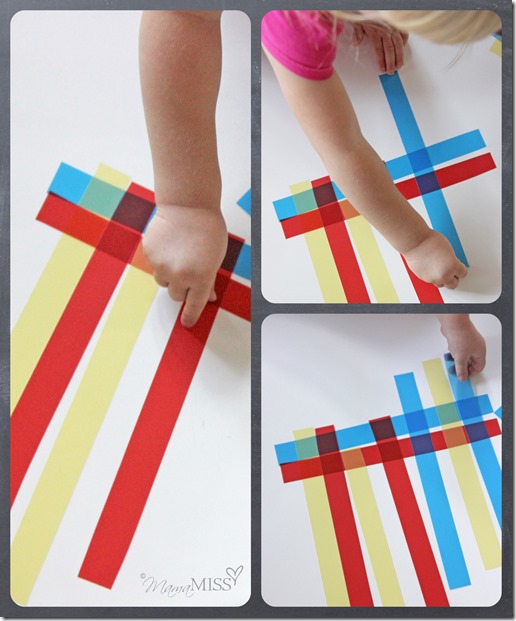 Have fun and make a pattern – look at all the color combinations it produces.
Notice, too, how if the same colors overlap, a stronger and brighter color appears.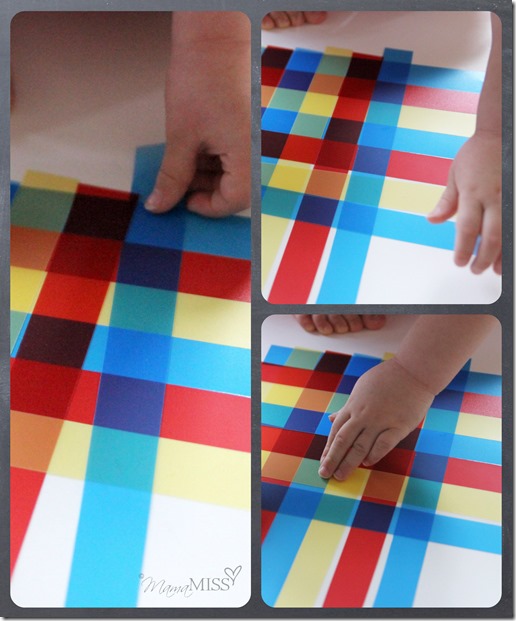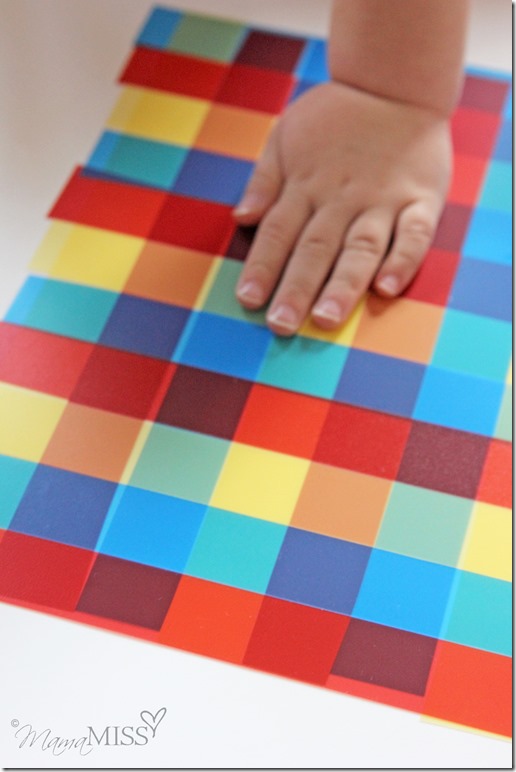 This simple activity really allows room for open-ended play as well.  After creating our magnificent color "quilt" – V went on to build a house with the color strips.  It was a very colorful house indeed!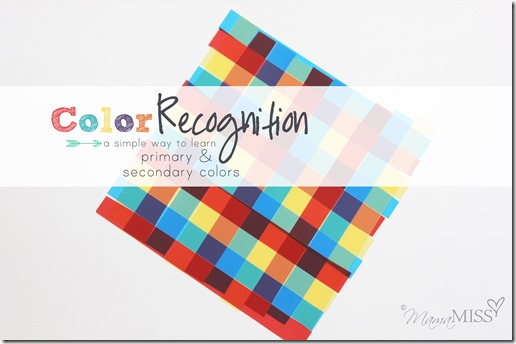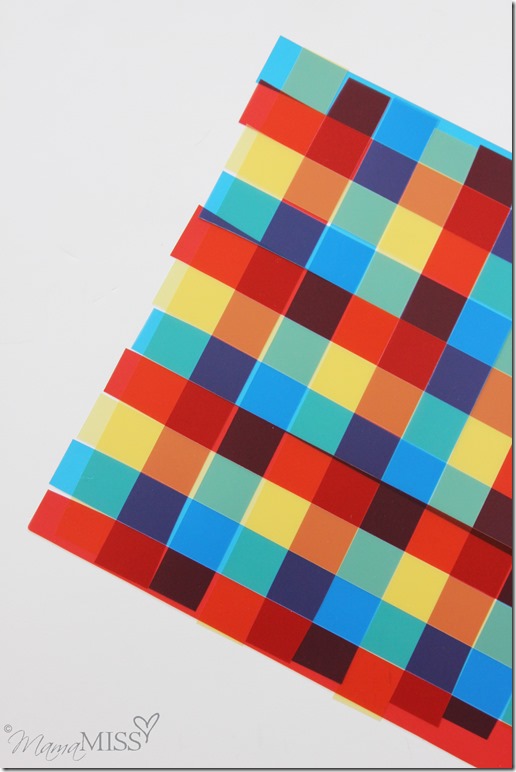 Plastic file folders are such a unique & unorthodox material to craft with, that when you see another activity/craft out there using them you HAVE to link to them too!!  Stephanie at Twodaloo used plastic file folders to make these beautiful suncatchers.  So fun!!  I wonder what else you could make with them?!  The wheels are-a-turning!

♥
Like what you see?!
You can connect with me on Pinterest|Facebook|Twitter|Google + too!
♥
© Mama Miss. All images & content are copyright protected.
Feel free to share one picture and linking directly to this post for download.
Please do not copy directions, ingredients, or pdf files for your own website.
Copying my post partially, or fully, is strictly prohibited.
All work by Mama Miss is licensed under Creative Commons Attribution-NonCommercial-NoDerivs 3.0 Unported License.
♥♥♥
Please note that affiliate links are also provided throughout the post for your convenience – to allow direct access to the products suggested.
(Visited 4,127 times, 1 visits today)