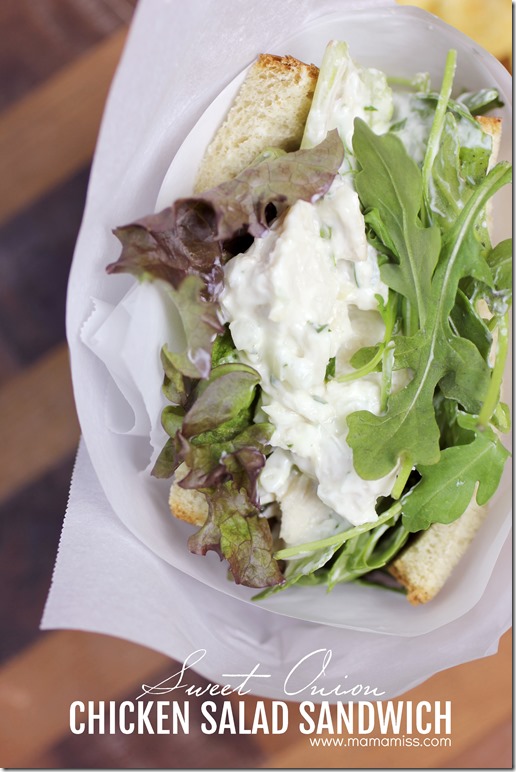 My new favorite sandwich, I do declare.
This Sweet Onion Chicken Salad Sandwich is soooooo incredibly yummy that I had to make it again & again just to take pictures – the first time we ate it all up before I could snap any pics whatsoever!  Hubs loved it, I loved it, & the kiddos couldn't get enough of it!  Everyone approves – that's a small victory in my book :)
It's a basic chicken salad sandwich all fancied up for ya.  The flavor marriage of rye bread, tarragon, lemon, and arugula perfectly meshed with the mayo and Greek yogurt dressing, oh its glorious harmony.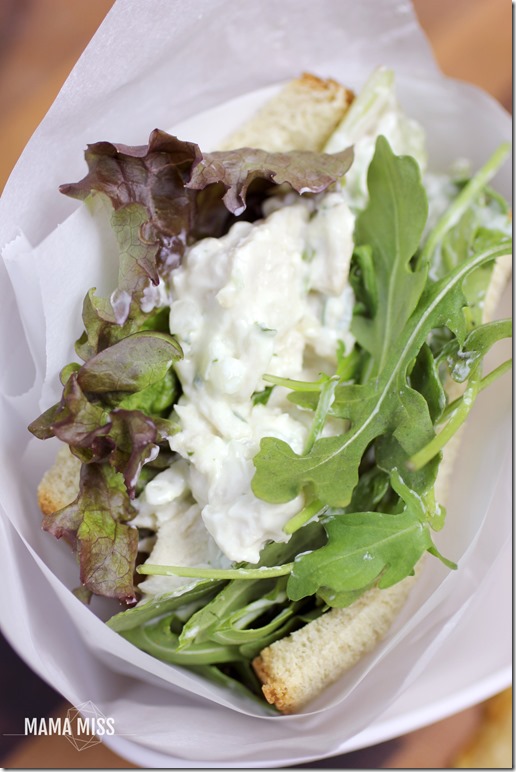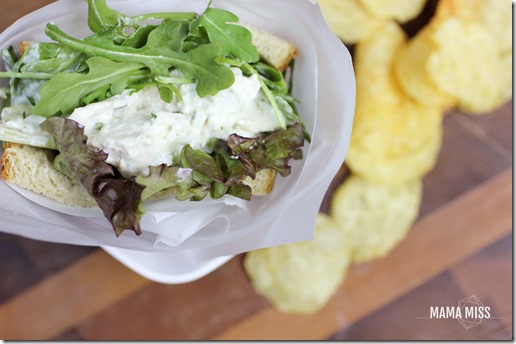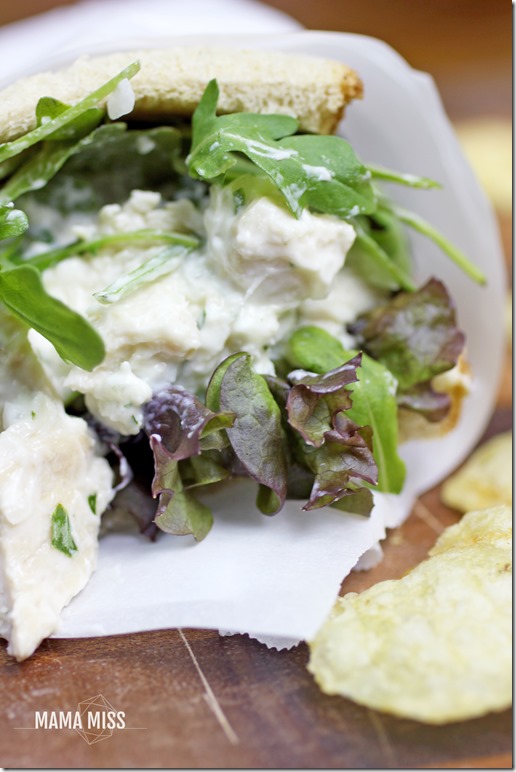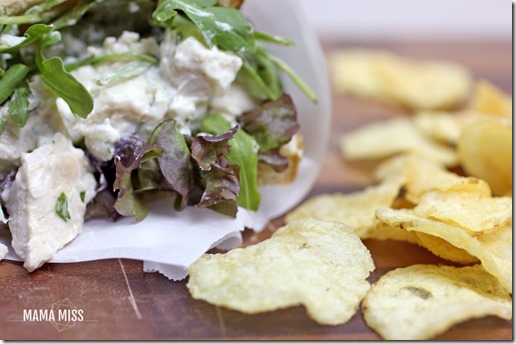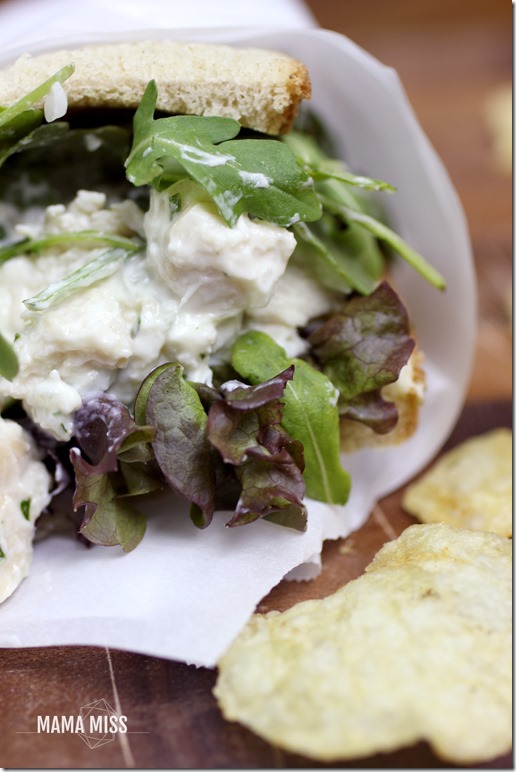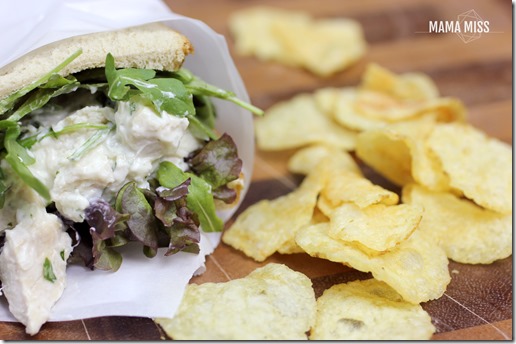 Sweet Onion Chicken Salad Sandwich
The flavor marriage of tarragon, lemon, and arugula meshed with the mayo yogurt dressing, is glorious harmony in this Sweet Onion Chicken Salad Sandwich.
Ingredients
2 chicken breasts
1 teaspoon olive oil
sea salt & freshly ground pepper to taste
2 tablespoons (1/4 oz package) fresh tarragon, finely chopped
6 tablespoons olive oil mayonnaise
6 tablespoons plain 2% Greek Yogurt (I prefer Fage)
2 tablespoons lemon juice, freshly squeezed
¼ teaspoon kosher salt
¼ cup sweet onion, minced
8 slices of rye bread
4 red leaf lettuce leaves
2 cups baby arugula
Instructions
Season chicken with salt and pepper. In a large skillet over medium-high, heat 1 teaspoon of the olive oil. Add chicken to the heated skillet and lower temperature to medium, cover pan and grill chicken until the internal temperature reaches 165° F. Cube chicken then set aside.
While chicken is cooking, combine the tarragon, mayo, yogurt, lemon juice, and salt in a large bowl; Stir with a whisk to thoroughly combine.
Stir in cubed grilled chicken & minced sweet onion, combine well.
Broil or toast the rye bread.
Spread out 4 slices of bread and top each with one lettuce leaf, about ½ cup chicken salad, ½ cup baby arugula, and one bread slice.
Notes
https://www.mamamiss.com/blog/2014/02/19/sweet-onion-chicken-salad-sandwich/
All rights reserved Copyright 2012-2019 Mama Miss Blog and Designs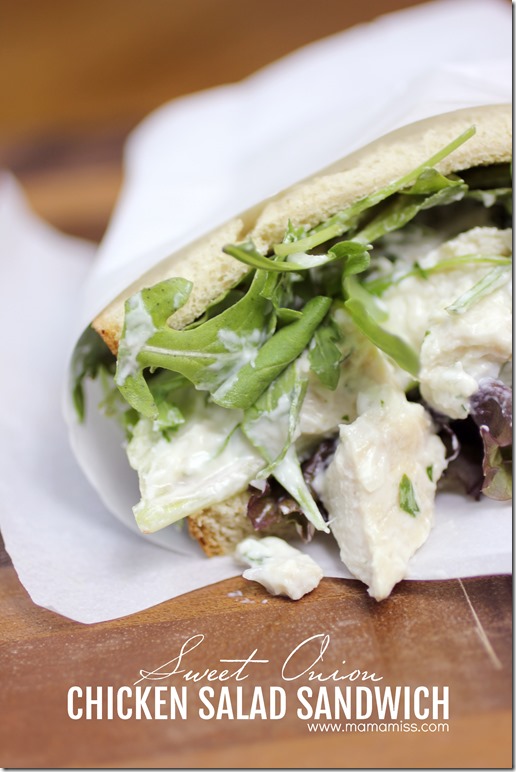 ♥
Like what you see?!
You can connect with me on:
Pinterest || Facebook || Twitter || Google +
♥
© Mama Miss. All images & content are copyright protected.
Feel free to share one picture and linking directly to this post for download.
Please do not copy directions, ingredients, or pdf files for your own website or Facebook page.
Copying my post partially, or fully, is strictly prohibited.
All work by Mama Miss is licensed under Creative Commons Attribution-NonCommercial-NoDerivs 3.0 Unported License.
♥♥♥
(Visited 1,423 times, 1 visits today)