So, I have another activity for ya to use with the Kool-Aid pasta, my friends.
You didn't think I'd leave ya hanging?!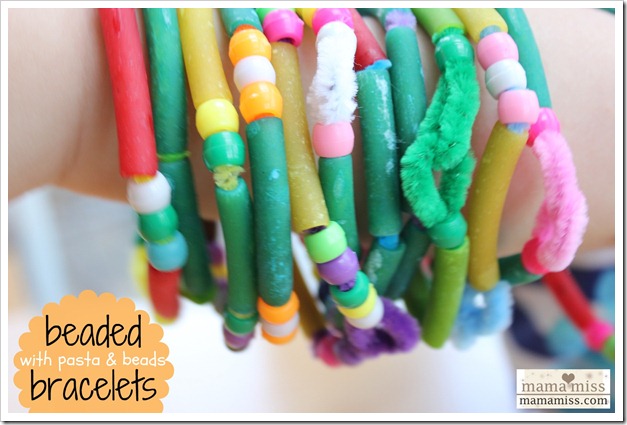 V & I made these (well, she made nine & I made three…she let me in on her fun, too!)…I honestly thought she'd be bored after making one, or maybe two.  Who knew?  I guess when it comes to little misses & their jewelry – don't stand in their way – the more bracelets, the better!  I initially laid out the 12 pipe cleaners, one of each color, so that she would have a colorful pile to choose from.  Well, let's just say little miss V WENT.TO.TOWN.  It was like a beading frenzy…hmmmm…I see…I see…more jewelry making in my future ;)
(on a side note…this is also the perfect activity for sorting & talking about colors, V loves to do this – just pour all the beads in a bowl and have the kiddos sort the colors & shapes prior to making the bracelets – seeeee double duty, my friends – those are the kind of projects I like – fun & learning!!!!! ) (side note #2 – this helps with their motor skills too – fitting the beads on the pipe cleaners!!!)

So, guys & gals…this is sooooo super duper easy peasy!
And here's whatcha need to make it happen:
One to (however many your little jeweler decides) pipe cleaners in various colors (for this activity the brighter colors, the better – THINK NEON!)
Kool-Aid dyed ziti pasta (tutorial here) – multiple colors – the more colors, the better – REMEMBER – variety IS the spice of life…hehehe!
Pony beads (the little plastic beads you see in my pictures) in various colors (they are easy to find in multiple color variety bags)…I got mine at Jo-Ann Fabric.
A container to sort the pasta beads & pony beads (the AWESOME one seen here I just got in the dollar section at Target – RUN!…but in the past, before I had such cool container, I just reused a Styrofoam egg carton – PERFECT for sorting beads!)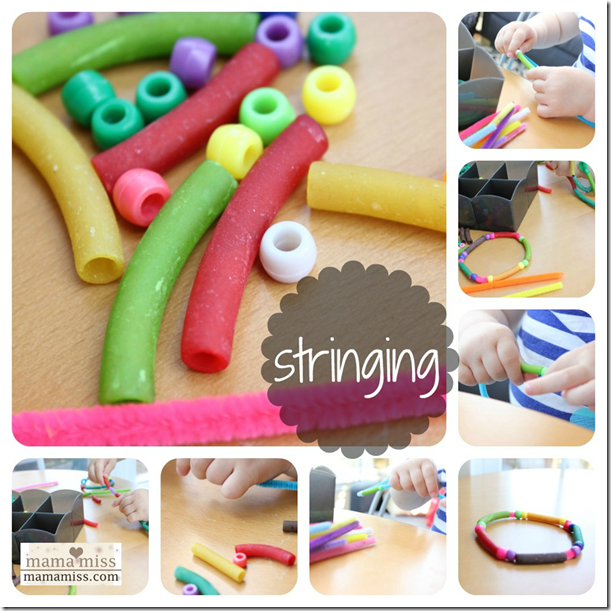 I started V off with a loop fastened at the bottom so she had an end to catch the beads as she beaded & when she got about 3/4 of the way up, I took the end of the pipe cleaner through the hole to latch them together and wove the excess through a bead.

I ♥ these bracelets….they look like something you'd see at Anthropologie…no?
Well, maybe not – HA!
But they are gorgeous nonetheless because little miss V made them ♥.

(Visited 3,360 times, 1 visits today)