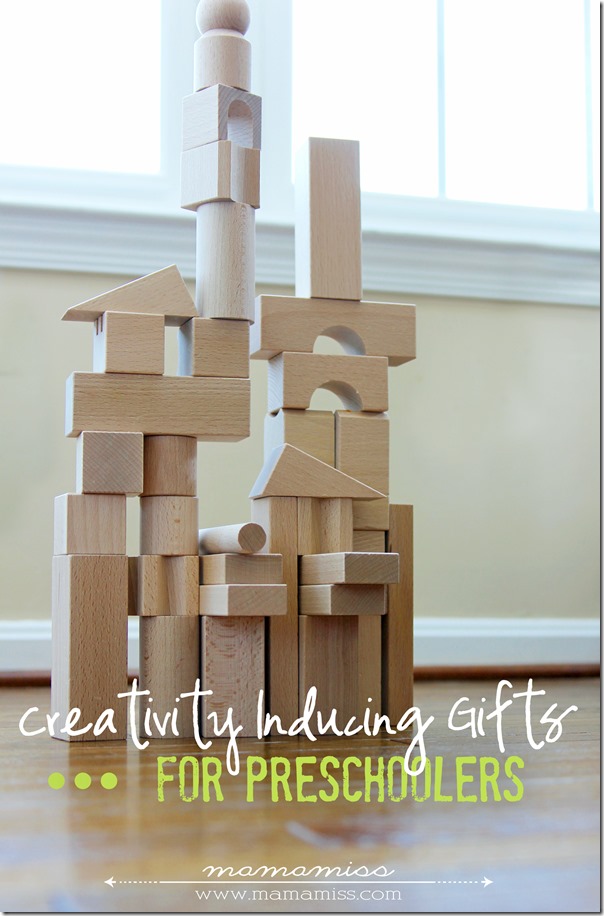 I'm a huge fan of open-ended, creative play. I feel when V&T are just given basic materials without much instruction, that their imaginations go wild with creativity. In my eyes – simple is always better. This list is my comprehensive gift guide for creative play. Enjoy… & have fun creating with these Creativity Inducing Gifts!
Building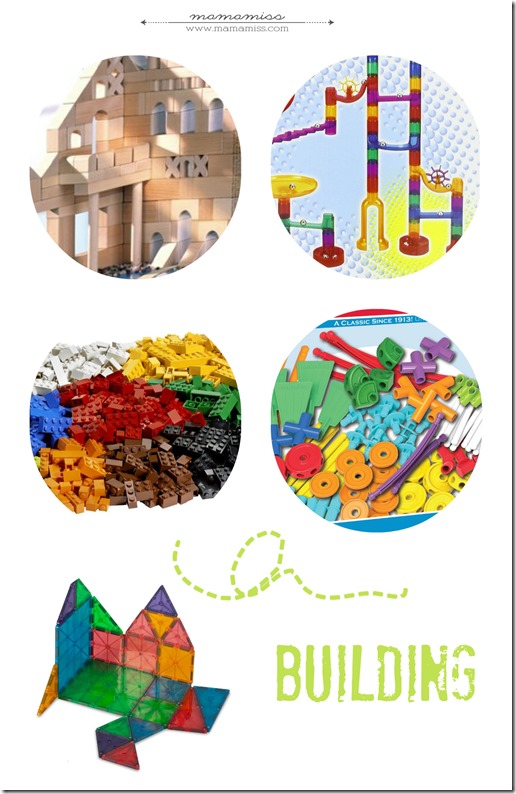 Although you might not think kids building stuff is all that remarkable for creative play – it really is. Constructing their ideas with blocks, of all shapes and sizes, help them engage and generate new ideas and how they might use them to create a solid structure. For example – what blocks are stackable, how high it can go without falling, and placing different shapes together – all of these problem solving skills are the backbone of creativity. They are conceptualizing the process, imagining the possibilities, and then finally creating their structure. Furthermore, these are my favorite building sets:
We have these & I love them for the simple fact that they are colorless. There is something about the naturalness and simplicity, and the simple power of creativity that these evoke in the kiddos. The colorlessness seems to power to building process. They are like a blank canvas ready for creation.
Well, what can I say about Magna-Tiles except that what you may have heard, is true – they are fabulous and elicit open-ended, unlimited play. The plastic tiles attract on all sides and combinations, and bring your little ones building from two-dimensional to three-dimensional. The see-through plastic tiles are also fantastic to sit by the window & build :)
Love this! It's a fantastic building toy – V& T love ours. We don't have this translucent one – just a solid color set. But how cool would it be, to up the "cool factor" with being able to see the marbles as it fly through your contraption.
So much fun & so much open-ended play!
Seriously TINKER-TOY – need I say more?! They are a fantastic building, creativity inducing toy from my childhood. Although the original, vintage, wooden set I had rocked the eighties house – this cool plastic one has some fun new parts to add to the building fun. PLUS – the rods are bendable which increase the opportunities to create even more.
You can't go wrong with Lego's! What's SO COOL about this set is – it's a blank canvas, ready for creating. With all the basic colors, which is all you really need – the creating possibilities are endless.
Bath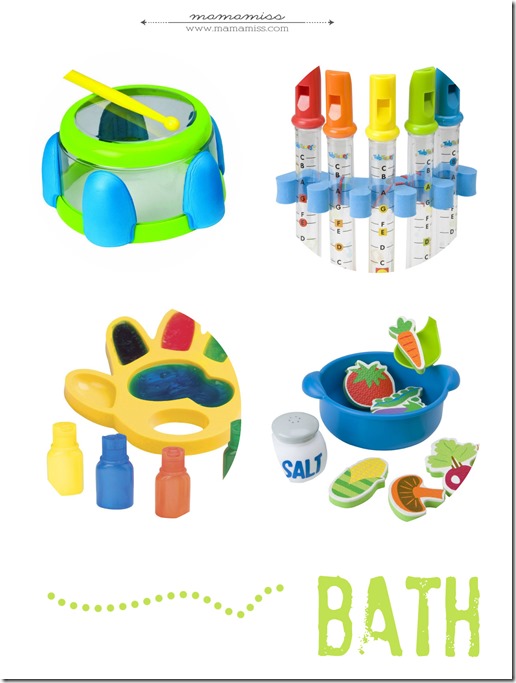 Now, I bet the bathtub was not a place you thought you'd see a focus in creativity from – huh?! Well, bath-time – think about it – it's really a win-win. They like to be in it – and we want them to be in it! I can never get MY water babies out of the bath without a fight – the water will be ice cold & they are still content playing. And, well, we love them clean. See – everybody's happy! Something about playing, with water involved, seems to make things that much happier! I witness much of V & T's creative play in the bath, as odd as it is. My kiddos love their bath toys especially their musical, art, and pretend play ones. These listed below are my favorite for bath-time creative fun:
Drums. In the bathtub. I'll leave it at that! Let that fun sink in :)
We have these. I recommended them last year. I am recommending them AGAIN. My kids love them! Playing on the old water glass for different notes to make music – this kiddo-fies the process even further in a fun colorful flute. Even the notecards are fun. Each flute is detailed with different water levels corresponding to a certain note & the note cards stick right to the bathtub wall and are so simple to read
.
Yum! That's right – yum! Soup in the tub! Add some bubbles, some fresh foam veggies (he-he – I bet you never heard the phrase "fresh foam veggies", now have you?!), some salt (water) – and voilà – SOUP – yummy bubble soup ( I mean soap!). Forget about creating in the kitchen – have them create their next culinary masterpiece in the bathtub.
It's as simple as painting, just painting in the tub. Mix paint, create color palettes. Just CREATE.
Art + Writing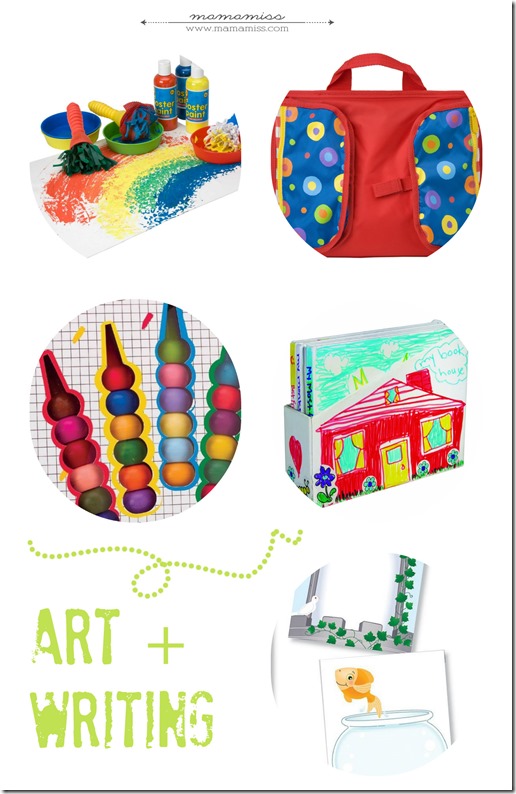 Well, you can't explore creativity any more fruitfully than you can with art and/or writing. The basis of all creativity is with a pencil (or some crayons, markers, colored pencils) – it's where the magic happens! Drawing, painting, storytelling – the possibilities are indeed endless. These are my absolute favorite gifts out there in bringing the proverbial pen to paper:
V loves to draw – she draws me a couple A LOT of pictures every. single. day. So, being able to take that drawing ability with us – well, that's a no-brainer. With this lap desk you have a comfortable flat surface to create, pockets on the side to hold materials (such as loads of stickers ;) and the top is fitted to hold in your paper. This is bound to elicit the artist in every little one that uses it. Plus, it folds right up, ready to follow you on your explorations.
The great thing about these books, is that your little one does not need to know how to write to create with them. Creating a story with pictures is even more imaginative than the written word in my opinion (I adore books with "just illustrations" that allow you to adapt your own story – these
were my absolute favorite when V&T were little). Every time you read a story supplied with their illustrations – well – just imagine the possibilities of where their imaginations will take them. A simple drawing of a heart could one day mean that it represents their love for you, and the next day the heart could symbolize their love for grilled cheese. Funny, honest, and creative. Let their minds soar with ideas and bringing those ideas to life on paper.
Set your plain brushes aside for some creative fun! These aptly titled "funky brushes" will have your little one smiling ear to ear because they are so fun to paint with. The beauty of art is exploring it in different mediums & these brushes provide just that – a kiddo-fied exploration in art.
These drawing pads are just plain fun, and a great way to get the creative mind pumping with juice. The pad starts you off with a simple base picture & your child fills the rest of the story in with their illustrations to create their masterpiece. I can only imagine the possibilities!!
Crayons to stack on your fingers – say whaaat?! Oh yeah! Great for motor skills, coordination, counting, stacking, and even coloring – these SUPER FUN crayons are perfect for the budding artist. To quote the box, they are "artistic fun at your fingertips!"
Just Good Ol' Plain Fun!
As the title states – these two choices are just good ol' plain fun – gifts that are sure to get them playing creatively.
LOOOOOVE these – I just added them to V&T's wish-list!!! Do you remember connecting tin cans with string when you were little & playing telephone?! I do (he-he – but I am old)!!! These are the modern day version of that with a real handset too! They have something similar at a playground near us – you go to one part, which is simply an open port attached to the playground structure & talk, while your friend is stationed at the other opening listening on their playground phone. So incredibly fun. THREE yards of flexible tubing – fun!
This is one of those toys – one of those toys that says – "hey why didn't I think of that"! The car rolling fun is UNLIMITED with this tape, printed to look like a road, and accompanied with a car to ride along it's path. Roadways can be created ANYWHERE…the walls, the porch…THE BATHTUB!? Well, maybe not the bathtub, but you get the picture, they can them create anywhere – soooo many open-ended ideas. Have you ever seen a preschooler with a roll of duct tape? Nope?! Well, you have no idea what you are missing!! This is also one of those things you could easily replicate with a plain ol' roll of duct tape & a small car – the fancy-pancy printed road isn't necessary… and their imagination is possibly fueled even more without the printed road.
♥

Well, I hope you like everything I've suggested to induce creativity in your little ones!
This fun gift-giving collection post is part of the 2013 KBN gift giving guide for kids – a collaborative gift-giving collection with over 50 gift guides for, quite possibly, every child centered interest you can imagine! Wowzers!
Some of my favorites, amongst the many fab guides are:
Book and Toy Gift Sets from What Do We Do All Day?
Montessori-Inspired Educational Toys from eLeMeNO-P Kids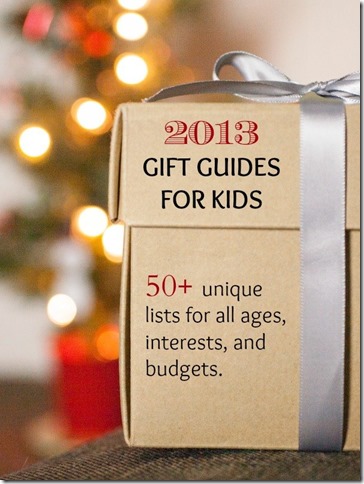 You can also find many gift-giving ideas for kids on our collaborative KBN gift-giving Pinterest board including these guides, plus many more.
♥
Well, now you have several ideas to gift your little ones to enhance their creativity.
What would you add to this list?!

♥
Like what you see?!
You can connect with me on:
Pinterest|Facebook|Twitter|Google + too!
♥
© Mama Miss. All images & content are copyright protected.
Feel free to share one picture and linking directly to this post for download.
Please do not copy directions, ingredients, or pdf files for your own website.
Copying my post partially, or fully, is strictly prohibited.
All work by Mama Miss is licensed under Creative Commons Attribution-NonCommercial-NoDerivs 3.0 Unported License.
♥♥♥
Disclosure of Material Connection: Some of the links in the post above are "affiliate links." This means if you click on the link and purchase the item, I will receive an affiliate commission. Regardless, this blog only recommends products or services I would use personally and believe will add value to my readers. I am disclosing this in accordance with the Federal Trade Commission's 16 CFR, Part 255: "Guides Concerning the Use of Endorsements and Testimonials in Advertising."
(Visited 1,116 times, 1 visits today)