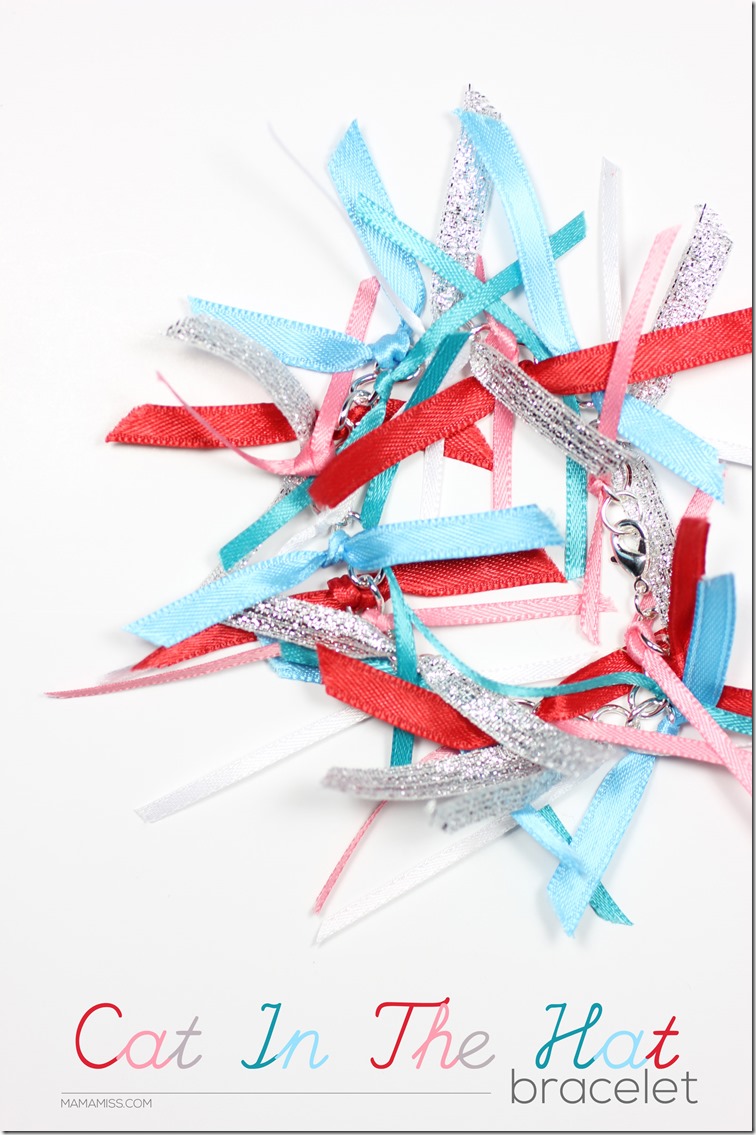 A little poem…
The sun did not shine.
It was too wet to play.
So we sat in the house
All that cold, cold, wet day.
I sat there with V.
We sat there, we two.
And I said "How I wish we had something to do!"
So I searched in my ribbon, and cut a few strands,
and by gosh, by golly I also had a chain in my hand.
So we read Cat In The Hat,
and made this pretty bracelet
while we sat, and sat,
and adorned our wrists without a fret.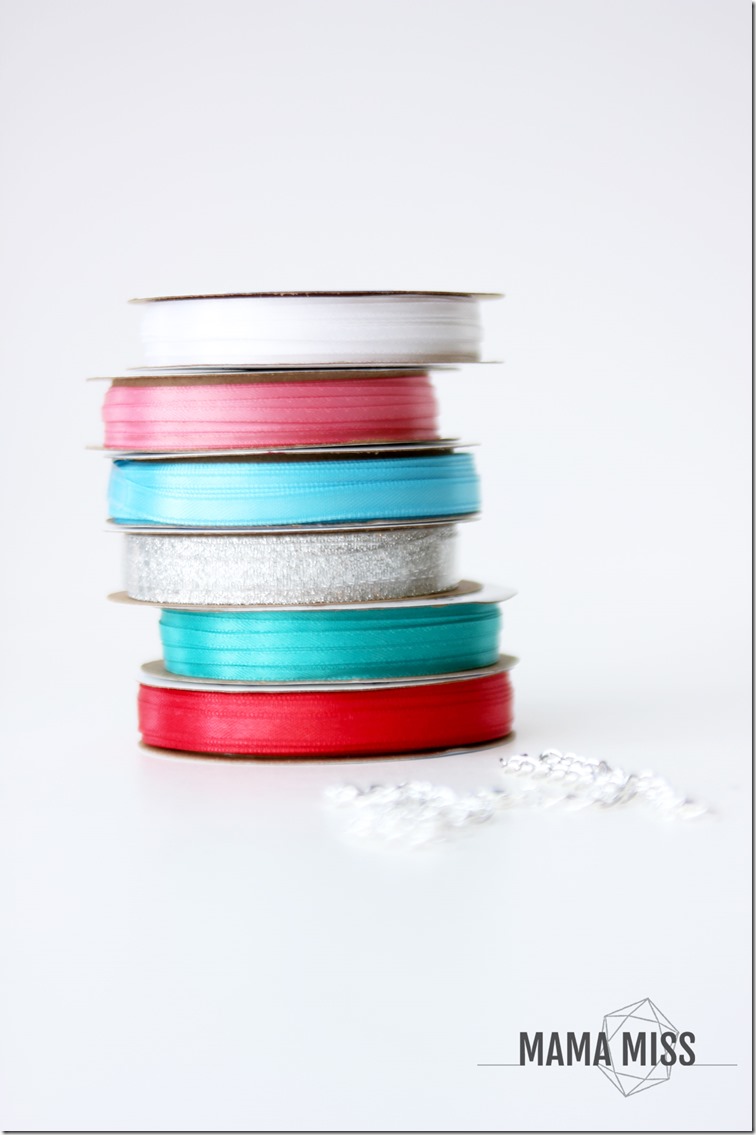 It may be possible I love Dr. Seuss a little too much… perhaps? ;)
This month for Virtual Book Club For Kids we are back with our author for the month of February, Dr. Seuss.
Here are the past month's book selections (from this season) & the crafts/activities to accompany them.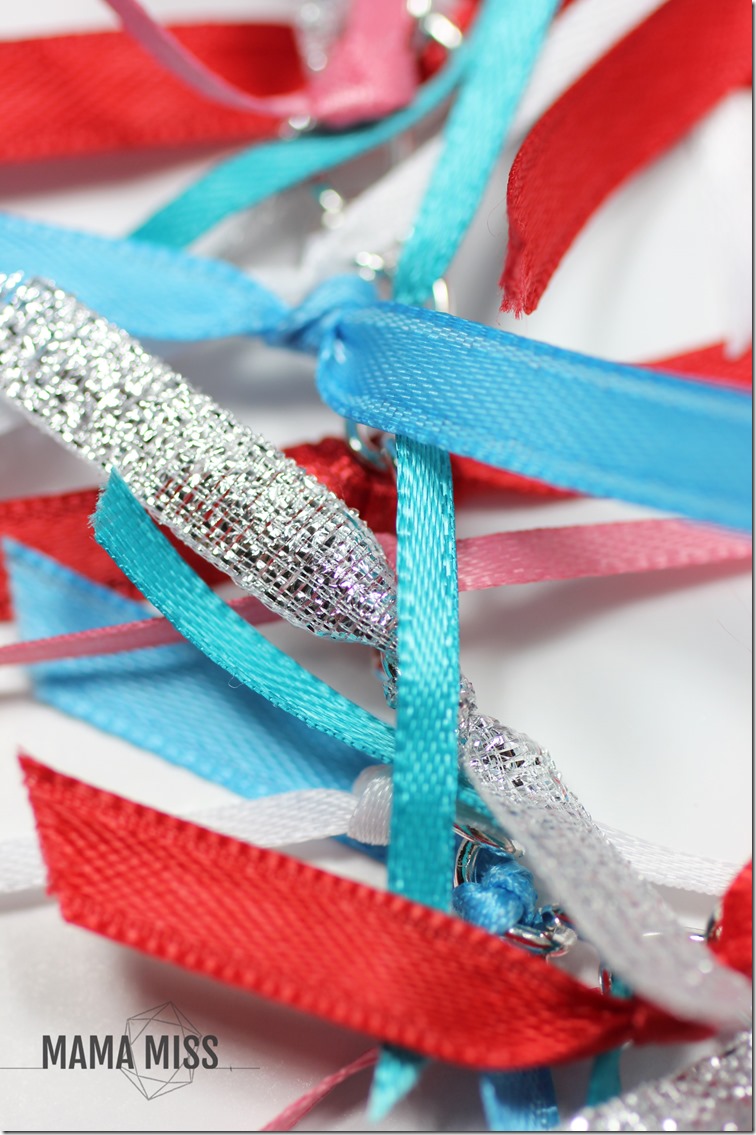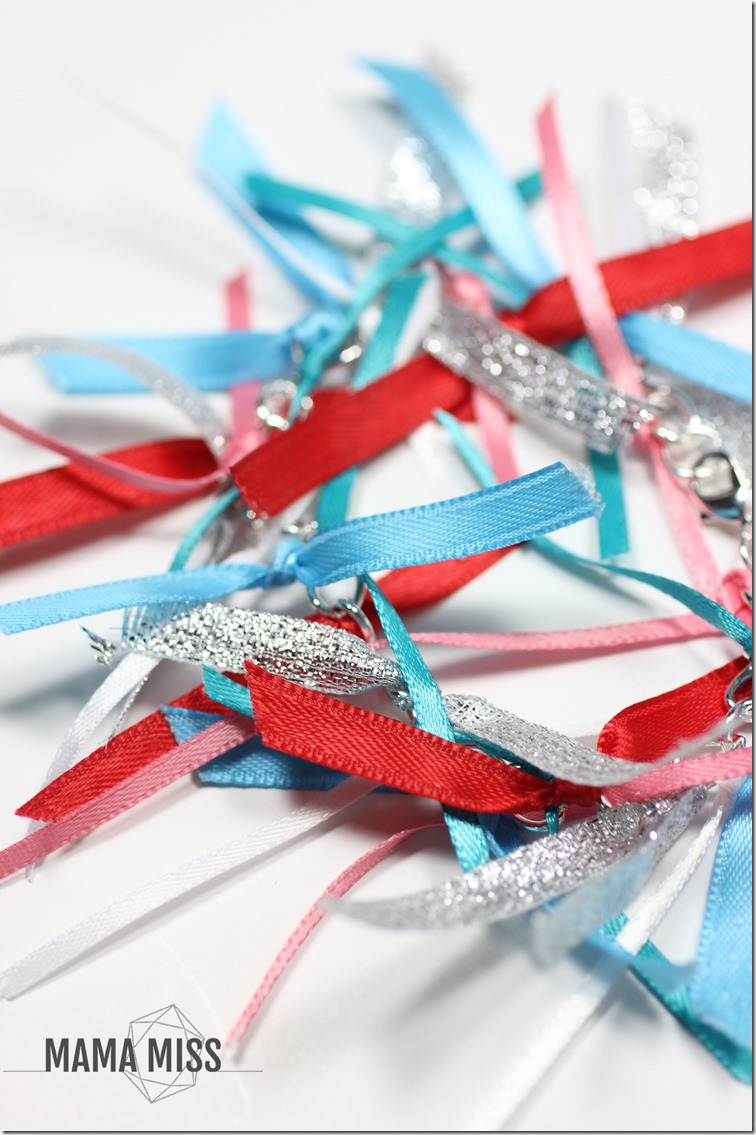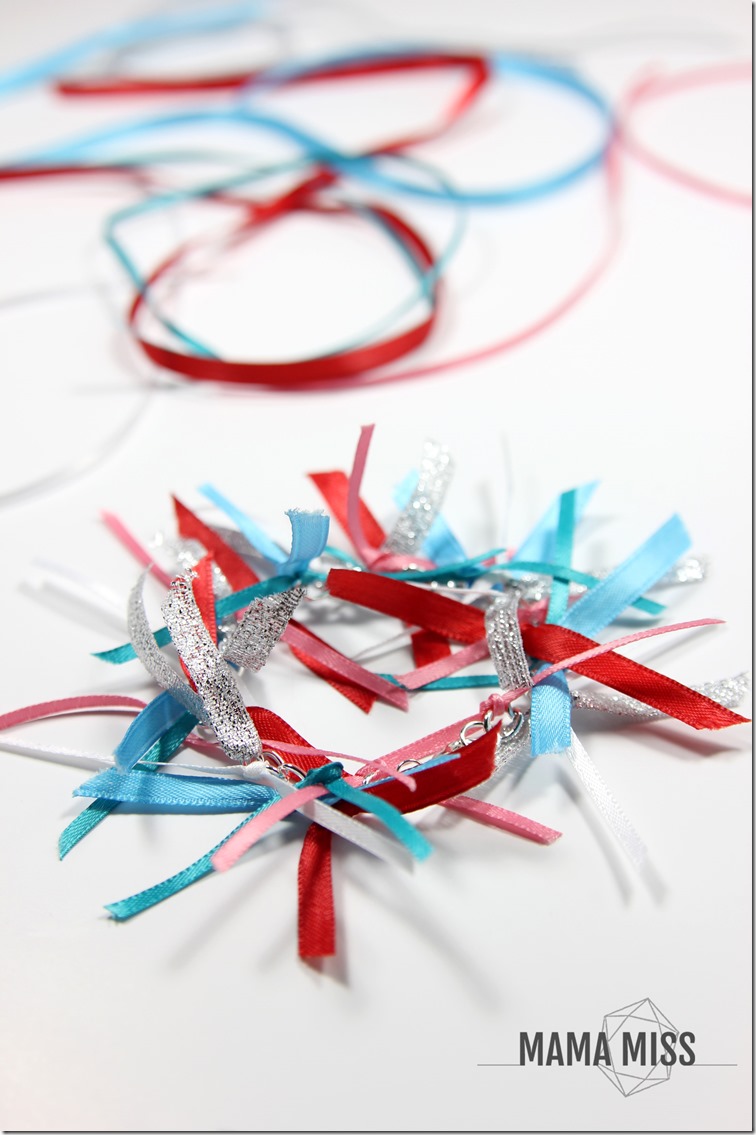 V & I decided that our bracelet idea – SCREAMED Dr. Seuss – and Cat In The Hat!!  With it's unique quirkiness, it is a fun little craft to accompany the book.  We are Seuss-acle to the max now!!
So wanna make one too?!  We'll show you how – and with just a few supplies you'll be Seuss-afied too :)  Plus, Dr. Seuss' birthday is coming up next month, so now you are rolling and representing in style!
What you'll need to make the Cat In The Hat Bracelet:
The Cat in the Hat book (for reading & inspiration!)
a Single Link Child's Chain Bracelet
Coordinating ribbon colors (we used 6 of those 2 for $1 ones from the craft store in varying widths)

teal, light blue, coral, red, silver, & white

scissors
optional: ruler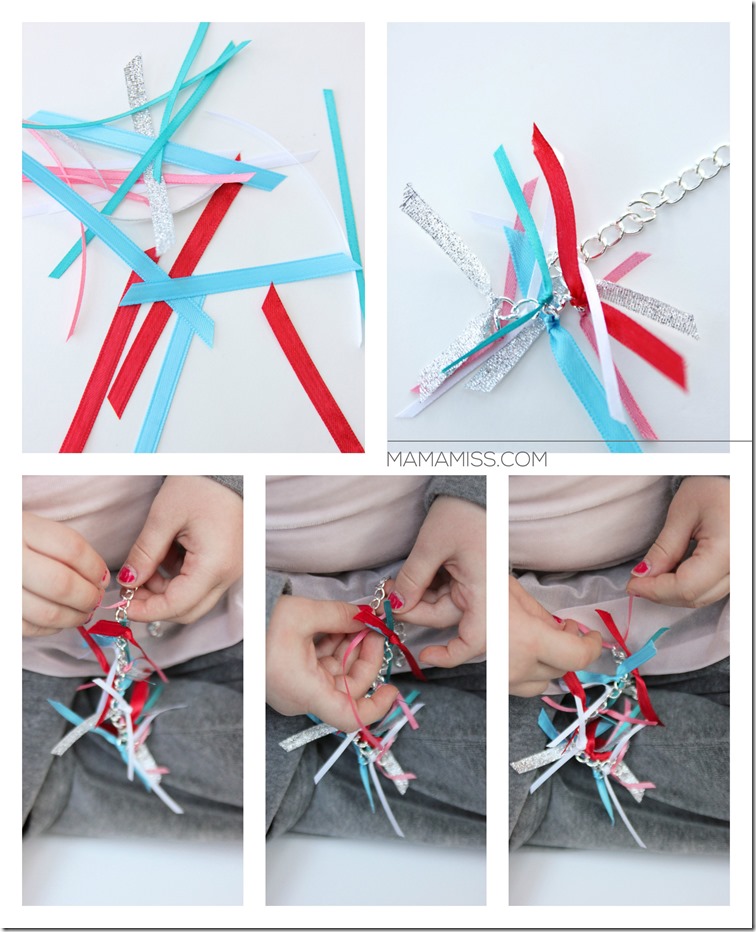 How to make the Cat In The Hat Bracelet:
Using your scissors, cut off ribbon pieces in various lengths.  Ours varied from 1 1/2 inches – 2 1/2 inches.  We didn't measure, we just cut.  But, don't cut them too short, you have to be able to grab the two ends to knot them.
Tie the ribbon pieces to the chains (be sure to double knot them or they immediately come loose). We chose a pattern order (V's thing lately – patterns patterns everywhere :)  Our pattern was red, coral, silver, white, teal, & then blue.  We repeated until we went all the way around the bracelet.
Voila! a quirky & fun bracelet for the Seuss in you!
We would love for you to come join us in all the fun!!!  See the whole 2014-2015 line up here.
Have you created an activity inspired by The Cat In The Cat too?
Tell us what you did here in the COMMENTS or over on the Virtual Book Club for Kids Facebook page where we will be featuring each month our book related ideas!
Some more "Dr. Seuss" Inspired Activities from the VBC for Kids Bloggers!!
– One Fish Two Fish –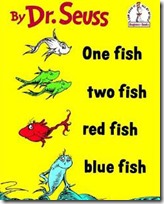 ONE FISH TWO FISH – REAL AND PSEUDO WORDS GAME – from Rainy Day Mum
NUMBER POCKET GAME FOR TODDLERS AND PRESCHOOLERS – from Toddler Approved
RED FISH BLUE FISH ABC MATCH – Growing Book By Book
FOUR DR. SEUSS INSPIRED SLIMES – Lalymom
– One Fish Two Fish –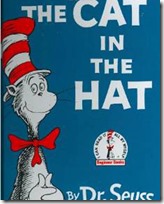 KITE RHYMING WITH THE CAT IN THE HAT – from Inspiration Laboratories
LETTER FUN WITH THE CAT IN THE HAT – The Educators' Spin On It
CAT IN THE HAT BRACELET – Mama Miss
– The Lorax –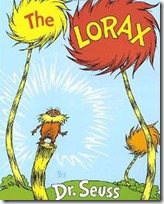 LORAX SENSORY BOTTLE – from The Pleasantest Thing
THE LORAX NUMBER MATCH UP – from Playdough to Plato
TRUFFULA TREE NUMBER MATCHING – from 3 Dinosaurs
THE LORAX TRUFFULA TREES CUTTING PRACTICE – Still Playing School
THE LORAX – SCIENCE ACTIVITY IDEAS – Science Sparks

You can also follow along with the Virtual Book Club for Kids here…
Website  // Pinterest  // Facebook // Google+ Group
————————————–
Next month, March 12th,  join us for…
Margaret Wise Brown
& these featured books:
Goodnight Moon
, The Important Book
, The Runaway Bunny
I hope you join me (+V&T) as we share a super fun, activity/craft to accompany our selected book each month!!

♥
Like what you see?!
You can connect with me on:
Pinterest || Facebook || Twitter || Google +
And don't miss any updates…
♥
© Mama Miss. All images & content are copyright protected.
Feel free to share ONE picture and linking directly to this post for download.
Please do not copy directions, ingredients, or pdf files for your own website or Facebook page, visuals or words.
Copying my post partially, or fully, is strictly prohibited.
All work by Mama Miss is licensed under Creative Commons Attribution-NonCommercial-NoDerivs 3.0 Unported License.
♥♥♥
(Visited 4,397 times, 1 visits today)