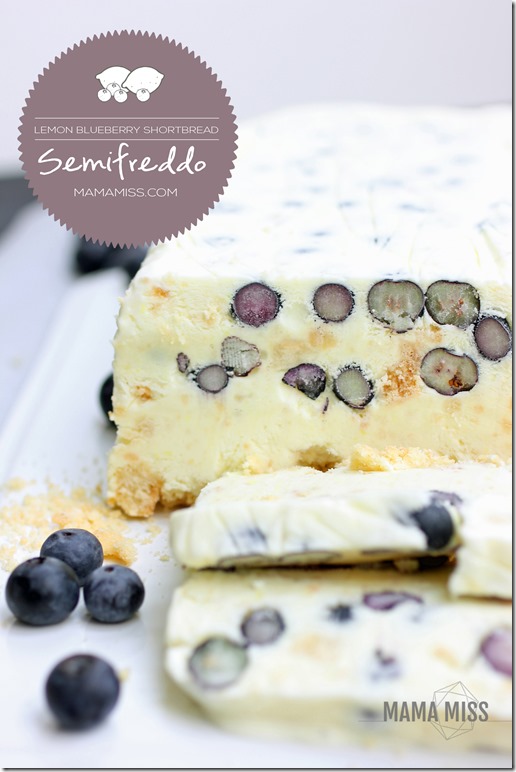 So, Semifreddo – what is it?!
Well, it's created by combining ice cream and whipped cream and all sorts of different flavor combinations.
Oh yum – right?!
Well, as you may have heard in past posts – ice cream does not agree with my tummy, but my tummy says YES! to frozen yogurt (fro-yo).  Annnnd – I adore lemon – lemon on anything – lemon with EVERYTHING!  So, when I saw Lemon GREEK frozen yogurt at my local grocery store – all the pieces came together for the flavor combination I wanted to create.  Some lemon frozen yogurt, some shortbread, & some fresh blueberries for – Lemon Blueberry Shortbread Semifreddo!
yum yum yummers!
HA!  And the best thing about this Lemon Blueberry Shortbread Semifreddo?!  It sounds all fancy & looks all fancy, but it is super duper easy – I PROMISE!!
And, you can get all crazy with your own combos too – what about chocolate ice cream/fro-yo, fresh cherries & chocolate wafers – or – key lime ice cream/fro-yo, fresh cherries & graham crackers – oh my – the possibilities are endless, friends!!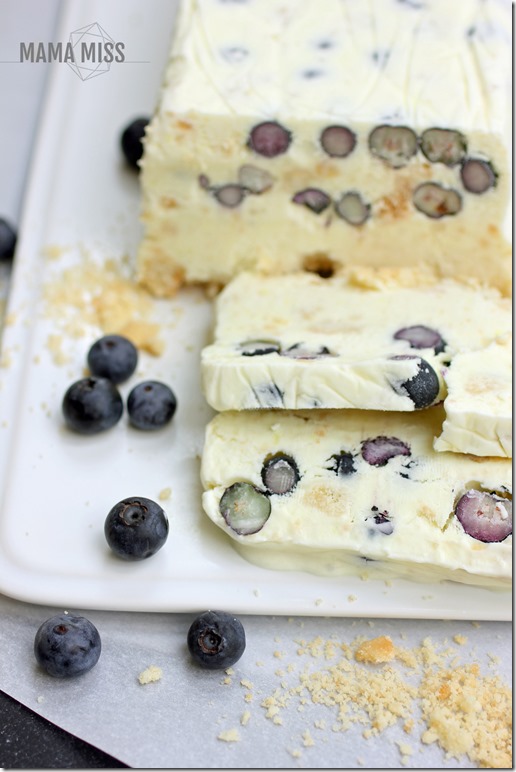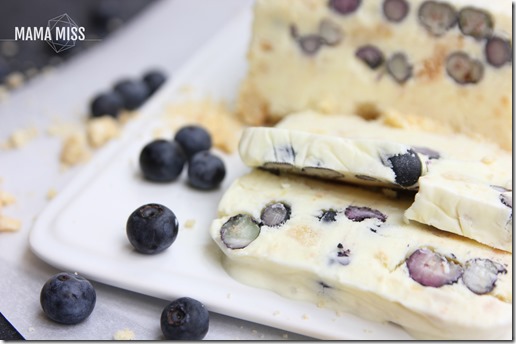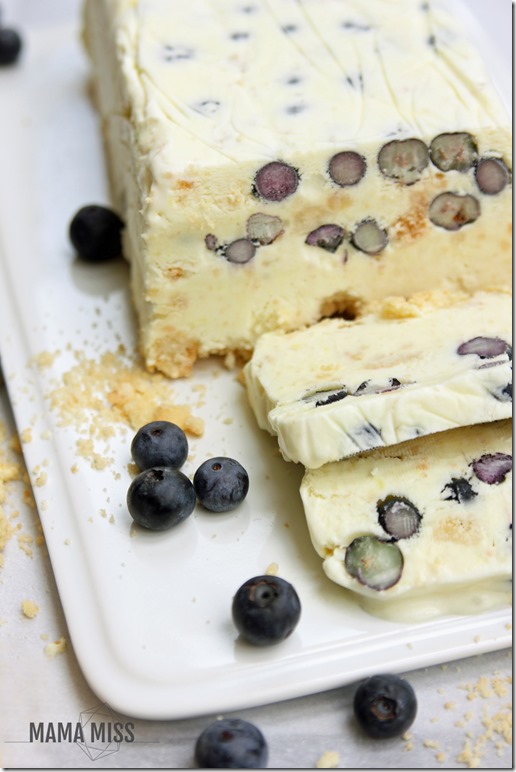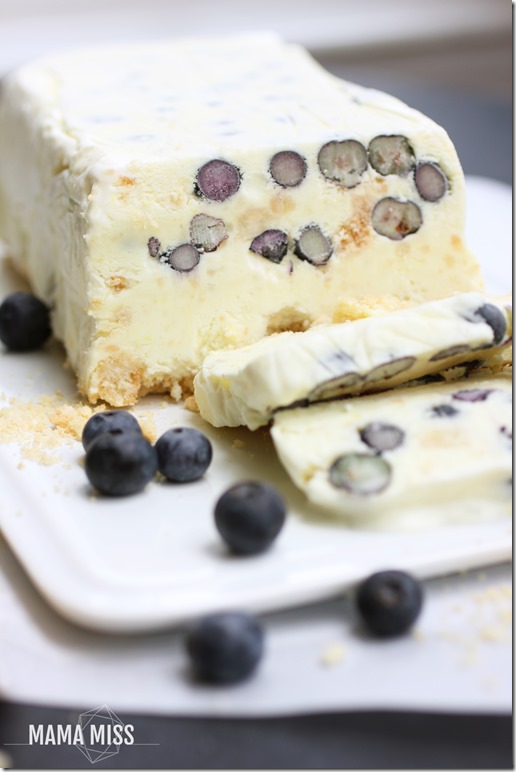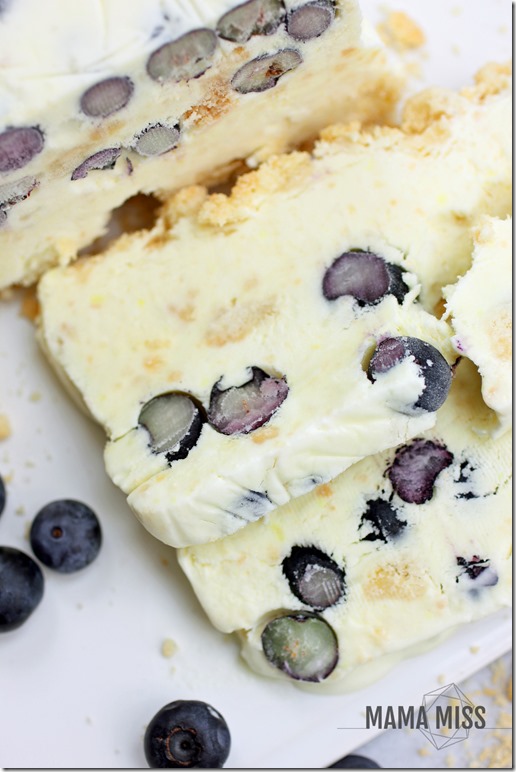 Lemon Blueberry Shortbread Semifreddo
A fancy sounding frozen treat that is amazingly simple to make with just a few ingredients! Change it up too - simply alter the flavor combo to create your own yummy treat!
Ingredients
cooking spray
8 oz whipping cream
1 tablespoon honey
1 cup fresh blueberries
15 shortbread cookies, crushed
Instructions
Start by softening the frozen yogurt - let stand at room temperature for 10 minutes.
Prep mixing bowl by placing in freezer to chill for 7-10 minutes.
Spray a 8.5 x 5 x 3-inch metal loaf pan with cooking spray. Line loaf pan with plastic wrap; Set aside.
In the chilled mixing bowl, beat whipping cream and honey on medium speed with electric mixer until soft peaks form.
Beat in frozen yogurt to whipped cream.
Fold in blueberries and 2/3 cup of crushed shortbread cookie.
Spoon mixture to plastic wrapped pan and sprinkle remainder crushed shortbread cookies on top; Press crumbs to set.
Cover with plastic wrap and place in freezer for a minimum of 4 hours, or overnight.
Once firm, use the plastic wrap to lift the loaf from the pan and invert the loaf onto a serving platter.
Let stand for 10-15 minutes before slicing.
Notes
*ice cream can be used as well
https://www.mamamiss.com/blog/2014/06/27/lemon-blueberry-shortbread-semifreddo/
All rights reserved Copyright 2012-2019 Mama Miss Blog and Designs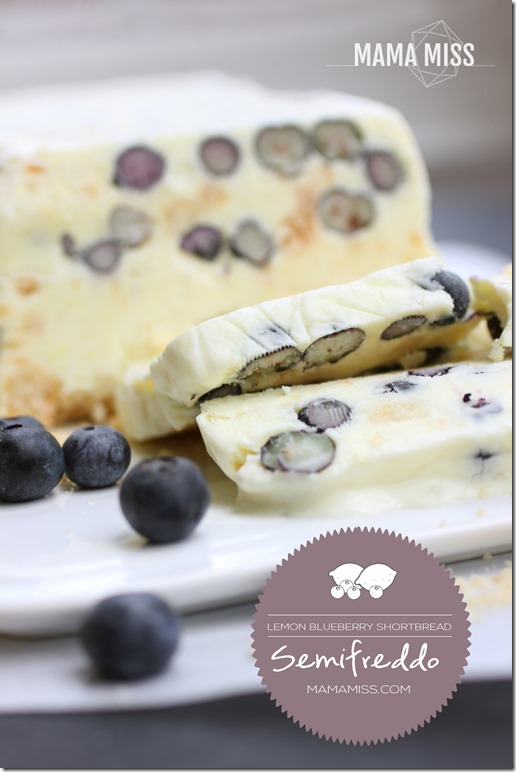 ♥
Like what you see?!
You can connect with me on:
Pinterest || Facebook || Twitter || Google +
And don't miss any updates…
♥
© Mama Miss. All images & content are copyright protected.
Feel free to share ONE picture and linking directly to this post for download.
Please do not copy directions, ingredients, or pdf files for your own website or Facebook page, visuals or words.
Copying my post partially, or fully, is strictly prohibited.
All work by Mama Miss is licensed under Creative Commons Attribution-NonCommercial-NoDerivs 3.0 Unported License.
♥♥♥
(Visited 2,493 times, 1 visits today)