This shop is part of a social shopper marketing insight campaign with Pollinate Media Group® and Office Depot, but all my opinions are my own. #pmedia #inspirestudents http://my-disclosur.es/OBsstV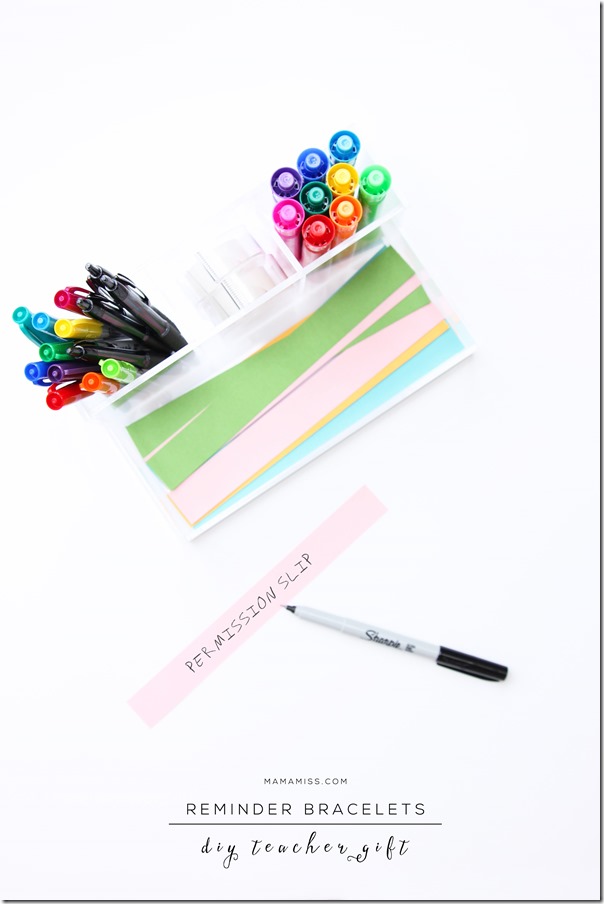 Teachers, Teachers, quite contrary,

How does your classroom grow?

With Sharpie markers, and Uni-Ball pens,

And pretty Mr. Sketch markers all in a row.






haha – am I right?!  I think the way to a teacher's heart is through nice markers & pens!
How about nice markers and pens that serve a classroom functionality too?  Pretty & functional!  (oh & super beyond-easy to throw together!)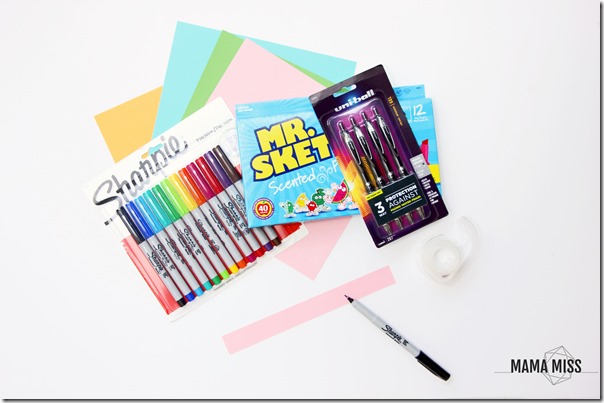 What do kiddos always forget to do?!  Remember to bring something home from school, a book, or vice-versa, bring something in to school, like a signed permission slip!
I have the solution – a reminder bracelet.  A bracelet that can be set up near the teachers' desk or by the door for the student to take ownership (or the teacher can do it too) of what they need to remember to do.  They just need to write a reminder bracelet to themselves.  Even if they don't remember, I can guarantee a parent will say "hey what's that piece of paper around your wrist for?" when they get home.
This can be something to do for your classroom yourself – or would make an awesome teacher gift to start the year off too!!  (I can't imagine ANY teacher that wouldn't love this!) I also need one of these stations at the bottom of my stairs too – for all the times I run upstairs & can't remember for the life of me WHAT I came up there for, lol.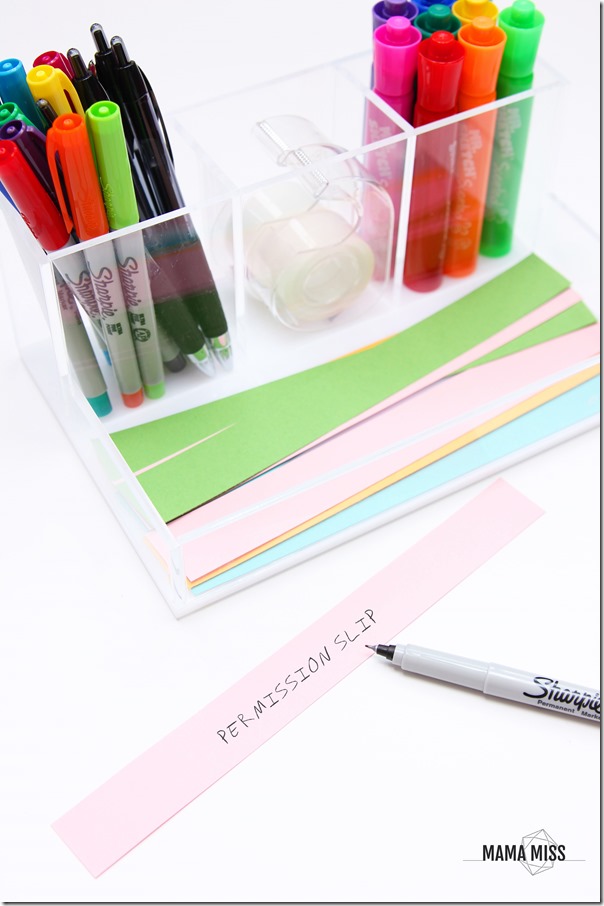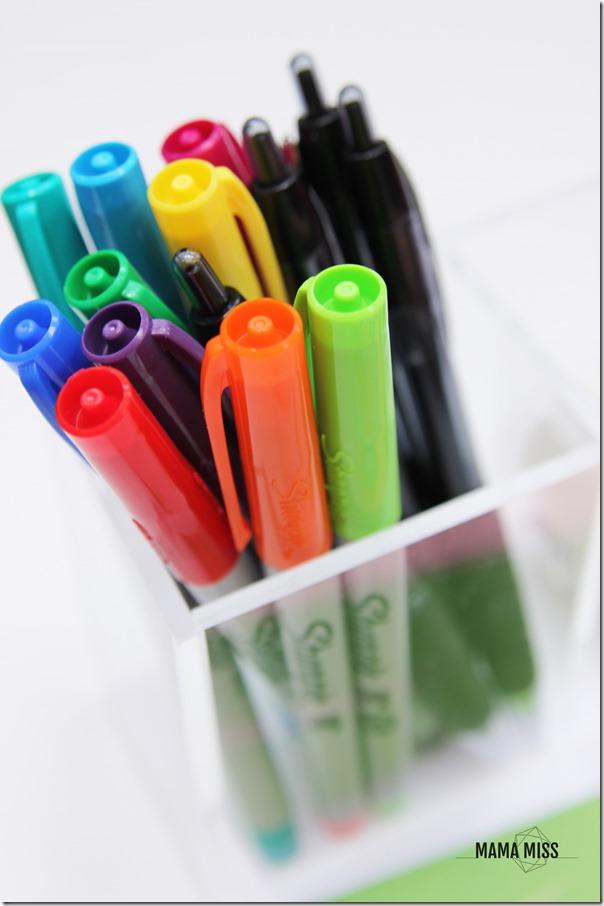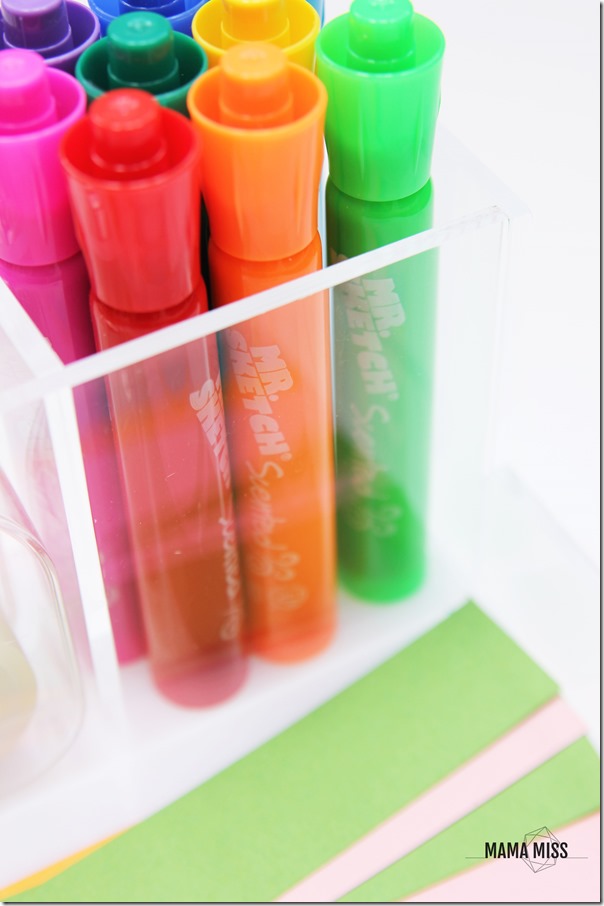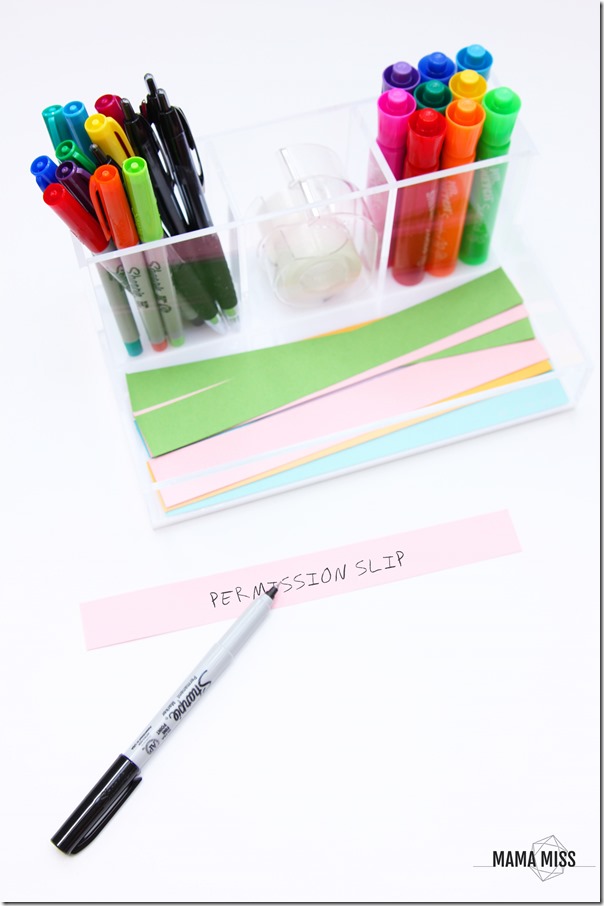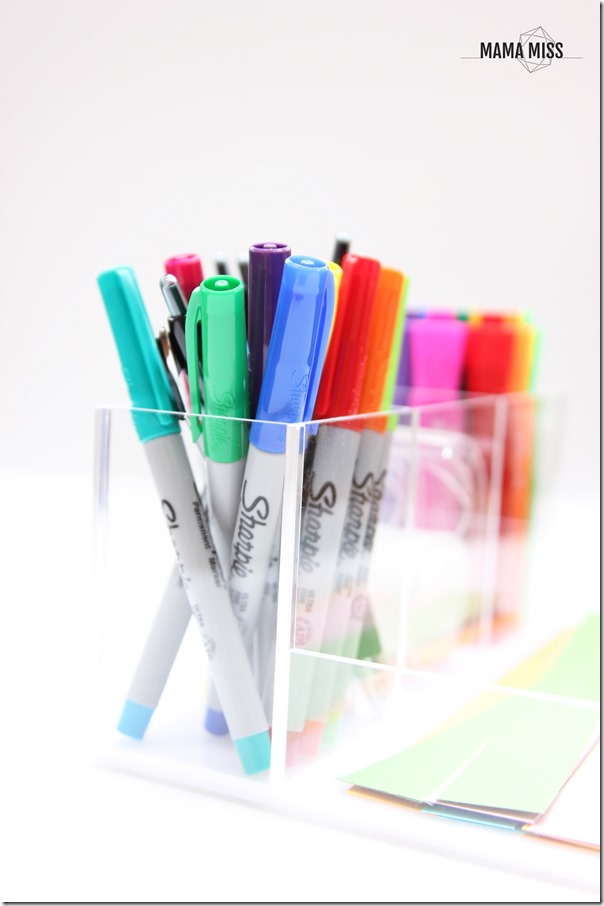 And it's pretty easy to put together too!  You'll need…
some high quality markers & pens, I used a 12 pack of assorted colored Sharpie fine point markers, a 12 pack of assorted colored Mr. Sketch markers (who doesn't love SCENTED markers), and a 3-pack of plain black Uni-Ball pens.  I purchased all mine at Office Depot, which, if you sign up for their Office Depot Rewards program http://bit.ly/1unqFEW, you can also save $5 off your purchase of $20 or more on Select Newell Rubbermaid Brands (Papermate, Expo Neon Window Markers, Sharpie, Uni-Ball and Mr. Sketch).  PS – the deal is also good at Office Max which is owned by same company– discounts are ALWAYS a good thing!
a container to hold all your supplies.
assorted cardstock colors, cut into vertical strips
tape
Just arrange them all together to create a little reminder bracelet station for the classroom!
And the bracelet station is really easy to use too!  The kiddos will just write on the strip of paper what they need to remember, then attach it around their wrist, like a bracelet, and tape. And if for some reason they were embarrassed to get on the bus or walk home with "library book" written on their wrist, all they have to do is turn it inward & no one will ever know, except them, what it is!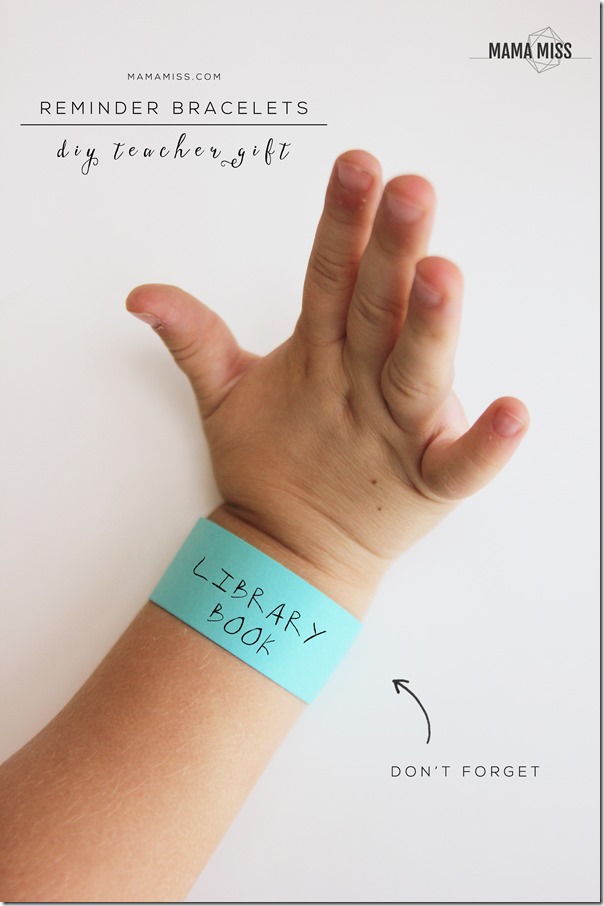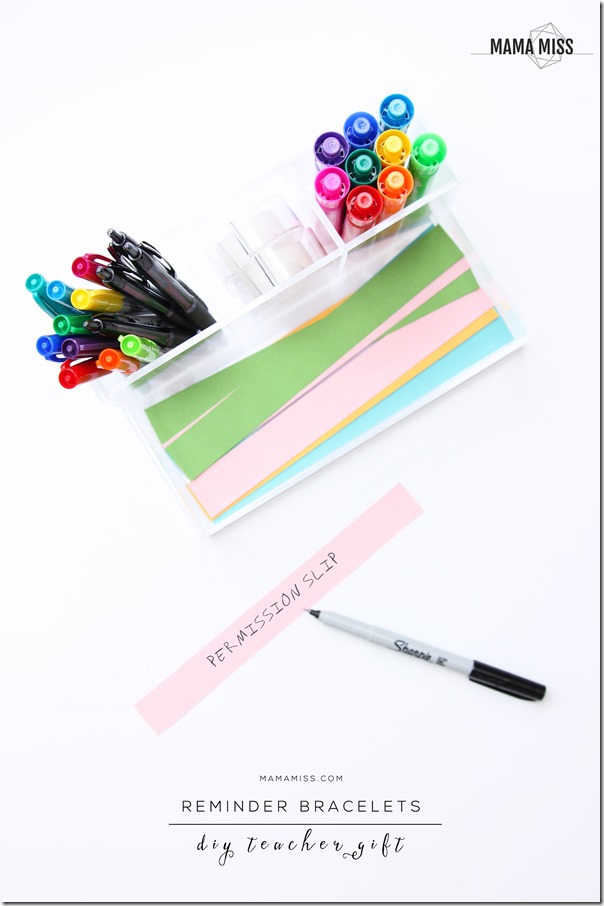 ♥
Like what you see?!
You can connect with me on:
Pinterest || Facebook || Twitter || Google +
And don't miss any updates…
♥
© Mama Miss. All images & content are copyright protected. Feel free to share ONE picture and linking directly to this post for download. Please do not copy directions, ingredients, or pdf files for your own website or Facebook page, visuals or words. Copying my post partially, or fully, is strictly prohibited.
All work by Mama Miss is licensed under Creative Commons Attribution-NonCommercial-NoDerivs 3.0 Unported License.
♥♥♥
(Visited 14,684 times, 1 visits today)