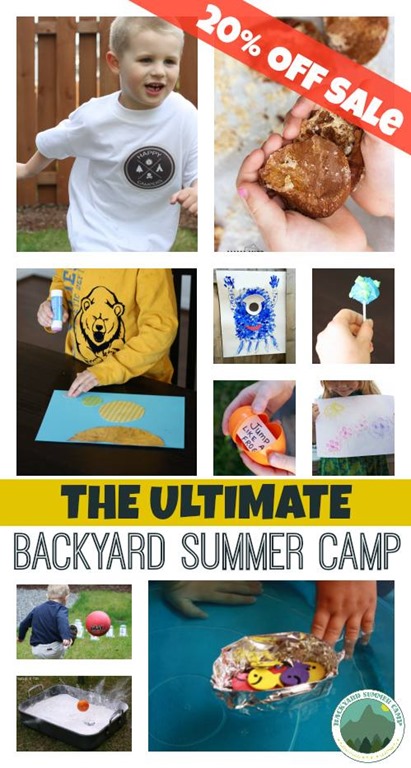 Kiddos bored yet?  Whining a lot?
I promise it's only magnified because it's hot outside & they aren't in school – everyone's patience is tested & then add some humidity, mosquitoes, ticks & god knows what else to the mixture – I'm sure we're all on edge feeling it!
Not to fret – gotcha the perfect summer solution – designed by six mama's who are all absorbed into the teaching world in some way (so it's fun & educational!), to keep those munchkins (geared for 3-8 yr-olds) busy all summer!  We've even created a fun little iron on patch to make your own shirts so it's all camp official & stuff!
I'm excited to tell ya for a limited time we are offering the complete Backyard Summer Camp eBook for 20% off until Next Sunday, July 13th!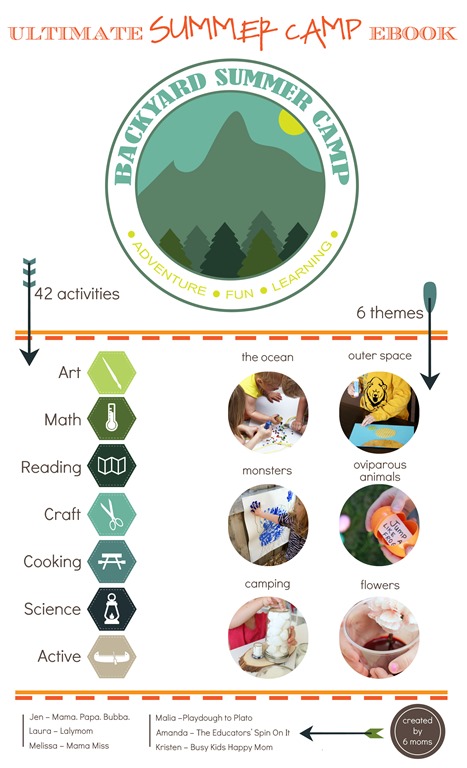 Wowzers that's 6 different themes –  ALL KID TESTED –  that's 42 activities; math, art, reading, craft, cooking, science, & active categories within each theme – all for $7.99.
Super hot days – blast the air & do the reading, math, crafts & cooking.  And, if it's a nice day outside – time to get active, pull out the science, & take the art outside.
|| Here are a couple of sneak peeks of activities from the eBook…
Starry Night Sky Painting – CAMPING
Rubbery Eggs – OVIPAROUS ANIMALS
Mermaid Necklace – THE OCEAN
Mermaid Necklace – THE OCEAN
Kid Made Camping Lantern – CAMPING
And a review with a fun printable to go along with the OVIPAROUS ANIMALS theme on Kids Yoga Stories!
Purchase your own copy of the Backyard Summer Camp.


♥
Like what you see?!
You can connect with me on:
Pinterest || Facebook || Twitter || Google +
And don't miss any updates…
♥
© Mama Miss. All images & content are copyright protected.
Feel free to share ONE picture and linking directly to this post for download.
Please do not copy directions, ingredients, or pdf files for your own website or Facebook page, visuals or words.
Copying my post partially, or fully, is strictly prohibited.
All work by Mama Miss is licensed under Creative Commons Attribution-NonCommercial-NoDerivs 3.0 Unported License.
♥♥♥
(Visited 489 times, 1 visits today)