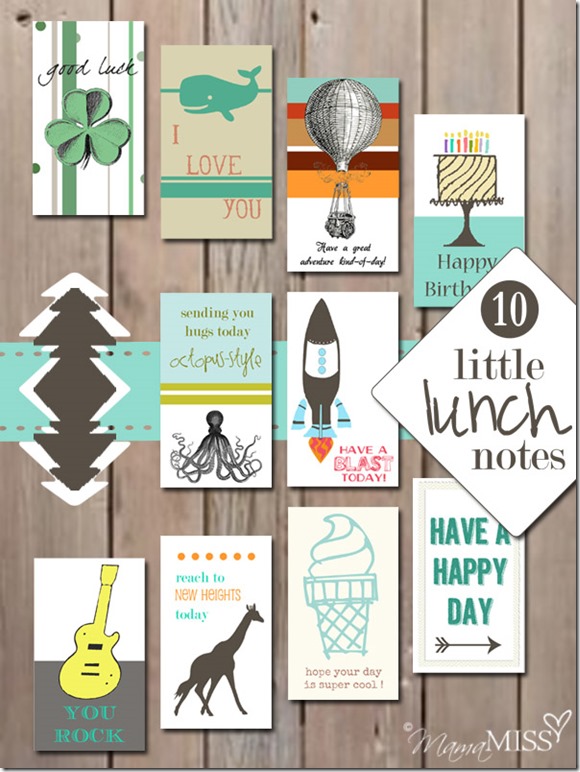 So, you might be wondering why I, someone who plans on homeschooling, would need little lunch notes for the munchkins?  Well, just because the kiddos are eating their lunch at home does not mean they don't need a little mama love, now does it?! :)  These cards are all individually designed by me with a couple of free vintage graphics from the graphics fairy; the hot air balloon, the clover, and the octopus.  Love her site for cool vintage graphics!
So, what do they say?
Well, they say fun, motivational & celebratory words to make your kiddo smile!
Clover –> Good Luck
Whale –> I Love You
Hot Air Balloon –> Have a great adventure kind-of-day!
Birthday Cake –> Happy Birthday!
Octopus –> Sending You Hugs Today, Octopus-Style (hehe this is my favorite one – get it – "octopus style" – wrapped in many arms for big time hugs ;)
Rocket –> Have a Blast Today!
Guitar –> You Rock
Giraffe –> Reach To New Heights Today
Ice Cream Cone –> Hope Your Day is Super Cool!
Arrow –> Have a Happy Day

Send them in their lunchbox to:
…wish them "good luck" on a presentation, a test, baseball tryouts.
…wish them a "happy birthday".
…tell them you love them.
…tell them you are thinking about them.
…wish them a very happy day.
…tell them to seize the day!
So many reasons & so many unique cards to say it :)
♥
And, here's the technical stuff…
The 10 little lunch notes will print out on an standard 8.5×11 letter sized paper.
The printout includes ALL 10 little notes – only one page to print :)
tip: when printing, it's easier to adjust the page if needed by downloading the PDF to your computer & opening it separately.
They are customized to fit standard business card templates.  ALL of these business cards will work.  With this one, Avery 08871, in my opinion being the best deal & best product (go for a clean edge!)
oh & ps.. if you wanted to include hubs in on the note love – you can use these little love notes & put them in a pretty little envelope too!  Yay – love for everyone!!!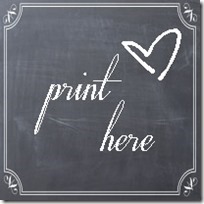 ♥
Like what you see?!
You can connect with me on Pinterest|Facebook|Twitter|Google + too!
♥
© Mama Miss. All images & content are copyright protected.
Feel free to share one picture and linking directly to this post for download.
Please do not copy directions, ingredients, or pdf files for your own website.
Copying my post partially, or fully, is strictly prohibited.
All work by Mama Miss is licensed under Creative Commons Attribution-NonCommercial-NoDerivs 3.0 Unported License.
♥♥♥
Please note that affiliate links are also provided throughout the post for your convenience – to allow direct access to the products suggested.
(Visited 14,950 times, 3 visits today)