"This shop is part of a social shopper marketing insight campaign with Pollinate Media Group® Pop Secret and Fox Entertainment, but all my opinions are my own. #pmedia  #PopForRio2 http://my-disclosur.es/OBsstV"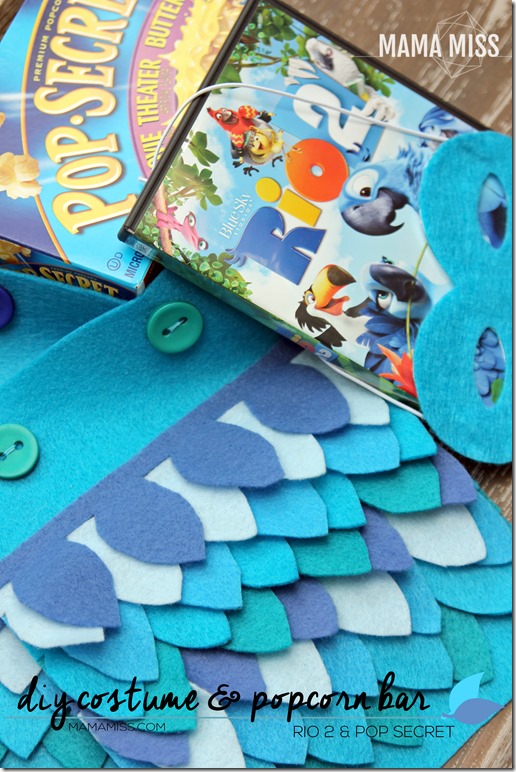 Forget a family movie night out.
Cost, coordination, wrangling the whole crew, feeding the whole crew, bathroom breaks…yada, yada, yada.
Forget all that – what's even more fun is a movie night in!  You can make your own popcorn, add your own props, even make a themed costume – the sky's the limit to the fun!
So, let's do this – family movie night at home with a DIY Costume & Popcorn Bar!
We were so excited to grab the new Rio 2 DVD that came out this past week – the original Rio was our absolute favorite to see in the movie theater!
To create a movie night experience I made a sweet little Rio 2 themed popcorn bar for the kiddos, with some movie theater flavor Pop Secret popcorn, and some assorted blue candies to add to the fun of the perfect movie night snack!  And I also created these little "Blu" Macaw felt armbands and mask to complete the Rio 2 DVD movie experience for V&T.
Here's what you'll need to make the "Blu" inspired popcorn bar:
Pop Secret Movie Theater Popcorn (I got mine at Walmart with this $1 off any Pop Secret Popcorn coupon – while supplies last)
Assorted blue candies to add some fun "Blu" mix to your popcorn – salty & sweet the perfect combo!
Candy containers (I like the pourable ones – easy-peasy you don't have to deal with scoops!)
Popcorn holders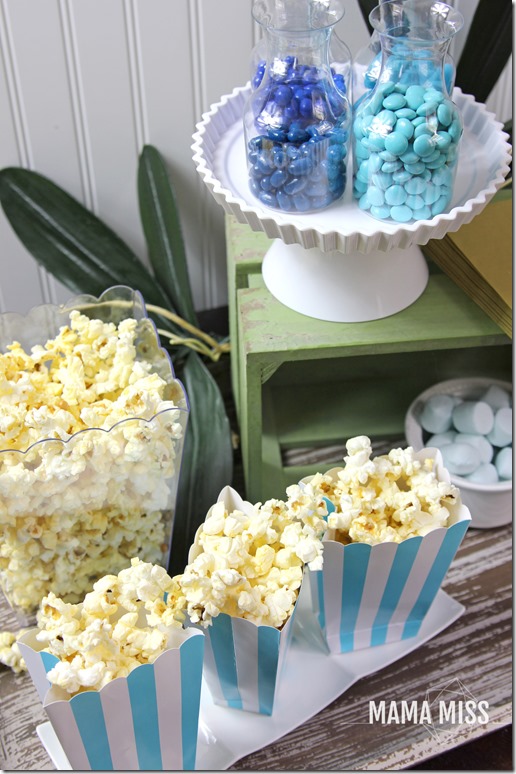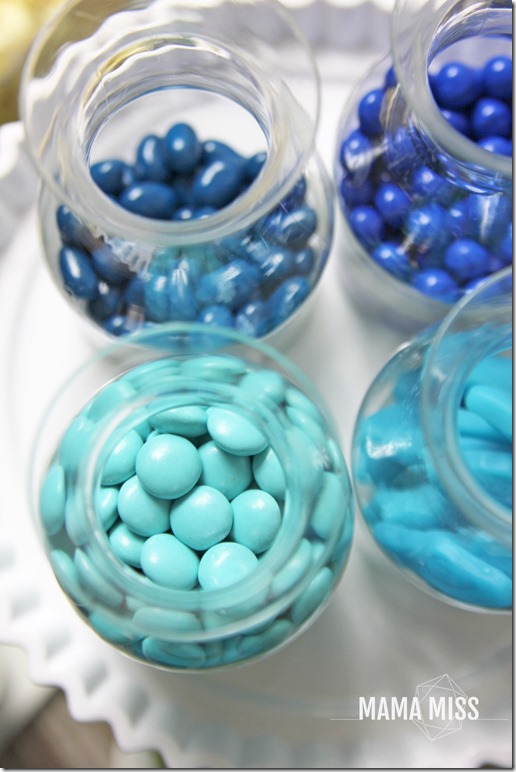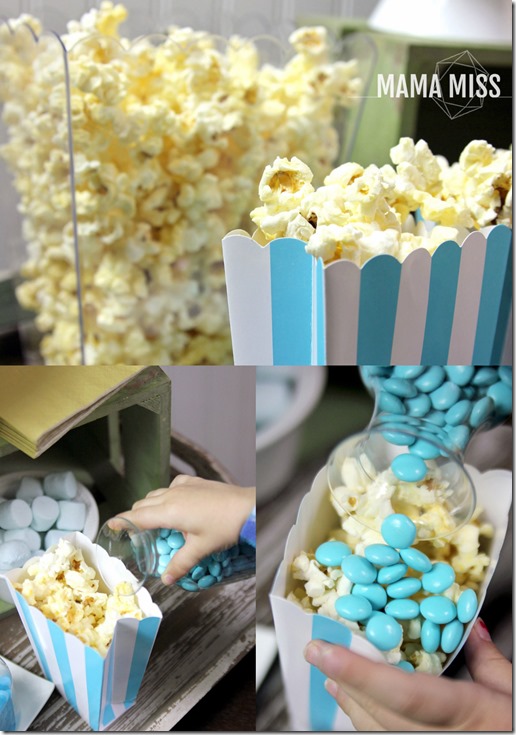 Here's what you'll need to make one set of "Blu" Macaw felt armbands & one mask:
Printable template for feathers and mask
White cardstock
Scissors
9×12 felt sheets – I used – 4 Aqua, 1 Peacock, 1 Brilliant Blue, 1 Baby Blue, & 1 Cadet Blue sheets
Fabric scissors
Fabric marker
Glue gun
4 coordinating buttons
Needle & matching thread
Thin string elastic
Hole punch
Here's how to make one set of "Blu" Macaw felt armbands & one mask:
1. Print out template on white cardstock and cut out shapes.
2. Trace template feathers onto felt – 2 four feather strips & 2 three feather strips for each felt square, for each color.  Cut out shapes from felt.
3. With a sheet of Aqua felt as your base, hot glue the cut out feather strips centered on the base.  Alternate between the four feather strip & the three feather strip to create dimension.  Lining the rows tightly with no spaces.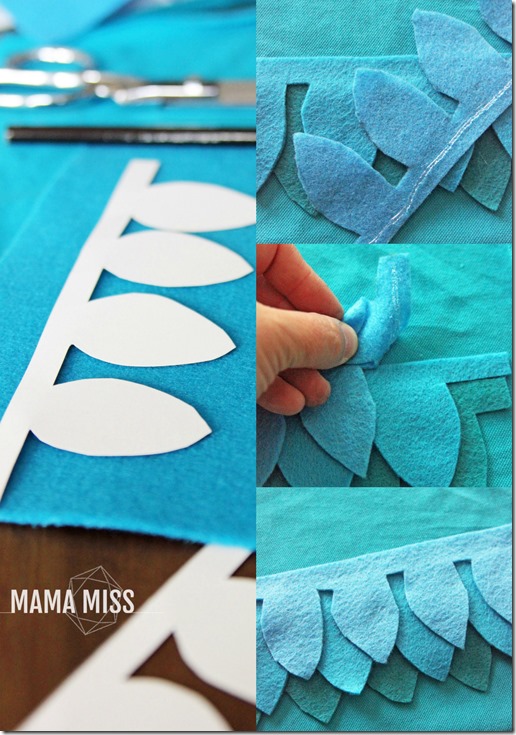 4. Once all the colors have been glued down in order (each color twice and creating 10 rows, two of each color), place the buttons.
5. Trim excess off the top (I took about 1 inch off – it will vary for the size of your kiddos arm).
6. With your needle and thread sew two buttons to the top of each armband.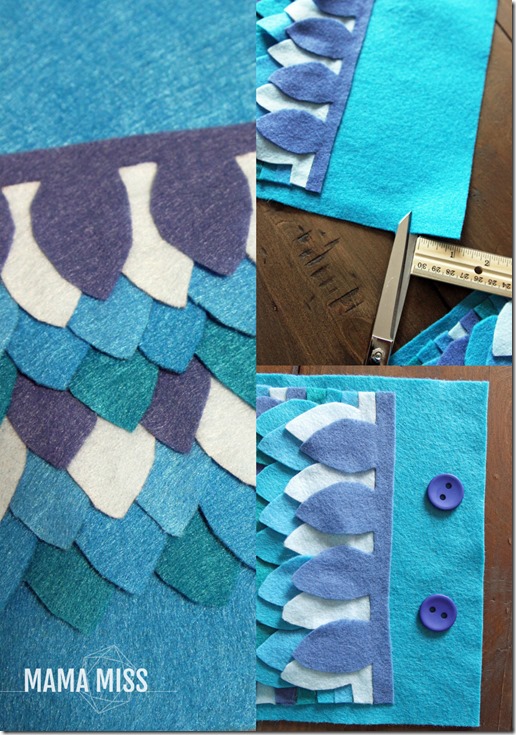 7. Trim both sides down removing excess strip ends for a cleaner edge.
8. Overlap buttons to the bottom of the armband to determine where button holes will be.  Cut two small openings for each button.
9. Repeat steps 1-8 to make the second armband.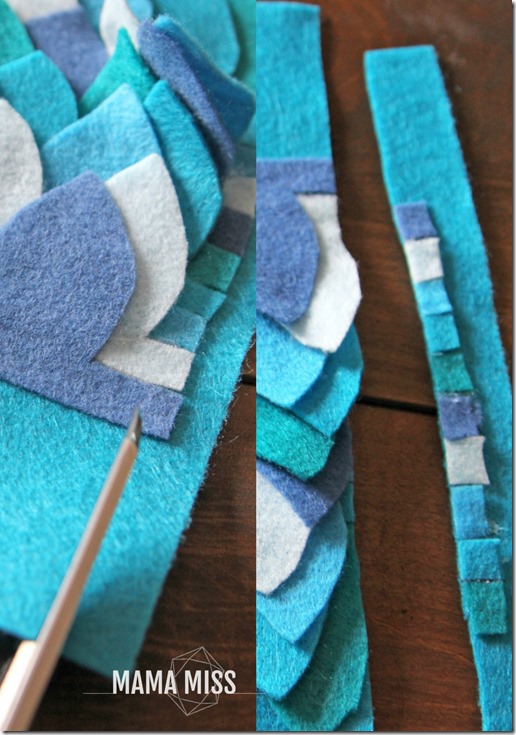 10. To make the mask, using the template from above, cut out mask shape from cardstock and use your hole puncher for the small circle holes on the side (this is for the elastic to fit through).
11. Using your mask template shape, trace the shape onto a piece of Aqua felt.  Cut out shape from felt.
12.  Measure your child's head and cut a piece of elastic that size for the mask.
13.  Thread the elastic through the small side holes & knot.  Create the knot on the front side of the mask (we will be enclosing it between the layers).
14.  Cut off dotted line representing the beak on the mask cardstock shape.
15.  Use this piece to trace a beak shape onto a small piece of Cadet Blue felt.  Discard the cardstock beak shape.  Cut out the felt beak shape.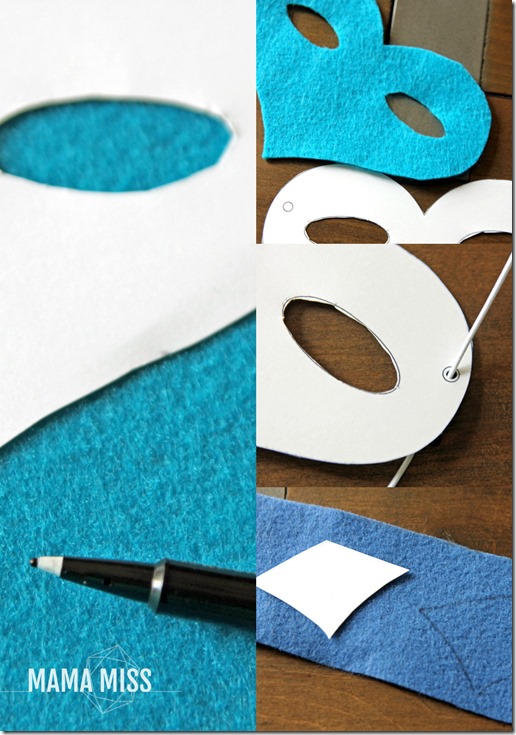 16. Hot glue the full mask onto the cardstock mask, enclosing the elastic knots.
17. Hot glue the felt beak shape onto the felt mask to complete the mask.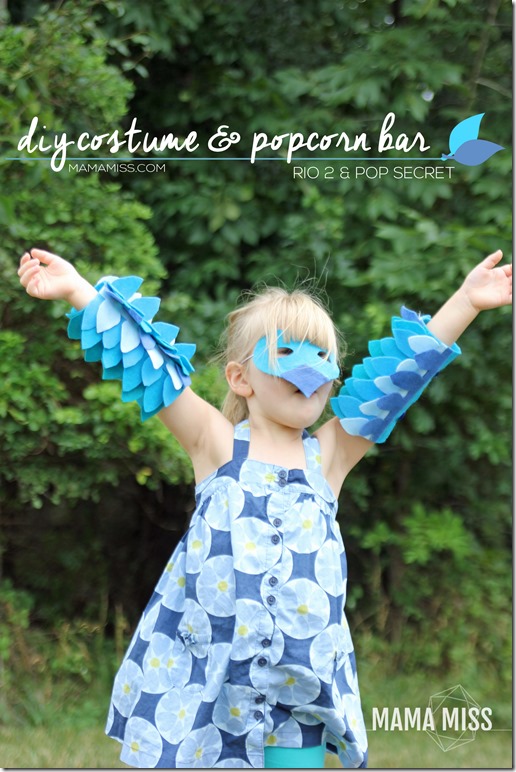 >> Now, let's first test out those wings & mask before the movie starts – you've got to make sure you can fly ;)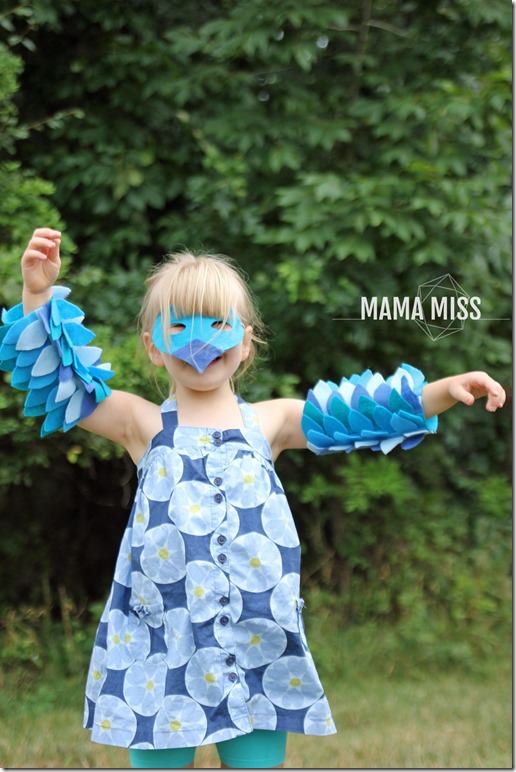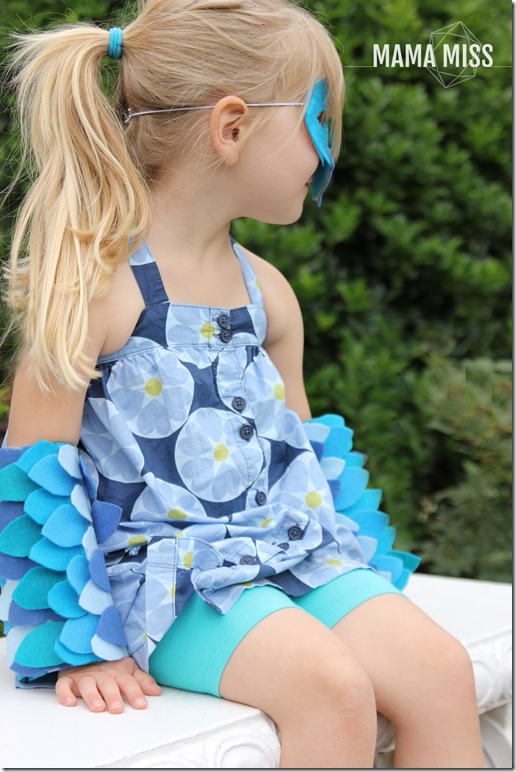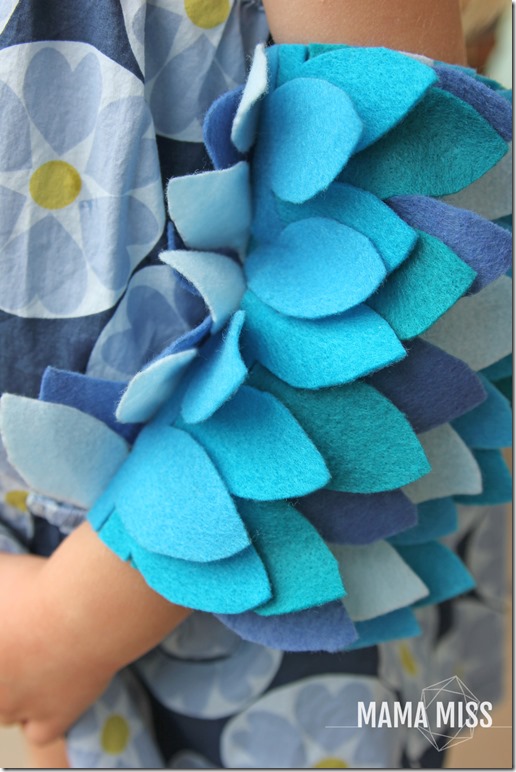 >> After the flight prep commences – let the party begin!!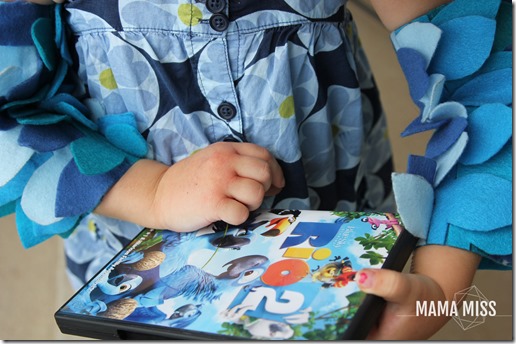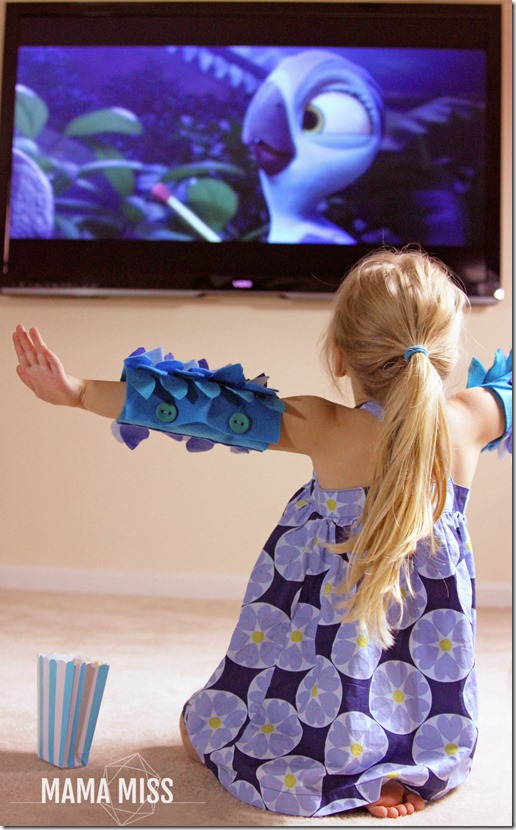 IT WAS SO MUCH FUN!!
So, if you are a Rio fan you will love Rio 2 on DVD, a fantastic movie for kiddos of all ages – and now you have all the tools & ideas to create a fun filled family movie night experience at home – "blu-ified"!
psst…
Don't forgot about that coupon for Pop Secret at Walmart here (while supplies last).
And here's some more fun Rio 2 DVD stuff (including coloring pages!) here.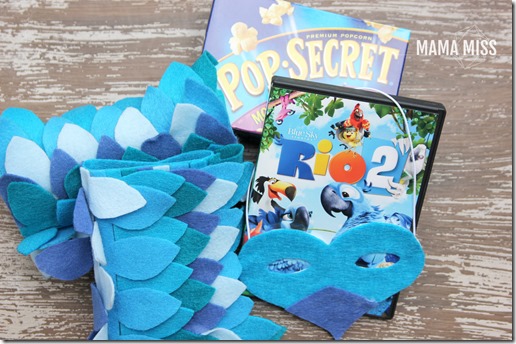 ♥
Like what you see?!
You can connect with me on:
Pinterest || Facebook || Twitter || Google +
And don't miss any updates…
♥
© Mama Miss. All images & content are copyright protected.
Feel free to share ONE picture and linking directly to this post for download.
Please do not copy directions, ingredients, or pdf files for your own website or Facebook page, visuals or words.
Copying my post partially, or fully, is strictly prohibited.
All work by Mama Miss is licensed under Creative Commons Attribution-NonCommercial-NoDerivs 3.0 Unported License.
♥♥♥
(Visited 3,590 times, 1 visits today)