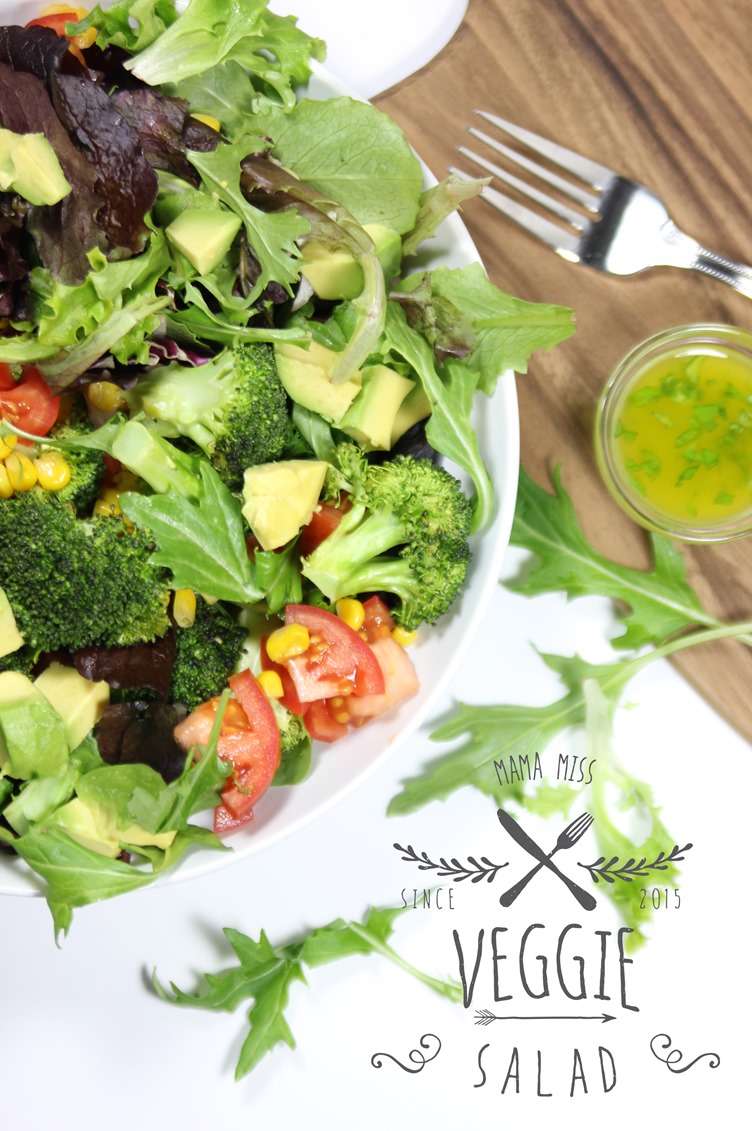 Chocked full of veggies, this veggie salad with lemon honey dressing, will fill your belly and give a healthy punch to your day!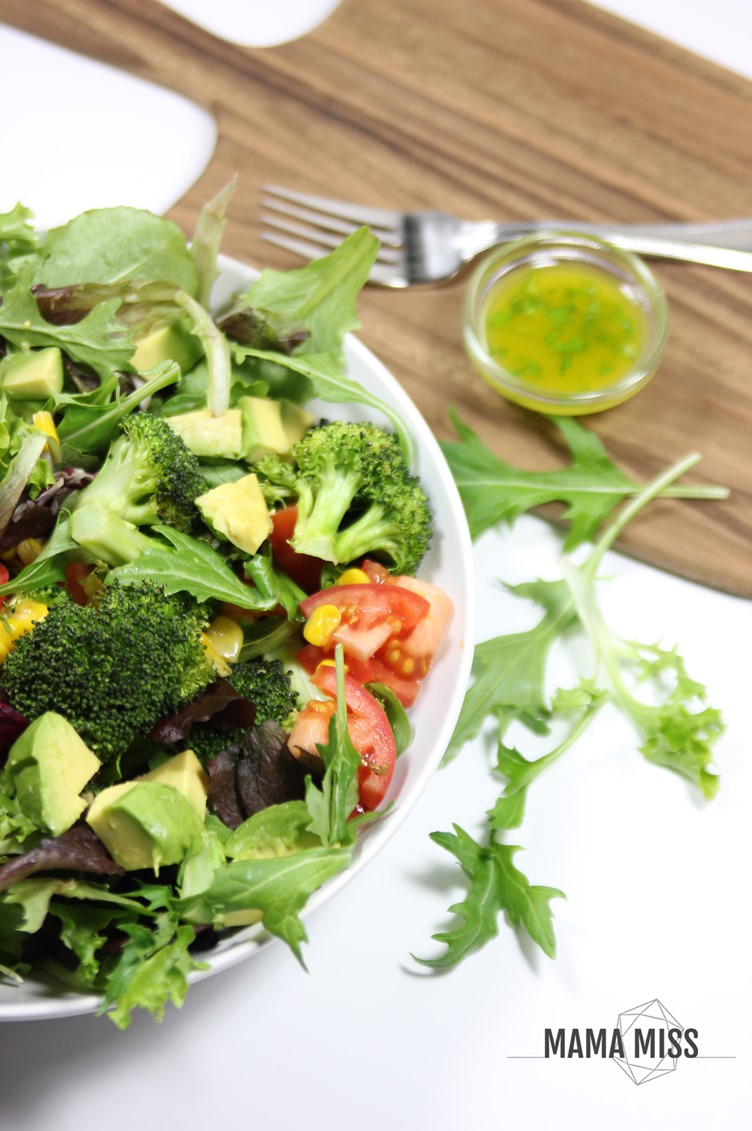 This Veggie Salad really came about when it was a "let's see what we have in the fridge to make a salad with" kinda meal.  I've been in & out lately on trips, to Chicago for a long weekend visiting friends and family, and traveling back and forth visiting my parents (my mom's been in & out of the hospital) every weekend, so I haven't been home much lately.  I feel like it's taking all that I have just stay above water & feed my family every night – running to the grocery every day instead our usual weekly trips because I am just so dang scattered brained and disorganized at the moment!
Well, because this Veggie Salad was a "throw it together type of thing", I really wasn't expecting too much, let alone ready to take pictures of it's yumminess for a post.  But it was a solid 10 – everything that makes a salad magnificent – it had crunchy, tangy, sweet, & texture – it was soooo good.  And it is really quite simple to throw together for one of those crazy nights where you wonder "what the hooha am I going to make for dinner tonight"?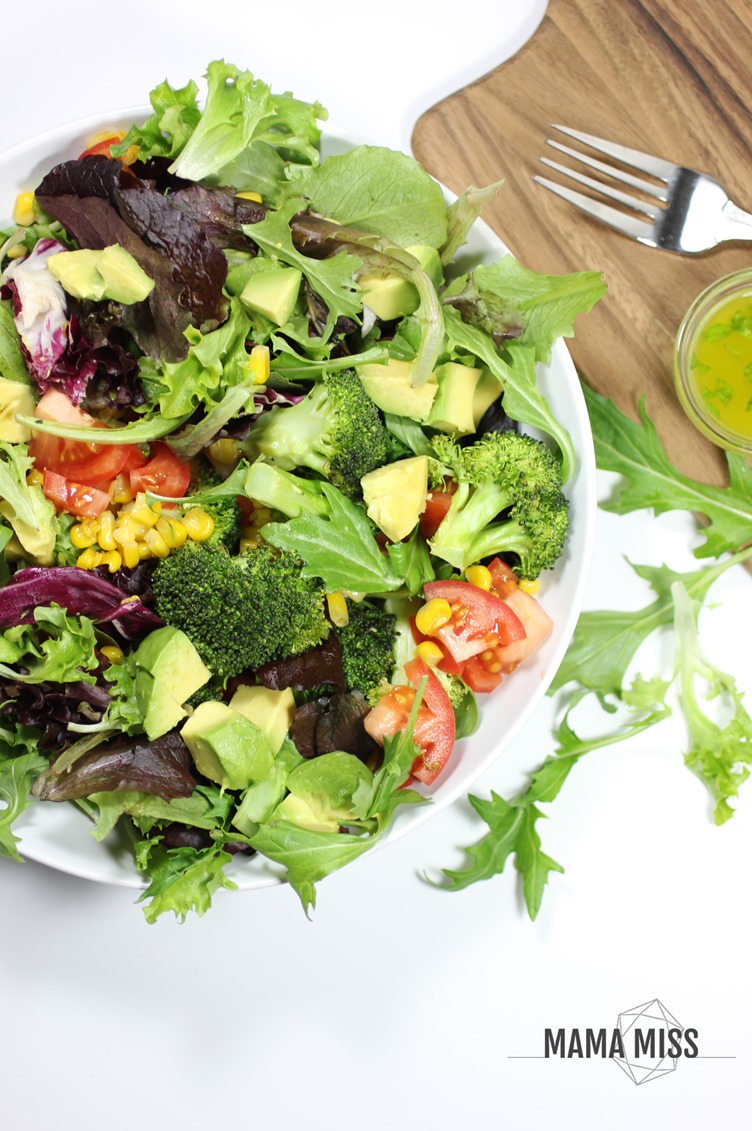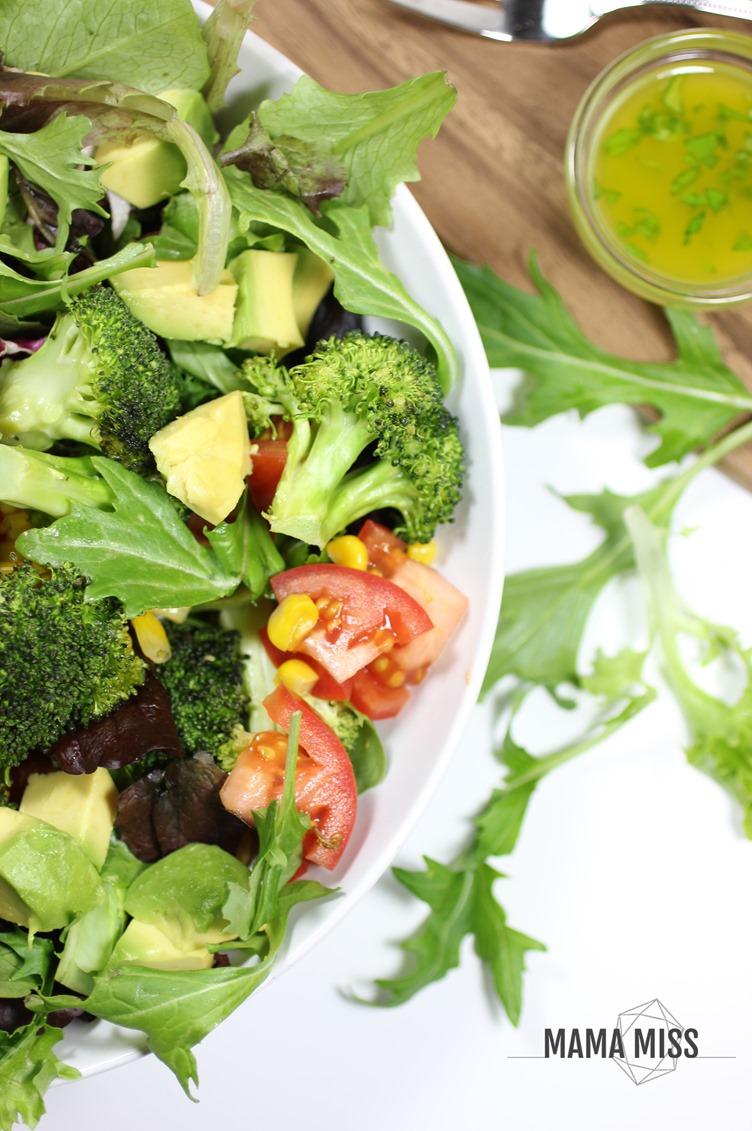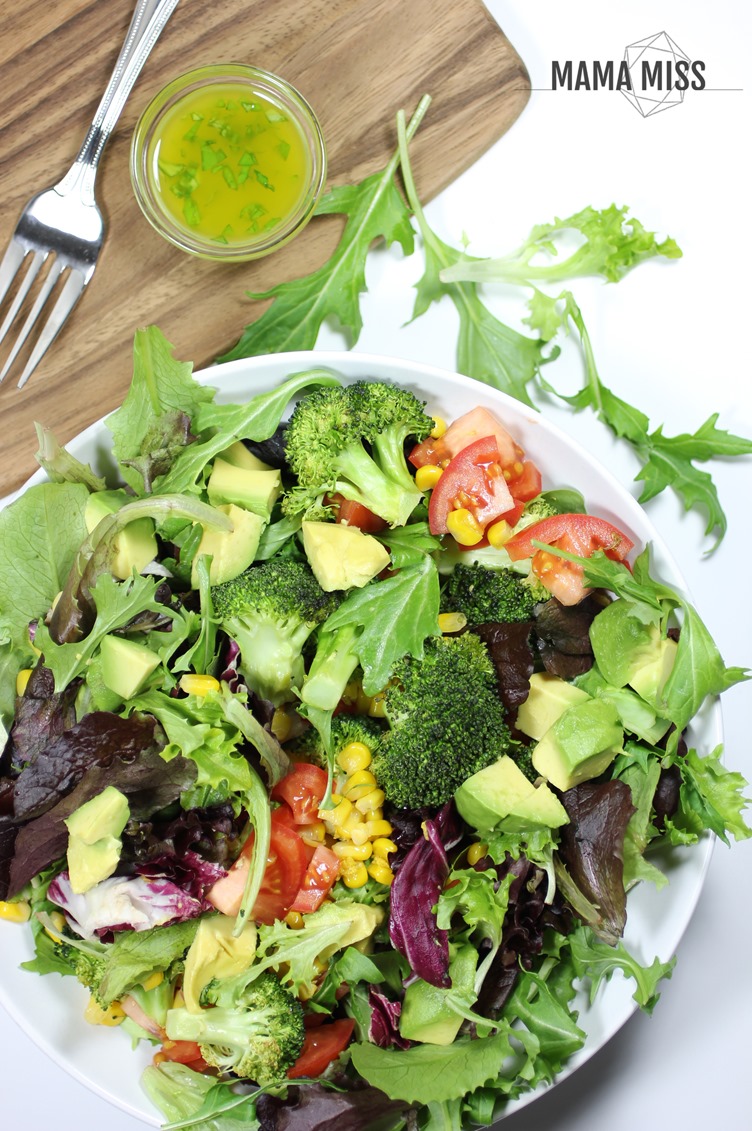 Veggie Salad with Lemon Honey Dressing
Chocked full of veggies, this veggie salad with lemon honey dressing, will fill your belly and give a healthy punch to your day!
Ingredients
For the salad:
2 cups mixed greens
2 cups baby arugula
2 roma tomatoes, chopped
2 avocados, chopped
3 cups broccoli florets
1 cup frozen sweet corn kernels, thawed (or 1 can sweet corn kernels, drained)
extra virgin olive oil
kosher salt
(optional) crumbled feta cheese
For the dressing:
1/4 cup extra virgin olive oil
2 tablespoons fresh lemon juice
1/2 tablespoon honey
2 tablespoons fresh basil, finely chopped
kosher salt & freshly ground pepper, to taste
Instructions
Preheat oven to 400° F.
Layer a jellyroll pan with foil, spray with non-stick spray.
In a large bowl, combine broccoli and corn (already thawed), drizzle with olive oil & sprinkle with salt, toss to coat.
Pour broccoli & corn on to prepared jelly roll pan.
Roast for 12-15 minutes until toasted. Set aside to cool.
In a large bowl combine mixed greens and arugula.
Divide green mixture between bowls, then top with tomatoes, avocado, roasted broccoli & corn, and (optional) cheese.
https://www.mamamiss.com/blog/2015/02/20/veggie-salad/
All rights reserved Copyright 2012-2019 Mama Miss Blog and Designs
Looking for more salad yumminess?!  Try these, they are my favorites!!
chopped steak salad || strawberry chicken salad || greek salad with fresh herbs || kale, corn, & grilled chicken salad

♥
Like what you see?!
You can connect with me on:
Pinterest || Facebook || Twitter || Google +
And don't miss any updates…
♥
© Mama Miss. All images & content are copyright protected.
Feel free to share ONE picture and linking directly to this post for download.
Please do not copy directions, ingredients, or pdf files for your own website or Facebook page, visuals or words.
Copying my post partially, or fully, is strictly prohibited.
All work by Mama Miss is licensed under Creative Commons Attribution-NonCommercial-NoDerivs 3.0 Unported License.
♥♥♥
(Visited 2,581 times, 1 visits today)