It's the third month Virtual Book Club for Kids!
During the month of September we highlighted the book Where the Wild Things Are
with Sailboat Tangrams.
In October we highlighted Llama Llama Red Pajama with Patterns & Symmetry!
This month we are honoring the amazing art & story of Madeline by Ludwig Bemelmans and exploring art and color.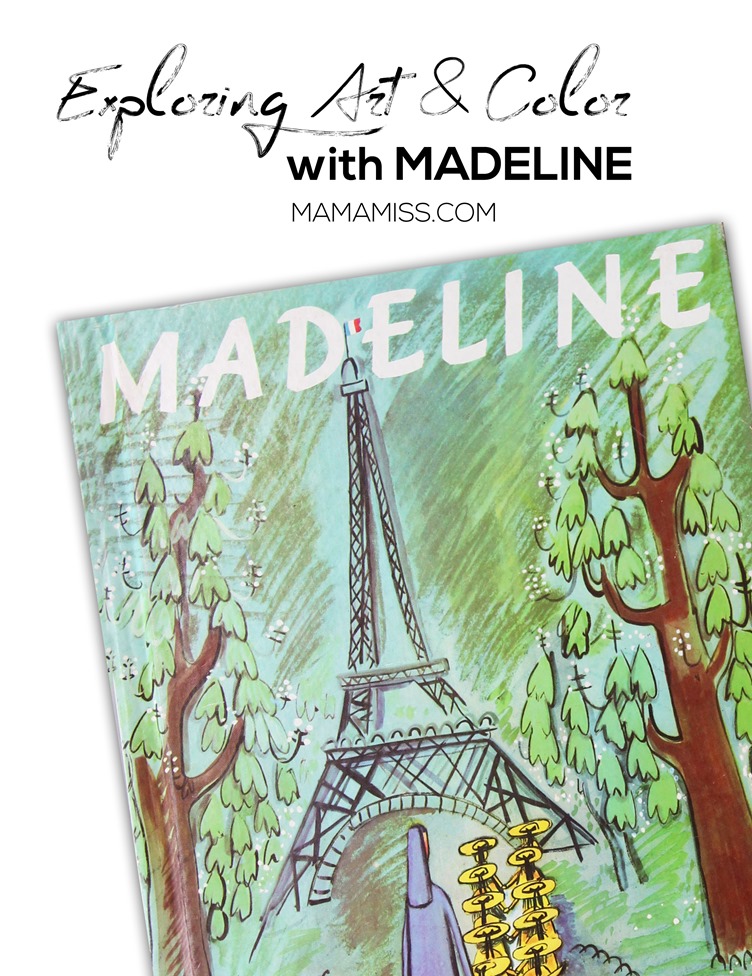 We read beautifully illustrated Madeline.
Can I tell you one of my favorite things about this book (besides the illustrations of course)?!  In the back of the book, the very last page hosts a list of places illustrated in the book.  Seriously, can a geography/history lesson get any easier – a list is right there for you to explore these places with your child.  Explore them on a map, an atlas, online, through photos, through books – so many ways to extend the learning & loop it all back to the book!!  My heart is on fire!!
We talked about Ludwig Bemelmans' illustrations, the art and color throughout, and certain themes in his illustrations all the way through his books.  His work was created with ink and watercolor.  One of the themes throughout his books, tucked in amongst the colorful pages, are solid color saturated illustrations with black inky lines and bold yellow watercolor hues. We went with that theme – art and color, & created our own illustrations of black lines & watercolor hues inspired by Madeline and Mr. Ludwig Bemelmans!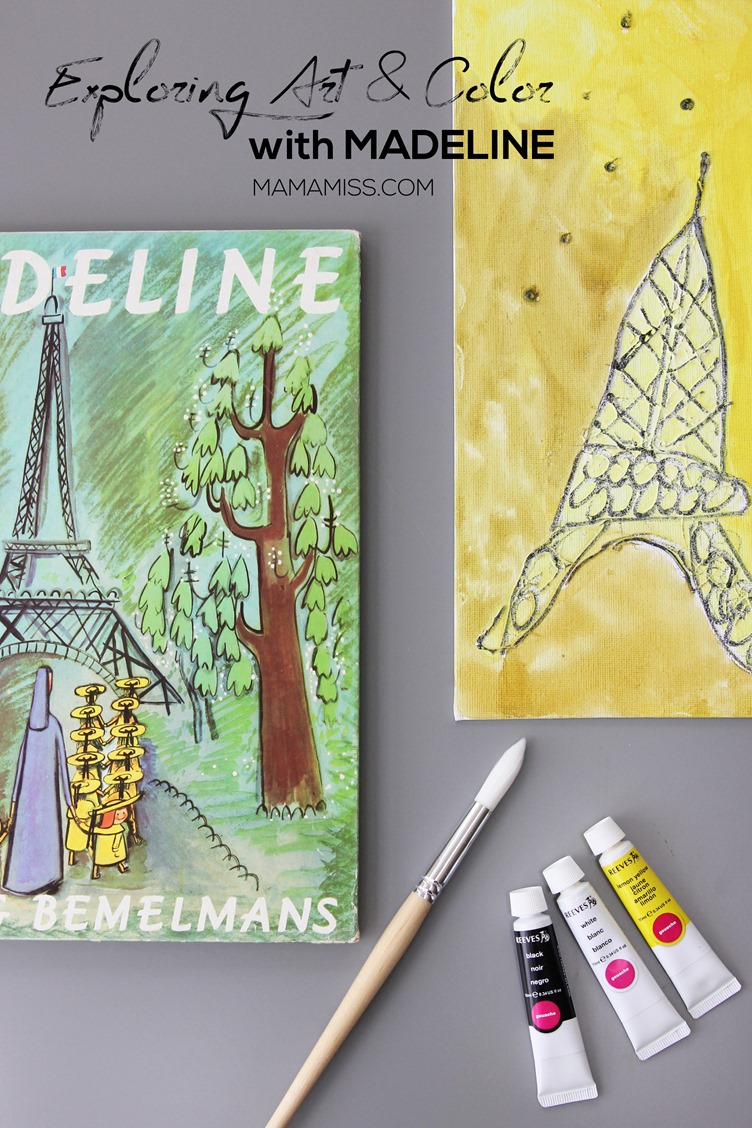 In creating this project I contemplated the black inky lines, and working with a kindergartener, and that these lines would indeed, most likely, blend with the watercolors and make a big muddy mess.  You know because a kindergartener, and water, and paint – yep, no need to explain more ;)
So, the brilliant Jenae at Paintbrushes & Popsicles had me truly inspired with her recent watercolor spider web art – a glue gun!!  By golly – YES!!  And I had black glue sticks too – YES YES YES to no muddy mess!!
Here's how we did it!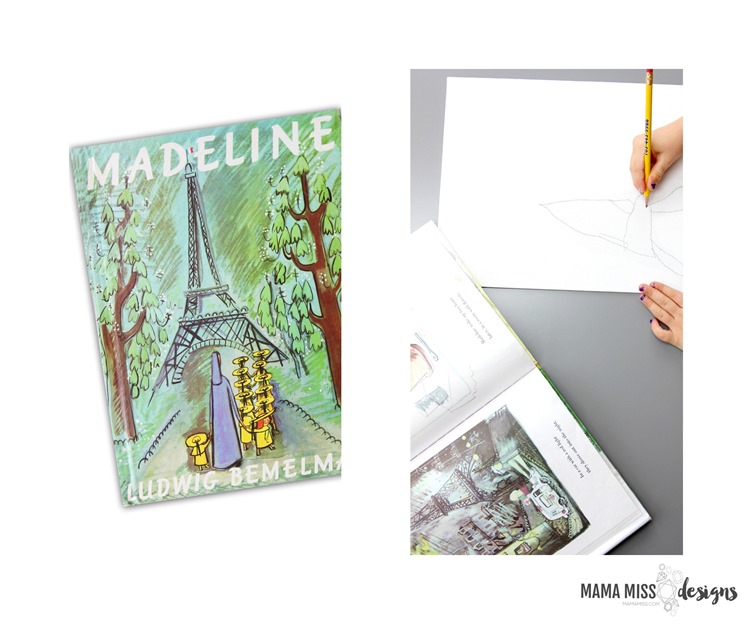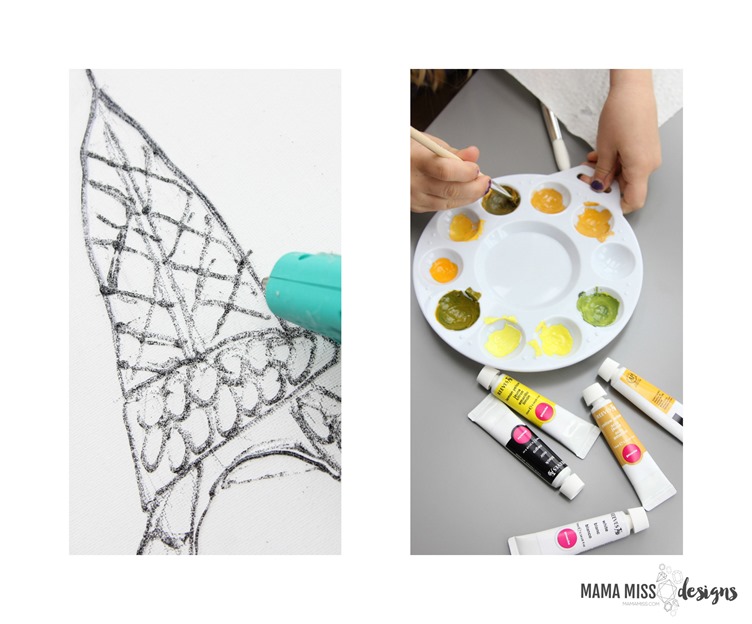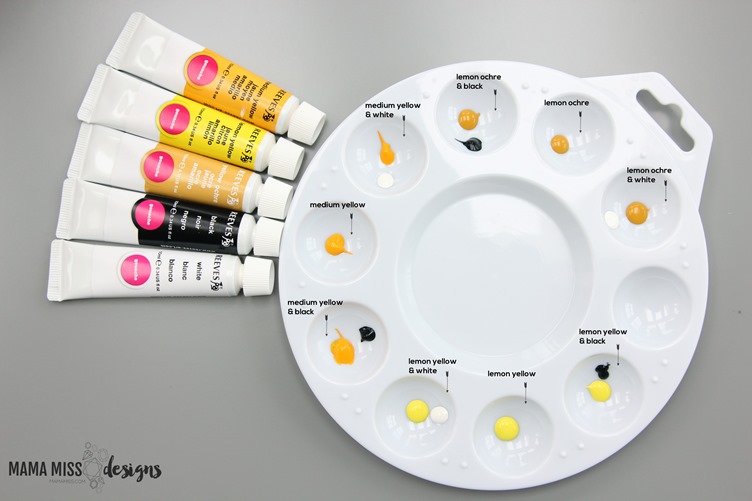 THE SUPPLIES
THE HOW TO
We started off our lesson with reading several of Ludwig Bemelmans' books namely our VBS book of the month, Madeline (but we also we read Madeline's Rescue, Madeline in London, & Madeline and the Bad Hat because we are crazy book people and "love all the books") .
I then had V draw the Eiffel Tower, with pencil, on the canvas (this girl is OB-sessed with all things Paris, so her choosing to draw the Eiffel Tower was an absolute no-brainer).  Another Paris scene from the book would work great too if your little one wasn't all that excited about the Eiffel Tower :)
After her sketch was laid out, I traced her sketch with my mini hot glue gun using the BLACK hot glue sticks.
While I was working with the hot glue I had her work on making different shades & tints (adding small amounts of black & white to make more colors) of yellow, using the yellow paints in our pack.  For shading you will add black, for tinting you will add white.
After the glue was dry, V used her watercolor to paint the backdrop to the Eiffel Tower, emulating the bold yellow colors in Ludwig Bemelmans' illustrations.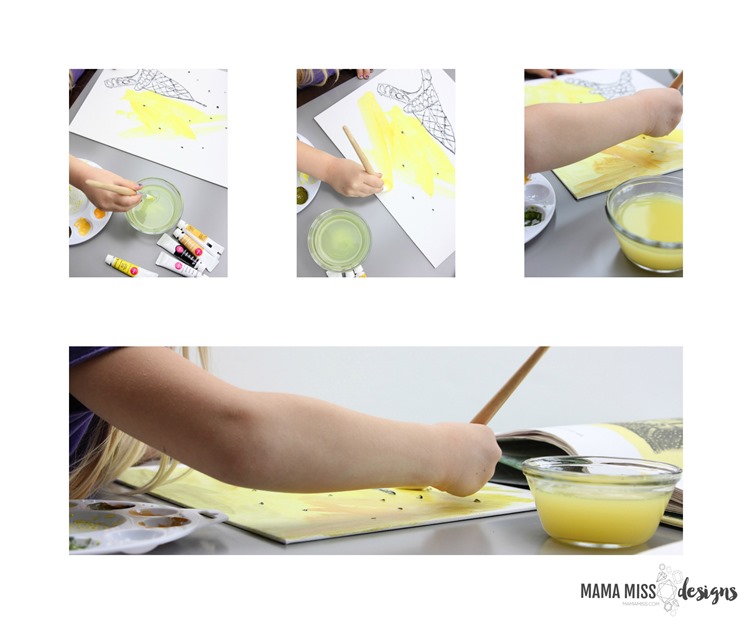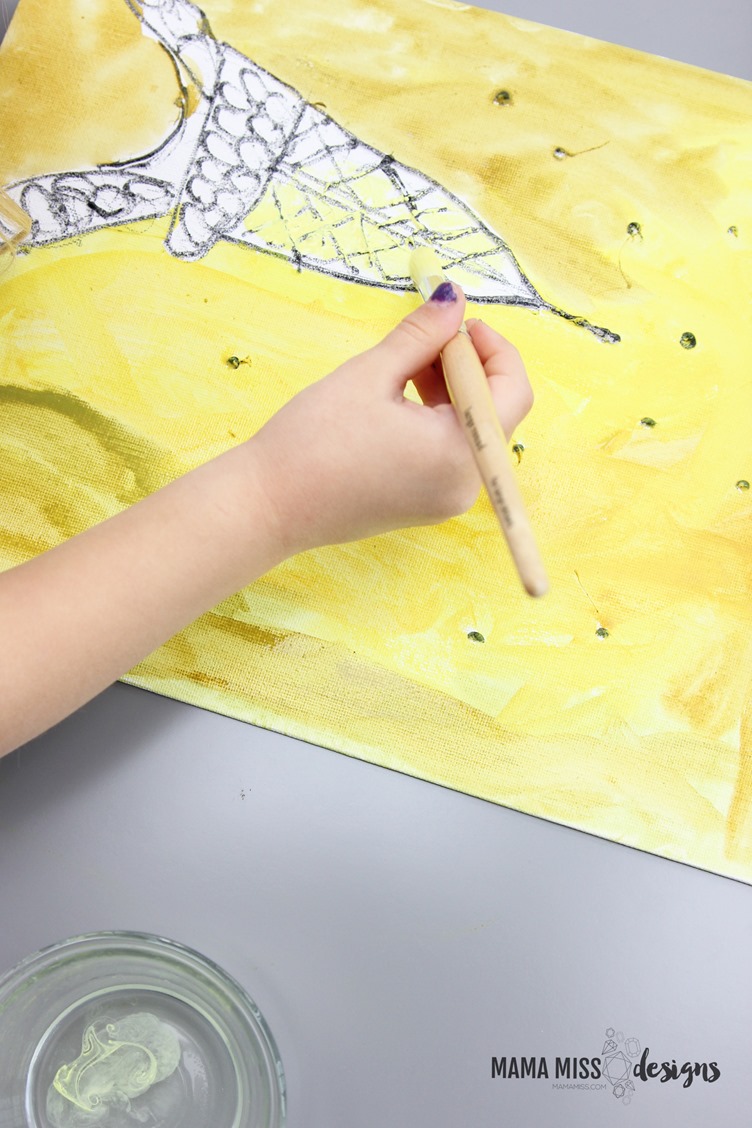 LEARNING EXTENSIONS TO THE BOOK
geography/history – explore these places on a map, an atlas, online, through photos, through books
art – discuss Ludwig Bemelmans' illustrations through his books, create with his materials – watercolor & ink
colors – talk about shades and tints and how to create them, create them
phonics – discuss rhyming words throughout, create rhyming matching cards
architecture – explore the buildings/landmarks of Paris illustrated throughout the book, build them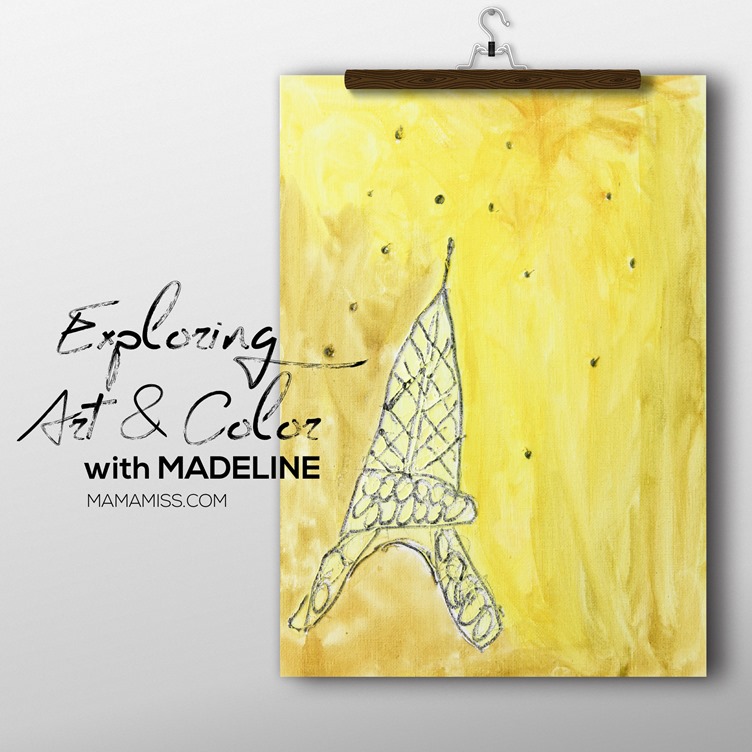 MORE AWESOME CRAFTS & ACTIVITES INSPIRED BY
for this month's for Virtual Book Club for Kids.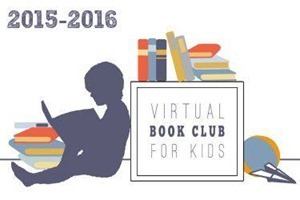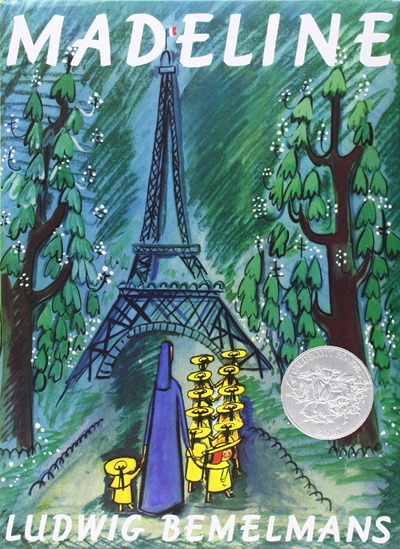 INSPIRE OTHERS BY SHARING!!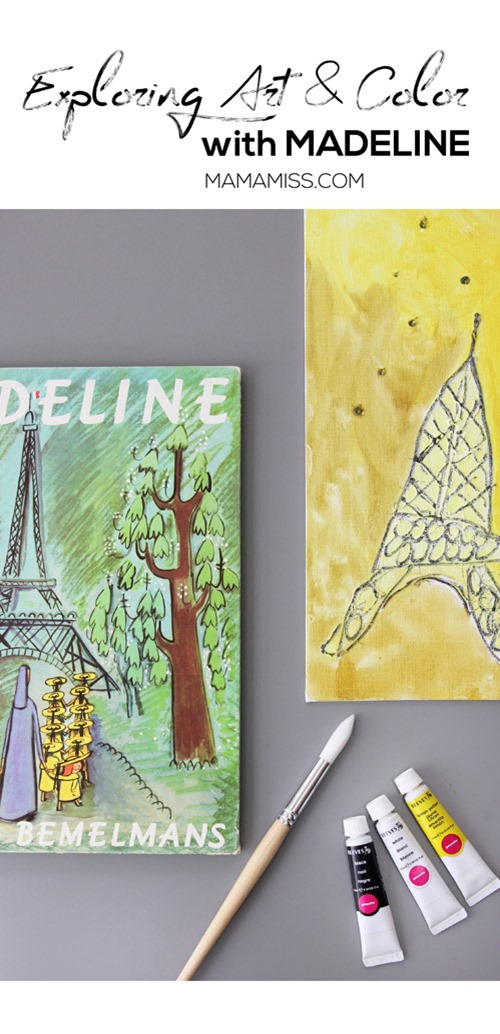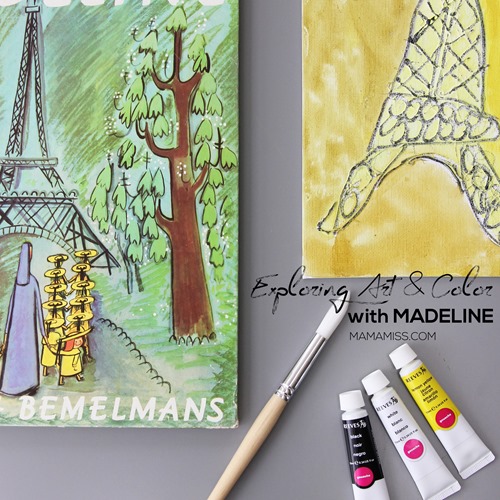 ♥
Like what you see?!
You can connect with me on:
Pinterest || Facebook || Twitter || Google +
And don't miss any updates, get new posts right away – sign up here…
♥
© Mama Miss. All images & content are copyright protected.
Feel free to share ONE picture and linking directly to this post for download.
Please do not copy directions, ingredients, or pdf files for your own website or Facebook page, visuals or words.
Copying my post partially, or fully, is strictly prohibited.
All work by Mama Miss is licensed under Creative Commons Attribution-NonCommercial-NoDerivs 3.0 Unported License.
(Visited 4,581 times, 1 visits today)