Adjusting Focus: we're not talking cameras, we're talking mindset.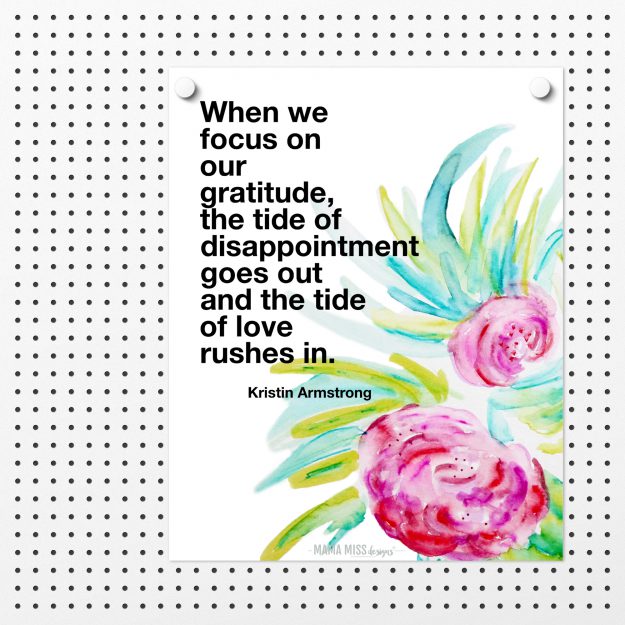 The kids and I have been talking a lot about gratitude and adjusting our focus. V, like me, loves all.the.quotes. and loves all.the.creating. This printable came to fruition after trying out our new Tombow Dual Brush Pen Art Markers and slapping on a quote to inspire our thinking.
Adjusting Focus.
Adjusting our focus can be a hard thing to do, but reframing our thinking can be pivotal in the expectations we have placed on others and ourselves. Those expectations are the bars we set for our lives. When our reality matches them, we feel accomplished and happy. When our reality differs, therein lies our disappointment, and where we need to pivot our thinking.
When we focus on our gratitude, the tide of disappointment goes out and the tide of love rushes in. - Kristin Armstrong
Reframing our focus on the things we are grateful for is an excellent way to pivot our thinking. Once that pivot happens, because our brain has recognized that gratefulness, our heart then catches up quickly, and is filled with love.
Frame Your Focus.
In usual fashion around these parts… I love me some quotes, I love to make pretty things to put said quotes on, and I love to share those things with you. So, here it is. Print it out and hang it in your workspace, or the hallway, or the bedroom mirror as inspiration…. to reframe the ol' noggin and focus on the gratitude and the things that are most important to us.
oh & p.s.
I will be sharing an exciting announcement next week! Be sure to stay tuned and keep an eye out, I can't wait to share this news with you!!


INSPIRE OTHERS BY SHARING!!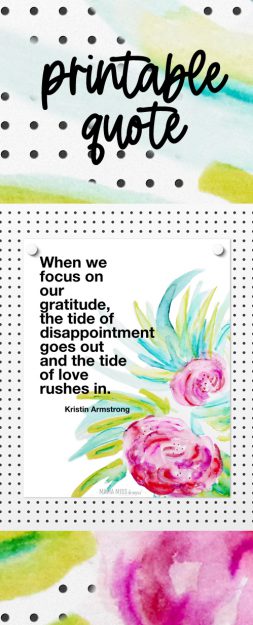 ♥
Like what you see?!
You can connect with me on:
Pinterest || Facebook || Twitter || Instagram || Shop
And don't miss any updates, get new posts right away – sign up here…
♥
©Mama Miss®. All images & content are copyright protected.
Feel free to share ONE picture and linking directly to this post for download.
Please do not copy directions, ingredients, or pdf files for your own website or Facebook page, visuals, or words.
Copying my post partially, or fully, is strictly prohibited.
All work by Mama Miss is licensed under Creative Commons Attribution-NonCommercial-NoDerivs 3.0 Unported License.
(Visited 692 times, 1 visits today)