Guess what? I have a new book! The 5-Minute Gratitude Journal for Kids.
Dear friends, After a LOT of hard work behind the scenes for the past several months, I'm so excited to finally announce that I have a new book coming out!
The 5-Minute Gratitude Journal for Kids is about how thinking positive thoughts can help kids see their lives differently and feel more grateful every day. This book will help nurture their sense of positivity with thoughtful questions, creative prompts, inspirational quotes, and fun activity ideas. In just a few minutes a day, kids can develop a daily gratitude practice to lift their spirits and encourage meaningful conversations with the people in their life.
This gratitude journal only takes a small amount of time. It gives kids a slight nudge in their day to take notice of the simple things in life they might otherwise take for granted. By journaling regularly, they will also start to become more aware of and appreciate their everyday environment.
My favorite part of writing this book was really putting gratitude to the forefront with my own two middle schoolers. Well, I better clarify real quick before they correct me, one is not quite a middle schooler yet – he has 1 more year. Gratitude is something we talk about a lot in our house. This journal is a tangible item that creates accountability. It stretches their capabilities a little further. Having my kiddos take just 5 minutes, to really reflect on their personal gratitude and what it can look like, has been a truly rewarding experience.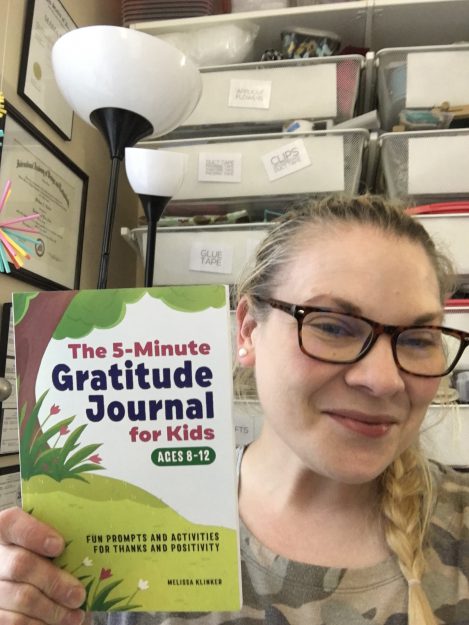 I know you're going to love it. Learn more about the book and pre-order a copy here: https://amzn.to/3csfNTo

♥
Like what you see?!
You can connect with me on:
Pinterest || Facebook || Twitter || Instagram || Shop
And don't miss any updates, get new posts right away – sign up here…
♥
©Mama Miss®. All images & content are copyright protected.
Feel free to share ONE picture and linking directly to this post for download.
Please do not copy directions, ingredients, or pdf files for your own website or Facebook page, visuals, or words.
Copying my post partially, or fully, is strictly prohibited.
All work by Mama Miss is licensed under Creative Commons Attribution-NonCommercial-NoDerivs 3.0 Unported License.
(Visited 75 times, 8 visits today)