1.4K Flares
1.4K Flares
×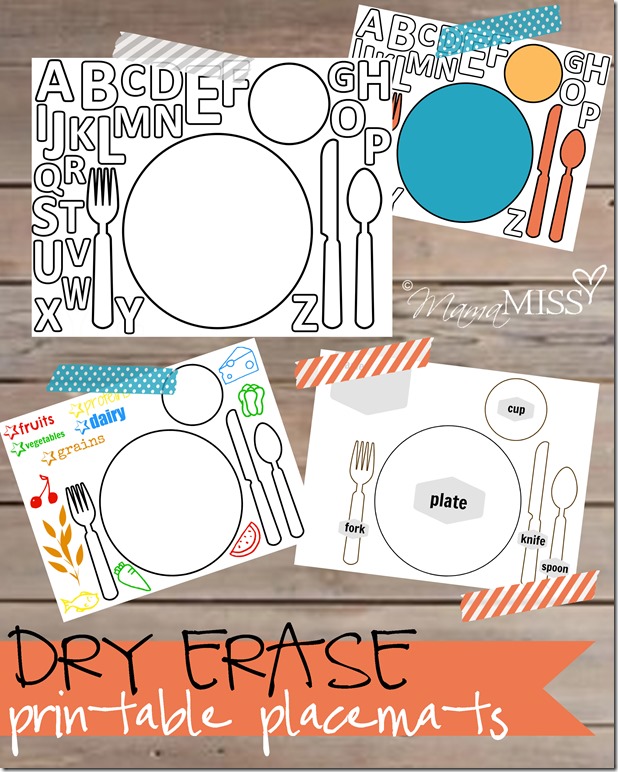 If you haven't guessed already, we like eating around these parts. And as much as my little ones like to eat in the kitchen, they like to help in the kitchen too. So, I like to delegate responsibilities as much as possible. One of the things that is fantastic for a toddler or preschooler to do while mama is cooking, is setting the table. This allows independence, responsibility and accomplishment.
With that in mind, I've designed several placemats for printing & laminating – they are customized perfectly to fit a smaller size plate, cup, spoon, fork, & knife.
Once they are laminated they can be used with dry erase crayons
or washable dry erase kids markers
to learn & color.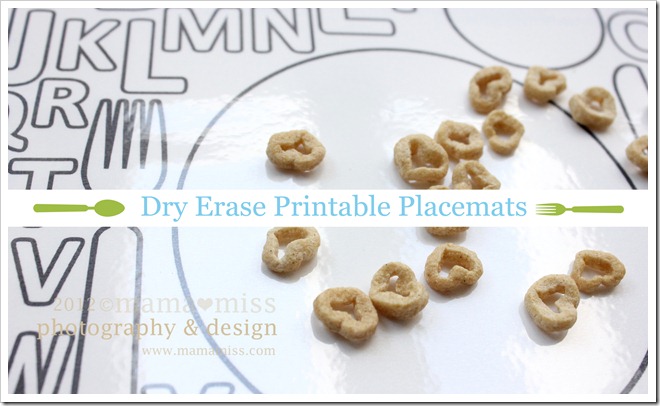 Here is a breakdown of all the fun printables & descriptions.
Alphabet Placement & Table Setting

(black & white + color versions)

♥ practice tracing letters of the alphabet

♥ coloring letters of the alphabet

♥ learning the basics of a place setting
Food Groups Placemat & Table Setting

♥ learning of the 5 food groups

♥ matching the food group words to the food group objects

♥ learning the basics of a place setting
Meal Time Placemat & Table Setting

♥ meal time place setting words

♥ personalization space to practice name spelling

♥ learning the basics of a place setting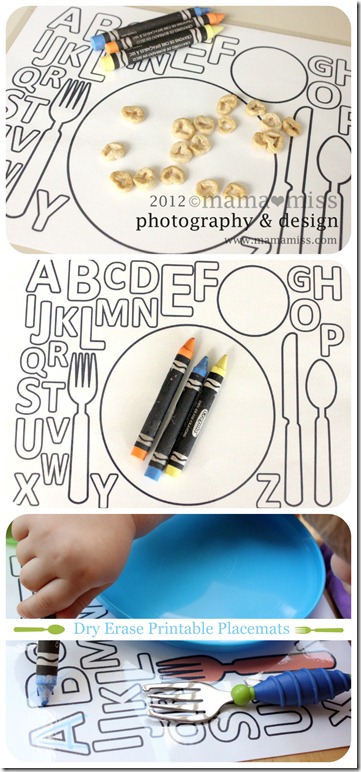 And yes, your eyes are not deceiving you – that is heart-shaped cereal
you see in the pics, which I HAD TO HAVE, you know me…and my hearts ;)
And here are the printables (click on each button for a printable PDF file):


♥
Like what you see?!
You can connect with me on Pinterest|Facebook|Twitter|Google + too!
♥
© Mama Miss. All images & content are copyright protected.
Feel free to share one picture and linking directly to this post for download.
Please do not copy directions, ingredients, or pdf files for your own website.
Copying my post partially, or fully, is strictly prohibited.
All work by Mama Miss is licensed under Creative Commons Attribution-NonCommercial-NoDerivs 3.0 Unported License.
♥♥♥
Please note that affiliate links are also provided throughout the post for your convenience – to allow direct access to the products suggested.
Pin It
1.4K Flares
1.4K Flares
×