We can't forget about the little ones – here's to a Year of Gratitude with this all-new daily prompt Gratitude Journal for 6-9 year-olds!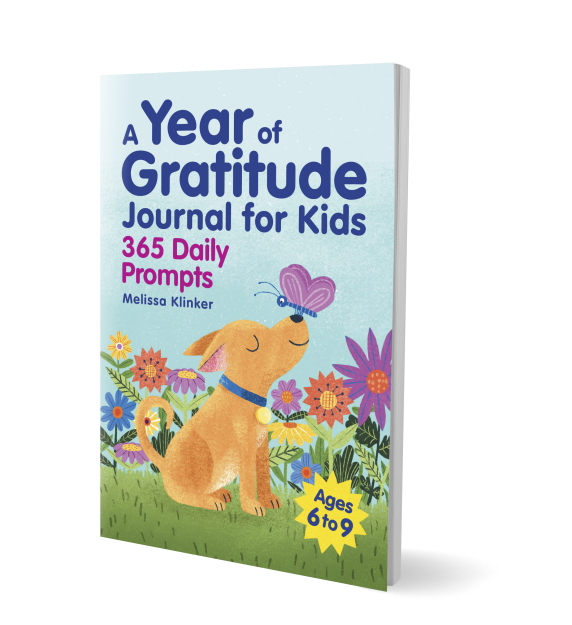 Well, friends, I'm back with another gratitude journal – this time it's for the little ones aged 6-9 years old! Earlier this year I published my first Gratitude Journal for middle schoolers. Now it's time for the littles to learn about gratitude!
This Year of Gratitude Journal is the perfect addition to your daily routine with your little ones – whether they use it at night, first thing in the morning, or something to do mid-day. It's a perfect way to ground them to gratitude and why it is important to practice it.
Along with a daily journal, activities at the dinner table or just throughout the day can help solidify a deeper understanding of gratitude. There are a host of activities to assist in practicing gratitude with kids of all ages. A few are: Gratitude Dice, Kindness with Cards, Thanksgiving Placemats, Thankful Jar, & Gratitude Activities.
A Year of Gratitude Journal for Kids
The simple, purposeful act of putting pen (or crayon!) to paper to express gratitude can help children build positivity, optimism, and self-esteem. This guided kids gratitude journal provides fun prompts and exercises that will get little ones excited about sharing what makes them happy every day for a year — because they're never too young to start practicing gratitude.
What sets this journal apart from the others?
Gratitude 101—Kids will learn what gratitude is and that they can feel grateful for big things, like when someone helps them, or small things, like a really yummy smell.
365 playful prompts—A NEW prompt each week, and a NEW activity each week! They'll make gratitude a habit by writing or drawing what they most love about being outside, something brave they did, what makes them laugh, and much more.
Grow together—Find fresh ways to connect and bond with your child as you learn what brings them joy and appreciation for life.
Colorful—Pages are colorful, there are no boring black and white pages here!
You can support your child's emotional learning and help them celebrate the best parts of their day with this new journal. You can preorder a copy of this new journal here, it will be released on December 7th!

♥
Like what you see?!
You can connect with me on:
Pinterest || Facebook || Twitter || Instagram || Shop
And don't miss any updates, get new posts right away – sign up here…
♥

(Visited 618 times, 1 visits today)