1.8K Flares
1.8K Flares
×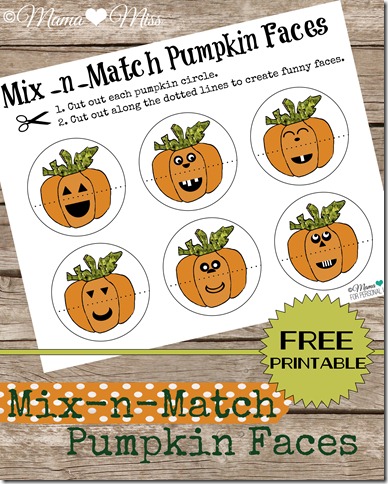 So, in turning to the printable I wanted to embark upon today, I thought of those old mix-n-match games where you could add a head to a different body & create a totally different look.  I have also been brainstorming about Halloween, and the activities I can come up with for V that are 3yo girl G-rated (i.e. not scary in the SLIGHTEST bit).  And let me tell you, there is not a lot of inspiration of non-scary Halloween things, except for pumpkins that is.  Well, with mix-n-match on the brain, I thought "I wonder if I could do that with pumpkins"?  But, it needs to be a happy pumpkin, happy little pumpkins to mix-n-match.  "By George, I think I've got it!"  And, behold, this is how I DID it :)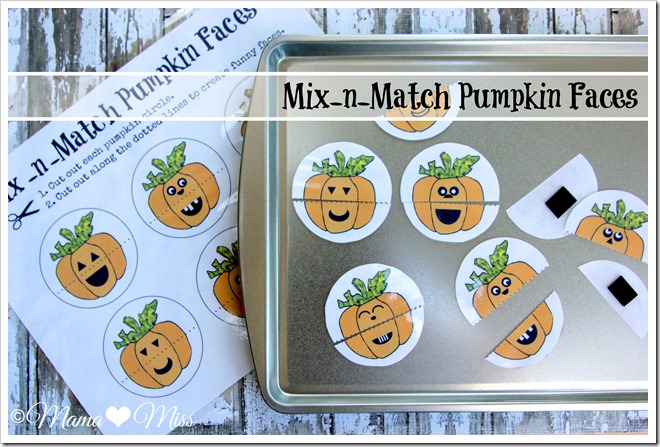 First, click on the image below to download the free printable PDF file.
Next, laminate it.  This is not necessary, however it will hold up better during play.  An alternative to lamination is Clear Contact Paper.
Next, cut out each circle, then cut each pumpkin in half along the dotted line.
Play time!  Mix-n-Match the pieces to create different little happy pumpkin faces.
(Optional) I took it a step further & added Magnet Strips to the back of each pumpkin half & attached them to a baking tray from the Dollar Store.  So, now it can be used in the car without losing the pieces (Genius Mama Moment!!).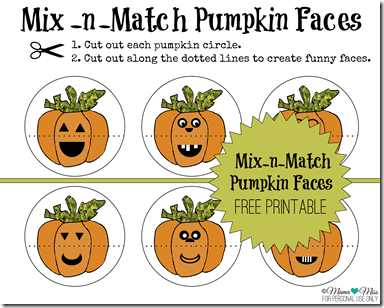 xx ♥ m
Terms and Conditions
The above post allows a free printable PDF download; you will need Adobe Reader to do so.  It is free to download at Adobe's website here.
Please read here before you download any of mama♥miss's PDF files…thanks, man!
(Visited 2,127 times, 4 visits today)
1.8K Flares
1.8K Flares
×