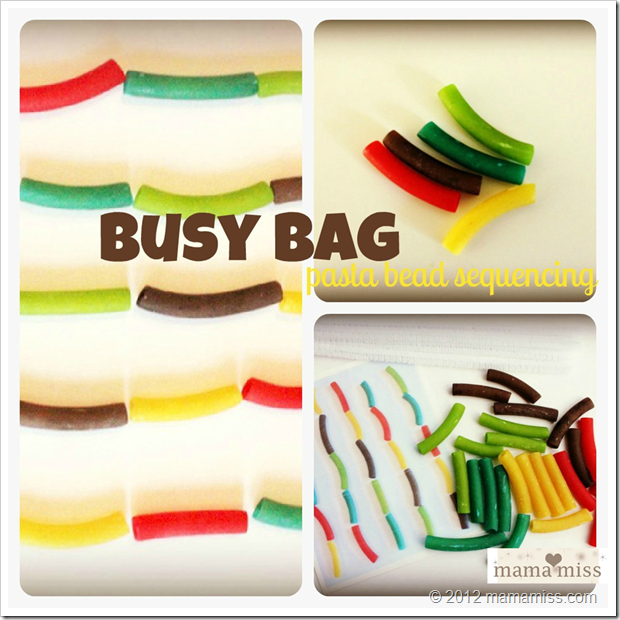 So I figured I should probably hook ya up with an activity now that you have all this Kool-Aid dyed pasta in your arts & crafts treasure trove!
This a simple busy bag activity – for the car, the restaurant, the doctor's office, church, etc.…basically any place you need a quiet activity for the little ones that will grab their attention span for a few moments (we all want that, don't we?!  wink-wink).
So, let's roll…
Ingredients/tools:
Kool-Aid dyed ziti pasta (tutorial here).
5 white pipe-cleaners (I used white so it is less distracting with all the amazingly bright Kool-Aid dyed pasta ;).
Printable sequencing card (see printable PDF below).
A gallon sized sealable bag to contain it all, so you can throw it in your purse (even though inevitably it will all end up loosely on the bottom of your purse, covered in purse fuzz, but here's to giving it the ol' college try – HA!).
And I think you can figure it out from here, but just for the sole purpose of micro-managing (ME – micro manage…nooooo…HA!), I will explain ;).
Basically using the printable card, the pasta (make sure you fill their bag with enough pasta – the sequencing card is made using 5 pasta beads of each color), and the five pipe cleaners, the kiddos line up the pipe-cleaners in the sequential order that is on the card.
Note: I made this activity for my 2yo, so you might have to come up with something a little bit more complicated in regards to a sequencing card to accompany the pasta & pipe-cleaners for it to be a bit more challenging for an older child :)
And here's the free printable :)
(click on the picture for a printable PDF file)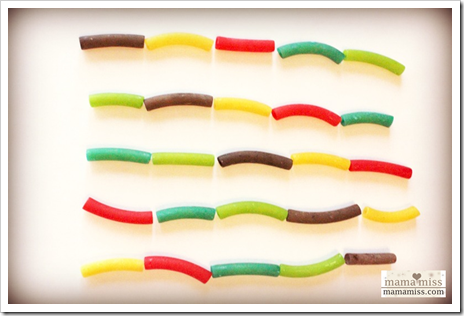 Terms and Conditions
The above post allows a free printable PDF download, you will need Adobe Reader to do so.  It is free to download at Adobe's website here.
Please read here before you download any of mama♥miss's PDF files…thanks, man!
(Visited 1,290 times, 1 visits today)