Until I made this I must confess I've never had pho before, I mean NEVER.  Man, I didn't know what I was missing!  For those who are in the dark like me…pho is a Vietnamese dish consisting of broth, rice noodles, a few herbs, and meat.  Now I know what all the rage & fuss is about – yummers :)  Hubs is a pho connoisseur one might say – when we were dating he'd eat it all the time, but I don't think he's had  it in years, well until now!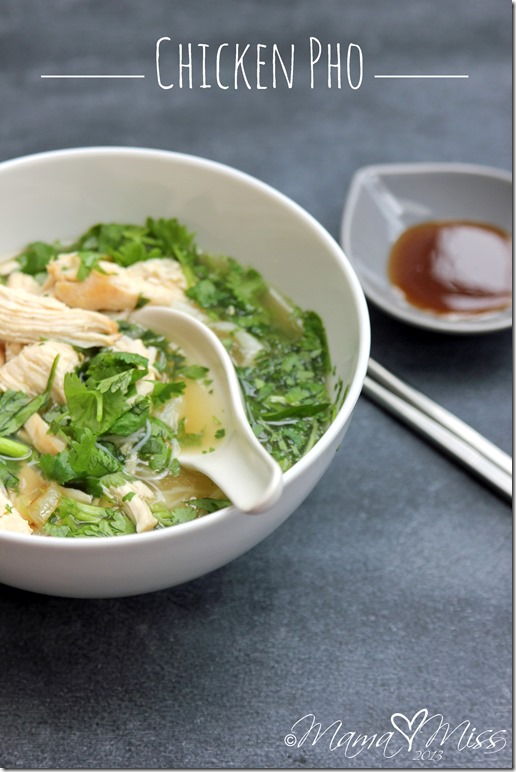 So, not to toot my own horn…but…my parents were visiting and concluded that this was the best pho they've ever had!!  woot woot – and on my first attempt – I was super stoked you might say ;)  And, in case you were wondering – hubs LOVED it too – but my parents excitement was through the roof, and since I cook for hubs every night I don't think he was as jumping-for-joy-excited as my hungry parents were – tehehe.  He did conclude it was an "explosion of taste" though – so there ya have it!  Wildly accepted by my family (and me!) – so a definite addition to our regular menus now!!
So, with just a few ingredients – you can make it too – and get rave reviews from your hubs (and if you invite your parents over for some chicken pho you may even get some jumping-for-joy-excitement as well ;)
This yummy Vietnamese dish with broth, rice noodles, herbs, and meat is sure to fill your belly & be an instant hit to even the pickiest of eaters.
Ingredients
soup
3 chicken breasts
3 quarts chicken stock
1 teaspoon ground ginger
1 (16oz.) package of dried rice noodles (I used
these
)
2-3 cups chopped cilantro
2 cups chopped green onions
garnish
1/4 cup chopped cilantro
4 - 5 shallots; finely chopped
1/2 - 1 teaspoon vegetable oil
1 lime; sliced
1/4 cup chopped green onions
plum sauce
Instructions
Start by grilling your chicken until the internal temperature reaches 165° F.
Shred the chicken and cover with foil to keep warm, then set aside.
While chicken is grilling, in a dutch oven or equivalent, heat the chicken stock over high heat until boiling; Add ginger to stock and stir.
In a third pot, cook your rice noodles according to the package directions.
In a small frying pan, heat the vegetable oil until hot.
Add the shallots to the hot pan and cook until brown and crispy.
While all the pots & pans are cooking - prep the garnishes while keeping watch. Arrange the 1/4 cup chopped cilantro, fried shallots, lime slices, 1/4 cup green onions, and plum sauce into small bowls onto a platter.
Once everything is cooked, start layering in separate bowls. Fill each bowl with the cooked noodles, shredded chicken, chopped cilantro, and chopped green onions.
Next, ladle the hot ginger-infused chicken stock onto the layers in each bowl.
Serve each bowl with the assortment of garnishes.
Notes
https://www.mamamiss.com/blog/2013/05/02/eats-chicken-pho/
All rights reserved Copyright 2012-2019 Mama Miss Blog and Designs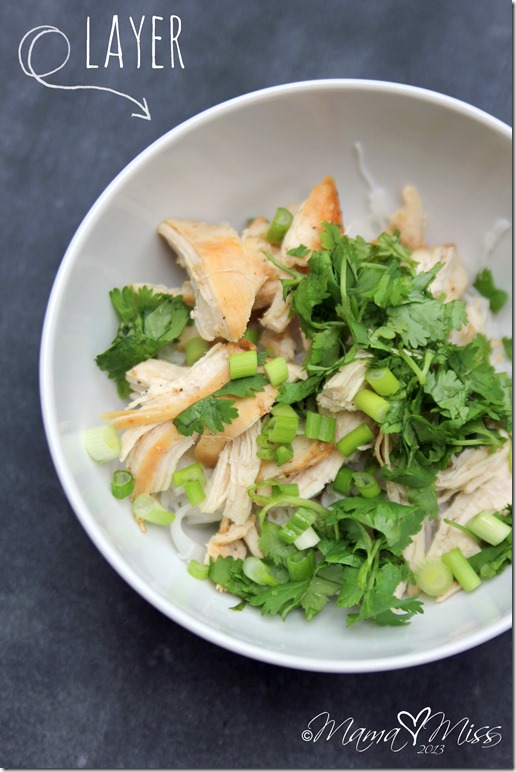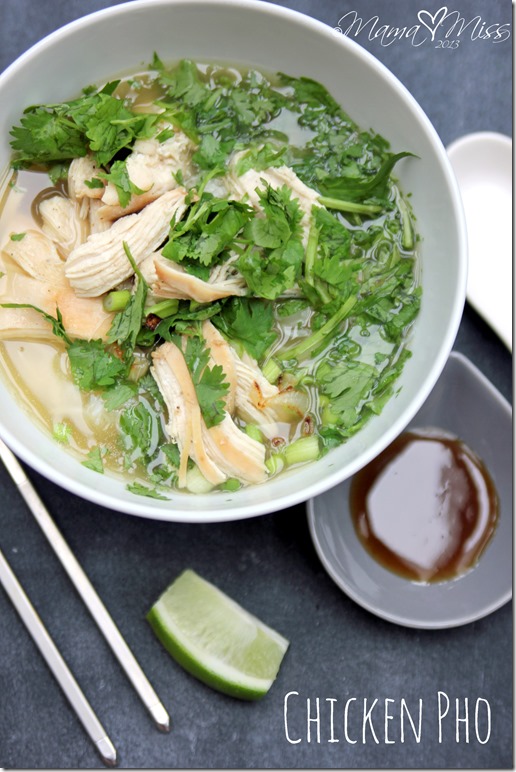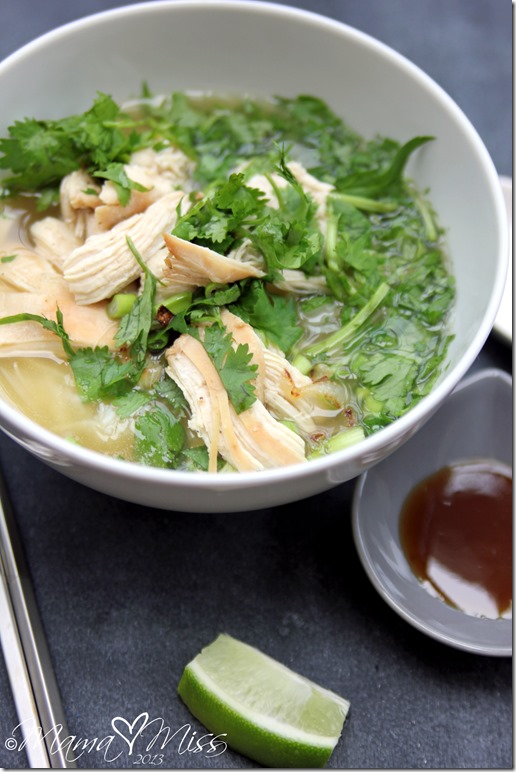 ♥



Looking for more soup?  Make sure you check out these yummy eats too…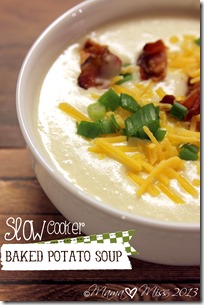 (Visited 43,944 times, 1 visits today)