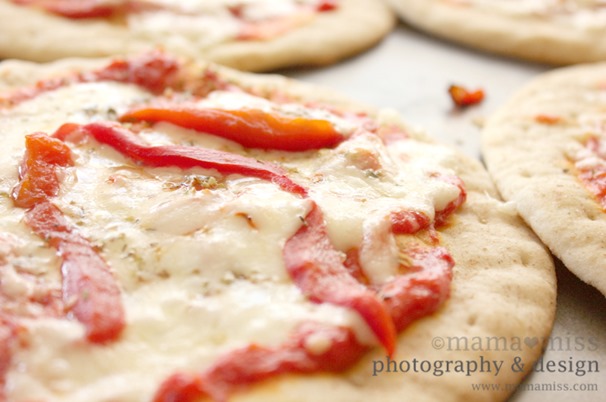 So, I finally have to share these A.M.A.Z.I.N.G. Roasted Red Pepper Sun-Dried Tomato Pita Pizzas…soooooo incredibly yummy…they are PERFECTION in pizza form!
They are so yummy that I've made them every week for the past 3 weeks…hehe!…I'm a creature of habit, if it works, why fix it? ;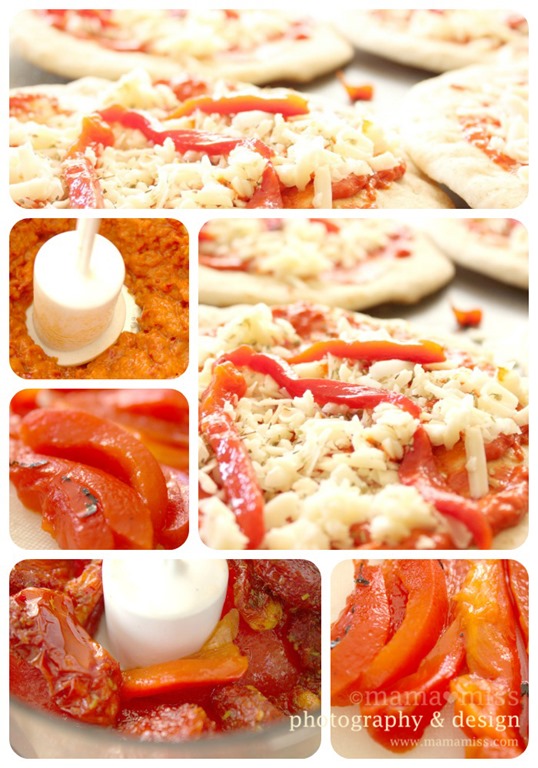 Roasted Red Pepper & Sun-Dried Tomato Pita Pizzas
Using an extraordinary sauce base these Roasted Red Pepper Sun-Dried Tomato Pita Pizzas are a tangy and delicious alternative to a traditional pizza.
Ingredients
1 – 12 oz. jar of roasted red peppers (I've used both the regular & the marinated in olive oil & garlic – they are both good – be adventurous!)
1 – 8.5 oz. jar of sun-dried julienne cut tomatoes with herbs in oil (you will only need a third of the jar for one recipe. Refrigerate the remainder of the jar for the next time you make the pita pizzas, or add it to an egg sandwich…mmmm sun-dried tomato egg sandwich…I know what I'm having for breakfast tomorrow :) sorry, got side-tracked!
1 – 8 oz. block of Monterey jack cheese
6 pocket-less pitas (I use Kontos brand)
dried oregano
kosher salt
Instructions
Preheat oven to 450° F.
Drain the red peppers. Remove a half of one pepper (about a 1/2 cup) and cut in small strips to garnish pizzas with; Set aside.
Combine in a small food processor the remainder of the red peppers, 10 sun-dried tomatoes, and 1 T of oil from the jar of sun-dried tomatoes.
Puree in food processor until smooth and the consistency of tomato paste.
Grate block of Monterey jack cheese.
Spread 1/6 of the pepper/tomato sauce on each pita pizza.
Sprinkle 1/6 of the Monterey jack cheese on each pita pizza.
After the sauce & cheese, top each pita pizza with the dried oregano, sliced red peppers (the ones you set-aside earlier), and a sprinkle of kosher salt.
Place on baking sheet and bake for approximately 6 minutes or until cheese is melted.
Notes
https://www.mamamiss.com/blog/2012/06/05/eats-roasted-red-pepper-sun-dried-tomato-pita-pizzas/
All rights reserved Copyright 2012-2019 Mama Miss Blog and Designs
Please, Please, Please I beg of you (in a desperate voice she says) (yes, I did just talk in the third person -hahaha…it's late, 1 am to be exact…& my cheesiness tends increase after a certain point ;) to try these…the red pepper & sun-dried tomato paste are the perfect marriage.  They provide the most magnificent "tang" to offset the cheese & pita.  Go ahead – I dare ya to try these Roasted Red Pepper Sun-Dried Tomato Pita Pizzas – you can thank me later ;)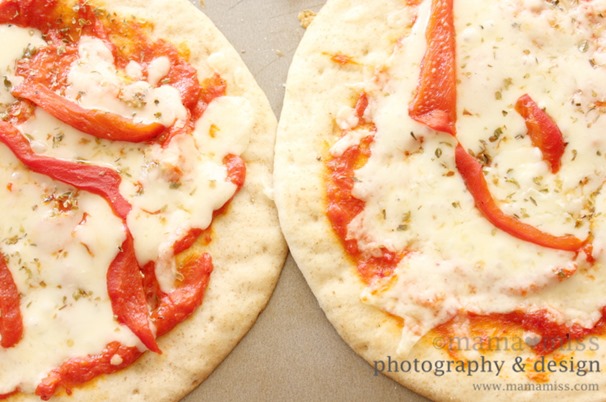 ♥
Like what you see?!
You can connect with me on:
Pinterest || Facebook || Twitter || Google +
♥
© Mama Miss. All images & content are copyright protected.
Feel free to share one picture and linking directly to this post for download.
Please do not copy directions, ingredients, or pdf files for your own website or Facebook page.
Copying my post partially, or fully, is strictly prohibited.
All work by Mama Miss is licensed under Creative Commons Attribution-NonCommercial-NoDerivs 3.0 Unported License.
♥♥♥
(Visited 1,743 times, 2 visits today)