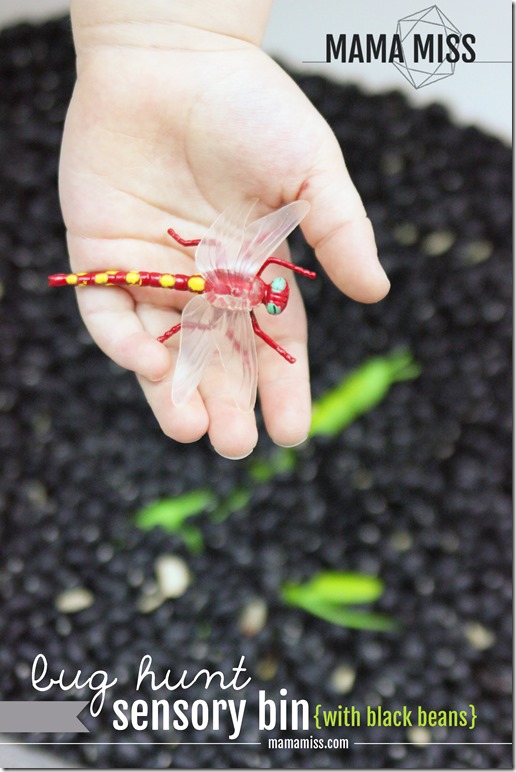 Why Hello!! Well, I haven't done a sensory bin post in a while. Although we do them around here quite often, I usually just let V&T have a go at them & forget to take pictures :) So what better way to kick off a fun new learning sensory bin then by participating in this super cool series called 40 Days of Sensory Bin Fillers, from Sarah of Little Bins for Little Hands. She's putting together 40 days of sensory bin fillers from 40 different bloggers, including myself. Can you believe that there are 40 different sensory bin materials?! Is that even possible?! Although I'm quite sure there are probably even more than that!
From March 1st until April 9th, we will each be sharing a different sensory bin filler for us all to try! Wowzers!!
She has already kicked off the series with a Colored Craft Sand sensory bin filler. And, so far, paper, corn, and cereal have also been shared as sensory bin fillers too!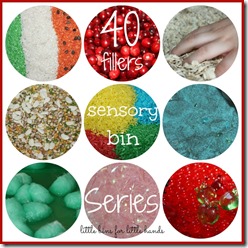 Today I'm sharing with you a new, fun (& one that is FULL OF LEARNING) sensory bin with with another fantastic filler – black beans!!
I've used black beans in the past to create this carrot garden sensory bin, which is a favorite of ours. And I'm using them again today for my new Bug Hunt Sensory Bin.
Black beans are AWESOME as a sensory bin filler – they're inexpensive and are wonderfully smooth to play with – they feel like water gliding through your hands – very therapeutic. The black color of the beans also add significant clarity and visual beauty to the other objects in the bin – their colors will pop amongst the black. They are also an easy clean up (or Shop-Vac swipe) if spilled.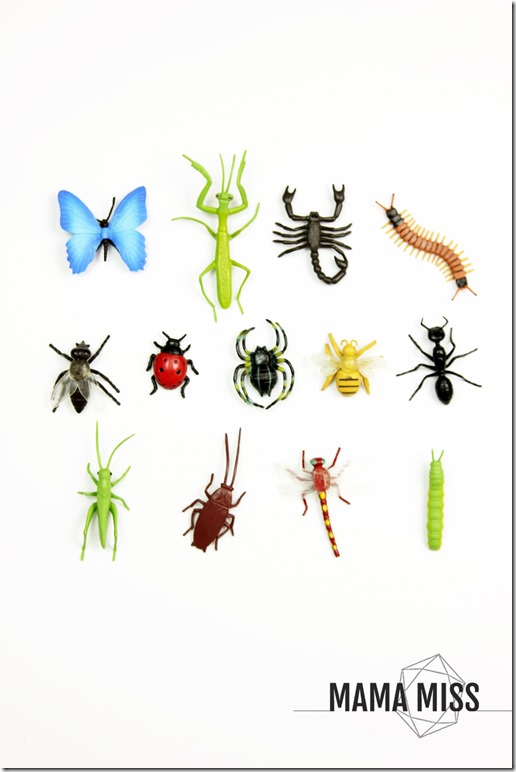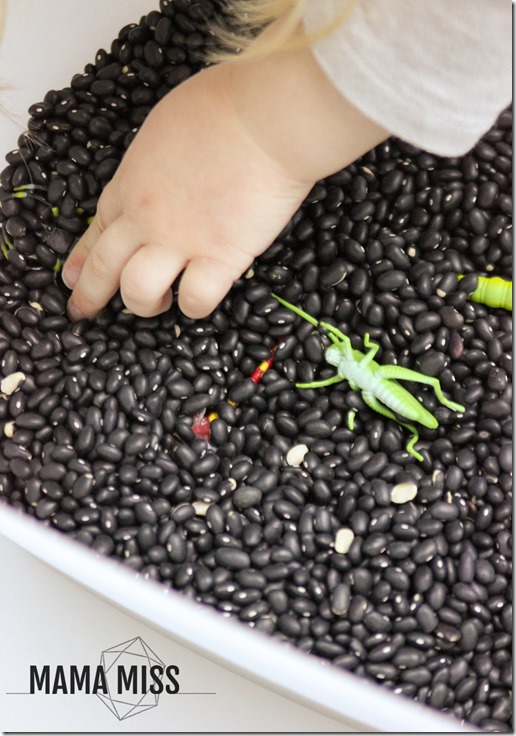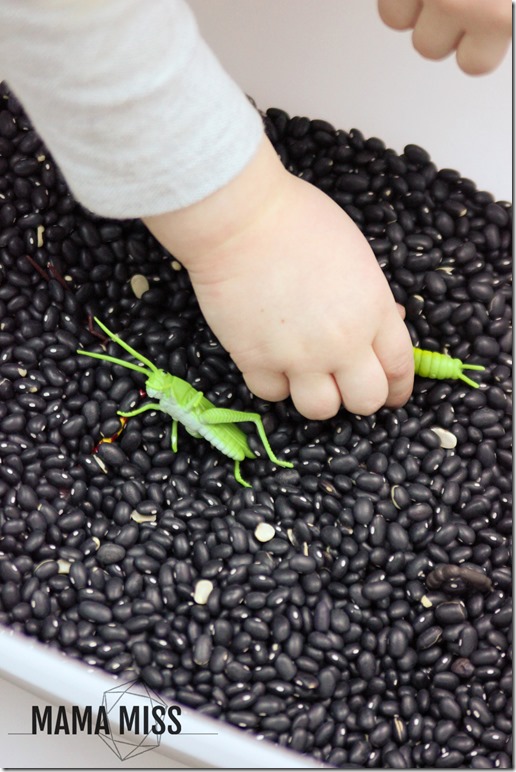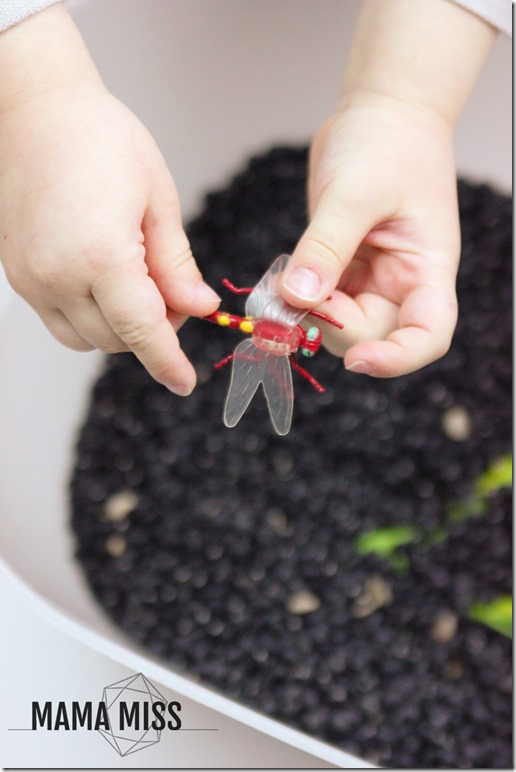 For this particular Bug Hunt Sensory Bin I turned it into something fun with a learning twist – "We're going on a bug hunt" (we're on letter B week – so "B" is for "bugs" ;). I've also created some fun free printables to go along with the sensory bin if you'd like to join in on the fun too!! YAY!!
So, I'll break down the materials first & then tell ya about all the things you can do with them!
What you'll need:
IMPORTANT – before downloading, please read my printable policy here.
optional: laminator (for the bug hunt sheet to reuse)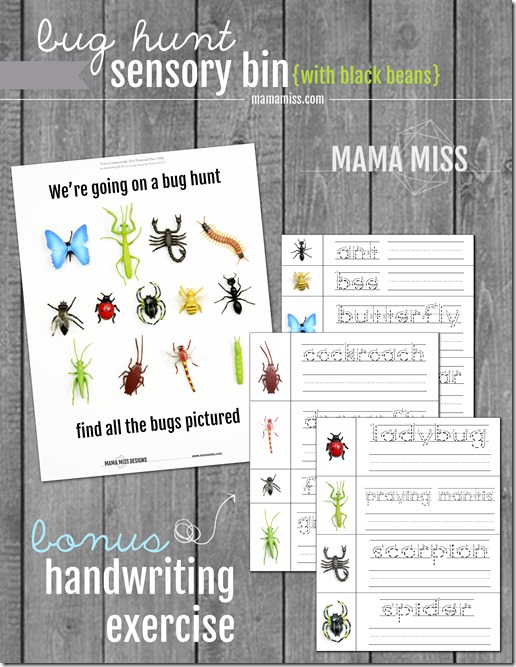 The activities:
Hide the bugs in the black bean sensory bin filler and have your child search for the bugs pictured in the Bug Hunt Sensory Bin.
Have your child identify the bugs as he/she is locating them.
Have your child spell out the names and practice writing the names of the bugs.
Hide the bugs around the house (or outside in the grass) & have your child search for them using their "bug map".
Each bug could turn into an individual lesson on that bug; talk about it's traits, how many legs it has, what it eats, where it lives, etc.
Read to your child about bugs, these are some of our favorite bug books…
The possibilities are truly endless in learning about bugs!!!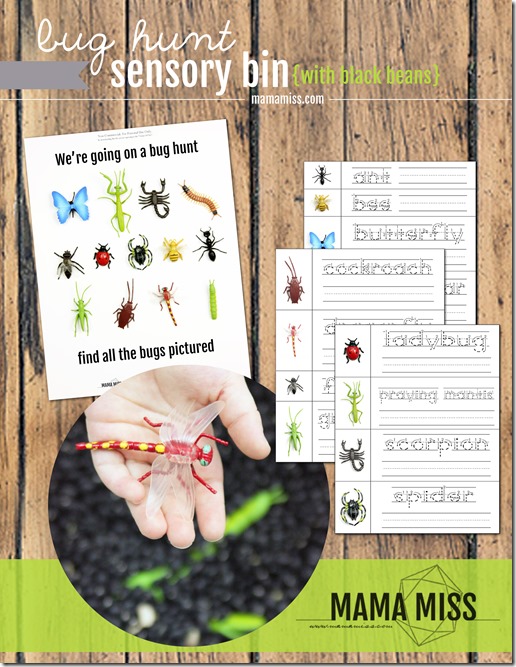 Oh, and won't you join me in linking up your black bean sensory bins too!!
I would LOOOOVE to see them & I will definitely pin them to my sensory play Pinterest board!
Make sure to stop by Little Bins for Little Hands to see all of the other sensory bin fillers in the series too, she'll update the new entries daily!!
See all the bin updates on Pinterest too…

♥
Like what you see?!
You can connect with me on:
Pinterest || Facebook || Twitter || Google +
♥
© Mama Miss. All images & content are copyright protected.
Feel free to share one picture and linking directly to this post for download.
Please do not copy directions, ingredients, or pdf files for your own website or Facebook page.
Copying my post partially, or fully, is strictly prohibited.
All work by Mama Miss is licensed under Creative Commons Attribution-NonCommercial-NoDerivs 3.0 Unported License.
♥♥♥
(Visited 9,475 times, 1 visits today)