Little T turned the big ol' 1 year old on Friday and we celebrated it with all things "little man" on Saturday with family and friends.
I still cannot believe he is ONE already!
Man, with the second baby it's like time literally flies…it grew wings & flew away ;) With V I felt like it took FOREVER for the little milestones to happen. I was always thinking, "I can't wait for her to crawl", "I can't wait for her to say her first word", "I can't wait for her to clap". With T, I blink and it's happened…slow down, little T…slow down :(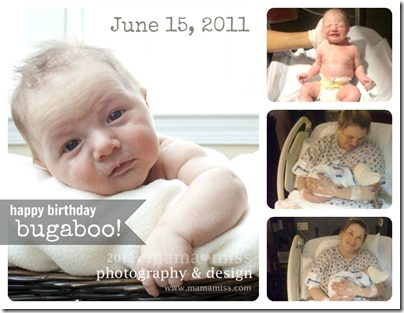 Yet another reason I started documenting all this on virtual paper (not actual paper, because if that were the case I still be writing my first blog post – HA!), to provide myself a daily log of sorts, of all the things that are going on in the world of this mama, mama♥miss, and her little munchkins.
This weekend would not have been possible AT ALL without all the help from my knighted "assistants" ;) Not only was I running around like a crazy mama, there was SUPER-daddy, SUPER-grammy, and SUPER-grandpop! Without the help from my wonderful hubby & parents, I would have been crying in the corner in frustration :)
♥♥♥
T woke up from his nap on Saturday to find the house full of family & friends there to celebrate his big day! So many firsts; he opened his first million presents – spoiled boy ;). He had his first taste of cake (yummy vegan chocolate cake) and icing – I was NOT about to introduce little man to his first egg on his big day – because that would have been great fun if for some reason he had had a reaction. So, I took the route I did with V, 19 months ago, & resurrected the special chocolate vegan cake with homemade no-fuss whipped cream (super yummy by the way…I munched on the scraps ;) It will be one of the tutorials coming this week!
Just click on the title to see more goodies from the party…
1st Birthday Cake
EASY DIY Free Printable Wreath
♥♥♥♥
Here are some visuals from the little man's birthday bash.
I declare this week T's birthday revisited ;)

♥
Like what you see?!
You can connect with me on Pinterest|Facebook|Twitter|Google + too!
♥
© Mama Miss. All images & content are copyright protected.
Feel free to share one picture and linking directly to this post for download.
Please do not copy directions, ingredients, or pdf files for your own website.
Copying my post partially, or fully, is strictly prohibited.
All work by Mama Miss is licensed under Creative Commons Attribution-NonCommercial-NoDerivs 3.0 Unported License.
♥♥♥
(Visited 872 times, 1 visits today)