Party of three! Party of three!
Good things come in threes, huh?…"What'chu talkin' 'bout, Willis?"
Well, there are The Three Bears, The Chipmunks (you know, ALVIN, Simon, and Theodore), Beetlejuice, Beetlejuice, Beetlejuice, 3 ring notebooks, three little kittens that lost their mittens, the saying "hear no evil, see no evil, speak no evil"…okay, I could go on forever. I think you get the point…and now which I have no idea what the point is! HA!
Oh, that's right, I have three fun activities for you- that's what! :)
There is a word search – YIPPEE!

There is a coloring/painting page – WAHOO!

There is book recommendation – WOOT WOOT!
So, I whipped up this little coloring page (or painting page if you print it out on watercolor or heavier paper) for V the other morning & wanted to turn it into something educational too. I spelled out the word "fireworks" and hid the letters throughout the picture (note: V is a wee little miss of 2 1/2 so the letters are not hidden really well…well, they are pretty obvious, but they were just complicated enough for her :)
We talked about fireworks & I asked her to tell me something about them and she said, and I quote, "boom" :) That's right, fireworks do go "boom!", ♥ her! I then got the "boo" crayon (boo, you know blue, well it is her FAVORITE color), and we spelled out the word. And letter by letter we searched for them in the picture…she circled them with her little squiggly circles as we found them :)
I couldn't resist the visual montage…so bear with me ;) (yes, 4th one down on the right side is a kitty cat – she circled the R & then added ears for a "kit kat" :)
After that, it was on to the painting…I printed this out on watercolor paper so it would hold up a little better. I used glitter glue (I thought what better than glitter for fireworks!!) mixed with water for a kind of watercolor moment & gave her a brush! She loved it – so much so – I kept hearing "hang up mama".
And this would be what "hang up mama" means:
PROUD MAMA MOMENT! :) Can you tell she likes kitty cats? :)
And here is that book recommendation. A very cute read & at the end (SPOILER ALERT) the mice watch fireworks :)
"Fourth of July Mice!" by Bethany Roberts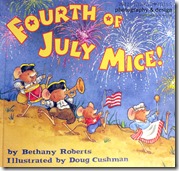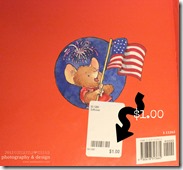 I stumbled upon this book at my volunteer job (a kids consignment store) last week. Side note: I have a serious problem when it comes to used kids' books. You will find me at every library book sale & consignment sale purchasing books by the trunkful…No joke! I do not kid about books ;)
Currently, V has in her room a 6 level bookcase completely full and overflowing with books, along with a reading center busting at the seams, and a cubed 4 hold bookshelf completely brimming as well. T already has a three level collection in his room started. I can't get enough of them. V loves them, and I can't help but feed her with them. I even have a stockpile of about 60 books in my sewing room that I will periodically give her as a reward. I'm definitely feeding the kids' book addiction by volunteering where I do and I definitely come home with a bag of books every Tuesday night…I guess it could be worse ;)
Side note #2: ummm, when looking up this book on Amazon, it's $26! Insert Joey Lawrence, "Whoa!" As you can see by my pic, I paid a whopping $1 for it (well, actually it was $0.85 after my discount) and it's in perfect condition. I don't even think it was read. I LOVE USED BOOKS- they bring such joy to me!! :)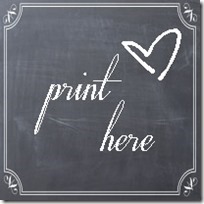 ♥
Like what you see?!
You can connect with me on Pinterest|Facebook|Twitter|Google + too!
♥
© Mama Miss. All images & content are copyright protected.
Feel free to share one picture and linking directly to this post for download.
Please do not copy directions, ingredients, or pdf files for your own website.
Copying my post partially, or fully, is strictly prohibited.
♥♥♥
(Visited 1,097 times, 1 visits today)