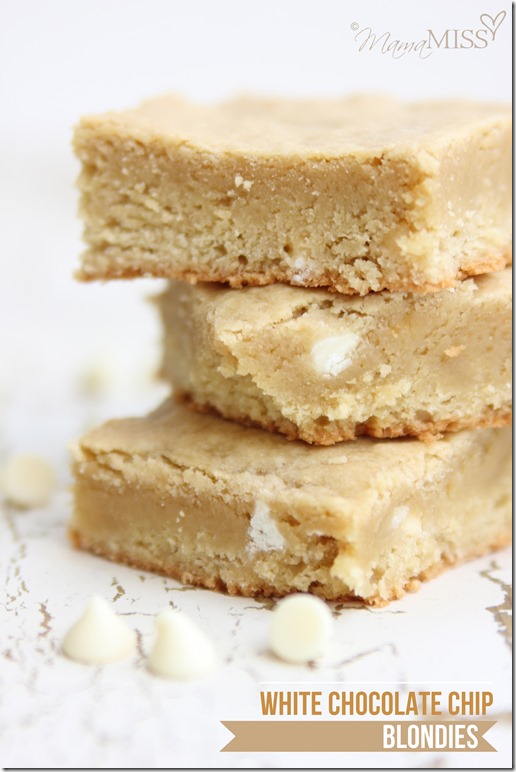 Hmmm what can I say about these except that they ARE AMAZING!  V and I decided to do a little baking last week, as you probably saw on IG already – little miss & her sifter.
On a side note, a Facebook friend said that they used an old sifter they got while thrifting, outside in the sandbox – GENIUS!  So I had the in-laws pick me up a cheapo sifter at Ikea this week & V loves to use it in her sandbox (and with her extended time in playing with it she has informed me it only works with dry sand  – wet sand is a no-go ;)  Just so you know, she's got you covered.  In sand.
Okay, back to the blondies.
V & I were feeling sassy (as hubs likes to call it when I start experimenting in the kitchen) & decided last minute to throw in some white chocolate chips, you know because, why not.  Yummers!!  So good.  By the way they've been completely devoured already.  Hubs did conclude they were decadent (so decadent, that the tray of them magically disappeared before my eyes).  Gotta' love it when that happens ;)  So without further ado…
White Chocolate Chip Blondies
These classic blondies are rich, chewy and absolutely decadent with the added bonus of white chocolate chips.
Ingredients
3 cups all-purpose flour
1 teaspoon baking powder
1 teaspoon salt
2 sticks (1 cup) unsalted butter, softened
1 cup light brown sugar, firmly packed
1 cup granulated sugar
4 eggs
2 teaspoons vanilla extract
1 cup white chocolate chips
Instructions
Preheat oven to 350° F. Lightly grease a 9x13-inch pan. Sift the flour, baking powder, and salt into a small bowl, set aside.
Combine butter, brown sugar and granulated sugar in mixer. Mix on medium speed until light and fluffy, about 3 minutes.
Add eggs and vanilla to butter mixture. Mix on medium speed until batter is smooth.
Add the flour mixture to the batter and mix with a wooden spoon until just combined. Stir in white chocolate chips.
Pour batter into prepared pan and smooth the surface.
Bake for 25-30 minutes, or until the center is just set (the blondies will rise during baking and then fall slightly while cooling).
Cool completely. Cut into squares.
https://www.mamamiss.com/blog/2013/07/30/sweets-white-chocolate-chip-blondies/
All rights reserved Copyright 2012-2019 Mama Miss Blog and Designs
And I couldn't stop taking pics of these beauties…so bare with me as I drool some more.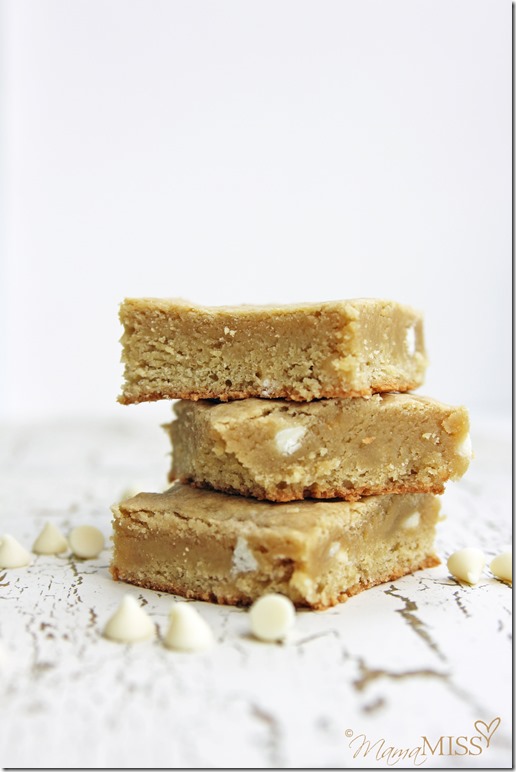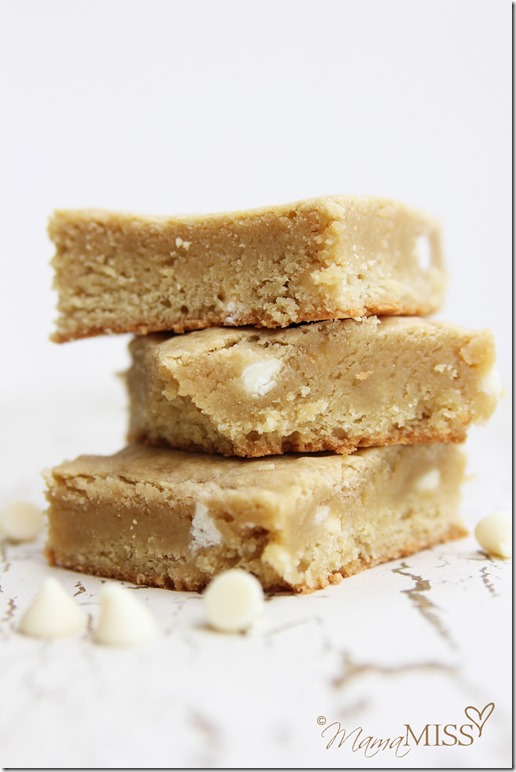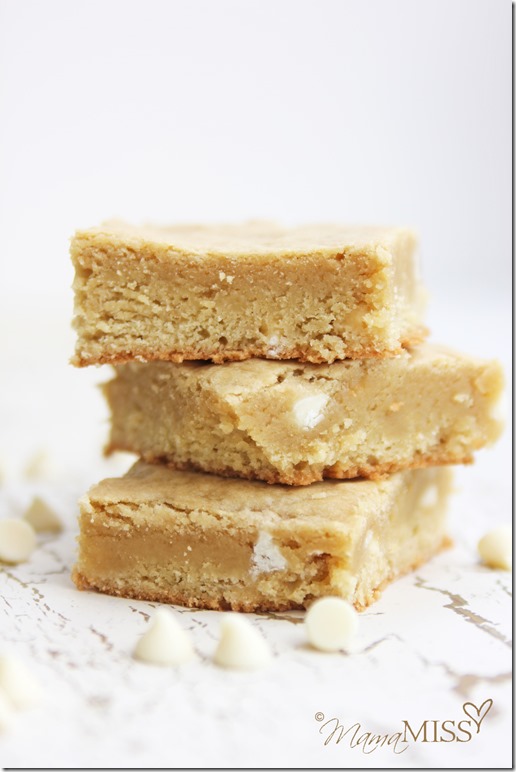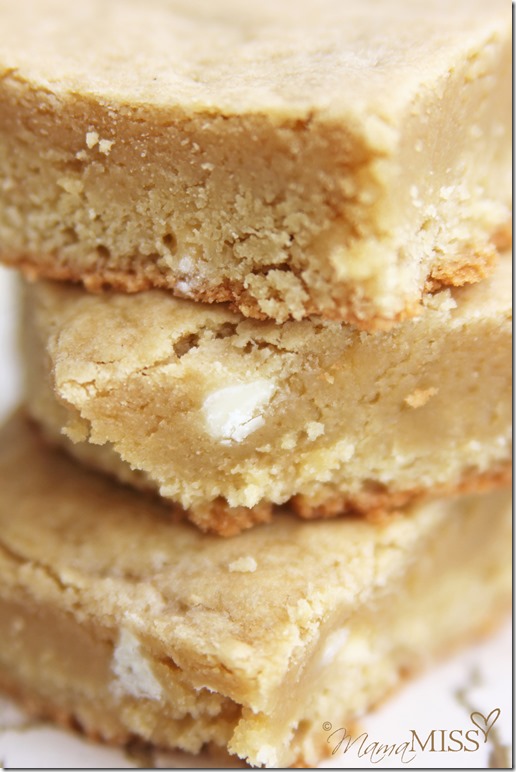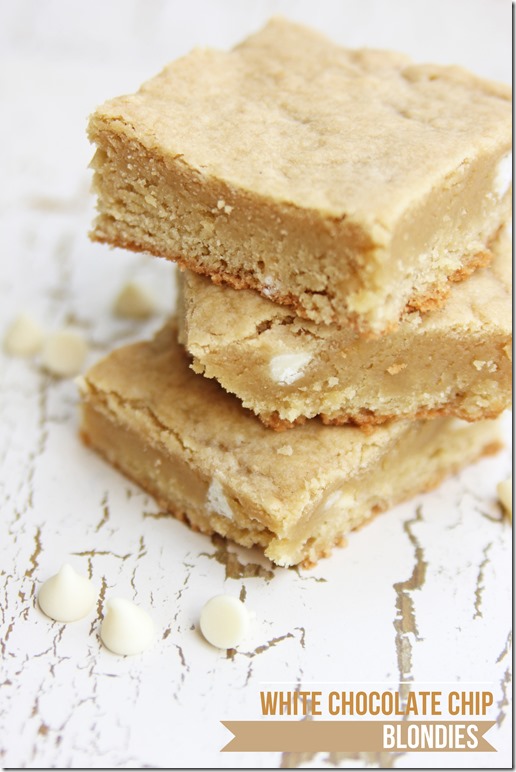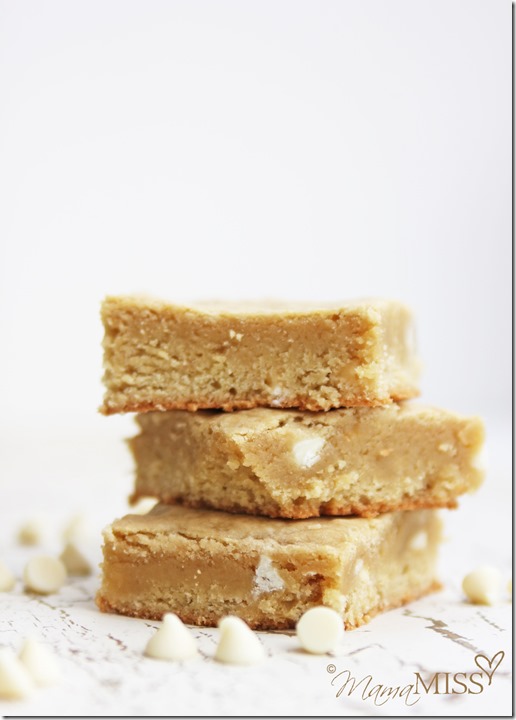 ♥
Like what you see?!
You can connect with me on Pinterest|Facebook|Twitter|Google + too!
♥
© Mama Miss. All images & content are copyright protected.
Feel free to share one picture and linking directly to this post for download.
Please do not copy directions, ingredients, or pdf files for your own website.
Copying my post partially, or fully, is strictly prohibited.
All work by Mama Miss is licensed under Creative Commons Attribution-NonCommercial-NoDerivs 3.0 Unported License.
♥♥♥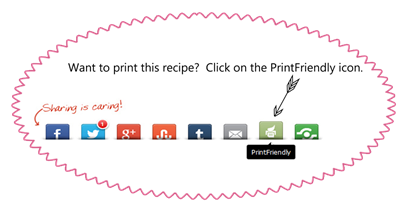 (Visited 9,774 times, 1 visits today)