Hey there friends!  It's that time again – today's the day that the Kid-Made Christmas series kicks-off!!  Are ya excited?!  I certainly am!  So much so, I'm kicking it off today with this super fun Rock, Paper, Scissors Ornament that celebrates the epic battle of these three warriors.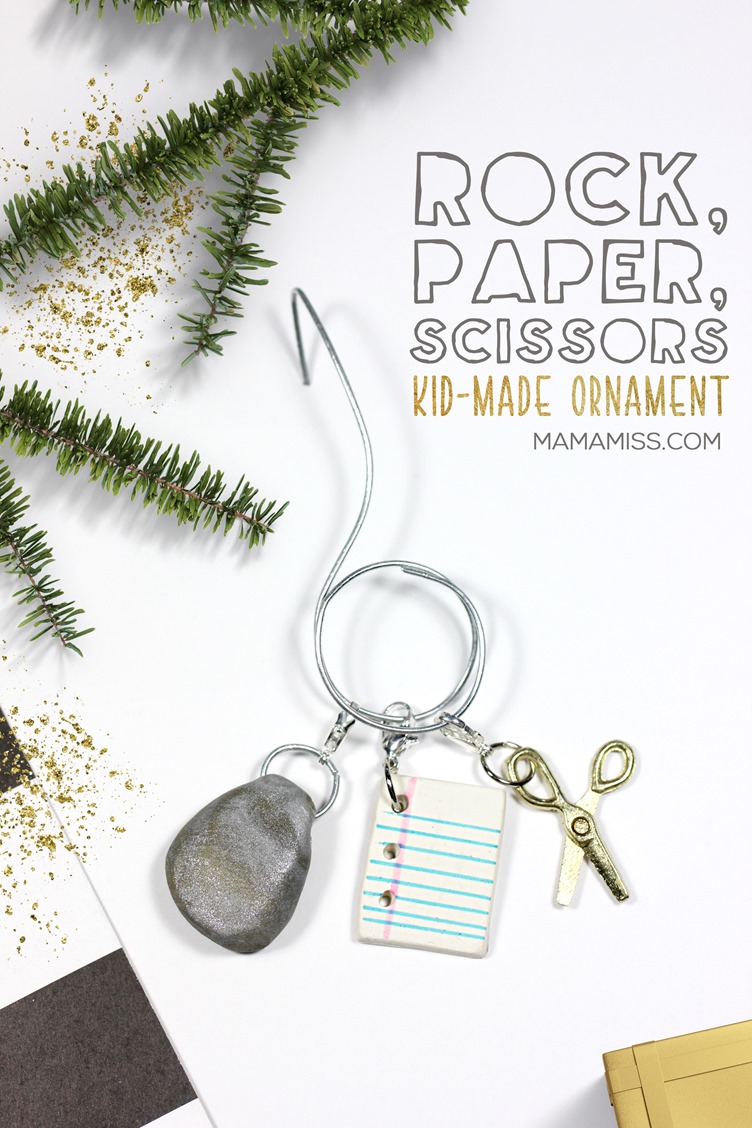 Hello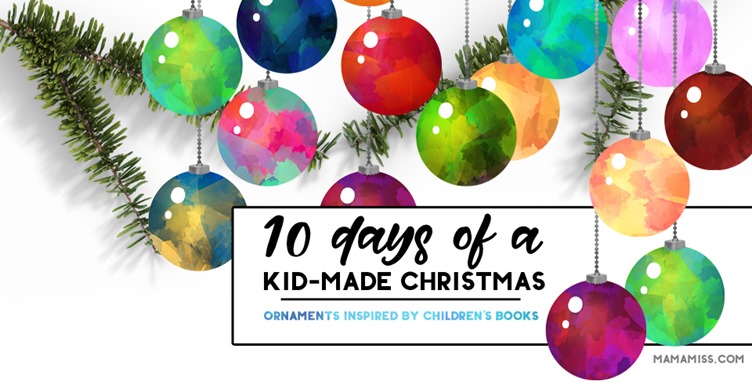 So, I got my kiddo.
And, I've got all my supplies and tools.
I'm ready – let's get to the kid-made ornament makin', shall we?!
For the next 10 days, today November 23rd-December 2nd, we will have several ALL NEW kid-made ornaments each day.
So, let's get to it, shall we?!
Rock, Paper, Scissors
This year we were inspired by the hilarious children's book The Legend of Rock, Paper, Scissors by Drew Daywalt.  The book's amusing illustrations are done by Adam Rex.
From acclaimed, bestselling creators Drew Daywalt, author of The Day the Crayons Quit and The Day the Crayons Came Home, and Adam Rex, author-illustrator of Frankenstein Makes a Sandwich, comes a laugh-out-loud hilarious picture book about the epic tale of the classic game Rock, Paper, Scissors.
V&T are currently OBSESSED with The Legend of Rock, Paper, Scissors book!  It's a laugh-out-loud wonderful story, that is insanely hilarious and entertaining.  It's best to read to your kiddos using different voices to get the full effect… "ARE YOU NOT ENTERTAINED?" asks the Rock lol.  In fact, I just read it again last night, for like the eightieth time – it never gets old – this book is A MUST to add to your kid's book collection – I promise they'll love it & love you for reading it to them!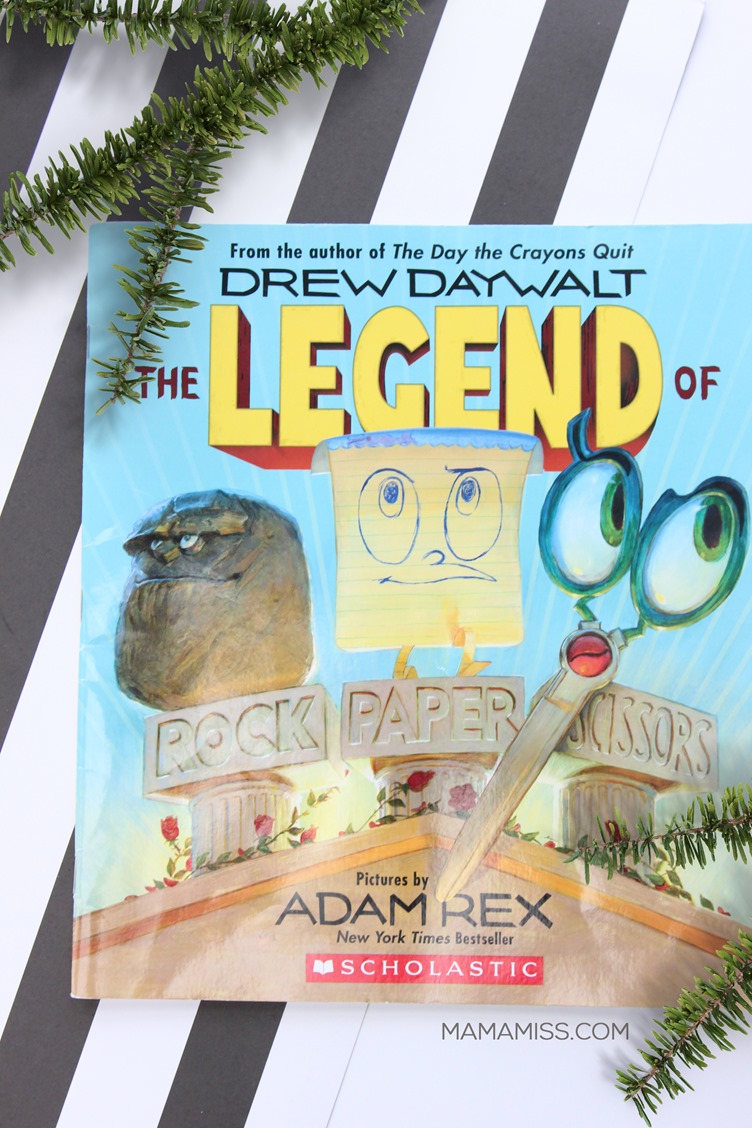 Now, this book was done with my oldest who is eight, so, I recommend this as a tween ornament-making project, therefore, I think 8+ should be fine.  My daughter absolutely ADORES any and all art projects, and all kinds of crafting, so spending the day creating with Sculpey clay is a no-brainer activity for her.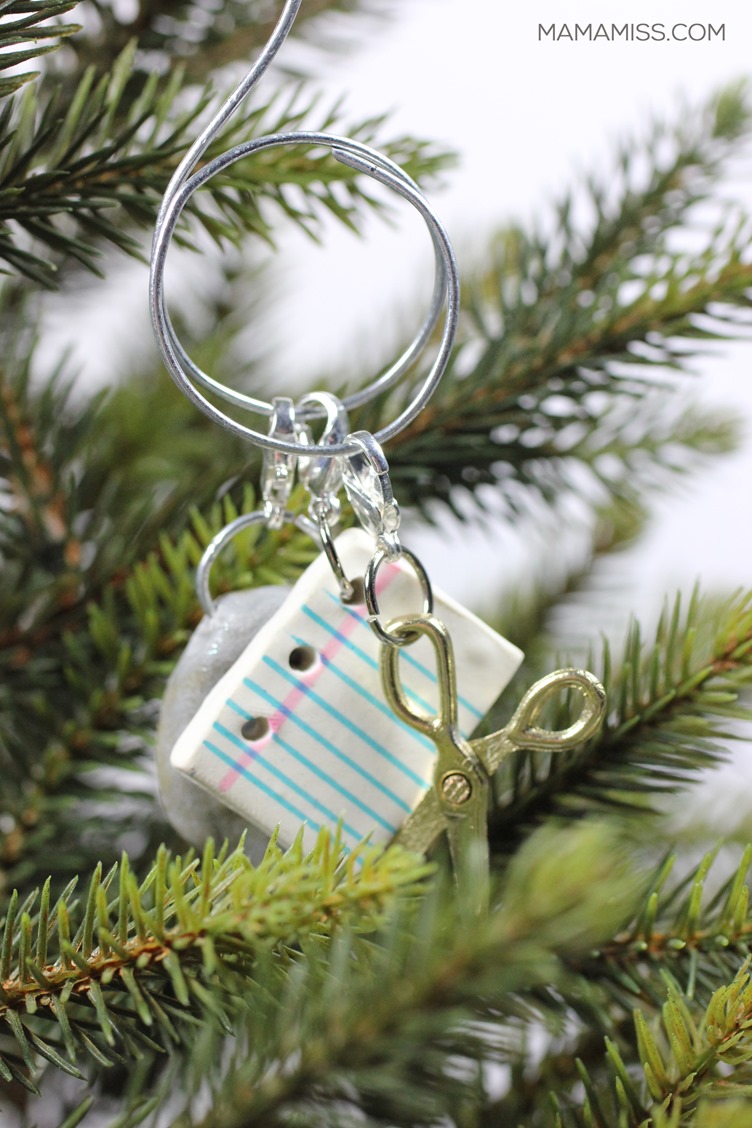 Rock, Paper, Scissors Ornament
Here's what you'll need:
Mini Doll House Scissors (I used this one which is part of a kit & what my store had, but this pack of four is a better deal)
toothpick
ruler
oven
baking tray & parchment
Rock, Paper, Scissors Ornament
Here's how to make it:
Start off with using the dollhouse scissors as the starting point for sizing.
After that, create the "rock" out of the grey Sculpey clay.
Then you will create a sheet of lined "notebook paper" out of white Sculpey clay.
Poke a hole for the wire to go through in the rock using the toothpick.
Create three holes on the left side of the notebook paper to recreate the 3-ring binder holes.
Now, bake the "rock" & "notebook paper" on the parchment-lined baking tray according to Sculpey clay directions.
After baking the charms, let them both completely cool.
Once the notebook paper is completely cool, use the ruler to draw light blue lines horizontally to fill the paper and then similarly one light pink line vertically, on the left side, close to the three holes.
Next, attach jump rings to the scissors and notebook paper.  Depending on how you made the hole in the rock you might be able to use a jump ring for the rock. Or you might have to create your own jump ring as I did, due to the fact that I carved my hole in the rock side-to-side vs. front-to-back.  If you made the hole side-to-side like mine, create your own jump ring using the long nose pliers and wire cutters.
Then, after attaching the jump ring, you will attach the lobster claws to each jump ring on each piece.
Finally, create a loop-de-loop ornament hook to hang the charms from.
You're done – sahweet!
If you're a fan of @DrewDaywalt you'll love this #inspiredby Rock, Paper, Scissors #KidMadeChristmas Ornament
Click To Tweet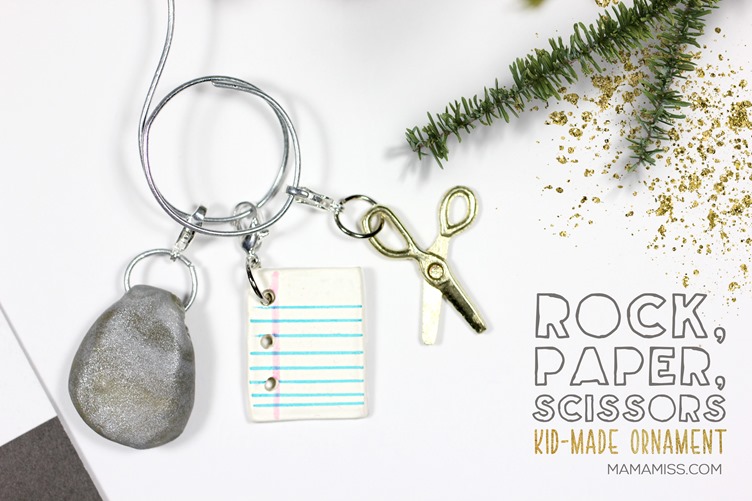 You can find the schedule here of what is coming each day and where I'll also link the actual post up as they go live.
Join in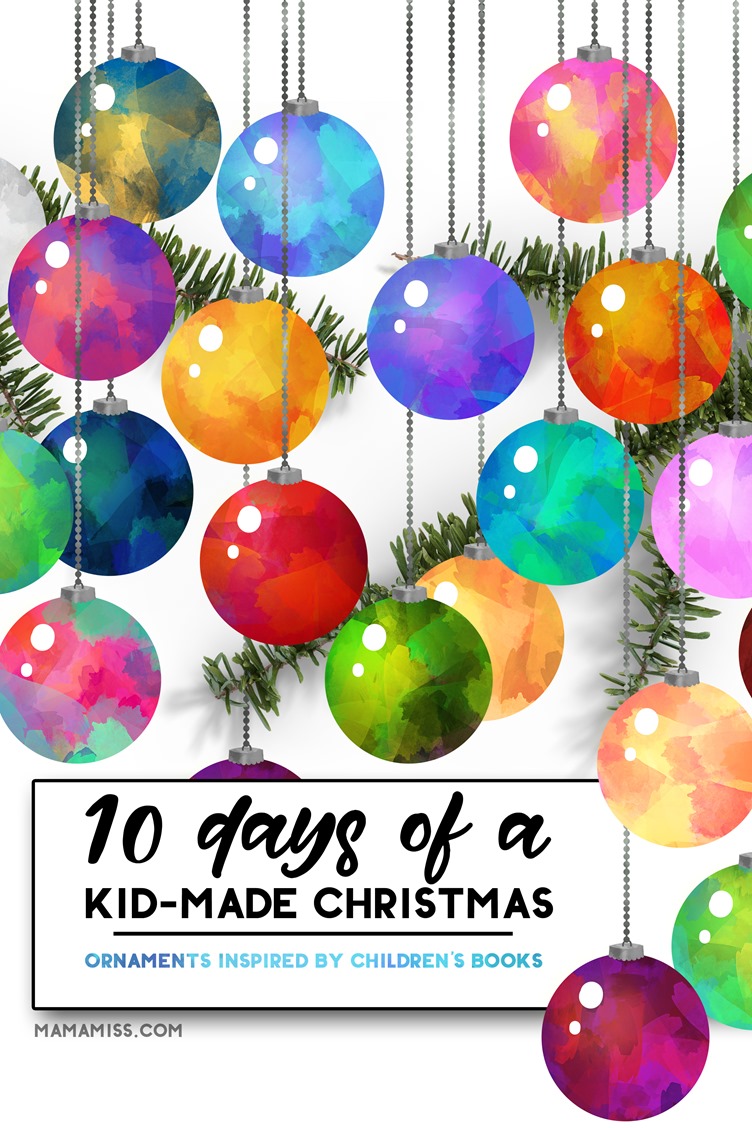 Here's how:
Create a KID-MADE ornament with your kiddos.
I can't wait to see what ornaments you've been making with your kiddos!!!

INSPIRE OTHERS BY SHARING!!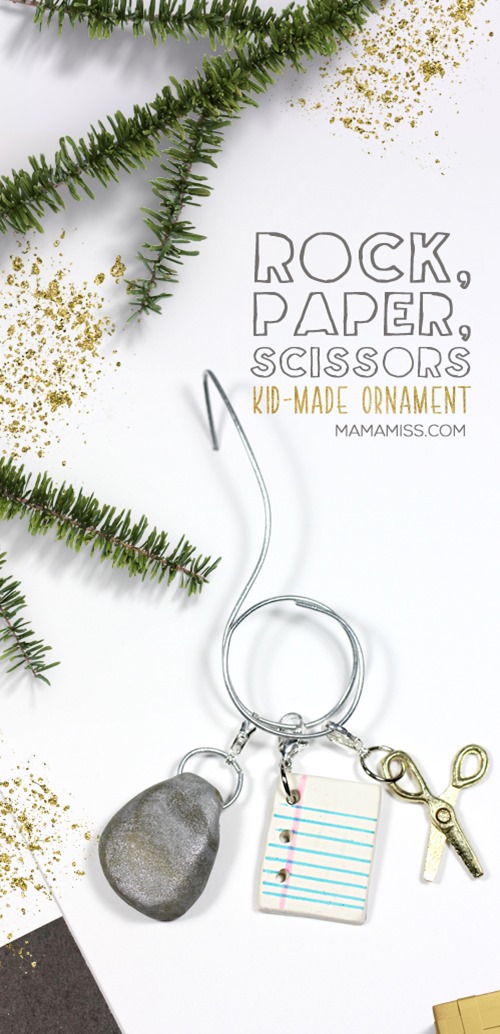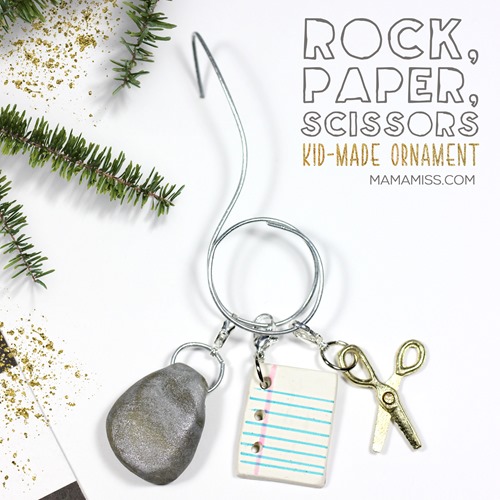 Like what you see?!
You can connect with me on:
Pinterest || Facebook || Twitter || Google + || Shop
© Mama Miss. All images & content are copyright protected.
Feel free to share ONE picture and linking directly to this post for download.
Please do not copy directions, ingredients, or pdf files for your own website or Facebook page, visuals or words.
Copying my post partially, or fully, is strictly prohibited.
All work by Mama Miss is licensed under Creative Commons Attribution-NonCommercial-NoDerivs 3.0 Unported License.
(Visited 2,366 times, 1 visits today)