When I am not at home making octopuses,
or mice,
or butterflies,
or animals,
or flowers,
or kitty cats,
or a beach scene,
or having fun with colors…
hehe…this is what my "to go" travel lunch usually looks like for V & T.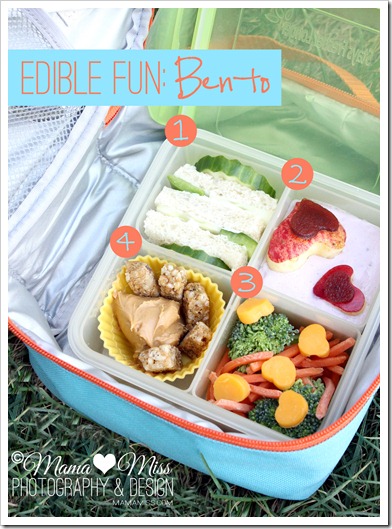 It may look complicated, but it is super simple; this Bento lunch requires very little tools to make.
I used 3 different shapes/sizes of heart cutters, a crinkle cutter, and a silicone cupcake liner.
Apple & fruit leather heart cutters.
Crinkle cutter used to cut cucumbers.
Yellow silicone cupcake liner.
And here is what everything is, starting at the upper left corner going clockwise:
Square 1: Cucumber, pepper, and cream cheese sandwiches
Square 2 : Greek yogurt, apples, fruit leather
Square 3: Broccoli, carrots, and cheese
Square 4: Peanut butter and granola bar pieces
And here is the 4 square bento box
I used :)
(Visited 870 times, 1 visits today)