Nothing like pulling something out of thin air last minute…yep, that's me…I do best under pressure with little time – HA!  I've ALWAYS been this way.  This one time at band camp…wait I didn't go to band camp ;)  I mean, this one time in college…it was the night before a final garment was due (degree in Fashion Design, i.e. "the garment").  I decided at 11pm that I was not liking AT ALL the way this dress was turning out…so at 11pm the night before my 9am class…I took the whole garment apart & started from scratch – Yep, I'm crazy!  But, you know what, it ended up being one of my favorite designs!!  So, there – I've always waited until the last minute to throw something together :)
So, why not decide 1 1/2 days before Thanksgiving, hmmm, let's make some place cards – yippee!!!  (no joke – I literally threw this together during naptime today, creation to post).  I'm a little nutty, I know.  So, on to the good stuff…how cute are these little wheat bundle place cards?!  (And, here's a little secret, you most likely already have most of these things lying around the house!)
♥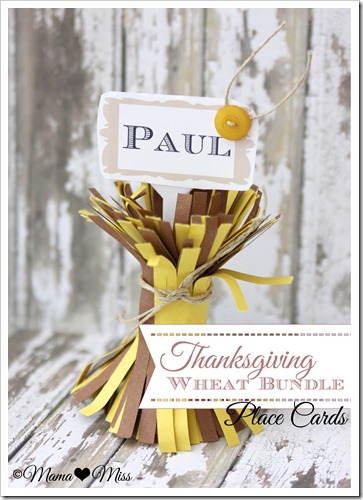 Materials/Tools
yellow & brown construction paper
twine
toilet paper roll
scissors
double stick tape
regular tape
plastic plant marker
or popsicle stick
printed names or marker
optional: button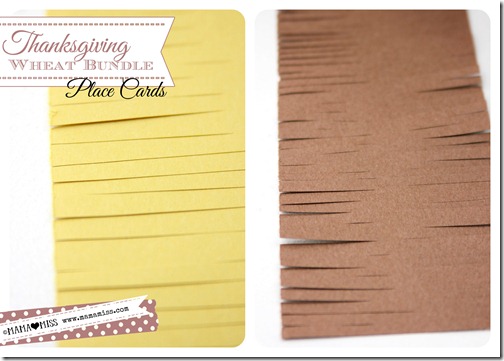 Step 1:
Cut a piece of yellow & a piece of brown construction paper in half lengthwise (this will turn your 2 sheets into 4 pieces).  You will only need 2 pieces to make one wheat bundle – 1 half of brown & 1 half of yellow.
Using one half from each color, cut slits down both sides of each color (just trim the sides – DO NOT connect in the middle with the cuts).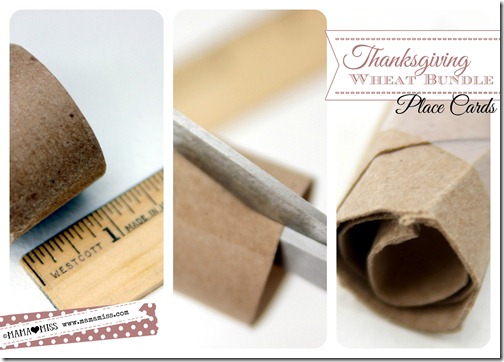 Step 2:
Cut off a 1 inch piece of toilet paper roll.
Open up the 1 inch piece by cutting it open.
Roll the piece to make it a smaller roll; secure tightly by wrapping tape around entire piece.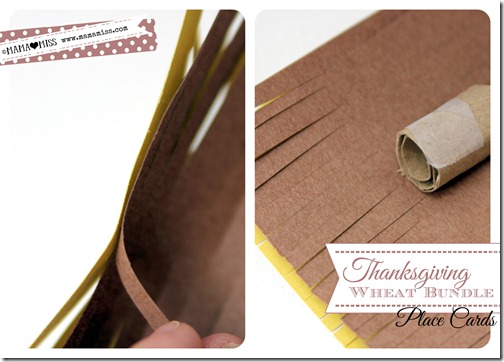 Step 3:
Lay brown paper on top of yellow paper.  Using double stick tape, secure pieces together.
Place TP roll on construction pieces centered in the middle (the non-cut part).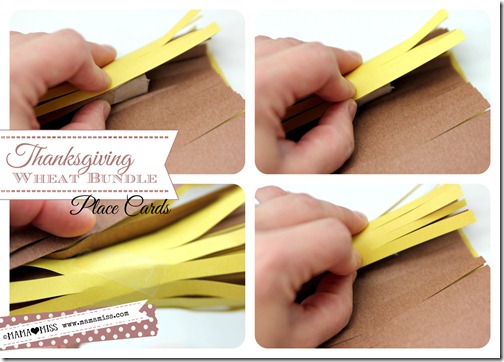 Step 4:
Roll up the construction paper with the TP roll inside.
Once finished secure the end with double stick tape.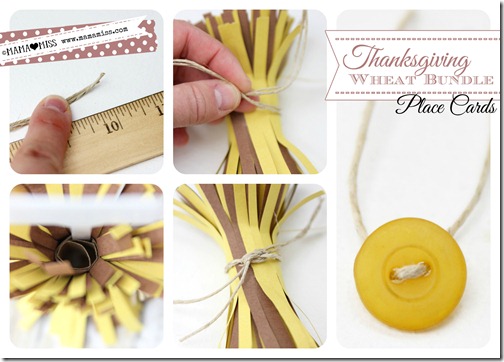 Step 5:
Cut two pieces of twine approximately 10 inches in length.
Wrap twine pieces, doubled up, around the wheat bundle.  Secure with a knot.
Fluff top & bottom of wheat bundles to make them look more abundant.  It also allows for easier table placement.
Write on or print out labels to attach to your plant markers or popsicle sticks.
Wedge the plant marker/popsicle stick in the wrapped TP roll down the center.
Optional: thread small snip of twine through button to attach to label.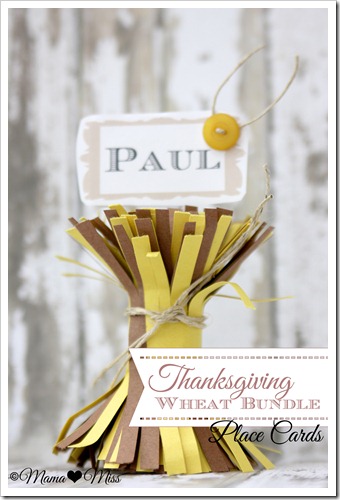 Oh, and while we are on the subject of table placement – check out these cool placemat free printables I did for the kiddos a while back.  It's the perfect time for them to help you set up the kiddo table all fancy, too!! :):)
Do you have everything ready for Thanksgiving yet or are you going to throw everything together last minute like me?
xx ♥ m
(Visited 2,805 times, 1 visits today)