DIY Tent Kit – hehe see what I did there to line it up with the book ;)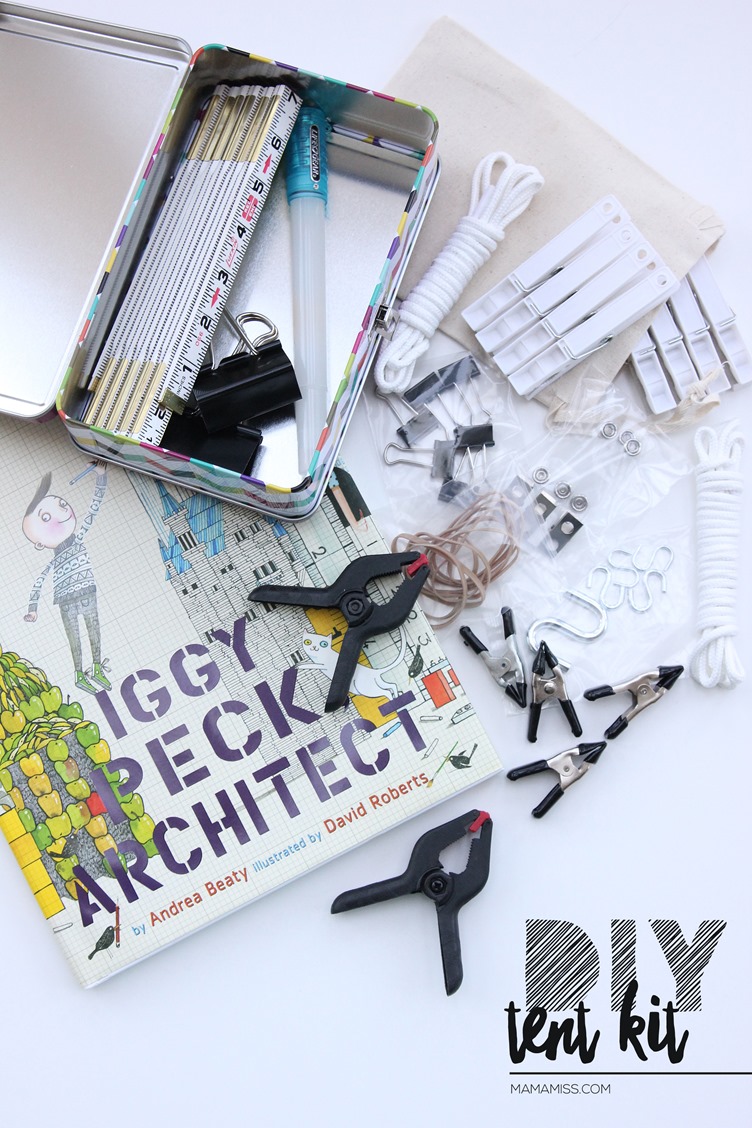 Iggy Peck, Architect
The book we are talking about today is Iggy Peck, Architect!  As part of the NEW Kid-Made Series this year, we're adding kid-made gifts to the mix.
One of the things we love to make for our kiddos little friends for their birthday are these fun little DIY kits.  I've managed to actually blog about one of them a few years back – the fun little artist gift box kit.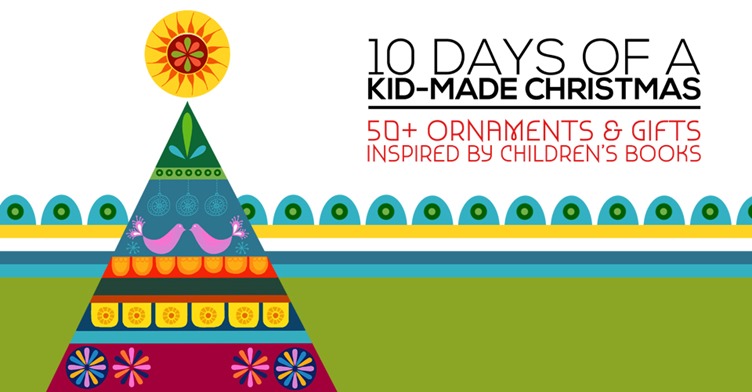 So back to Mister Iggy Peck, Architect…  my favorite excerpt from the book:
At dinner one night, to his father's delight, Iggy got a bright gleam in his eye and out on the porch built the St. Louis Arch from pancakes and coconut pie.
I mean, c'mon, building an arch from pancakes surely means this little guy needs a DIY tent kit in his future, am I right?!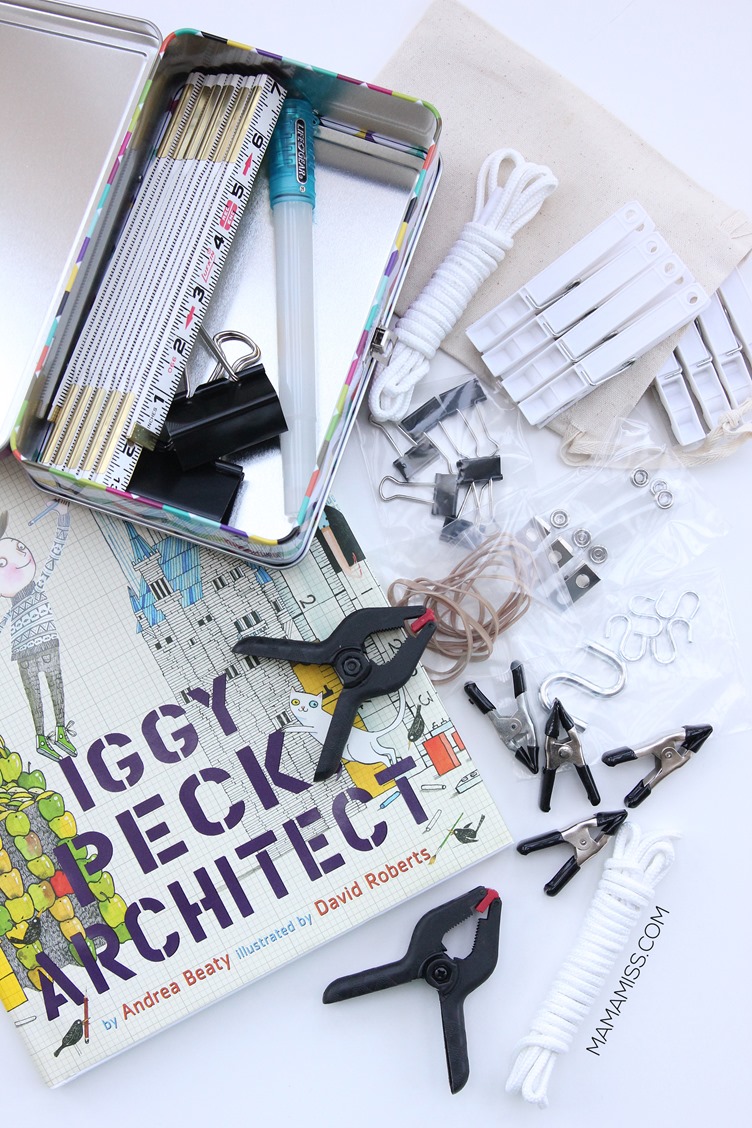 DIY Tent Kit
Here's what you'll need:
Here's how to make it:
Start off with using the clear poly bags – fill 1 with the mini spring clamps, fill 1 with the small binder clips, fill 1 with the rubber bands, fill 1 with the "S" hooks, and fill 1 with the badge clips.
Then, using the cotton muslin bag, fill it with the plastic clothespins.
Next, cut 2, 8 foot strands of clothesline.  Wrap or wind each strand up nice & pretty-like.
Next, we are going to print out & cut out the label and double stick tape it to the front of the metal box.
Next, place all the items in the metal box.  ps. I'm sure you understand all the clips & rope stuff, but the flashlight I chose & the foldable ruler?!  Well, a quick explanation for ya. I love that little flashlight because it switches between a flashlight, and a glow-stick, and even a strobe glow-stick – HA!  Who doesn't want a glow-stick, slash flashlight, slash dance partying happening in their tent – right?!  And the foldable ruler.  Well, when my sis and I used to make tents as kids (Jenny, my childhood BFF can back me up on this one) we used to steal my brothers plastic light saber for our center pole of our tents.  Now… how was I going to fit some sort of stick thingee into this kit…hmmm… enter in the foldable ruler – it's GENIUS!  And it works great – the kids even tested it out!
And, print out & cut out instructions and place on top of items in the metal box.
Finally, wrap up the metal box & book with a nice ribbon and gift your fun little "invitation to create".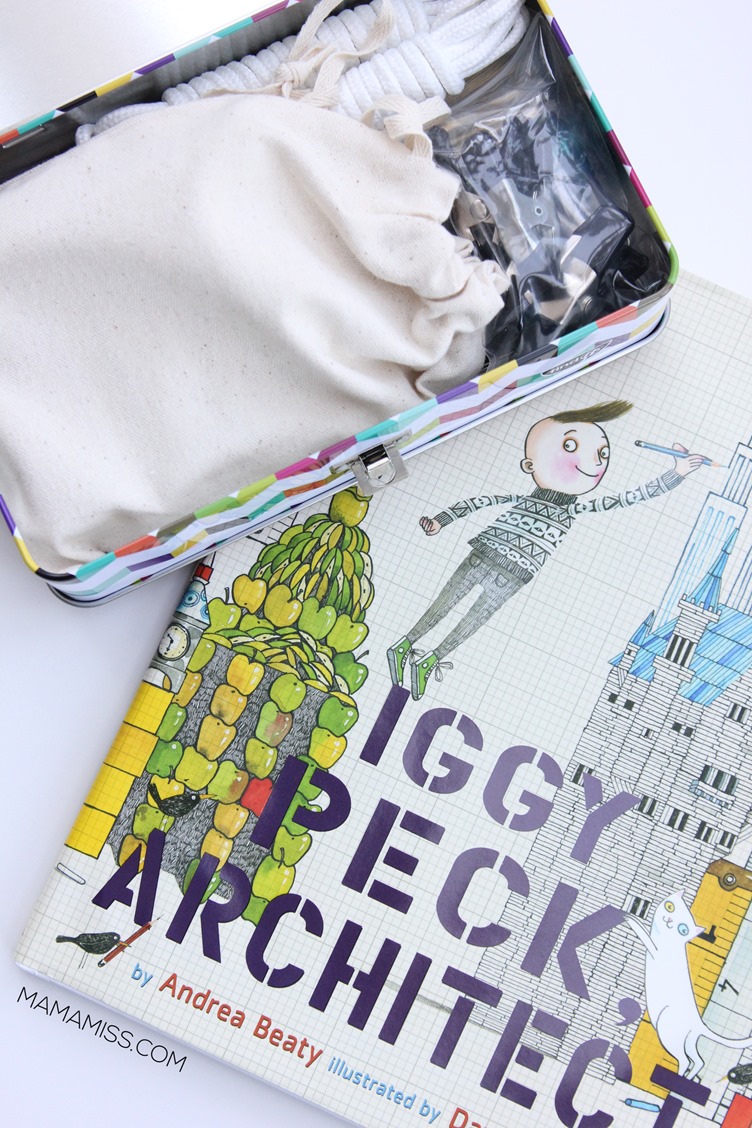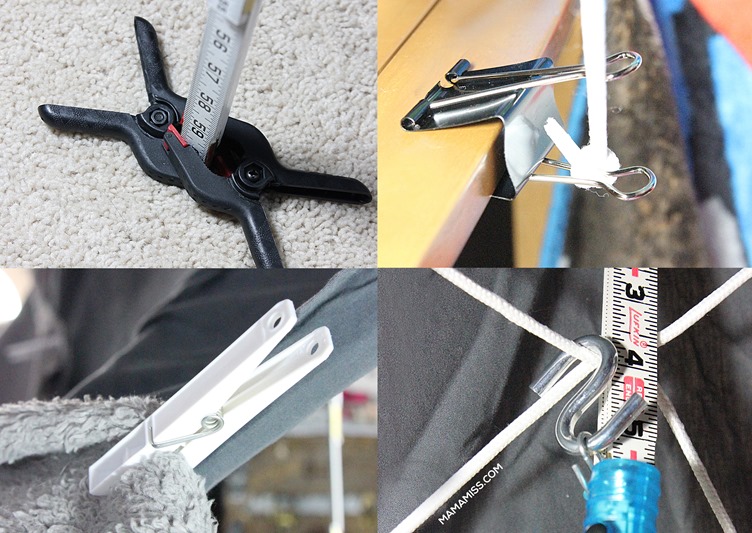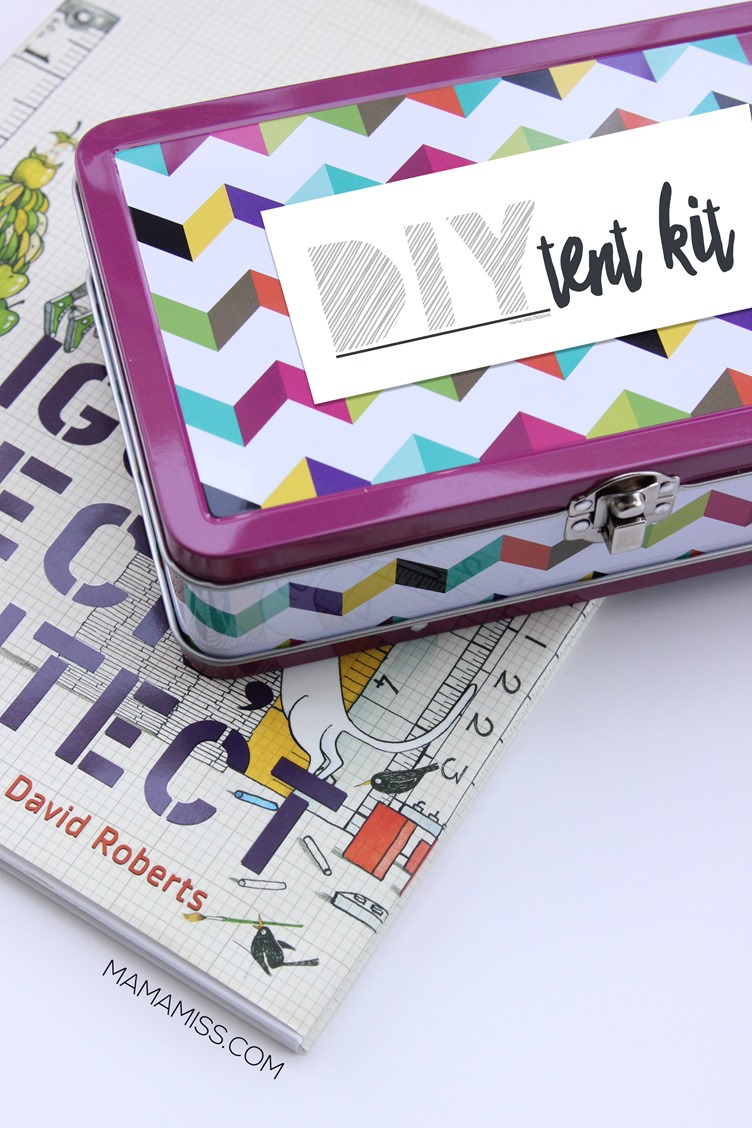 Tweet it out!
So, I'm so in love with this little kit and I'm sure it will be a hit as a gift that is creative, and useful, and one that will spark endless opportunities of inventive & imaginative play!
DIY Tent Kit-a great little gift for a #KidMadeChristmas (or birthday)
Click To Tweet
Remember you can join the fun too!
Now it's your time to create!  As mentioned before, this Iggy Peck, Architect inspired DIY Tent Kit is part of the 10 Days of a Kid-Made Christmas series.
Joining me today in the kid-made Christmas gift series are:
My amazing bloggy buddy Jen, over at Mama.Papa.Bubba.  Her rad-tastic little DIY kit celebrates another Andrea Beaty book – Rosie Revere, Engineer.  Check out her fun little gift kit here.
And the lovely Clarissa from Munchkins and Moms shares this adorable Chicka Chicka Boom Boom Play Dough Jar Gift to go along with the well-loved book Chicka Chicka Boom Boom.
Create a KID-MADE gift with your kiddos.
I can't wait to see what Kid-Made gifts you've been making with your kiddos!!!

INSPIRE OTHERS BY SHARING!!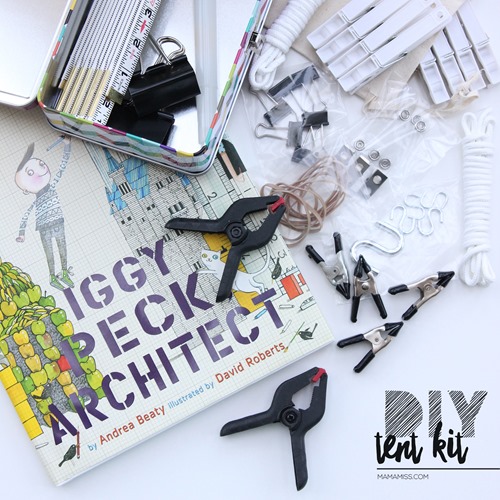 Like what you see?!
You can connect with me on:
Pinterest || Facebook || Twitter || Google + || Shop
© Mama Miss. All images & content are copyright protected.
Feel free to share ONE picture and linking directly to this post for download.
Please do not copy directions, ingredients, or pdf files for your own website or Facebook page, visuals or words.
Copying my post partially, or fully, is strictly prohibited.
All work by Mama Miss is licensed under Creative Commons Attribution-NonCommercial-NoDerivs 3.0 Unported License.
(Visited 1,174 times, 1 visits today)