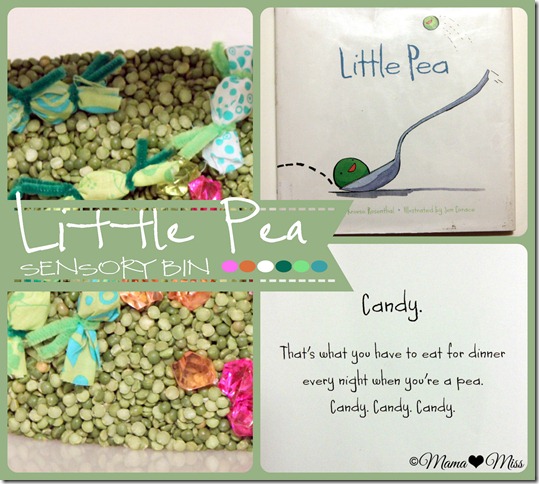 As part of the Virtual Book Club this month, we read Little Pea
by Amy Krouse Rosenthal.
This is our second month participating in the Virtual Book Club.  Each month we head to the library and check out every book from that author that we can get our hands on.  This month we read MANY Amy Krouse Rosenthal books, these are just a few of our book adventures this month, Chopsticks
, Al Pha's Bet,
Spoon,
Plant a Kiss,
The OK Book,
Little Oink,
Yes Day!
, &  Sugar Cookies: Sweet Little Lessons on Love.  V's favorites were "Chopsticks" & "Little Pea"…so with those favorite selections made…I started brainstorming activities to go along with them.  Today we have a sensory bin made to go alongside Little Pea.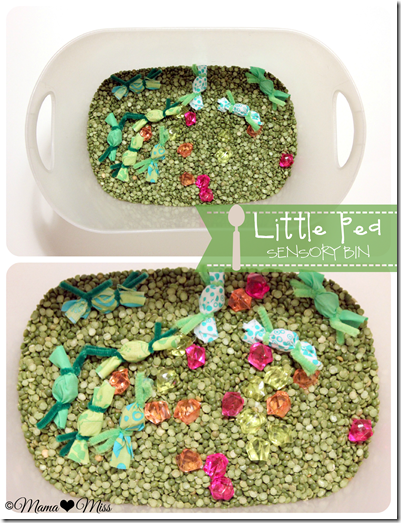 In the book "Little Pea", every night little pea has to completely eat his plate of candy (that's what's for dinner every night in the pea house) in order to get his dessert of spinach (YUM!).  So, with candy & peas on the brain, let the fun begin!

Materials/Tools
3 bags dried split peas
small plastic jewels
several 3×3 fabric squares
pipe cleaners
bin/container
plenty of cups, sorters, spoons, etc.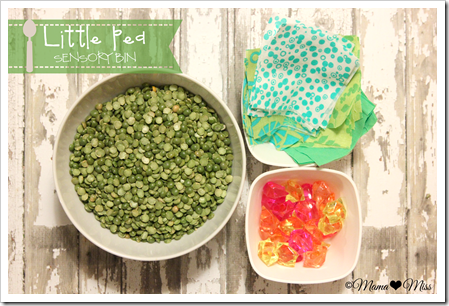 Directions
First, cut each pipe cleaner into four pieces, creating smaller pieces.  Start by wrapping the jewels (the candy) with the 3×3 fabric squares like a piece of candy.  Secure each end by twisting a pipe cleaner around, closing the ends.  Dump the split peas into the bin along with the wrapped "candy" pieces and a few unwrapped pieces.  The wrapped candies are an added bonus that will exercise fine motor skills by unwrapping the candy, and re-wrapping the candy.

What's your favorite Amy Krouse Rosenthal book?
xx ♥ m
(Visited 2,352 times, 1 visits today)