Why, hello there!!  Long time no blog posts ;)  I decided to take an impromptu holiday computer break this past week.  So, in lieu of blogging, I indulged in a week long family & eating fest!!!  Speaking of eating fest – I have for you today some yumminess.  This is an oldie but a goodie.  Oldie, because I remember making it in the 90's and goodie, well, there will be no explanation, just trust.  Trust in me, and you will NOT be disappointed.  I whipped out this little puppy for our Christmas Eve festivities this year – and it was gone in a hot minute!  This is my version of a recipe that was adapted from the Philadelphia Cream Cheese cookbook, circa 1992.  Well, lo & behold, here it is…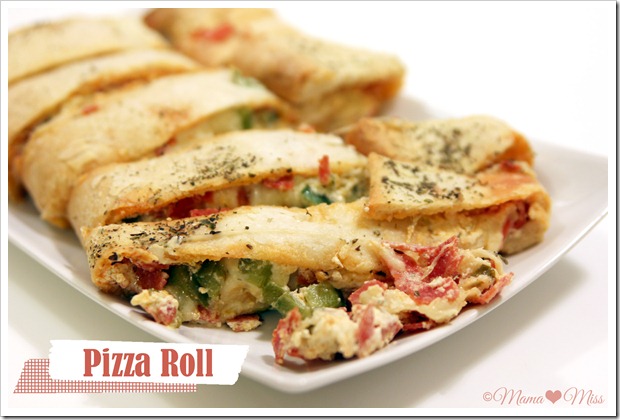 ♥ Prep time:  25 mins (+1 hour of rising time)
♥ Cook time:  30-40 mins
♥ Serves: 10-12
A tangy & creamy satisfaction rolled into sweet  bread perfection.
(you love my description, don't you?  tehehe ;)
Ingredients
1 (1 lb.) loaf of frozen Italian bread dough, thawed
1 (5.5 oz.) container garlic & fine herbs Boursin cheese
2 cups (8 oz.) shredded low-moisture part-skim mozzarella cheese
1 cup chopped pepperoni
1/2 cup finely chopped green pepper
Olive oil
Italian seasoning
Directions
After dough is thawed, roll it out to a 15×10-inch rectangle on a pre-floured surface.
Spread Boursin cheese over the entire dough, leaving a 1-inch border around the edge.
Sprinkle shredded mozzarella, chopped pepperoni, and chopped green pepper over Boursin cheese.
Roll up dough from the long side; pressing edges together to seal.
Brush top and sides of roll with olive oil; sprinkle with Italian seasoning.
Cover and let rise in a warm place for 1 hour.
Preheat oven to 350° F.
Bake 30 to 40 minutes, or until golden brown.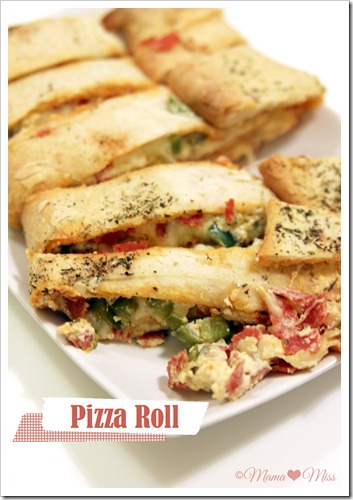 Notes/Tips
♥ For a warm place to rise, I usually set the oven to its lowest setting (approx. 170° F.), turn it off, & let it sit covered in there.  It's out of the way, it's warm, it's covered – it works perfectly :)
♥ There are several alternative brands to the Boursin cheese that you can substitute with, even using a herb & garlic cream cheese as well.
♥ Boursin cheese also comes in a light version for a healthier alternative.  Both are available at most grocery stores.
♥ Please excuse my less-than-stellar pics (about halfway through eating the pizza roll my BIL said, "Is this going to be on the blog?"  Duh, what was I thinking? (insert quick action, no natural light b/c it was nighttime, lovely half eaten pizza roll pics ;)  Cheers!
Adapted from
Philadelphia Brand Cream Cheese Finest Recipe Collection Cookbook, 1992
xx ♥ m
(Visited 1,455 times, 1 visits today)