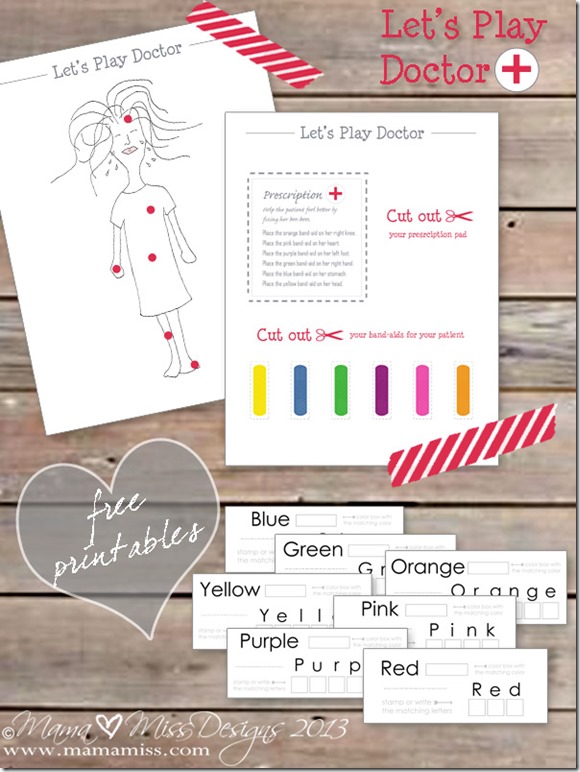 We LOVE pretend play! And currently V is obsessed, I mean OBSESSED with Band-Aids.  So much so, we must go through a box, a week (umm that's where dollar store Band-Aids come in handy!).  One would think that she is greatly injured if you saw all her Band-Aids covering her legs & arms, but nope.  She looks super close at her legs & arms and if she sees a speck, just a speck (probably dirt) (maybe a freckle), you know a super small mark (hey could be marker too!), she makes me kiss her boo-boo & proceeds to raid the Band-Aid supply.  And somehow these Band-Aids mysteriously come off all day, because instead of picking up the typical dirty laundry around the house, I'm picking up discarded Band-Aids lol!
So, when you see V, before you can even say "hello" she will point out all her boo-boos and her Band-Aids that are fixing those said boo-boos.  She will tell you she wants to be a doctor when she grows up so she can fix boo-boos :)  Maybe she can support us when we're old & gray (and fix our boo-boos) ;)
So, funny story, I originally made the "patient" the standard picture of a female – you know the one that is usually associated with the bathroom sign.  Well, hubs did not approve, he said it should look like a real person not a bathroom sign :)  I agreed with his bathroom sign girl assessment & pulled out the old sketchpad and came up with the quirky crazy hair patient you see.  Her hair is all crazy because she has been in a hospital bed forever (aka all the boo-boos), and that's just the way my croquis look – all wild haired & quirky (maybe I should have added a comb too) ;)
Included in this pretend play doctor package:
A five-page printable, with:
A wild-haired boo-boo'd patient
Six color Band-Aids to fix the patient's boo-boos
A prescription pad with directions on how to apply the Band-Aids
Seven color cards
Development in this pretend play doctor package:
Scissor skills
Color recognition
Basic anatomy recognition
Stamping (fine motor skills)
Spelling
Uppercase & lowercase letter recognition
Kindness/Caring
Communication
Following Directions
Directions for this pretend play doctor package:
Print out all five pages below.  Optional, laminate them for sturdier usage.
Have child cut out the prescription pad & six Band-Aids.
By reading aloud to child, have child follow directions on prescription pad to apply the Band-Aids to the patient, fixing her boo-boos.
Next, grab the color cards (optional: have child cut them out along dotted lines for more cutting practice).
By reading aloud the color for each card, have the child color in the top box with that color.
Next, using letter stamps & and an ink-pad have child stamp the matching letters using both uppercase and lowercase letters (we LOVE this from Melissa & Doug which we have & used for this and the squares fit them perfectly).
Optional: Instead of stamps have child write the corresponding letter in the box.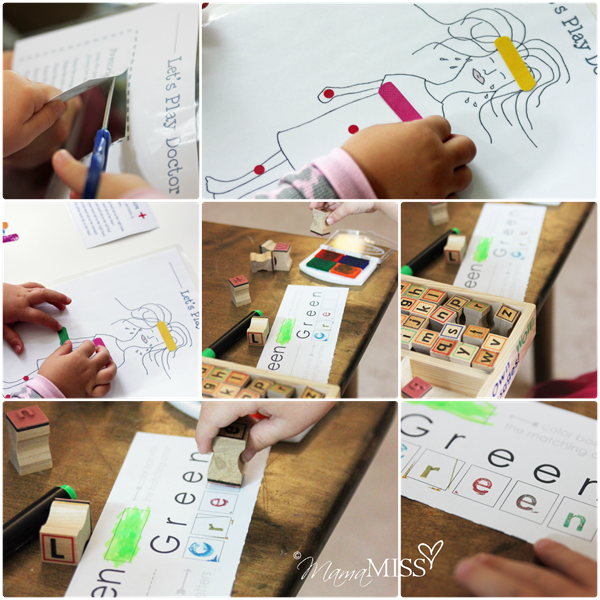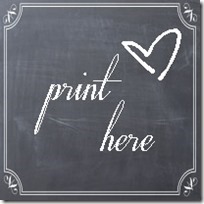 ♥
Like what you see?!
You can connect with me on Pinterest|Facebook|Twitter|Google + too!
♥
© Mama Miss. All images & content are copyright protected.
Feel free to share one picture and linking directly to this post for download.
Please do not copy directions, ingredients, or pdf files for your own website.
Copying my post partially, or fully, is strictly prohibited.
All work by Mama Miss is licensed under Creative Commons Attribution-NonCommercial-NoDerivs 3.0 Unported License.
♥♥♥
(Visited 5,331 times, 1 visits today)