This free printable, Gratitude Drawing Dice, is a fun little addition to your gratitude journey.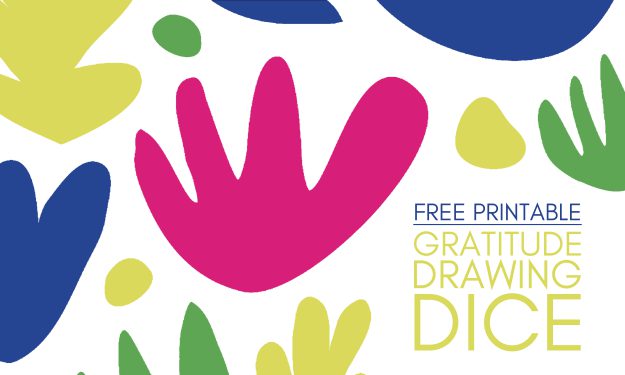 Gratitude Writing
When kiddos first start writing in a Gratitude Journal it can be a daunting task that they might not be feeling right away. A game is always a fun way to "break the ice" to anything new. With both of my kiddos, when I'm breaching a new subject, I often throw a game into the mix to introduce the subject in a more engaging way – because games are always fun! The Gratitude Drawing Dice Activity is a great way to introduce them to regularly practicing gratitude.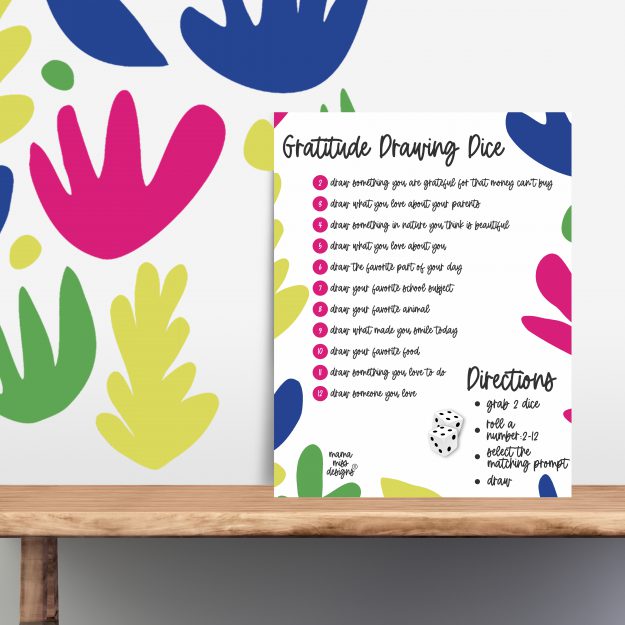 Gratitude Drawing
This activity will allow the kiddos that are more creative and artistic, or right-brained, an entrance into daily gratitude practice. It's really quite simple! All you have to do is… first, roll both dice, then, add up the numbers on the dice, then go to that numbered prompt, and finally, DRAW!
With a group of kiddos, The Gratitude Drawing Dice Activity can be put to use as a warmup activity to introducing gratitude. Perfect for a co-op or classroom as a wonderful way to set the tone for the start of each day. Each kiddo will either have their own dice with a large pack of dice at hand, or the activity can be administered as a group, with one set of large dice for the whole table. Just set up the dice activity on the table where all the kiddos can draw. Or you can have the left-brained kiddos, the ones that think in words, utilize the activity as a writing activity.
Tools Needed
Gratitude Journal
Are you looking for a gratitude journal for your kiddo? I just published Gratitude Journal for Kids in 5-Minutes a Day – just 5 minutes a day is all it takes!
Check out what one reader says "You know those things you want to tell your kid to try, but they never listen to you, but they will do when they hear it from somewhere else??? This is the somewhere else! Just little nudges toward happier, healthier kids!"
Grab your copy here and get your kiddos journaling their gratitude today!

INSPIRE OTHERS BY SHARING!!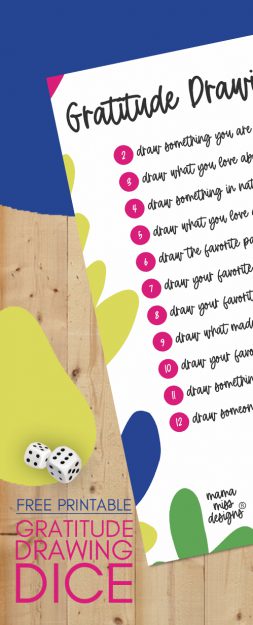 Like what you see?!
You can connect with me on:
Pinterest || Facebook || Twitter || Instagram || Shop
And don't miss any updates, get new posts right away – sign up here…
♥
©Mama Miss®. All images & content are copyright protected.
Feel free to share ONE picture and linking directly to this post for download.
Please do not copy directions, ingredients, or pdf files for your own website or Facebook page, visuals, or words.
Copying my post partially, or fully, is strictly prohibited.
All work by Mama Miss is licensed under Creative Commons Attribution-NonCommercial-NoDerivs 3.0 Unported License.
(Visited 1,576 times, 1 visits today)