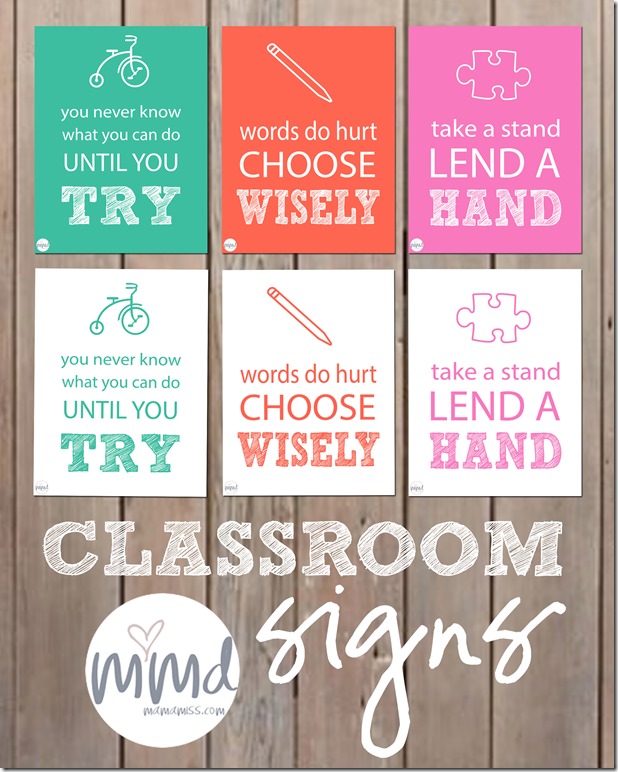 Building character is very high up on my list in teaching my little ones.
In trying to convert our playroom into a playroom/classroom for homeschooling, I picked up some motivational/character building classroom signs in the dollar spot at Target & the Dollar Store.  I liked the sentiment behind them, but not the cheesy graphics.  ha-ha the designer mama in me wanting to make them more "me" & less "cheesy mass produced".
So, I went with simple – simple is always better in these instances :)
Three different sentiments – each two ways.  With a color background or a white background.
These classroom signs can be used in a classroom, a homeschool classroom, a playroom, a kids bedroom, etc.  They are designed in fun colors & simple graphics to remind the little ones of these important things.
I hope you like them as much as we do!  Enjoy :)
Have a great week!



♥
Like what you see?!
You can connect with me on Pinterest|Facebook|Twitter|Google + too!
♥
© Mama Miss. All images & content are copyright protected.
Feel free to share one picture and linking directly to this post for download.
Please do not copy directions, ingredients, or pdf files for your own website.
Copying my post partially, or fully, is strictly prohibited.
All work by Mama Miss is licensed under Creative Commons Attribution-NonCommercial-NoDerivs 3.0 Unported License.
♥♥♥
(Visited 7,789 times, 2 visits today)