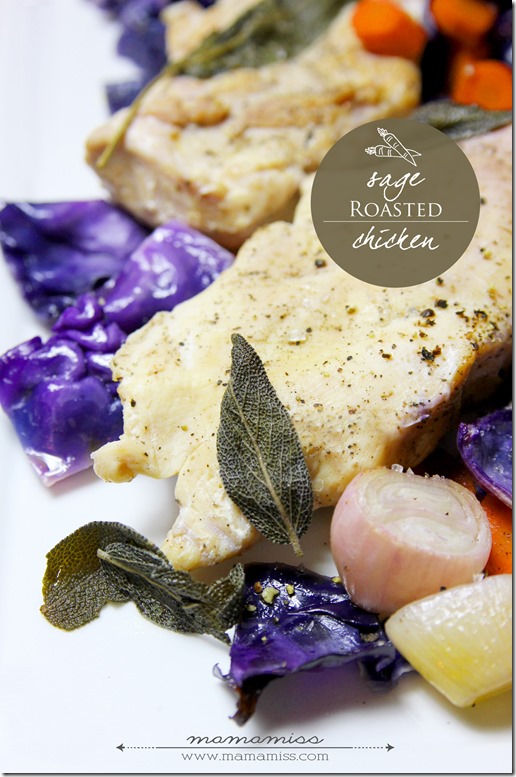 I love trying new recipes and creations. This Sage Roasted Chicken was beautiful to look at – such glorious and vibrant colors, and it was super easy to make. And, boy-oh-boy did the flavors turn out FANTASTIC too.
I am proud to say – I'm roasted red cabbage's newest fan – who knew it was so good roasted!! I love it raw & crunchy – and roasted, well, it's just plain fantastic!!
"Just the veggies" would also be perfect for a yummy, healthy side dish for your Thanksgiving meal too! Hubs & I discussed that just throwing some red cabbage, carrots, onions, possibly parsnips & turnips, and maybe some potatoes along with the sage leaves, olive oil, and salt & pepper – well, it would indeed make an excellent meal in itself.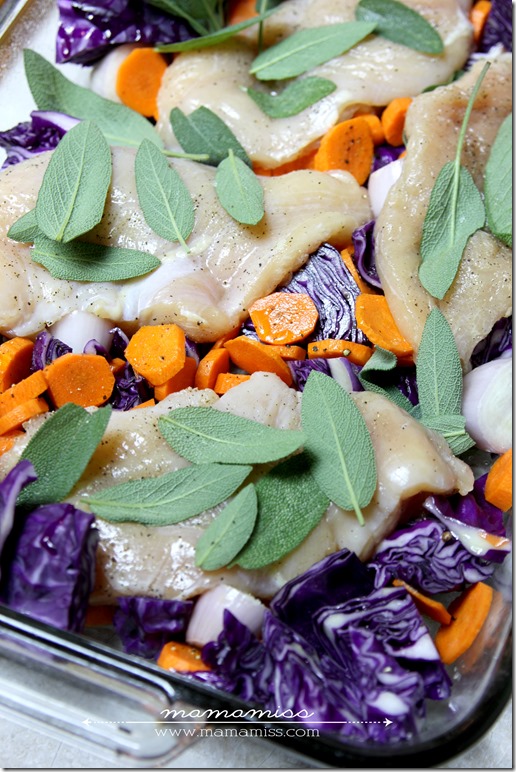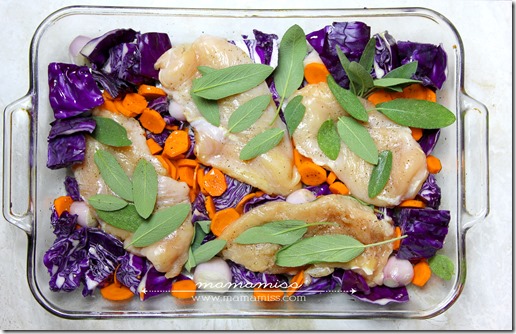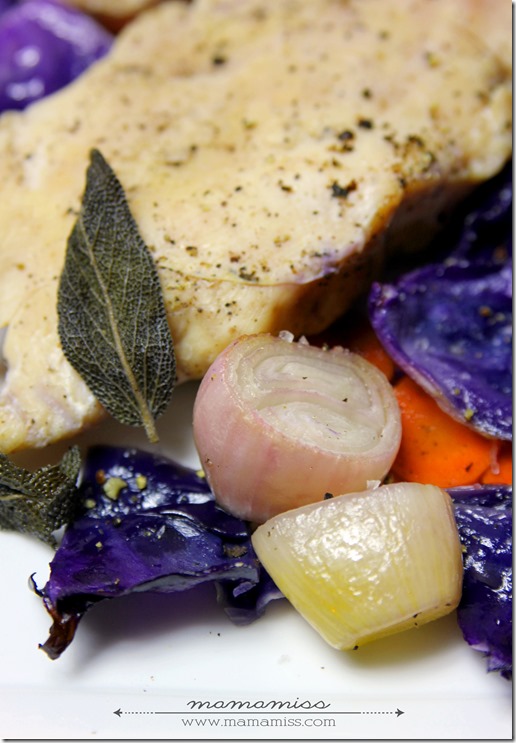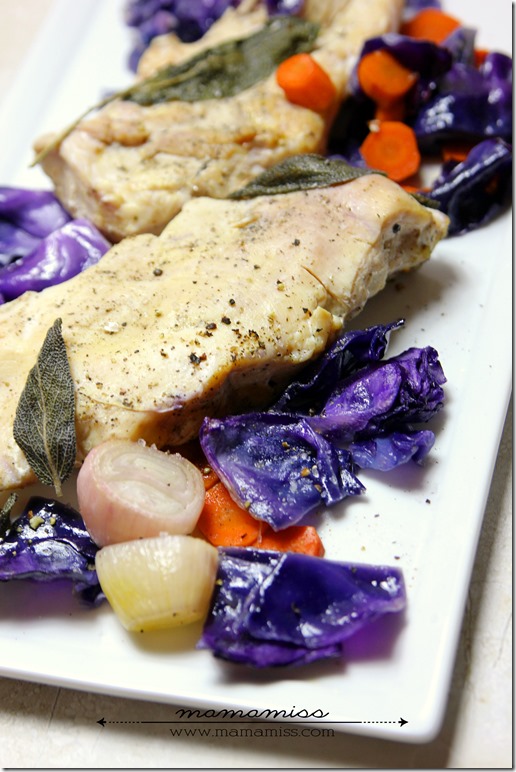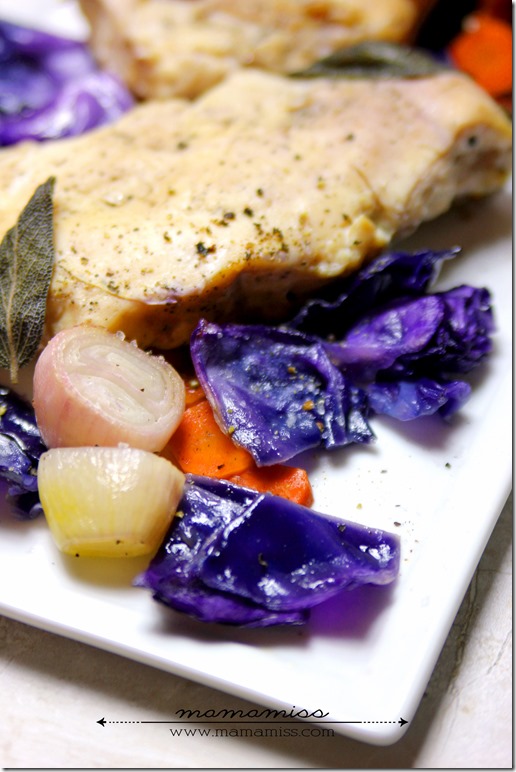 This mouthwatering dish complements the visual senses with the colors, and delights the palate with its amazing combination of chicken and vegetables.
Ingredients
1 red cabbage, cut into many small wedges
4 med/large carrots, peeled & sliced
4 large shallots, peeled & sliced in half
olive oil
freshly ground coarse black pepper
freshly ground coarse sea salt
4 chicken breasts, rinsed & trimmed of fat
3-4 stems of fresh sage (about 28-30 leaves), rinsed & removed from stem
Instructions
Preheat oven to 375° F.
Spray a large, 5 qt (11"x15") glass casserole dish with cooking spray.
Add the red cabbage wedges, sliced carrots, and sliced shallots. Drizzle with olive oil and then sprinkle with salt & pepper. Toss mixture in dish to combine.
Season both sides of chicken with black pepper & sea salt.
Add the chicken breasts to the veggie mixture, wedging the chicken down in amongst the veggies.
Lay the sage leaves over the chicken breasts and tucking them in under the chicken too.
Place on the middle rack in the oven and roast for 30 minutes.
At the 30 minute mark - flip the chicken, then roast for another 10 minutes, until the internal temperature reaches 165° F.
Once fully cooked, plate the chicken and vegetables with a drizzle of the juices from the dish.
Serve with crusty bread.
Notes
https://www.mamamiss.com/blog/2013/11/12/sage-roasted-chicken/
All rights reserved Copyright 2012-2019 Mama Miss Blog and Designs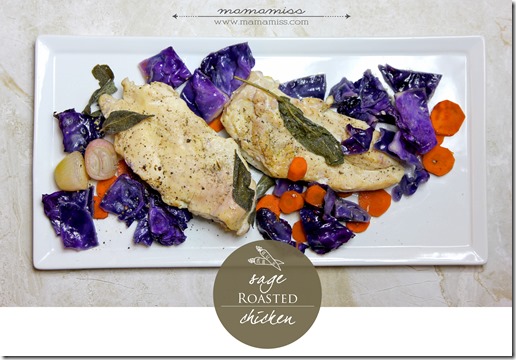 ♥
Like what you see?!
You can connect with me on:
Pinterest|Facebook|Twitter|Google + too!
♥
© Mama Miss. All images & content are copyright protected.
Feel free to share one picture and linking directly to this post for download.
Please do not copy directions, ingredients, or pdf files for your own website.
Copying my post partially, or fully, is strictly prohibited.
All work by Mama Miss is licensed under Creative Commons Attribution-NonCommercial-NoDerivs 3.0 Unported License.
♥♥♥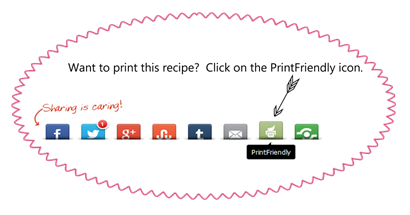 (Visited 1,191 times, 1 visits today)