I have to admit.
I fear yeast.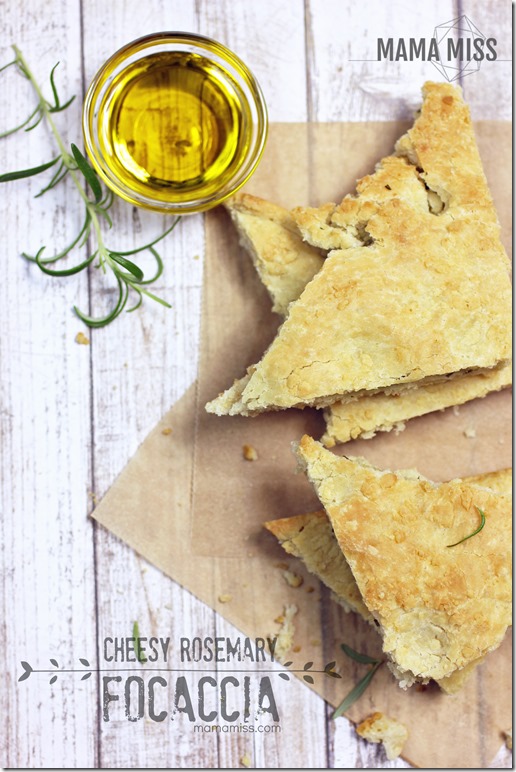 Maybe it's the kneading, the waiting… or the fact that my mom has a yeast monster (a jar of growing yeast for bread) in her refrigerator that is older then me.  ha-ha that last reason could definitely be where my fear of yeast comes in lol.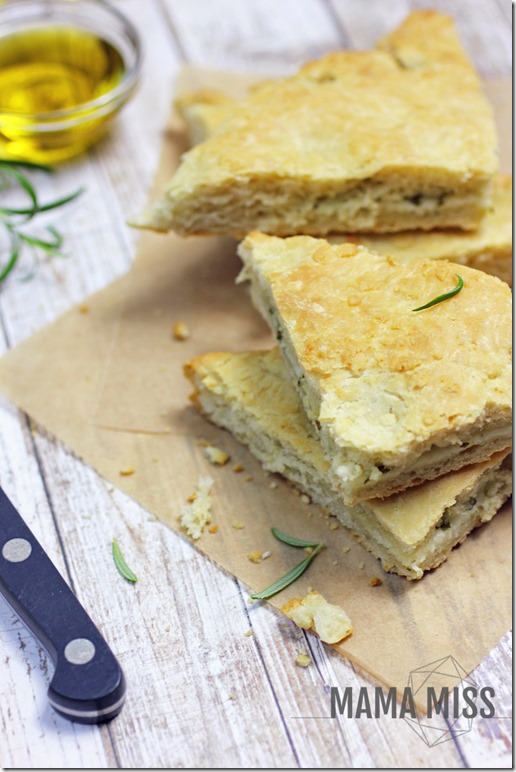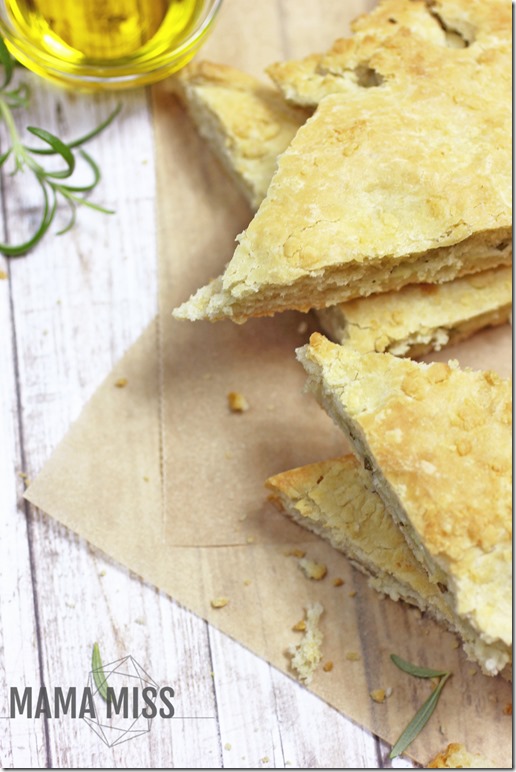 I always thought it would be super hard to work with, the fear of the unknown – I'm an instant gratification gal most of the time, waiting to see if it might work, usually not my thing.  I've never understood, or dabbled in the whole "making your own bread with yeast" thing, well except for my easy beer bread which is yeast free.
Well, it seems lately all the recipes I want to try or experiment with, involve yeast.
So I dove in, head first.
And, well, I survived & the whole yeast fear is no more :)
This Cheesy Rosemary Focaccia is so extremely simple & so very yummy you won't regret diving in head first either!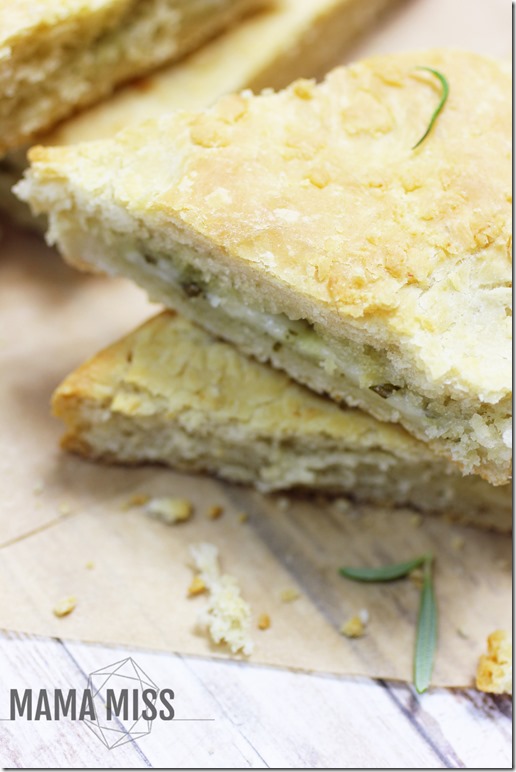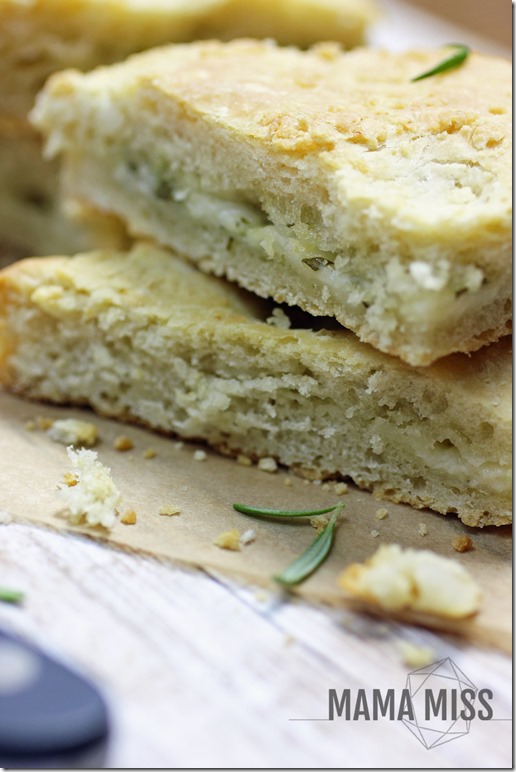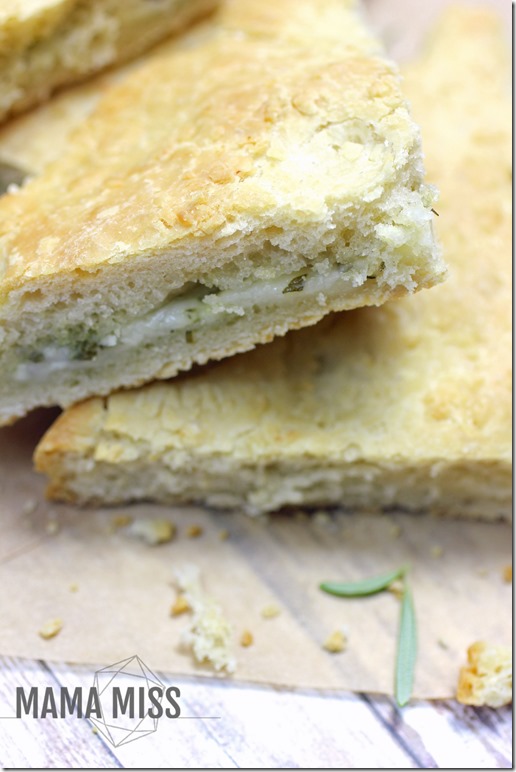 This Cheesy Rosemary Focaccia is extremely simple, and made with just a few ingredients, you won't regret diving in to this tasty flat-bread head first.
Ingredients
1/8 cup olive oil, plus more as needed
1 3/4 cups flour
1 package active dry yeast
3/4 tsp salt
5/8 cups warm water
4 oz monterey jack cheese, shredded
2 tsp fresh rosemary, chopped
Instructions
Lightly oil a large bowl.
In a food processor, combine flour, yeast, and salt - pulse to blend. Add warm water and 1/8 cup of olive oil and pulse until dough comes together.
Place dough in oil-coated bowl and let rise until double in size, about 1 1/4 hours.
Lightly oil an 8-inch square pan.
Once dough has risen, divide it into two pieces.
On a floured surface, pat and stretch one piece of dough into 8-inch pan.
Top dough with cheese and rosemary, leaving an approximately a 1/2-inch border.
Pat and stretch second piece of dough on floured surface, and place into 8-inch pan on top of cheese and rosemary; Pinch the layers together.
Cover with a damp kitchen towel and let rise for another 1 hour.
Preheat oven to 400° F.
Brush the dough with extra oil then dimple the dough with your fingertips.
Bake for approximately 25 minutes, until golden brown.
Remove from oven and let cool in pan, on a wire rack.
Serve warm and in wedges.
Notes
Adapted from Williams-Sonoma.
https://www.mamamiss.com/blog/2014/04/04/cheesy-rosemary-focaccia/
All rights reserved Copyright 2012-2019 Mama Miss Blog and Designs
Are you a yeast user?
Or, does a more than 38 year-old jar in your mom's fridge scare you as well?

♥
Like what you see?!
You can connect with me on:
Pinterest || Facebook || Twitter || Google +
♥
© Mama Miss. All images & content are copyright protected.
Feel free to share ONE picture and linking directly to this post for download.
Please do not copy directions, ingredients, or pdf files for your own website or Facebook page, visuals or words.
Copying my post partially, or fully, is strictly prohibited.
All work by Mama Miss is licensed under Creative Commons Attribution-NonCommercial-NoDerivs 3.0 Unported License.
♥♥♥
(Visited 846 times, 1 visits today)