So, these were a COMPLETE accident today!  Little miss V kept asking for snacks, I'm thinking growth spurt?!  So being the "always quick on my feet mama", "I don't want to have to run to the store to get one ingredient with two little ones, hmmm let's see what I can use right here mama", I made these ;)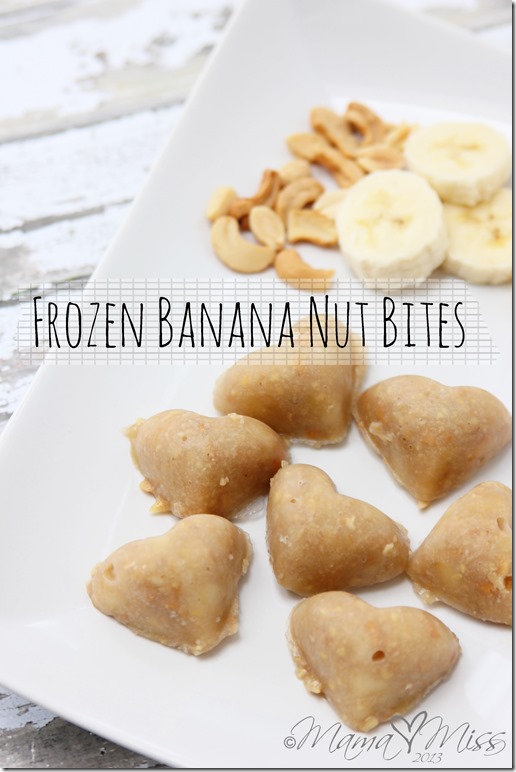 Currently V is not a fan of bananas, she used to be, but not lately.  So, those super ripe bananas sitting in the fruit basket were screaming my name to do something creative with them to get her to eat bananas again.  And, it was a COMPLETE & utter success, well, after I reformed the recipe completely!
So here's the scene, I have a kids snack recipe book and I whipped it open to make some yummy HEALTHY treats for these two little monkeys.  I followed the directions VERBATIUM – and well, they were a flop.  Sometimes I think the people who make these cookbooks never actually make the recipes (especially the ones with just illustrations, like kid ones) – argh.  So basically, the recipe has you mash up RIPE bananas, then, add chopped nuts and honey to the bananas.  You are then told to roll this mixture into balls, and then roll the balls into the remaining nut mixture – well, yeah, I have no idea how one can roll a ball of liquid into chopped nuts – and I tried, believe me!
So like a happy accident – I was determined to create something with my bowl of banana nut liquid!  And here's what I made – V ate not one, not two, ummm yep, she had SIX & I had to cut her off (she wanted more)!
Success to the thousandth power, I'll say – V's eating banana's again – wahoo!
Did you tally the score?  Mama = 1, V = 0
So here's the mama♥miss adjusted, amazing, non liquid mush recipe ;)
These yummy little bites are the perfect little midday treat.
Ingredients
2 large, ripe bananas
1/2 cup cashews
1/2 cup peanuts
1 tablespoon honey
Instructions
Mash up ripe bananas with a fork or potato masher (I favor the potato masher).
Using a small food processor, add peanuts & cashews and chop until finely ground.
Combine mashed bananas with the nut mixture; Stir until blended.
Add honey to the mixture; Stir well.
Spoon mixture into silicone molds and place in freezer for at least 2 hours.
Once completely frozen, pop them out from the molds & into your mouth!
Notes
https://www.mamamiss.com/blog/2013/02/27/fun-eats-frozen-banana-nut-bites/
All rights reserved Copyright 2012-2019 Mama Miss Blog and Designs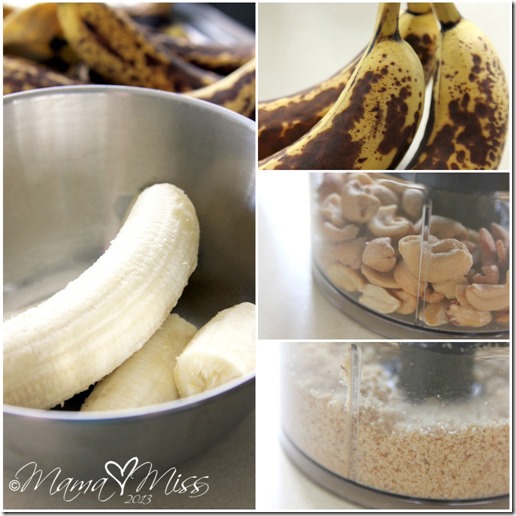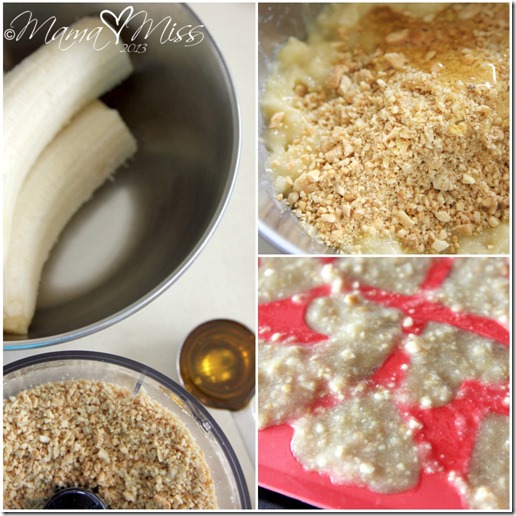 You HAVE to try them!
They are V approved – so I'm POSITIVE you and your monkeys will enjoy them too!!!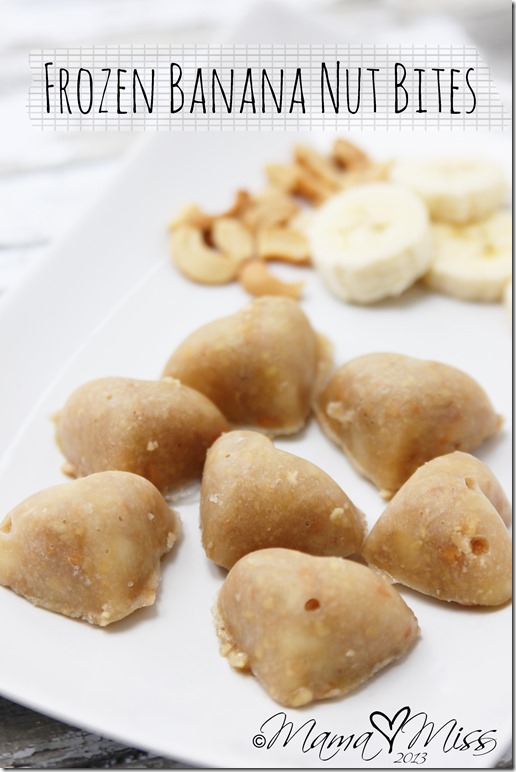 xx ♥ m
(Visited 7,379 times, 1 visits today)