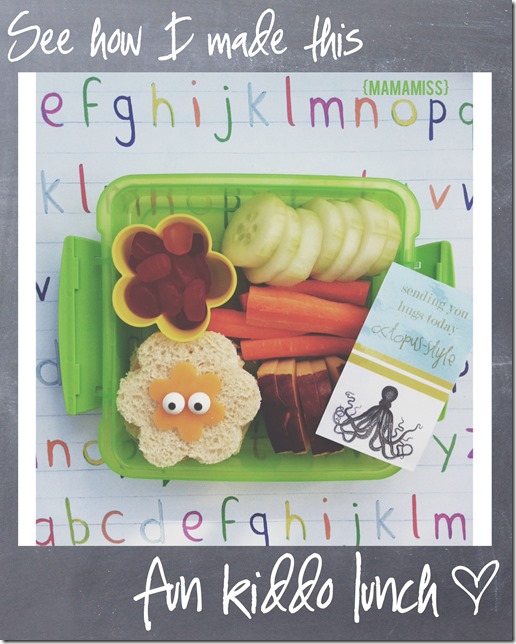 So, as embarrassing as it is to hear yourself talk when you listen to a voicemail of yourself (Hubs ALWAYS plays my voicemails out loud, after the fact, & I cringe at my voice, lol) – seeing yourself on video is I'm sure quite worse, right?!  I was debating whether to replay myself on Google Plus from yesterday (ha-ha & let alone share with all of you or my family), but I was relieved that it wasn't so bad :)  Well, except for me saying "um" many, many, many times over… ;)
So, why Google Plus?
Well, my good bloggy friend, Megan from Coffee Cups & Crayons started this awesome hangout on G+, which will be every week called #coffeebreak!  She will have different bloggers on every Tuesday morning chatting about a different topic each week.  So fun!!!!  You can watch her #coffeebreak series "live" each week and contribute with questions & answers (it's very interactive so you essentially can ask us questions as we are speaking – ha-ha – the only time it's okay to talk when someone's speaking ;)  This week (her debut of the series!) she talked about "School Lunch and After School Snacks".  Myself, along with several other bloggers, shared some awesome tips and tricks to make kiddo lunch time & snack time that much easier for you!  For my segment, I threw together a easy and simple bento!
So, here's the fun video, now on You Tube here if you didn't happen to catch it live on Google Plus.
And here's a close up of the before & after.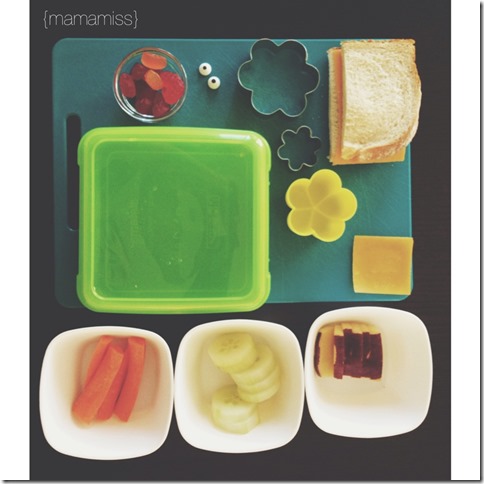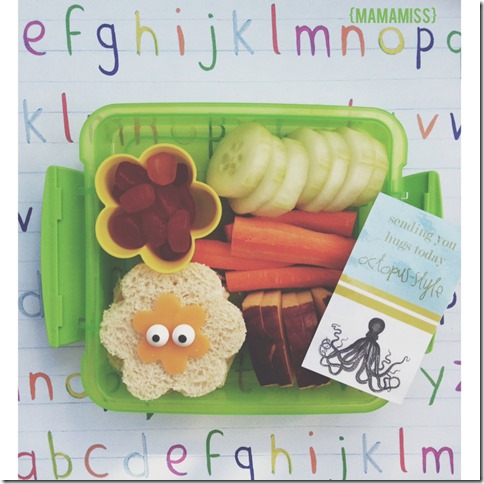 And here are the specifics on what I used :)
Food
cucumbers
apples
carrots
bread (for the plain ol' cheese sandwich)
thin cheese slices (I like these ultra-thin ones)
candy eyes (you can also get them at Target in the baking isle)
gummies (I buy these in bulk from Costco – we love our "gummies"!)
Tools
The ones I use regularly I don't believe you can get them anymore, I got them at various places; my sister got some in NYC at a bento store, I got some at my Homegoods Store, & I got some off Amazon.
Here are some links of ones that are similar to mine:
large flower silicone cups
small flower silicone cups
bright color silicone cups
lunch box notes – they are one of my designs & you can print them out for free here :)  Since I'm home-schooling I usually just laminate mine (because I'm with the kids when they see them) and reuse them!
Well there ya have it!!  Hope that helps you in creating your own SUPER SIMPLE fun bento!

♥
Like what you see?!
You can connect with me on Pinterest|Facebook|Twitter|Google + too!
♥
© Mama Miss. All images & content are copyright protected.
Feel free to share one picture and linking directly to this post for download.
Please do not copy directions, ingredients, or pdf files for your own website.
Copying my post partially, or fully, is strictly prohibited.
All work by Mama Miss is licensed under Creative Commons Attribution-NonCommercial-NoDerivs 3.0 Unported License.
♥♥♥
Please note that affiliate links are also provided throughout the post for your convenience – to allow direct access to the products suggested.
(Visited 650 times, 1 visits today)