It's finally HERE!!!
Can you believe it?! I can't! I seriously can't!
I'm hoping that because these take me FOR-ever to initially create (from scratch) that I'm laying down the groundwork for the templates of the future… & future blogger, teacher, menu, calendar, and homeschool planners – I'll just need to update the graphics & dates. But the core will now be there!! Wahoo!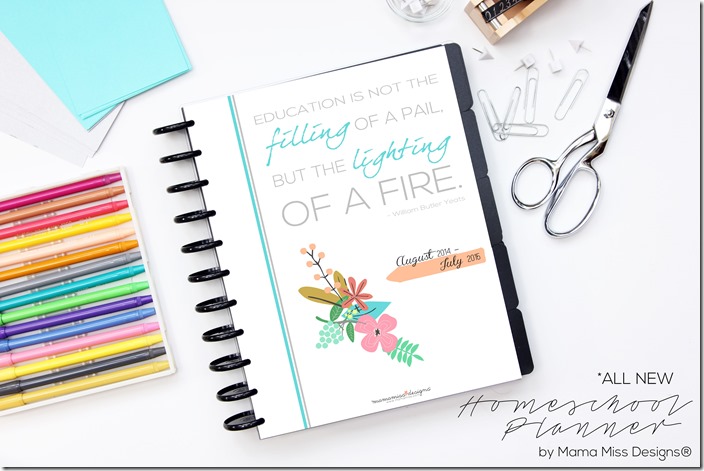 This little baby is just as close to me as the blogger planner & I hope I've conveyed that into the pages for you!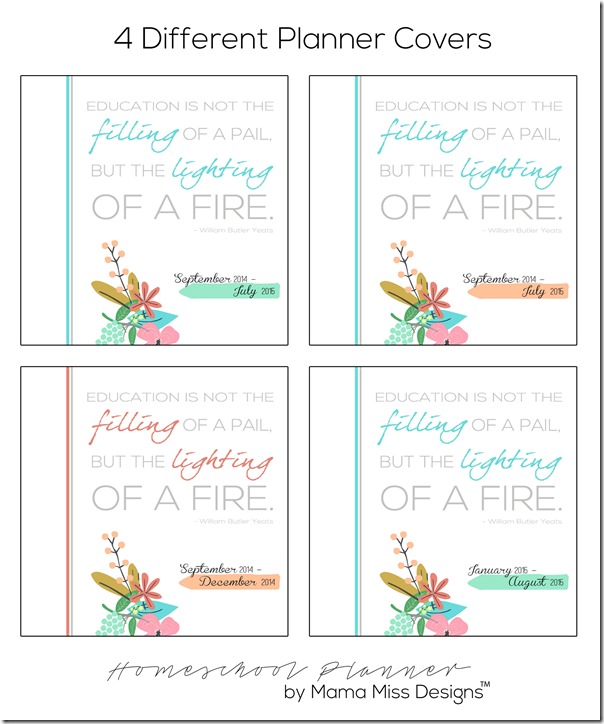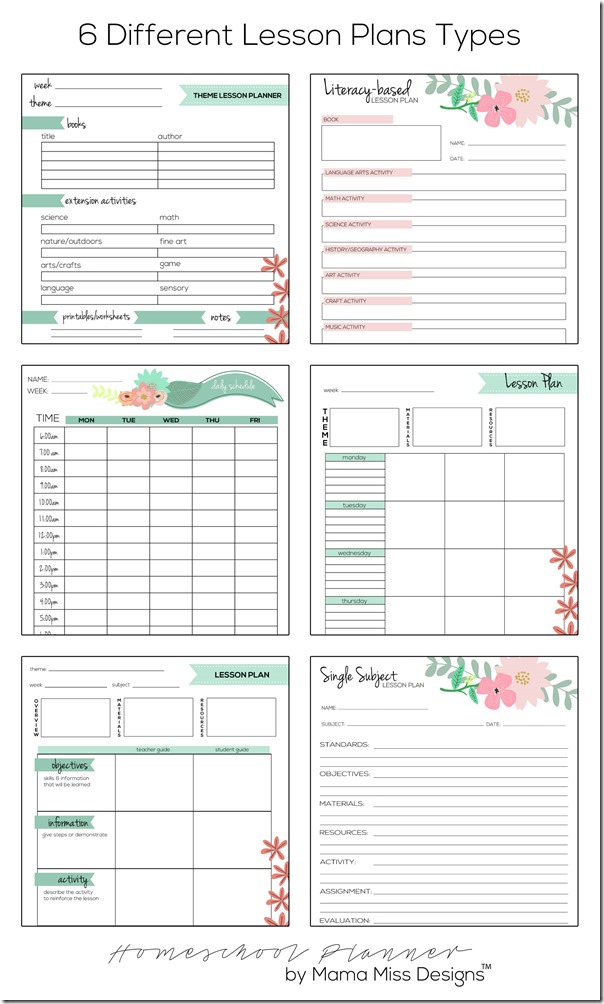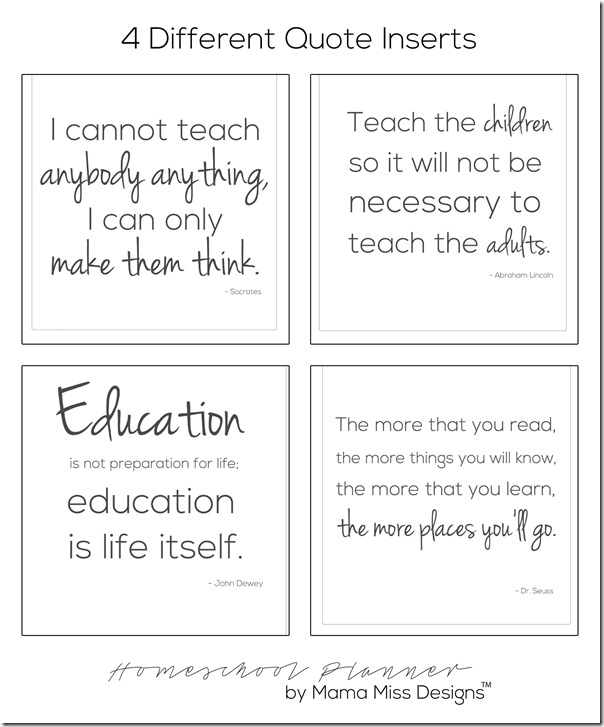 There are so many options for this planner to mold it into the planner that fits your needs! I designed 4 different covers – 2 color combos & then 2 date combos (if you wanted to split the calendar into 2, for each year, each semester). There are 6 different lesson plan layouts, quotes throughout to inspire you, sections to record tests & assignments, typical calendar stuff, a daily docket – lots of colorful pages to keep you motivated through out.
For this 2014/2015 homeschool planner, it can go one of three ways to get bound…
// Disc Binding (recommended split into 2014/2015 Semesters for 1-2 children) (recommended split by child for 2+ children)
// Comb Binding (recommended split into 2014/2015 Semesters for 1-2 children) (recommended split by child for 2+ children)
Bring it to your local office supply store & have them bind it for you – you'll just need to print it out yourself (or have them print it for you – just bring this print release) & grab 2 packs of Clear Label Dividers, White, 5-Tab Set
to separate the months.
// 3 Ring Binder (recommended for 1+ child) (ps, I found this super cool flexible binder in my quest to put this together that may be a great alternative to the clunky 3-ring).

Create the 2014/2015 Homeschool Planner!
How you design it is up to you – that's the beauty of it – it's totally customizable!
// tips
// includes
So what will you get with your Homeschool Planner purchase?
>> Instructions on how I put my homeschool planner together
>> 78 original pages (a whopping 183 pages if put together completely for one child & 400 for two children!), including:
4 Different Planner Covers
3 Different Cover Info Sheets
4 Quote Inserts
Daily Docket
2 Yearly Overviews
2 Perpetual Calendars
Attendance Roster
Holidays
Contacts
Extra-Curricular Details List
Password Tracker
To Do List
2 Note Pages, Lined & Unlined
5 Lesson Plan Options
2 Daily Schedules
Family Read Aloud Log
Reading Log
2 Field Trip Pages, Boxes & Detailed
Chore Chart
Journal of Moments
Goals
Wish List
Yearly Plan & Evaluation
Testing Tracking
Student Checklist
11 Monthly Covers
11 Monthly Calendars
11 Weekly Calendars for each month
Notice of Intent Form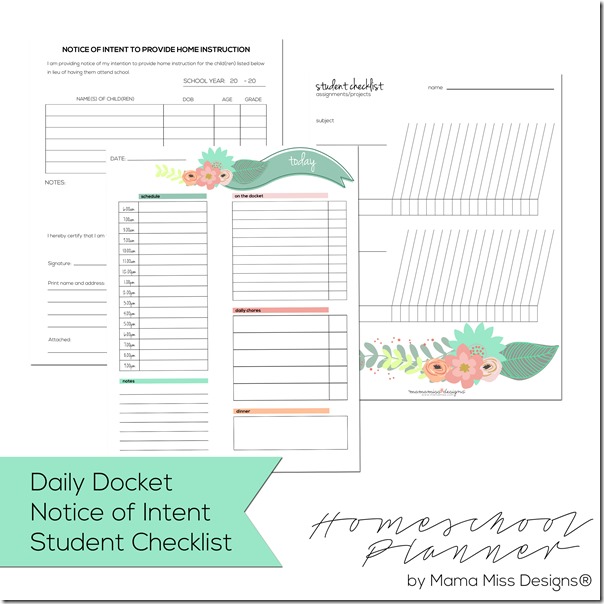 I've also created 3 pages that I am not actually placing IN my planner – but using them outside the planner.
The Daily Docket I am laminating and attaching to my desk to use with a dry erase marker – I'll write & wipe!
The Notice of Intent form will be the form I submit to the school.
The Student Checklist I'm actually putting in a separate binder with V & T's work – I'll place this sheet in front to log their work & then place the corresponding work behind it.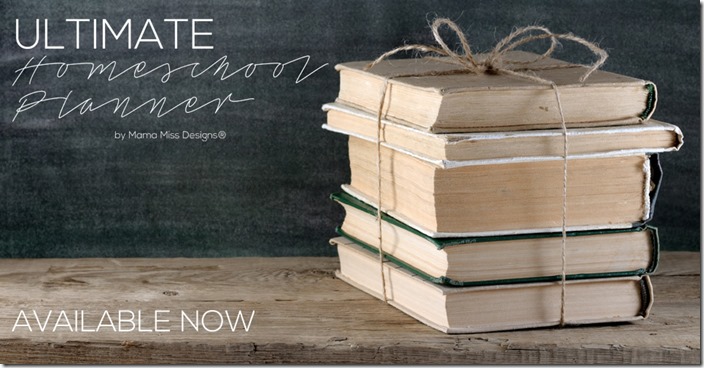 // price
$8
// how to get it


♥
Like what you see?!
You can connect with me on:
Pinterest || Facebook || Twitter || Google +
And don't miss any updates…
♥
© Mama Miss. All images & content are copyright protected.
Feel free to share ONE picture and linking directly to this post for download.
Please do not copy directions, ingredients, or pdf files for your own website or Facebook page, visuals or words.
Copying my post partially, or fully, is strictly prohibited.
All work by Mama Miss is licensed under Creative Commons Attribution-NonCommercial-NoDerivs 3.0 Unported License.
♥♥♥
(Visited 12,429 times, 1 visits today)