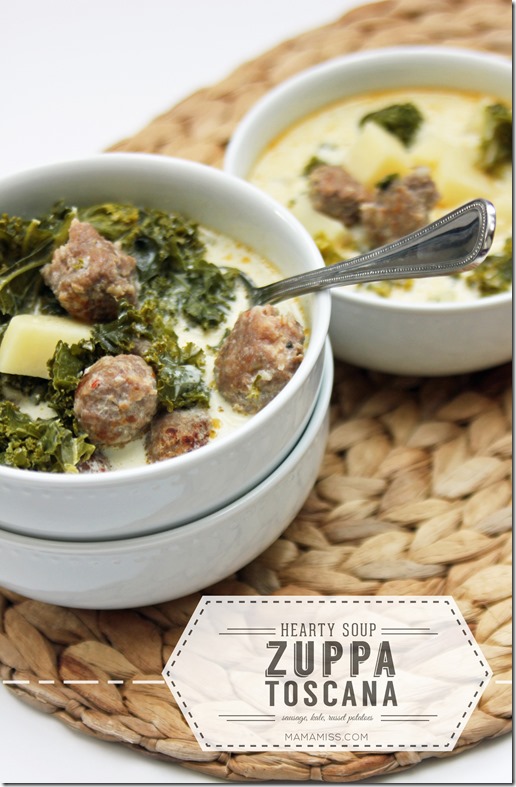 I think fall is indeed my favorite season, there are so many things to love… the crisp cool air, the leaves changing, the smells, the foods…  I adore fall!
It's getting quite chilly out there lately!  Which is good – because it's perfect soup weather.
Some soup for dinner, a nice wine for dessert, a comfy blanket next to your hubs on the porch… okay I think I've set the scene for the perfect "at home" date night :)
Bring on the chilly late fall!!!
This Zuppa Toscana soup is hearty, warm, and chocked full of good stuff!  Plus we are throwing it in the slow cooker to make it even EASIER for ya!!
Now, I'm not a spicy gal, so I've made mine with mild sausage (not the traditional Zuppa Toscana way).  But, if your more of a thrill seeker in the spicy sector and are looking for the real Zuppa Toscana way (spicy!!) – have at it – spice it up with the hottest sausage you can get your hands on!!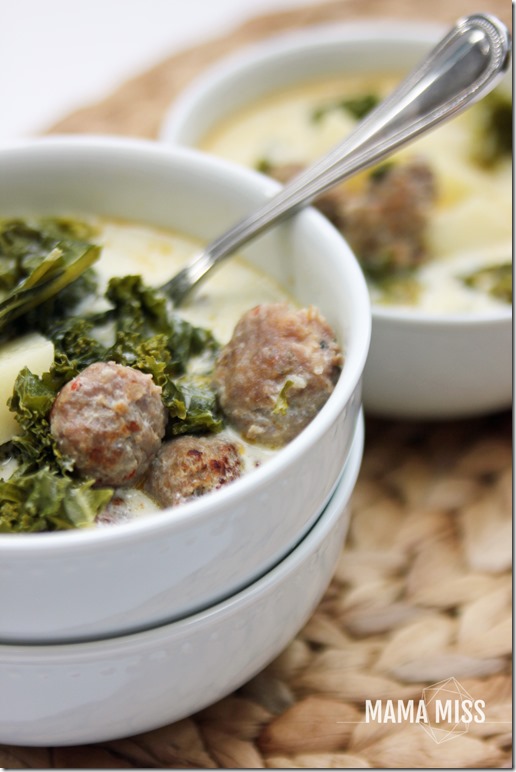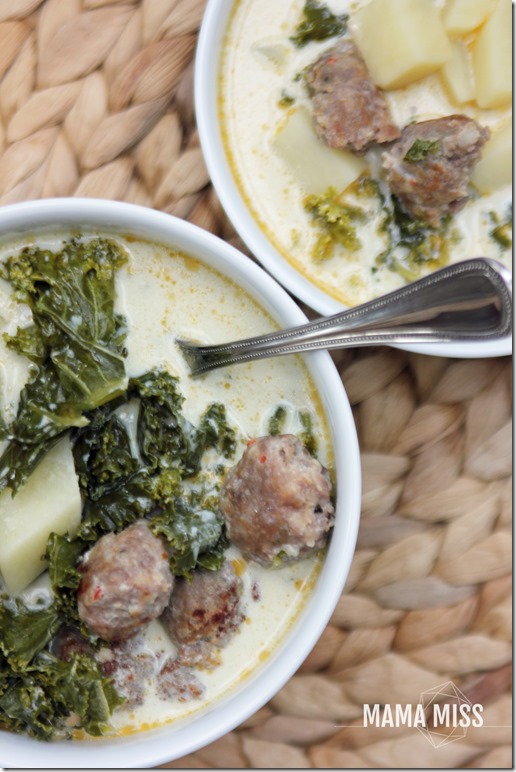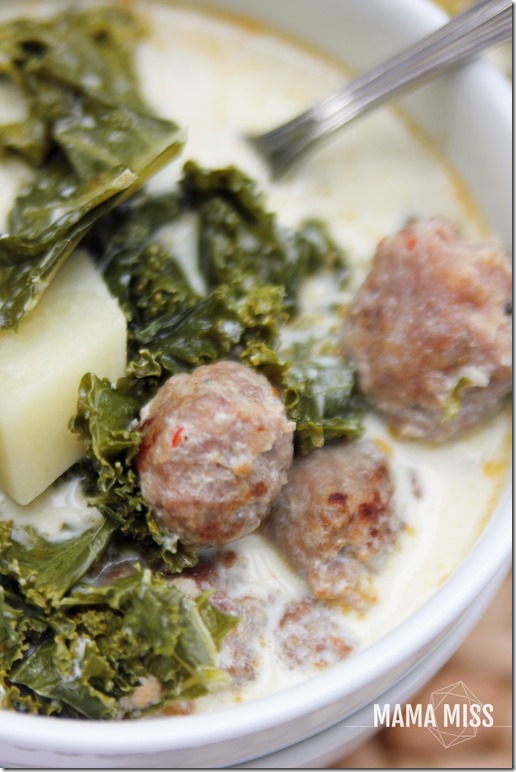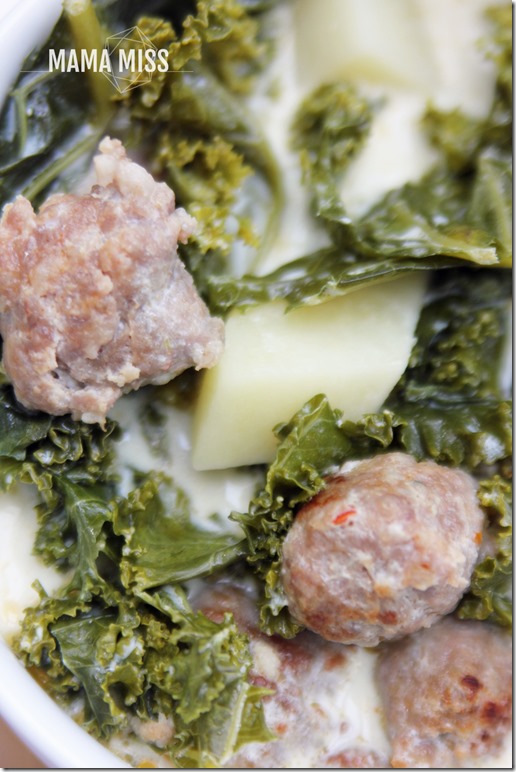 With sausage, kale, and russet potatoes, this hearty veggie filled soup is perfect for a cool day!
Ingredients
3 - 14.5 oz. cans low sodium chicken broth
16 fl. oz. heavy whipping cream
4 fully packed cups kale, chopped
4 small russet potatoes, peeled & diced into edible chunks
1 lb. mild Italian sausage, casings removed
1/8 teaspoon red pepper flakes
kosher salt & freshly ground pepper
Instructions
Combine chicken broth and heavy whipping cream in a medium bowl; Stir.
Add broth, cream, chopped kale, and diced potatoes in slow cooker.
In a medium pan, break apart sausage until browned; season with red pepper flakes, salt and pepper.
Add sausage to slow cooker.
Cook in slow cooker for 7-8 hours on low (3-4 hours on high), or until potatoes are softened.
Notes
https://www.mamamiss.com/blog/2014/11/20/zuppa-toscana/
All rights reserved Copyright 2012-2019 Mama Miss Blog and Designs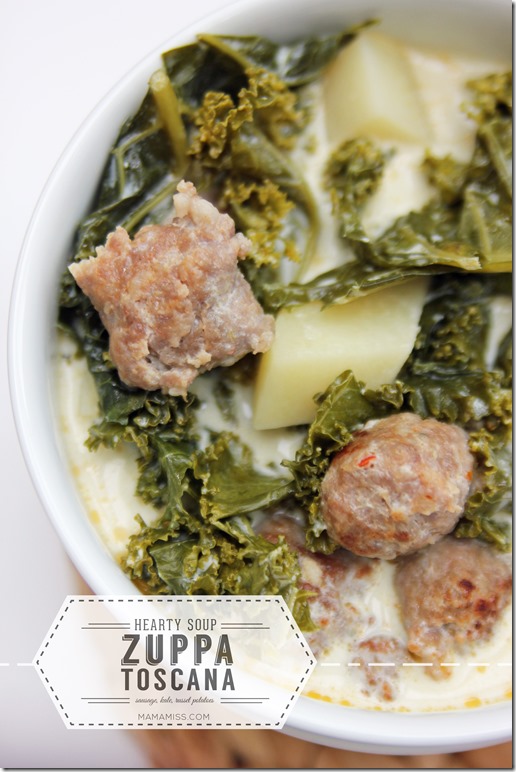 ♥
Like what you see?!
You can connect with me on:
Pinterest || Facebook || Twitter || Google +
And don't miss any updates…
♥
© Mama Miss. All images & content are copyright protected.
Feel free to share ONE picture and linking directly to this post for download.
Please do not copy directions, ingredients, or pdf files for your own website or Facebook page, visuals or words.
Copying my post partially, or fully, is strictly prohibited.
All work by Mama Miss is licensed under Creative Commons Attribution-NonCommercial-NoDerivs 3.0 Unported License.
♥♥♥
(Visited 3,739 times, 1 visits today)