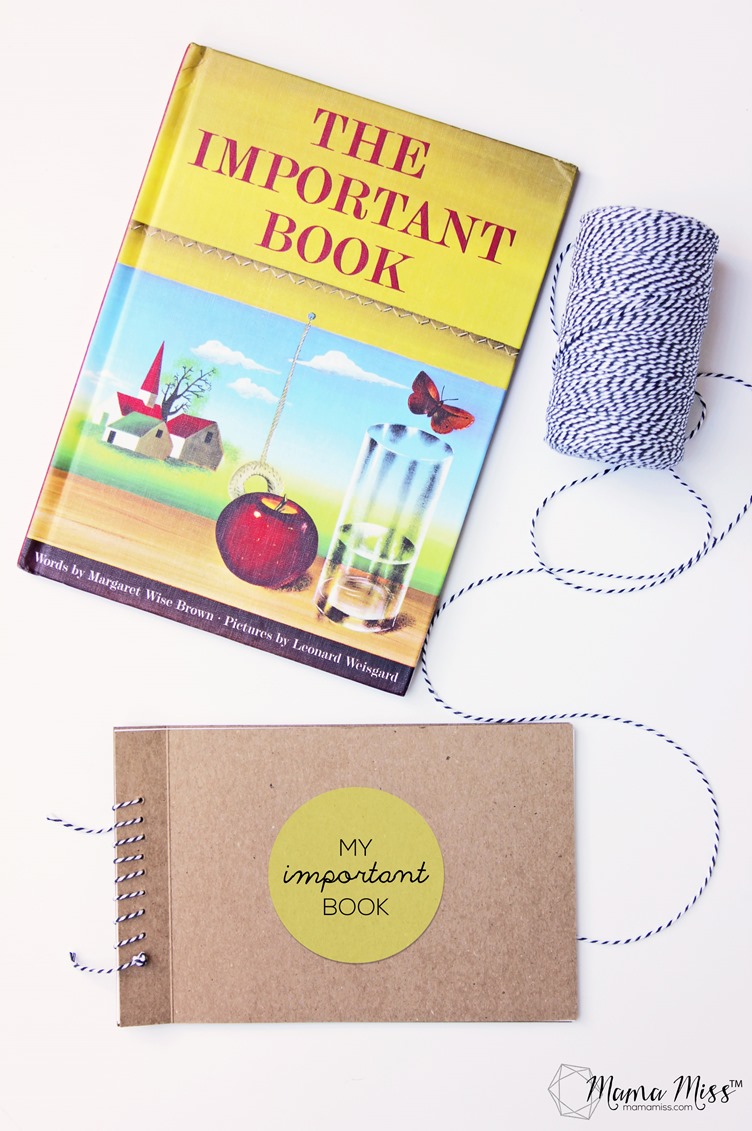 For this month's Virtual Book Club For Kids the selected author is Margaret Wise Brown
, of Goodnight Moon
fame. Some of her other books include The Runaway Bunny
, I Like Bugs
, Big Red Barn
, My World: A Companion to Goodnight Moon
, Home for a Bunny
, and our pick for this project – The Important Book
.
Let me start off by saying that WE LOVED LOVE LOVED THIS BOOK with a capital V! It was our first time reading it & it was fantastic – it dove into descriptive words and the adjectives of the things around us. Perfect for a budding/beginning reader & writer like V!
We first started naming off things using the verbiage…
The important thing about a… (insert item)
is that it is… (insert descriptive word)
It is true that it is… (insert another descriptive word)
and is… (insert yet another descriptive word)
etc. etc. etc.
We did a ball, a heart, some scissors, a pipe cleaner – it was really very cool to see V determine the most important thing about that item – all from her perspective! I was originally going to create a booklet with some items, the book, and some pencils – and set them out as an invitation to write, of sorts (which I may still do!). But then…
I went to bed & had a brilliant idea while I slept (my dreams are lame I'm telling ya!) – to turn it into something a little more personal – a keepsake for V to have, about her family.
Behold "My Important Book". Well, V's Important Book!
I've created 9 pages for your very own Important Book – aptly titled for that family member – my mom, my dad, my brother, my sister, my grandpa, my grandma, my grandpop, my grammy, & ME! I'm thinking super cute idea for MOTHER'S DAY, FATHER'S DAY, or GRANDPARENT'S DAY too!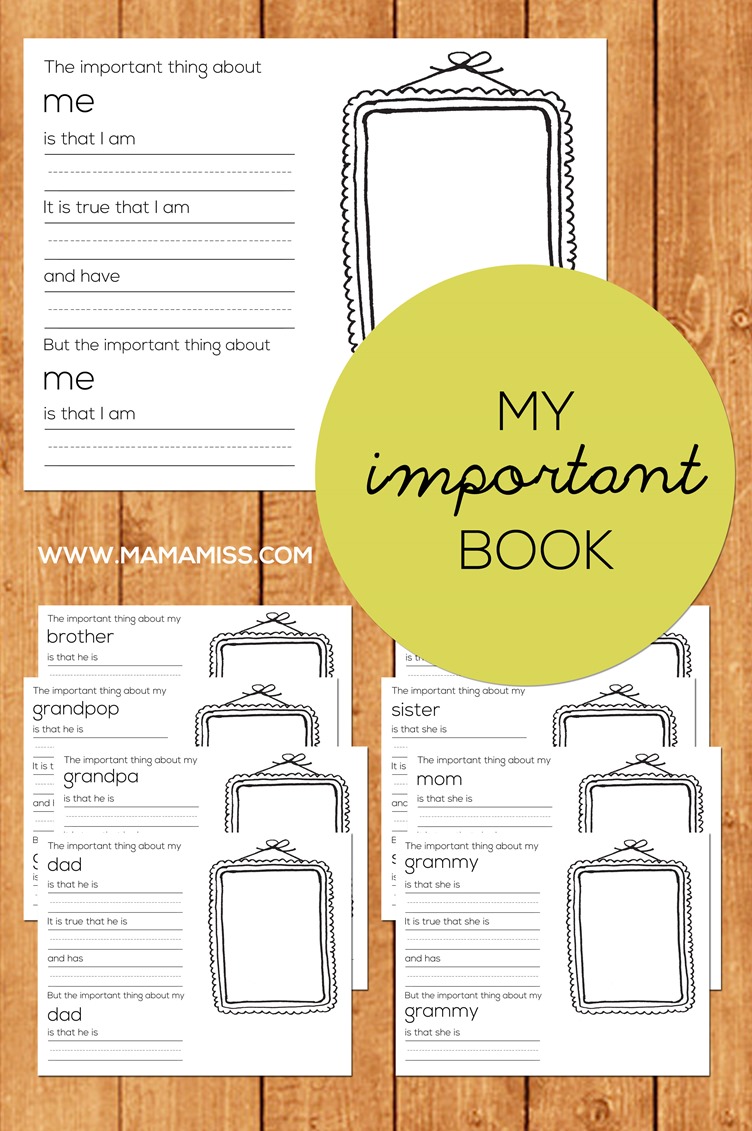 So make your own Important Book (the smaller 5.5×8.5 pages), or make just an individual Important Page (the 8×10 pages) for that special family member – which would be pretty awesome hung in a frame in that special someone's room!! Along with the spaces for the kiddos to fill in their adjectives about family members, I've also created a fun little frame so that they can add a little portrait too. How cute would it be to do this every year?!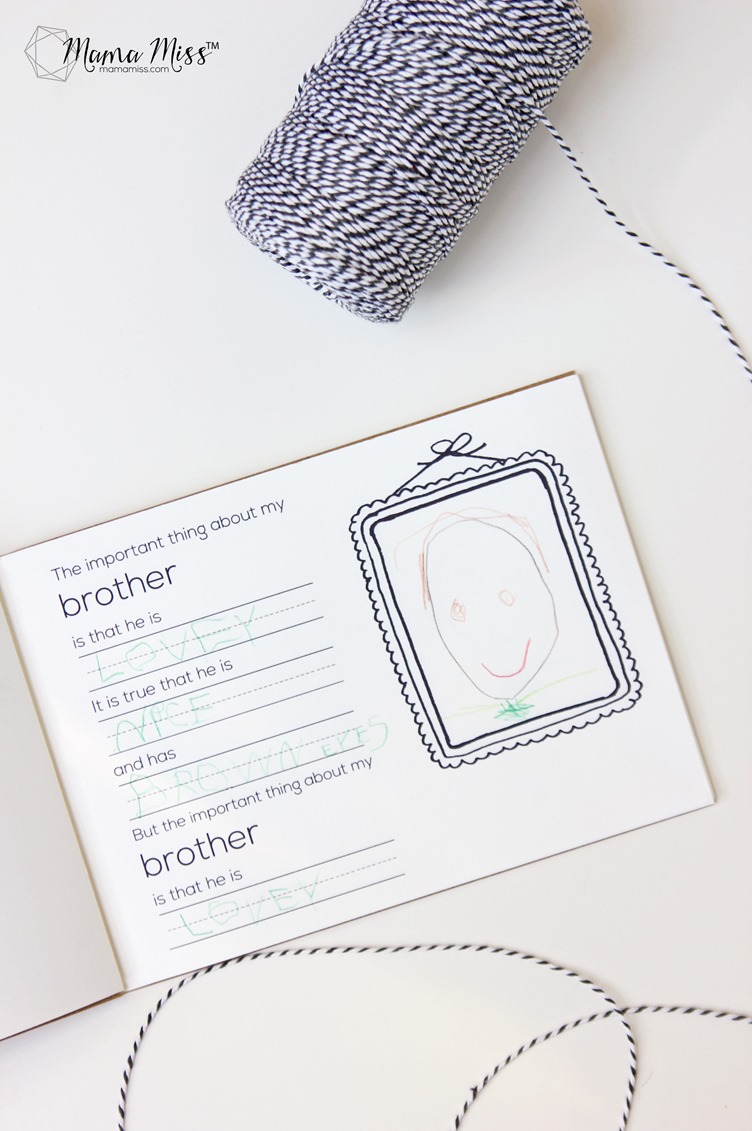 So let's make your Important Book, shall we?
Here's what you'll need to make an Important Book like ours…
Here's how to my an Important Book like ours…
Print out the 5 pages of 5.5×8.5 book sheets on white cardstock & cut in half along the faded line in the middle (1).
Cut the chipboard in half so that each side is 5.5×8.5 (this is where a paper cutter comes in handy!) (1).
Trim up the edges of the book sheets so that they are even for the book.
Using the bone folder, score one inch in from the left side of the two chipboard covers.
Using the bone folder, with the book sheets, score one inch in from the left side to pre-bend the book pages so that it flips nicer. You'll notice this is why there is all this empty space to the left – ahhh to make a book!! (I have this awesome trim and score board that has grooves in it (pic 2) that I just measure from the top, line it up & the scoring follows along the groove to keep it straight – now of course it's not necessary, but it's pretty handy!) (2).
Clamp the pages together making sure the edges are lined up (3).
While clipped, use the awl to poke holes in desired pattern – twist a little until it goes all the way through, and then keep twisting to make your desired hole size (4 & 5).
Thread canvas needle with twine and stitch seam in desired pattern (6).
Knot & trim the twine ends.
Now – look at that cuteness! Of course you could take the easier route & whip out a stapler – but I think making it just a touch fancier makes it just that more special, & more official "book-like", don't ya think?! ;)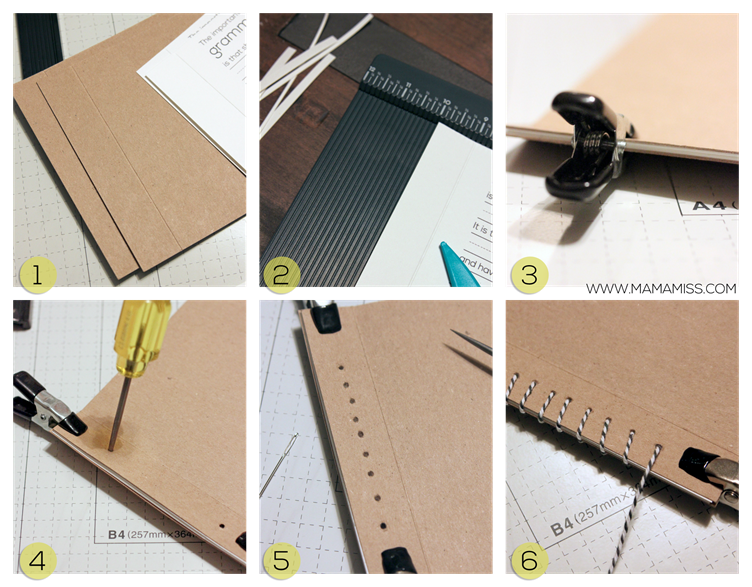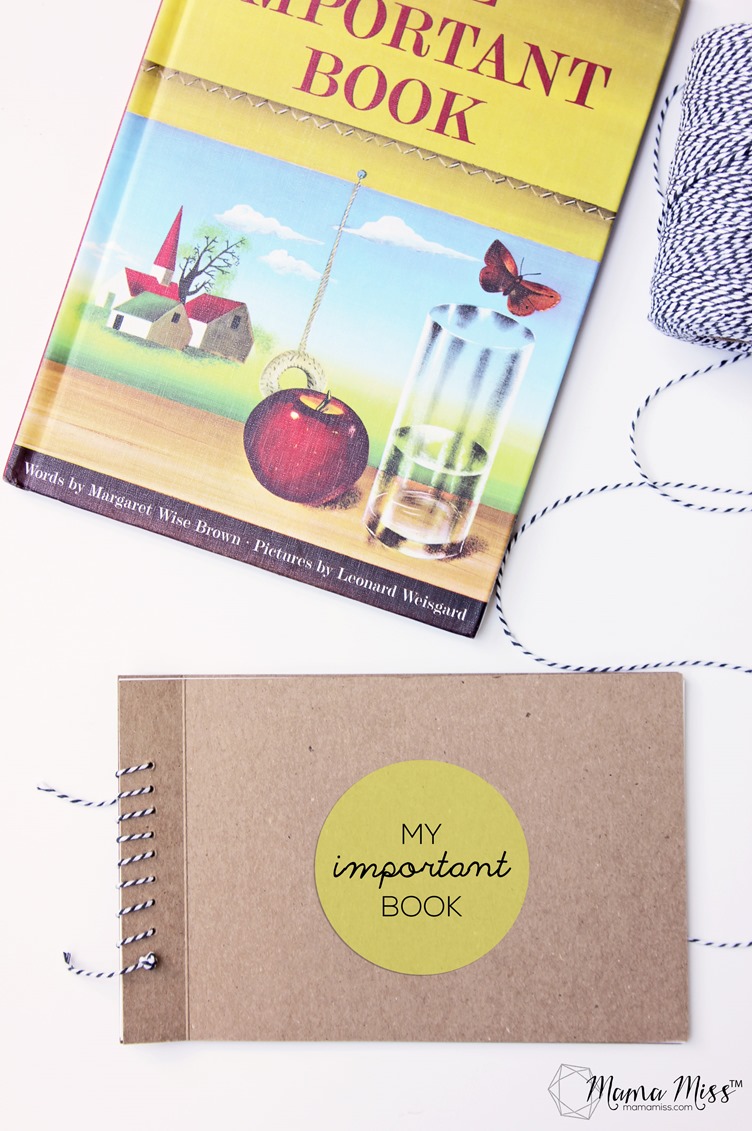 Come see what everyone else has done to celebrate Margaret Wise Brown this month for Virtual Book Club For Kids…
Check out all the Goodnight Moon
activities: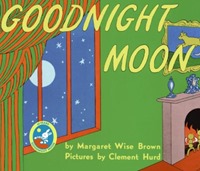 Inspiration Laboratories- Goodnight Moon I Spy Game
3 Dinosaurs – Gross Motor Activity
Lalymom- Goodnight Moon Book Words Printable Activity
Still Playing School – Soothing Scented Goodnight Moon Inspired Sensory Play
The Educators' Spin On It – Storytelling Necklace Inspired by Goodnight Moon
Check out all the The Important Book activities: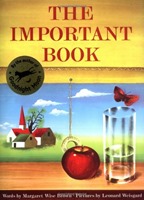 Growing Book by Book- The Important Book: Making An All About Me Book
Mama Miss – The Important Book
Check out all the The Runaway Bunny
activities: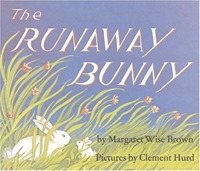 Toddler Approved – M&M Bunny Patterning Activity for Kids
Rainy Day Mum – Match Pairs – The Runaway Bunny Inspired Game

Follow along with us every month (see here for each month's featured books).
You can also follow along with the Virtual Book Club for Kids here…
Website // Pinterest // Facebook // Google+ Group
————————————–
Next month, April 9th, is Laura Numeroff
, and her featured books are:
If You Give a Mouse a Cookie
, If You Give a Pig a Pancake
, If You Give a Moose a Muffin

♥
Like what you see?!
You can connect with me on:
Pinterest || Facebook || Twitter || Google +
And don't miss any updates…
♥
© Mama Miss. All images & content are copyright protected.
Feel free to share ONE picture and linking directly to this post for download.
Please do not copy directions, ingredients, or pdf files for your own website or Facebook page, visuals or words.
Copying my post partially, or fully, is strictly prohibited.
All work by Mama Miss is licensed under Creative Commons Attribution-NonCommercial-NoDerivs 3.0 Unported License.
♥♥♥
(Visited 12,125 times, 1 visits today)