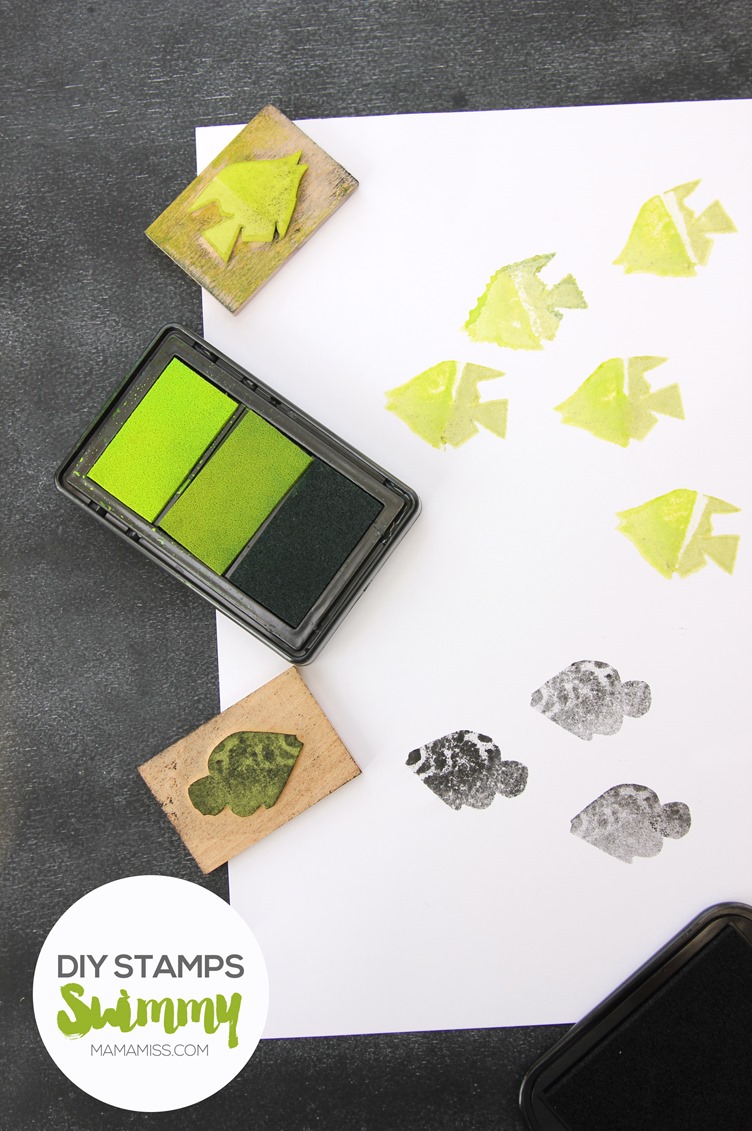 We're back with this month's Virtual Book Club – and we're celebrating Leo Lionni
!  The book we chose from his collection of amazing books was Swimmy
.
It's such a sweet book…
Deep in the sea there lives a happy school of little fish. Their watery world is full of wonders, but there is also danger, and the little fish are afraid to come out of hiding . . . until Swimmy comes along. Swimmy shows his friends how—with ingenuity and team work—they can overcome any danger.






Though, my absolute favorite thing about this book is the artwork – it's organic, and beautiful, and colorful, and lovely.  It made me think of handprints, finger-painting, and handmade art.  That's when this lovely idea popped into my head!  Let's make some stamps!  Some super simple stamps that create the most magnificent organic fish shapes – using craft foam.  SERIOUSLY these are beyond simple to make – it took us all of 5 minutes TOTAL to make them & get our stamp on!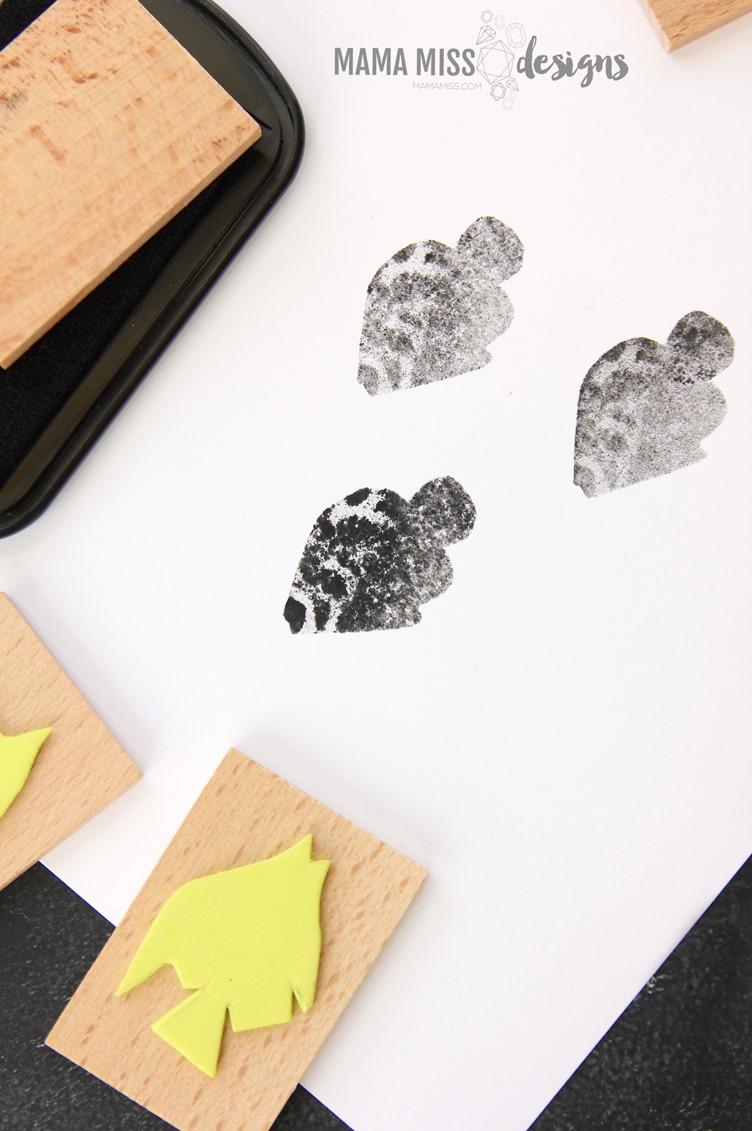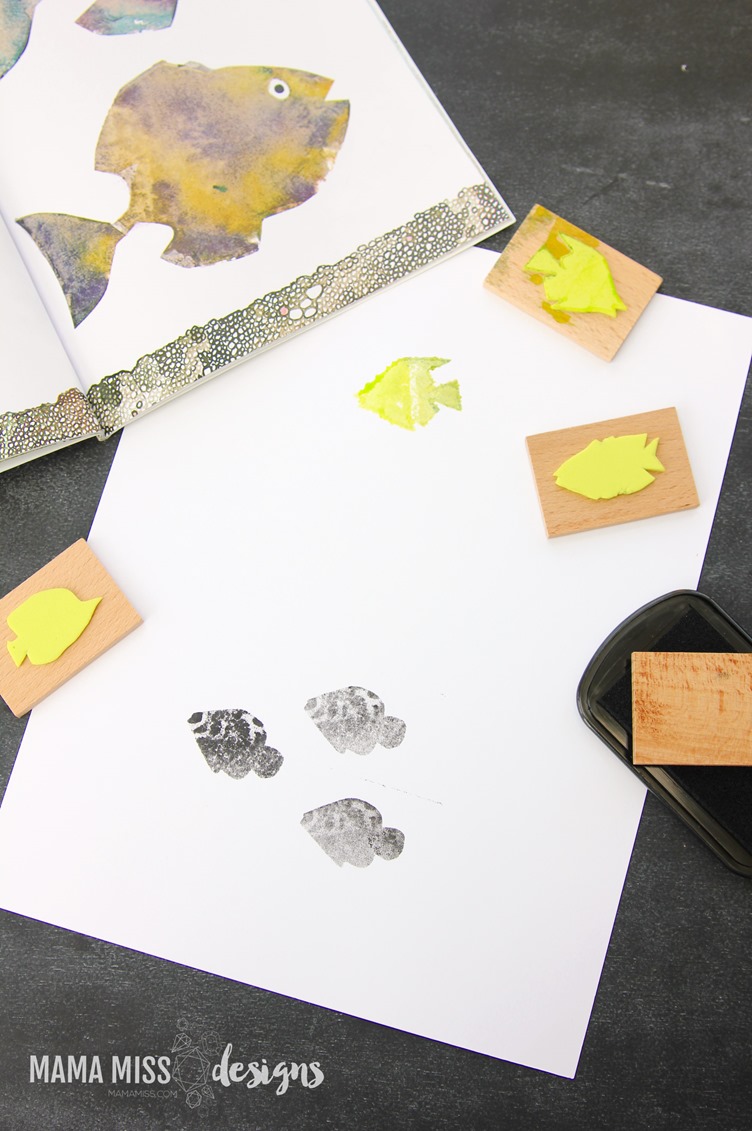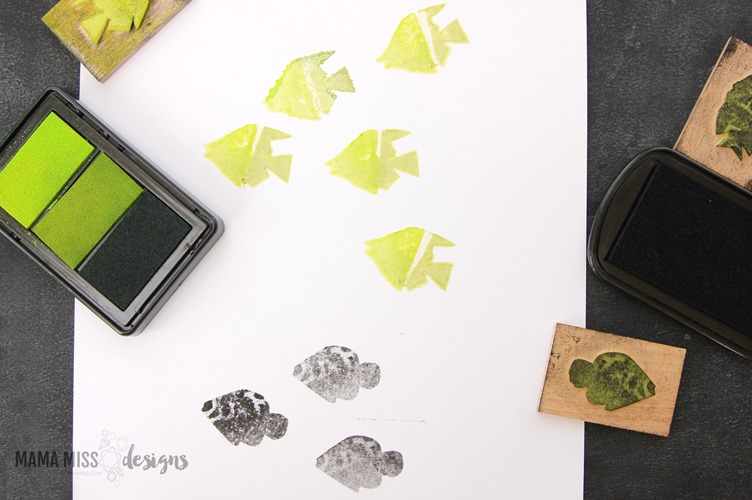 Here's what you'll need to make these DIY stamps:
How to make these DIY stamps:
Print out the fish templates.
Trace the fish outline, hard with pencil.
Flip the template over and rub the back of the penciled outline (with your finger) onto the foam, transferring the fish shape outline onto the foam.
Cut out the fish shapes in the foam.
Remove the adhesive backing from the fish shapes.
Attach a fish shape to each wooden rectangle.
See – told ya – super duper easy – no artistic talent needed whatsoever.  Time to get stampin'!
I even made a print with it, created some little air bubbles, and added a fun little quote "swim in your own direction"!  Imagine the awesomeness that is possible with these DIY stamps – different shapes, colors, & textures for starters!
And here are the FREE printables – just enter your name & email and I'll send ya the downloadable link straight away to your inbox – BAM – just like that!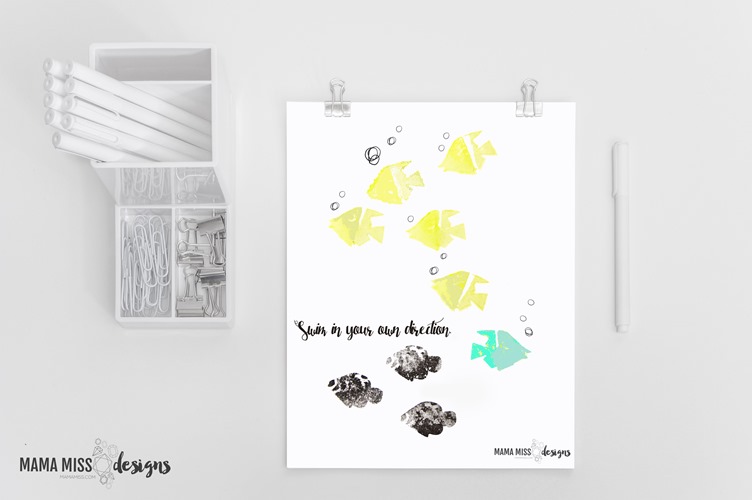 Come see what everyone else has done to celebrate Leo Lionni this month for Virtual Book Club for Kids –
————————————–
Swimmy
activities
DIY Stamps – Mama Miss
Fishy Math Practice with Swimmy – Inspiration Laboratories
Sticky Fish Craft for Toddlers – Toddler Approved
Watercolor Fish – Swimmy – 3 Dinosaurs
Swimmy- Alphabet Fish Game – The Educators' Spin On It
————————————–
A Color of His Own
activities
Chameleon Color Change Activity – Still Playing School
————————————–
Little Blue and Little Yellow
activities
Little Blue and Little Yellow Sensory Writing – Growing Book by Book
Little Blue and Little Yellow Twisty Cups for Color Mixing and Story Telling – Lalymom
No Mess Colour Theory Experiment – Rainy Day Mum
Mess Free Rainbow Sensory Bags – The Pleasantest Thing
————————————–

Follow along with us every month (see here for each month's featured books).
You can also follow along with the Virtual Book Club for Kids here…
Website  // Pinterest  // Facebook // Google+ Group
————————————–
Next month, July 9th, is Donald Crews, and his featured books are: Freight Train
, Ten Black Dots
, Truck

♥
Like what you see?!
You can connect with me on:
Pinterest || Facebook || Twitter || Google +
And don't miss any updates, get new posts right away – sign up here…
♥
© Mama Miss. All images & content are copyright protected.
Feel free to share ONE picture and linking directly to this post for download.
Please do not copy directions, ingredients, or pdf files for your own website or Facebook page, visuals or words.
Copying my post partially, or fully, is strictly prohibited.
All work by Mama Miss is licensed under Creative Commons Attribution-NonCommercial-NoDerivs 3.0 Unported License.
(Visited 4,552 times, 1 visits today)