I bet you are dying… just dying to know what this busy mom of two carries in her bag ;)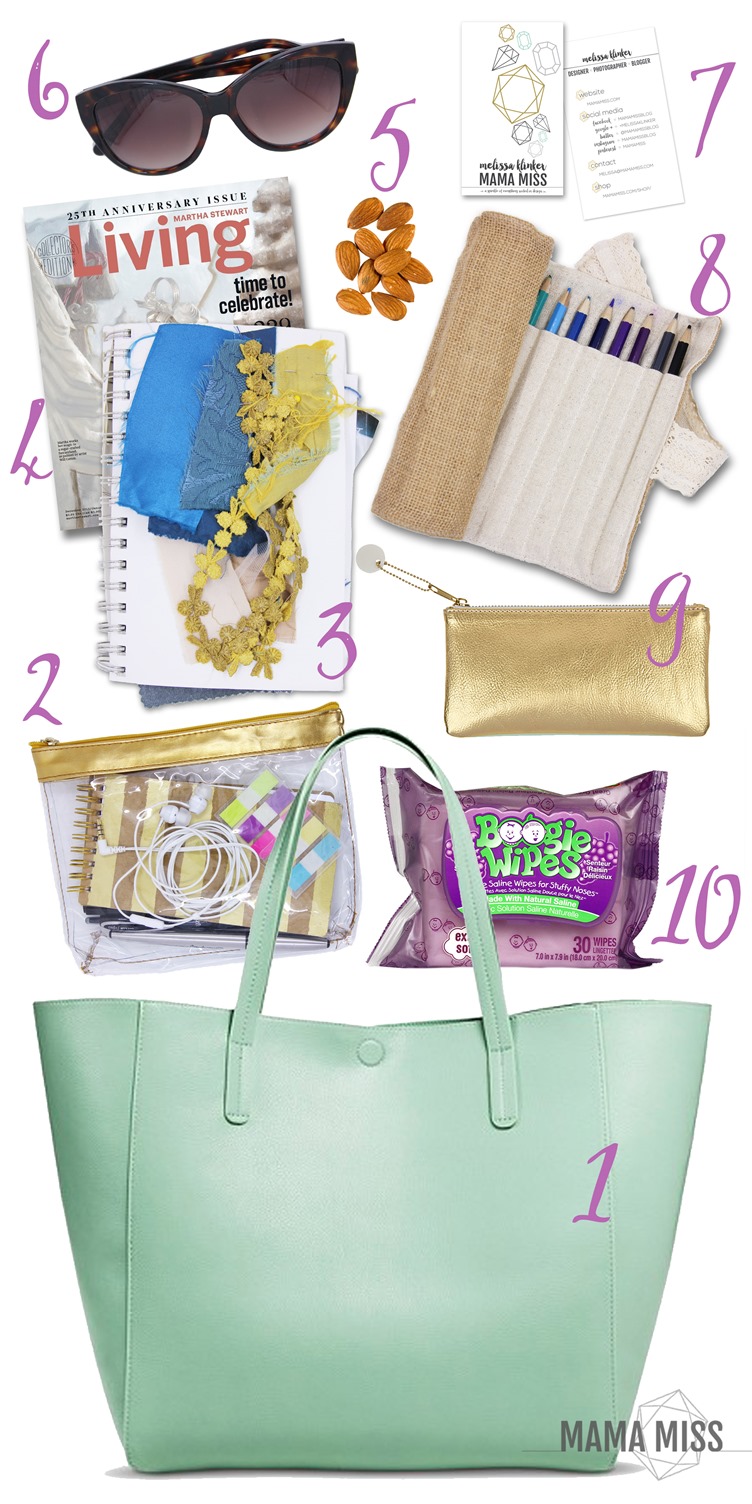 So, What's In My Bag?
I'm totally spilling the beans on what I keep in my giant mama bag at all times!
BTW, I'm currently I'm OBSESSED with all things mint & gold – it's my favorite color combo at the moment – I love love love the mint and gold.
THE NECESSITIES:
[1] The bag.  The kids are constantly asking me to hold, this & hold that – a jacket, a doll, a stuffed Chewbacca – all that "stuff" can be thrown in, along with possibly the kitchen sink – it's GIANT lol.
[2] My tools pouch.  This zipper bag holds my earphones (for moments of alone mama time where I can plug in a podcast or quick song on my phone), notepad, pens, a pencil, and sticky tabs (for tabbing pages in my mag, notepad, or sketchpad).
[3] My sketchpad.  I would be utterly  lost without this.  It holds all my ideas (before I transfer them to my planner), swatches, fabrics, doodles, sketches – it's my own private oasis of me.
[4] My monthly magazine subscription.  I rarely have time to read them, that's why they get thrown into my bag, for those moments I have a sec.  I never know when I'll have random downtime – when V&T are in a class, or waiting for V's girl scouts – I'd rather read something quick, paper-wise vs. pulling out the phone & getting sucked in to all things social media.
[5] Snacks.  A mom without snacks, well, you don't want to know – it's not pretty.  For myself, and for the kiddos (sometimes even hubs), I usually have some sort of trail mix in my bag.  Salty & sweet fills the cravings in between meals with a little bit of healthier protein.  Plus the great thing about trail mixes is that they can fall to the bottom of your bag, get buried, get crushed, and they are as good as new – unlike a granola bar or crackers that would inevitably get annihilated in a bottomless bag massacre.
[6] Sunglasses.  There really isn't anything else to say except I'd rather not add to my wrinkles by squinting, so these are a must!
THE IMPORTANT EXTRAS:
[7] Business Cards.  It always happens – whenever I run into someone where I NEED my business cards, I never have them!  Not anymore. I have one of those handy-dandy hard case credit card wallets – I removed the inside plastic holder for credit cards & it's now a perfect hard case for my business cards.
[8] Colored Pencils.  Sometimes a girl has got to get out of the black & white and use a little color.  I try to always have these in my bag to add to any sketches in my sketchpad.  They are also great for V&T to use as well, in those downtimes at restaurants and doctors visits.
[9] My makeup pouch.  The little bag holds my chapstick, lip-gloss, mirror (I gotta be selfie ready ;), girl stuff, medicine, gum, mints, ponytail holders (for V & me), and hand cream – whew it is TRULY amazing what I can fit into that little pouch I tell ya!
[10] Boogie Wipes.  THESE are a lifesaver!!  These two little ones of mine (4 & 6) want to be soooo big all the time and have now come to the point in time where mama spit on the finger, is just not okay (nor does the job) anymore – I had to bring in the big guns!!  These little saline wipes are genius – they are extra soft, with saline built in, and available in 3 scents (V&T love the grape as you can see).  Psst, you can always grab a coupon for these nose wipes on their site here too.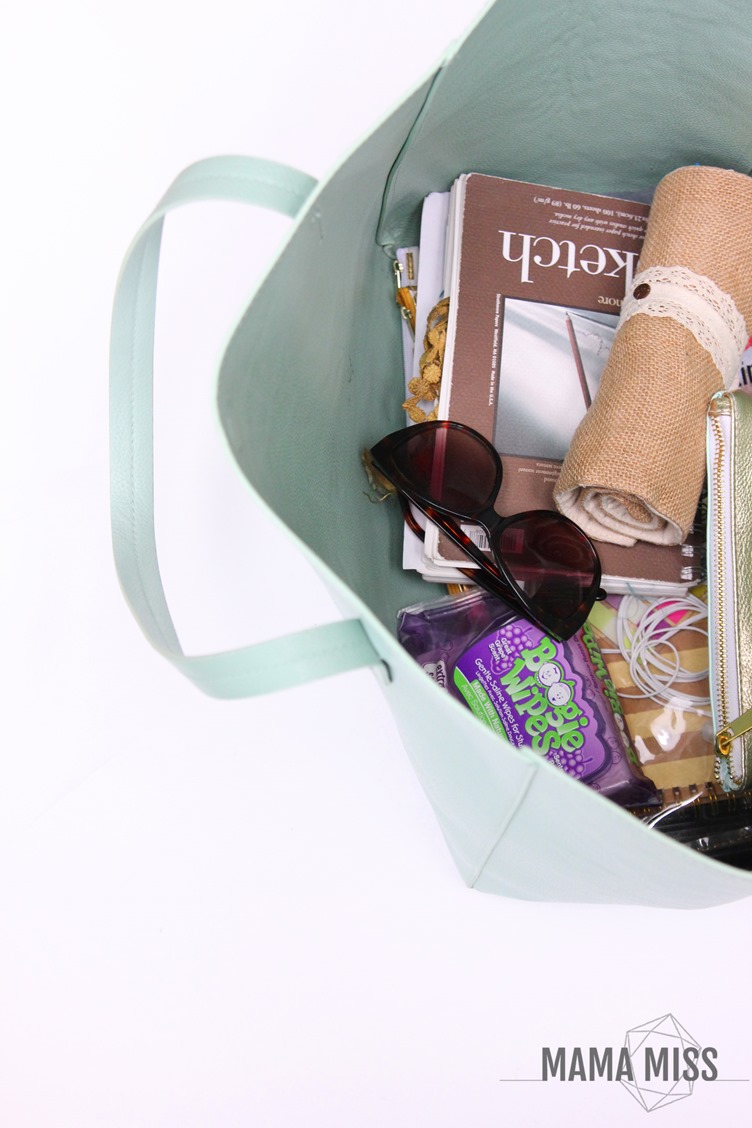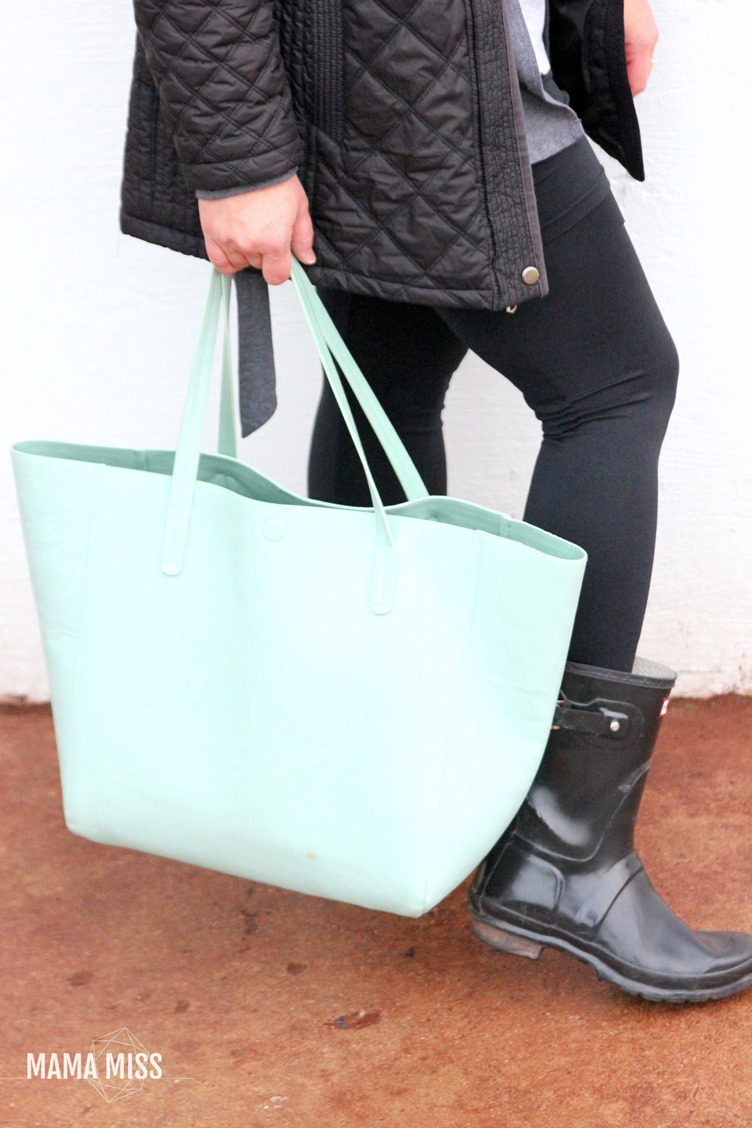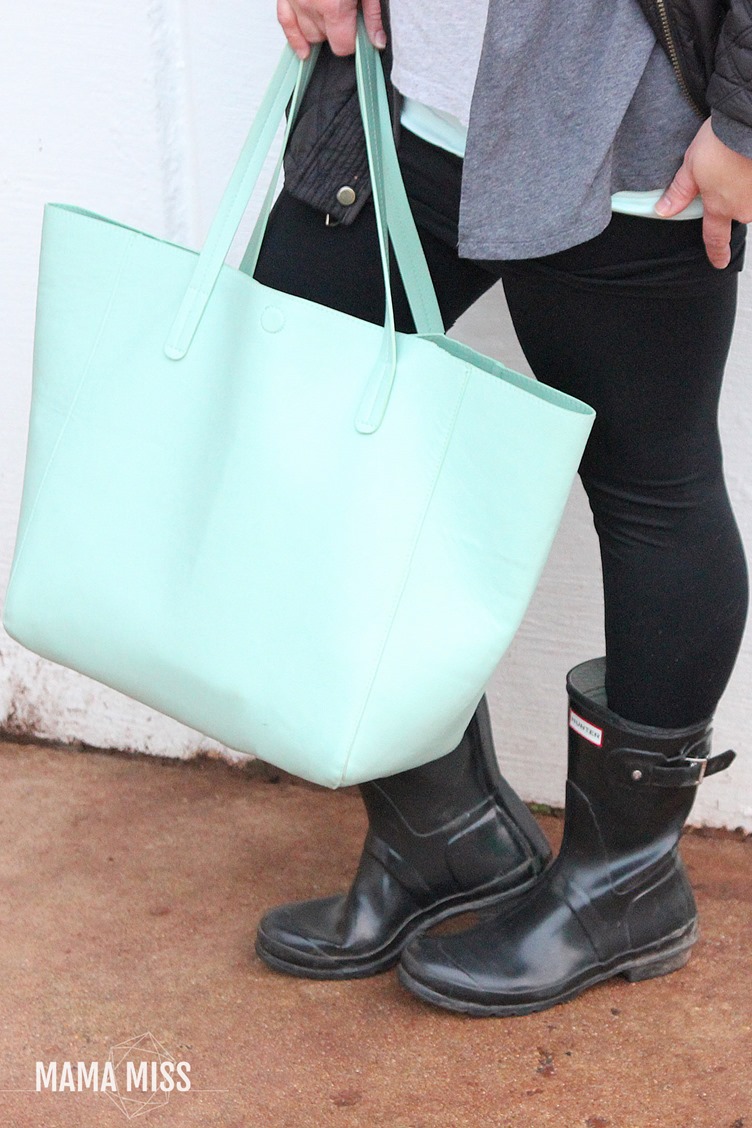 INSPIRE OTHERS BY SHARING!!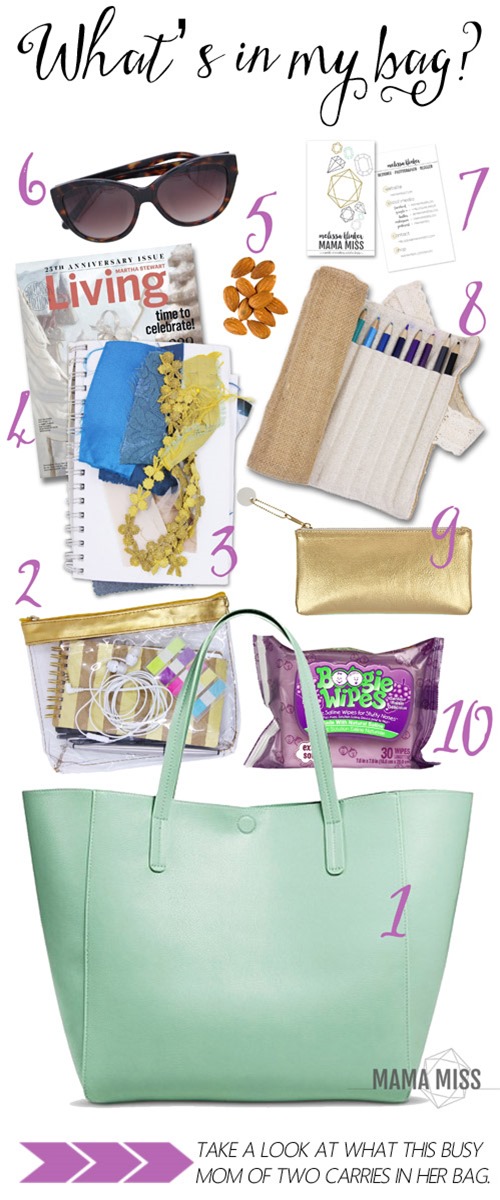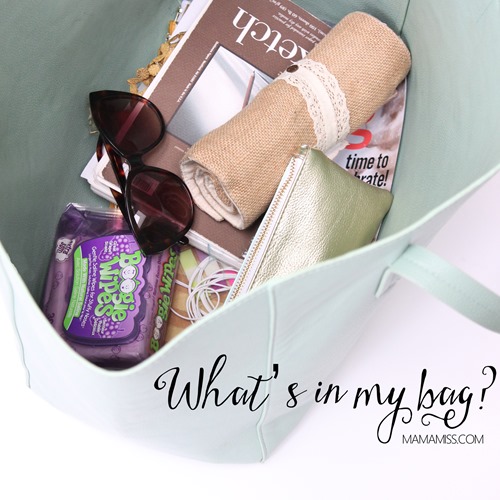 ♥
Like what you see?!
You can connect with me on:
Pinterest || Facebook || Twitter || Google +
And don't miss any updates, get new posts right away – sign up here…
♥
© Mama Miss. All images & content are copyright protected.
Feel free to share ONE picture and linking directly to this post for download.
Please do not copy directions, ingredients, or pdf files for your own website or Facebook page, visuals or words.
Copying my post partially, or fully, is strictly prohibited.
All work by Mama Miss is licensed under Creative Commons Attribution-NonCommercial-NoDerivs 3.0 Unported License.
(Visited 1,909 times, 1 visits today)