I adore Kool-Aid, and not for the usual drinking purposes, but blended in a yummy, super soft, homemade, Kool-Aid Dyed Playdough.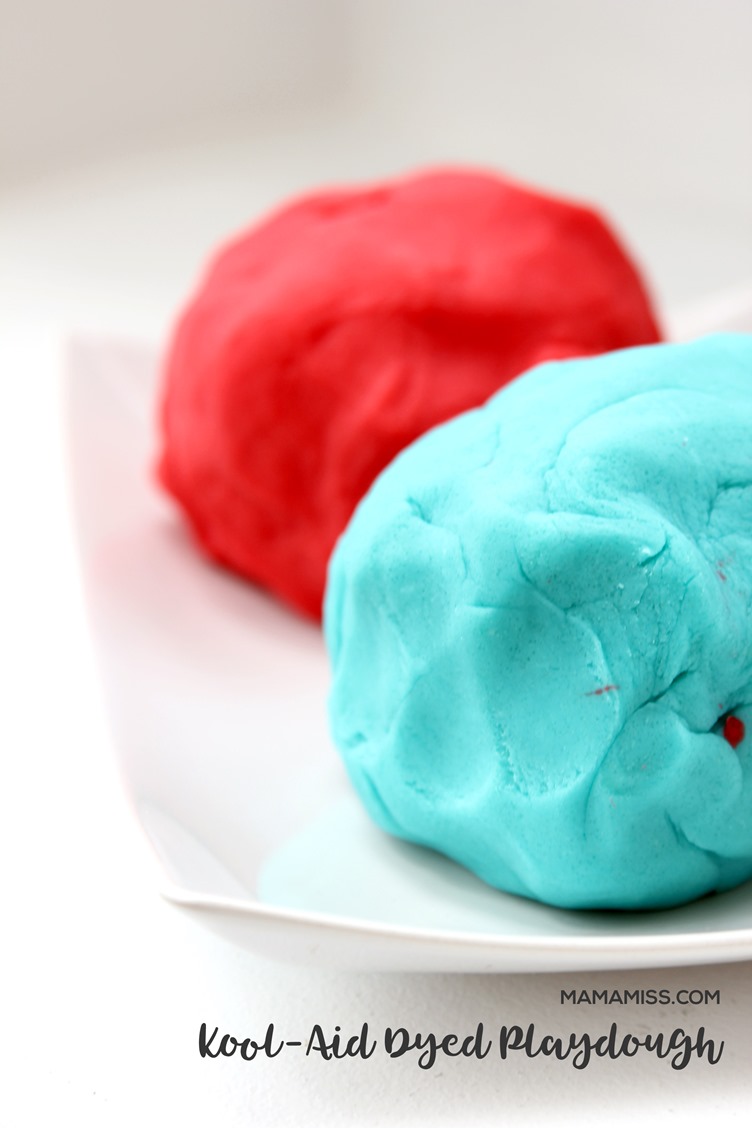 Now, confession time.
I have NEVER, in my life, had Kool-Aid.
Now, I know exactly what you are thinking – no, not even as a child either, not once have I tried Kool-Aid. So, what by golly did we drink?  Frozen juice concentrate (mainly Five Alive), skim milk, and water.  Even the Easter Bunny, in our house growing up, was called the health-food bunny for a reason, because of our Easter baskets. The baskets were completely full of protein bars, nuts, and carob –  you know, a treasure trove of yumminess for a six-year-old.
Such vibrant colors and a yummy scent
Kool-Aid Dyed Playdough, like Kool-Aid dyed rice is very vibrant and smells so incredibly yummy.
I've noticed that playdough that is made with food coloring and flavoring extracts is typically not as soft as simply dyeing it the Kool-Aid way. Kool-Aid Dyed Playdough, in my opinion, lasts longer (typically about 2-3 months, depending on how often it is played with), and stays softer over time.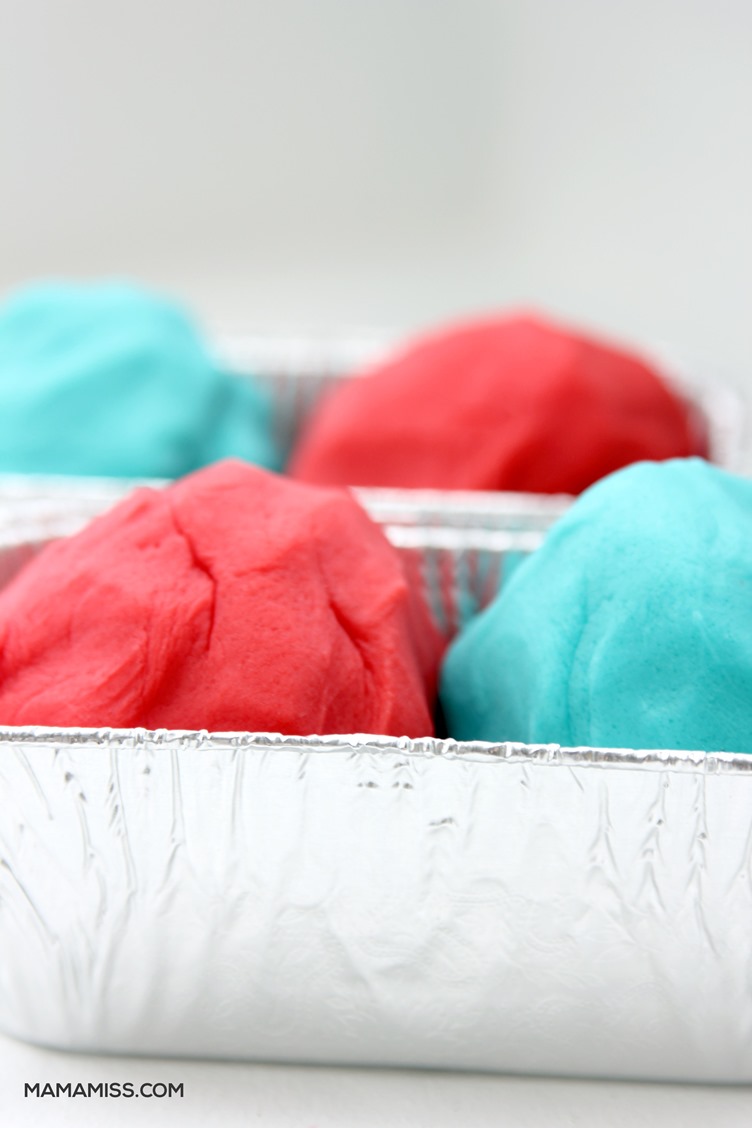 Ingredients
All-purpose flour, 1 cup
Salt, 1/2 cup
Cream of tartar, 2 teaspoons
Water, 1 cup
Vegetable oil, 1 1/2 tablespoons
Kool-Aid, 1 packet
Directions
In a saucepan, whisk together the flour, salt, and cream of tartar.
Then, add the water, and the oil, to the dry mixture and whisk until smooth.
Next, add the Kool-Aid packet and whisk it into the mixture until it is well blended.
Then, place the saucepan over low heat and stir continuously until it forms a ball, about 5 minutes (you'll know it's done when it is impossible to stir).
Finally, remove the dough from the saucepan and place onto a mat. Next, knead the dough several times while it is still warm.
Also, a small note for playdough storage – be sure to play with the dough straightaway, or store it in sealed container for later play.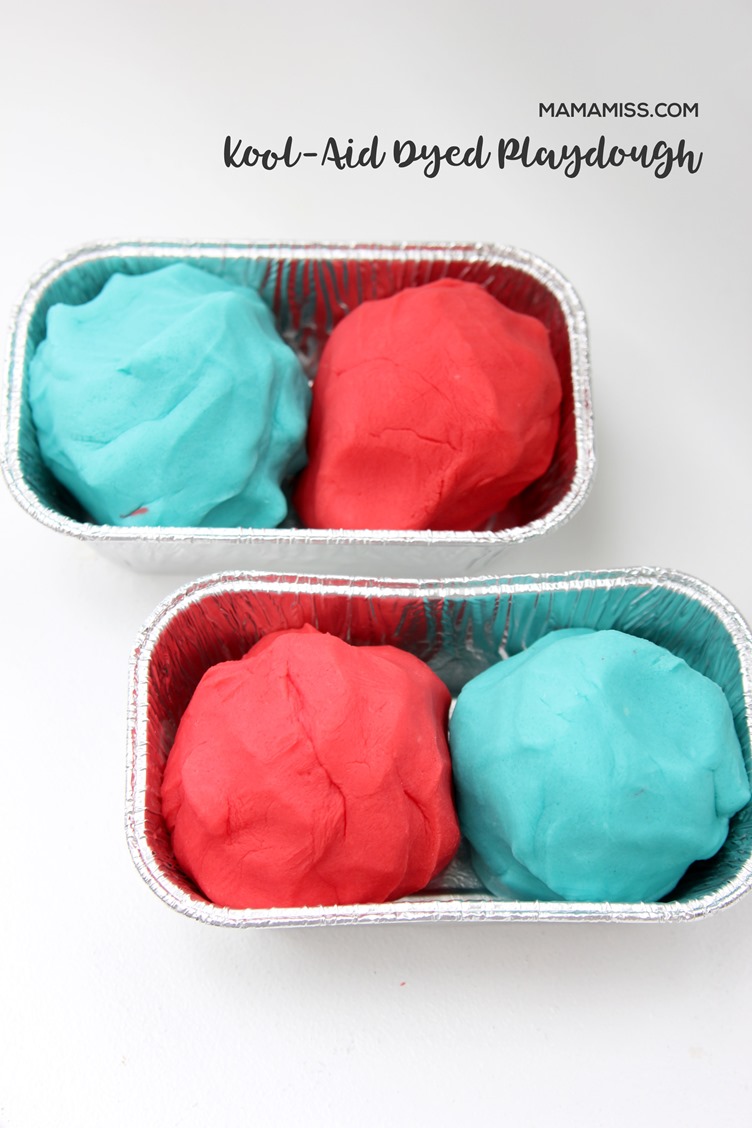 ♥
Do you like what you see?!
You can also connect with me on:
Pinterest || Facebook || Twitter
Don't miss any updates, get new posts right away – sign up here…
♥
© Mama Miss. All images and content are copyright protected.
Feel free to share ONE picture and link directly to this post for download.
Please do not copy directions, ingredients, or pdf files for your own website or Facebook page – visuals or words.
Copying my post partially, or fully, is strictly prohibited.
All work by Mama Miss is licensed under Creative Commons Attribution-NonCommercial-NoDerivs 3.0 Unported License.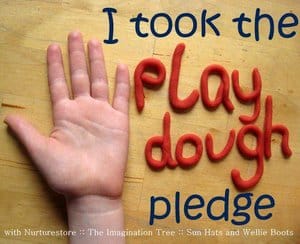 (Visited 3,112 times, 1 visits today)