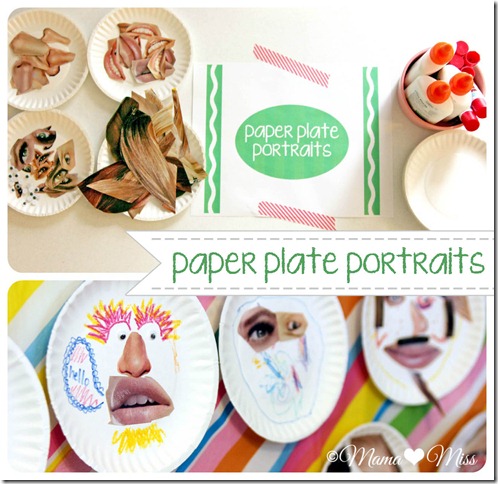 This activity is super fun to do, for you & the kiddos.  When we did this at V's third birthday – I do believe the ADULTS had more fun than the kids (through fits of giggles – I think my brother made like five of them).  It really came down to – how silly can we be in creating these instead of making a self-portrait.  I suppose it will depend on how silly your group is…ours…we are very giggly, it doesn't take much to get us rolling :)  Now, little miss V is not really using scissors yet, but, how amazing would this be for the kiddos to go through old magazines cutting out the pieces?!  This is definitely an activity I WILL be doing many times over!  Once again, like most of my kiddo crafts – this one is very easy & requires very few materials.
Materials/Tools
paper plates
(I like the small ones for kiddo projects)
old magazines
scissors
glue (white glue and/or glue stick)
optional:
googly eyes
pipe cleaners
markers/crayons
Directions:
Start by cutting out the facial features from your old magazines to use for your portraits; eyes, nose, hair, lips, etc.  I had V help me sort each facial feature out all on separate plates on the table (great activity for sorting & recognition).  Next, add all the other materials for this project that you wish to use to the table, too.  And, that's pretty much it!  Each kiddo gets a blank paper plate, some glue, and free rein to create!  Let the giggles commence :)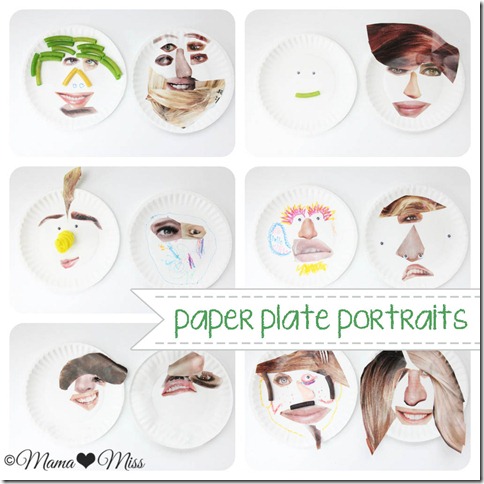 When I look at these I can see some celebrity look-alikes – hehe!
How about you, can you spot the celebrity portrait?
xx ♥ m
(Visited 1,906 times, 1 visits today)