Today kicks off a new year of Virtual Book Club for Kids! During the month of September we are highlighting the book Where the Wild Things Are
by Maurice Sendak
.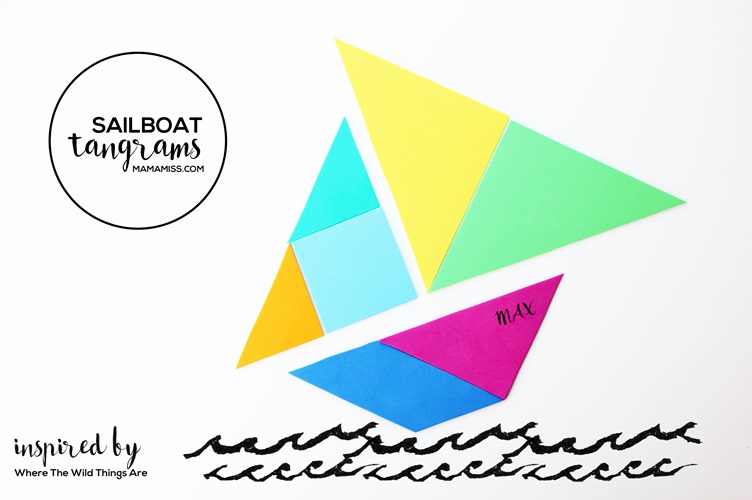 and an ocean tumbled by with a private boat for Max and he sailed off through night and day
Don't ya just love it when an ocean just tumbles by?!
The boat scene in the book, Where The Wild Things Are, happens to be our very favorite part of the book, after the forest grew, the ocean appeared and Max sailed on his sailboat for weeks, and almost over a year. I think we all wish we could sail away on a sailboat for weeks (or maybe that's just me ;).
As with every book we read I try to incorporate a little learning into the mix – Tangrams are our new fav thing to do! Tangrams are "a Chinese puzzle consisting of a square cut into five triangles, a square, and a rhomboid, which can be combined so as to form a great variety of other figures". There are so many shapes & images you can create – truly the possibilities in where your tangram creativity takes you, are endless!
Today we created the many sailboats of Max, eight Sailboat Tangrams to be exact. And I'm positive there are a ton more ways to make many more sailboats designs!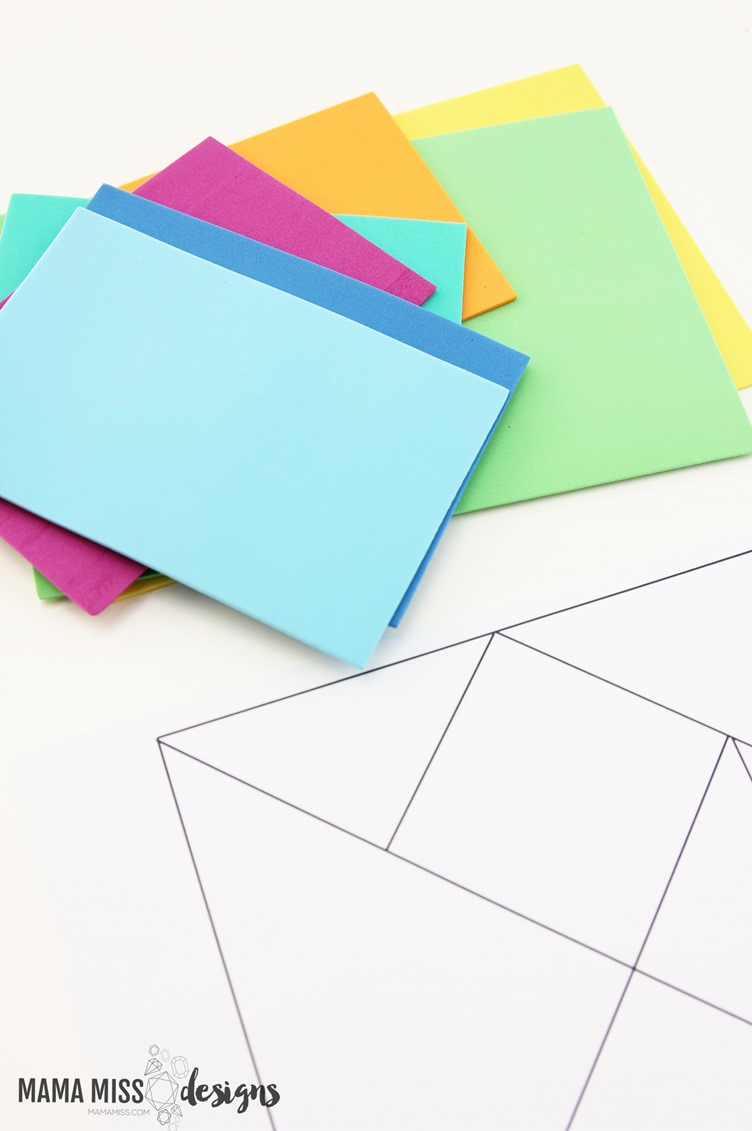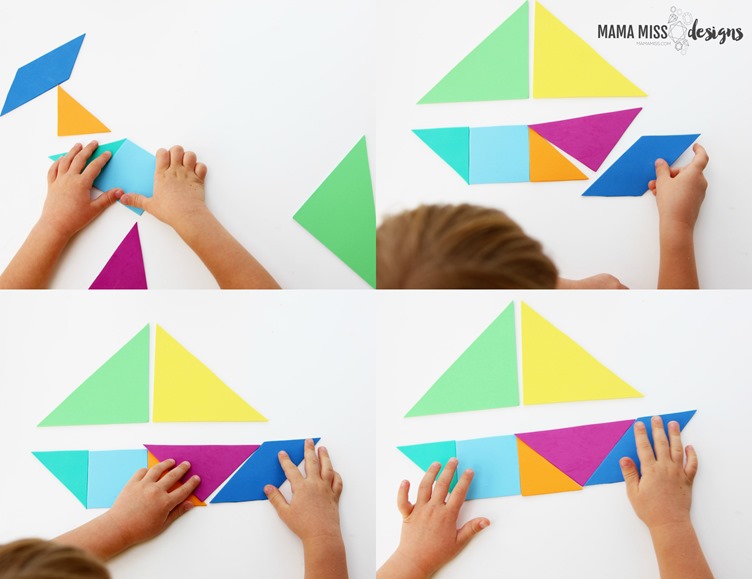 SUPPLIES
MAKE IT
Line up the cut out paper pieces on the craft foam and cut out craft foam.

Create!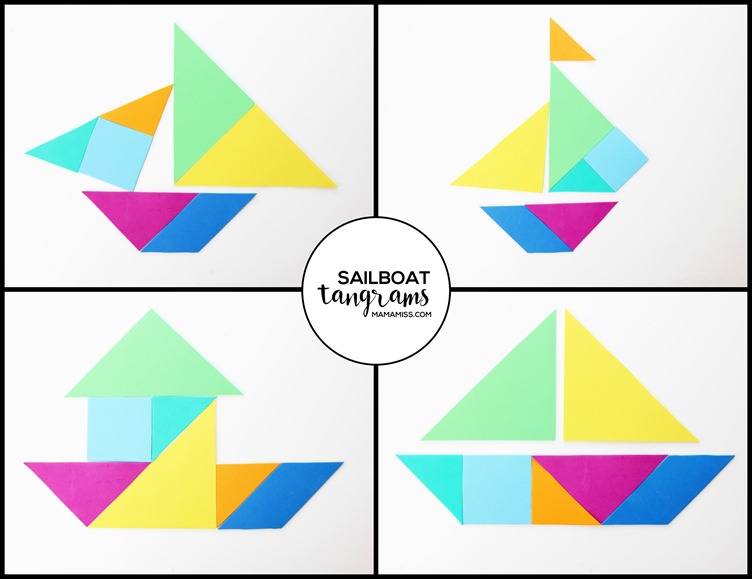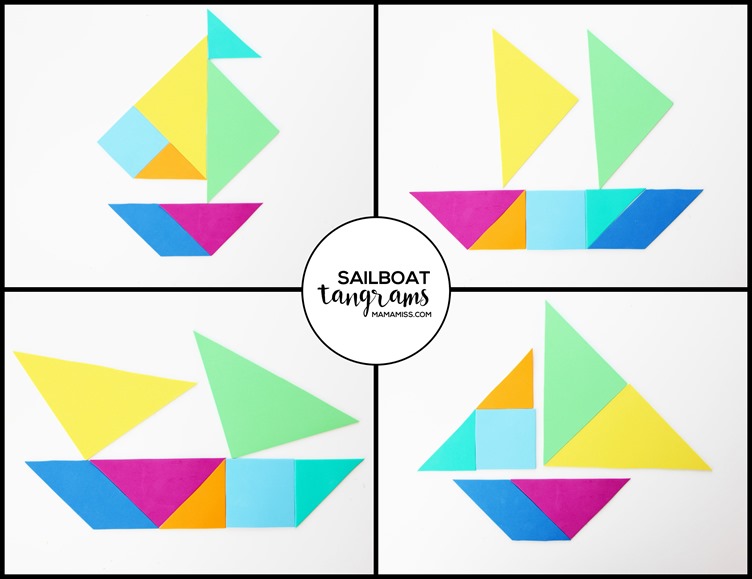 I bet I know, you and your kiddo(s) can come up with a ton more too!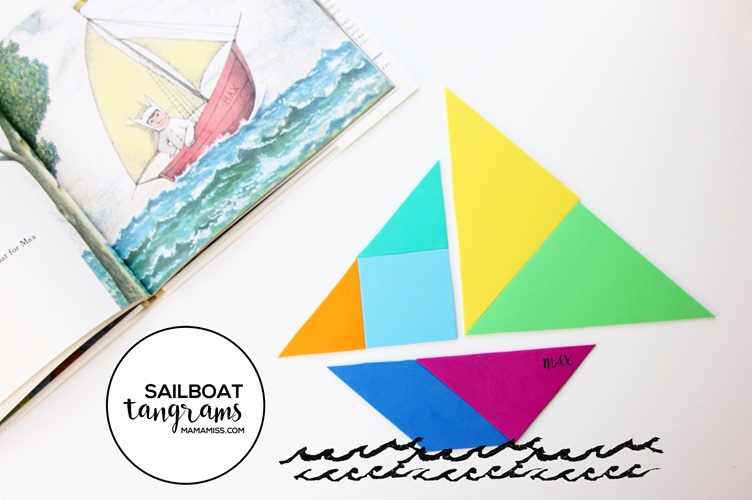 MORE AWESOME CRAFTS & ACTIVITES INSPIRED BY
WHERE THE WILD THINGS ARE
BY MAURICE SENDAK
for this month's for Virtual Book Club for Kids.
Monster Hands Alphabet Match :: Toddler Approved
Name Crown Craft :: The Pleasantest Thing
Where the Wild Things Are Counting Game :: Mom Inspired Life
Wild Things Scented Monster Playdough :: Preschool Powol Packets
Where the Wild Things Are Monster Glyphs :: Inspiration Laboratories
Where the Wild Things Are Treats :: I Can Teach My Child
Where the Wild Things Are Color Fun with Feelings :: The Educator's Spin on It
Where the Wild Things Are Action Word Rompus :: Growing Book by Book
Make a Wild Thing Shape Craft :: Still Playing School
Where the Wild Things Are Mapping Our Backyard Habitats :: Rainy Day Mum
Where the Wild Things Are Gross Motor :: 3 Dinosaurs
Where the Wild Things Are Sand Tray Activity :: Study at Home Mama
Sailboat Tangrams :: Mama Miss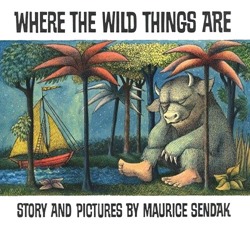 INSPIRE OTHERS BY SHARING!!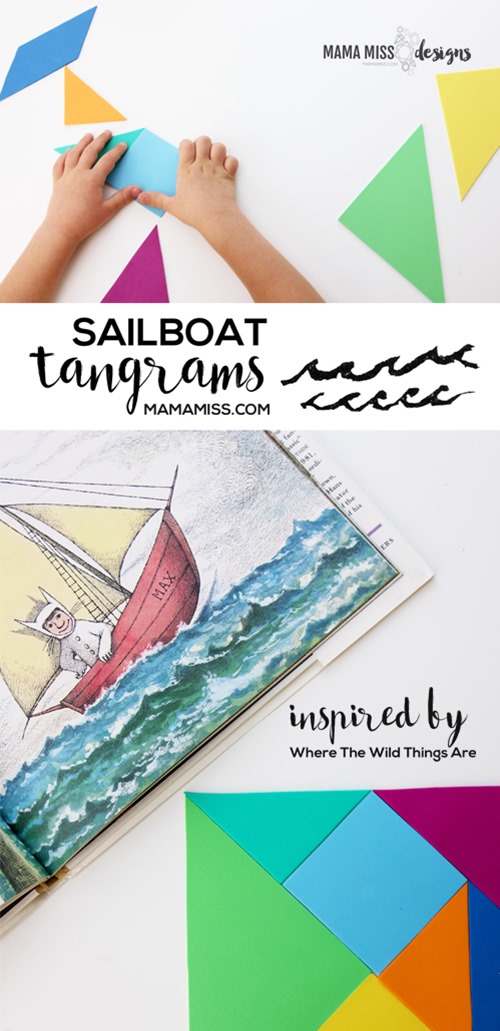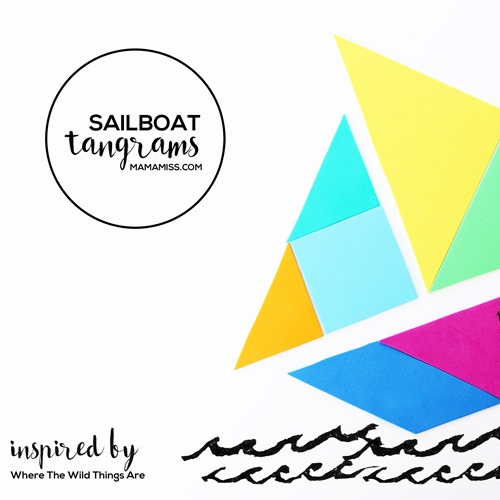 ♥
Like what you see?!
You can connect with me on:
Pinterest || Facebook || Twitter || Google +
And don't miss any updates, get new posts right away – sign up here…
♥
© Mama Miss. All images & content are copyright protected.
Feel free to share ONE picture and linking directly to this post for download.
Please do not copy directions, ingredients, or pdf files for your own website or Facebook page, visuals or words.
Copying my post partially, or fully, is strictly prohibited.
All work by Mama Miss is licensed under Creative Commons Attribution-NonCommercial-NoDerivs 3.0 Unported License.
(Visited 7,486 times, 1 visits today)