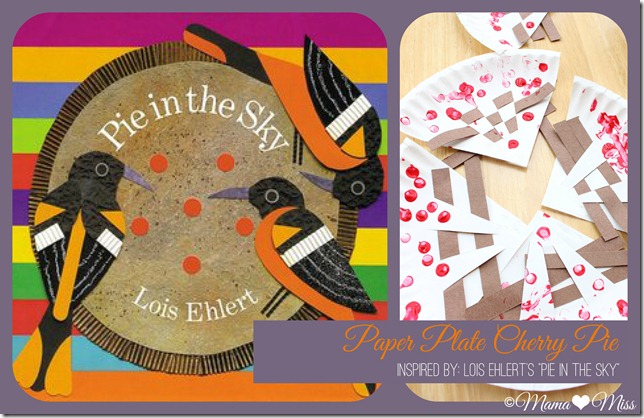 As part of the Virtual Book Club this month, we read Pie in the Sky
by Lois Ehlert.
This book is one of V's favorites.  What does that mean exactly?  Well, it means I read it over, and over, and over, and OVER, and over, and over some more!
We also sang the song "Sing a Song of Sixpence" (this book cover always reminds me of that song, so I thought, why not?)
He are the words if you'd like to sing along with us:
"Sing a song of sixpence, A pocket full of rye.
Four and twenty blackbirds, Baked in a pie.
When the pie was opened, The birds began to sing;
Wasn't that a dainty dish, To set before the king?
The king was in his counting house, Counting out his money;
The queen was in the parlour, Eating bread and honey.
The maid was in the garden, Hanging out the clothes;
When down came a blackbird and pecked off her nose".
And then after singing, we made this great craft with easy household supplies.
This activity also works with fine motor skills (the weaving & the stamping).
Tools
#2 pencil

red paint

brown construction paper, cut in 3 – 4, 1/2 inch strips

paper plate

scissors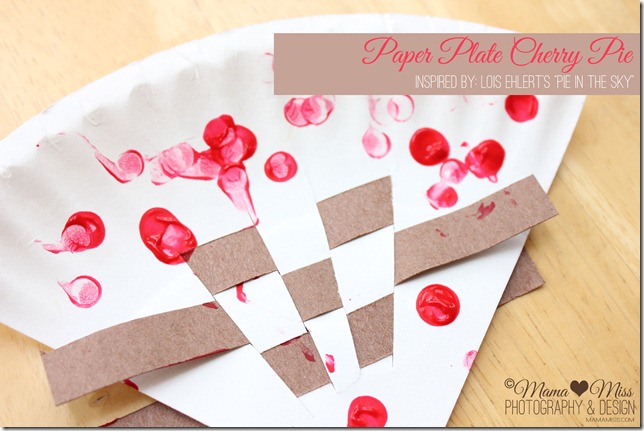 Steps
Cut the paper plate across, from top to bottom, then from side to side, dividing the paper plate into four equal parts.  In pie terms: start with the whole pie & cut it into four pieces ;)
Cut four vertical slits in each individual piece of pie.  The slits will sit in the middle of each piece, not connecting to either the top or the bottom.
Have your child weave the strips through the slits up & down, alternating the pattern for each strip.  The basket weave technique replicates the lattice on pies.
Next, dip the eraser end of the pencil in red paint.
Have your child dab the eraser end with paint onto the pie slices creating the cherries.
And there you have it, a cherry pie fit for a queen (or king)!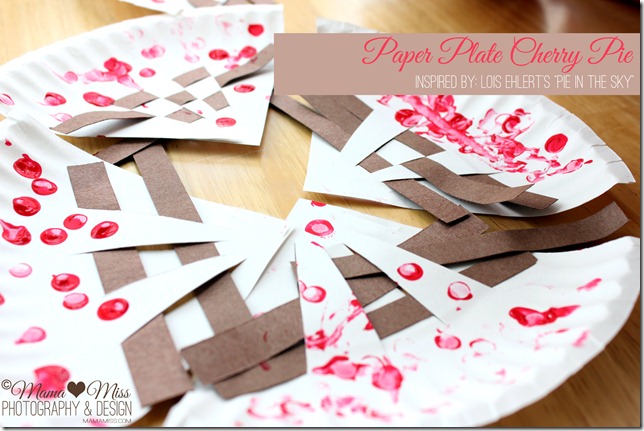 (Visited 2,701 times, 1 visits today)