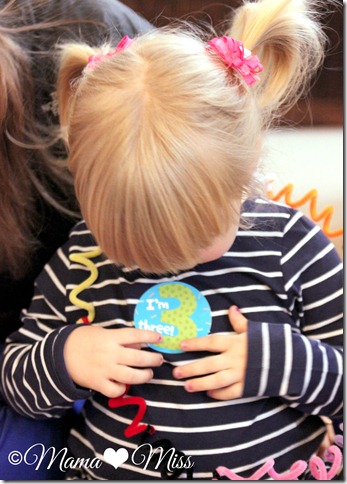 Yesterday I shared with you how V started off her third birthday – with a balloon spectacular!  Today, I am sharing with you all the activities we did at little miss V's birthday party.
Her birthday theme was Arts-N-Crafts.  I knew a while ago, because she enjoys doing crafts, painting, & coloring, that this would be the theme I was running with.  And with such a broad description, it was very easy to create activities that went along with it.  This was especially true for someone like me who waits until a couple of days before to start planning!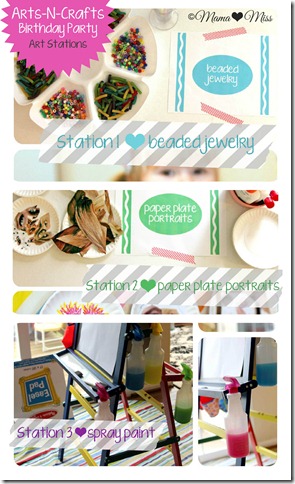 I set up three art stations for the kiddos (& adults too!) for arts-n-crafts, so that there was always something to do, & there were no kiddos waiting to do a project.  We had 10 little ones at her party – so my goal was to keep them BUSY!
So, here we go!  Are you ready?  Just click on each art station picture to be brought to the individual tutorial :)
One of V's favorite activities, that we have done many times over is the pipe cleaner beaded bracelets with pasta & beads (so this one was an obvious & easy choice).
Station # 2 was something new & my all time favorite from the party!
So fun, that I may have to whip this out for Thanksgiving or Christmas pre-dinner fun!
We made paper plate portraits :)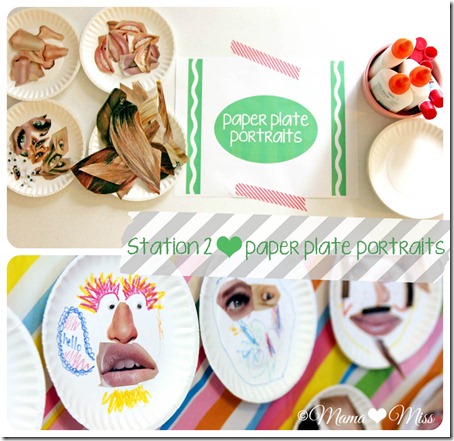 The third art station, was a little messier than the other two, but it was the kiddos' FAVORITE one!
We made cornstarch spray paint & let the kiddos spray away releasing their inner Jackson Pollock.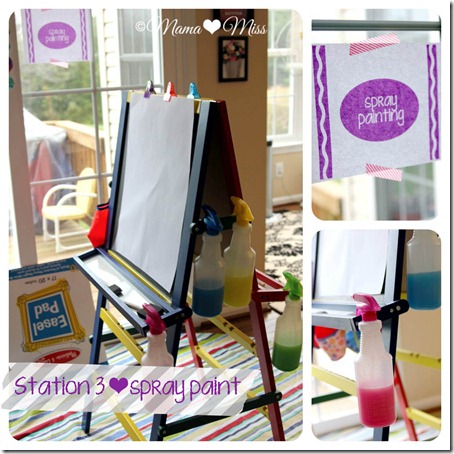 Well, that is it for the activity part of little miss V's third birthday party – whew!
Food is next – YAY!
I think we had a good selection of activities overall, despite my poor planning.
What would you add to the mix for an Arts-N-Crafts themed birthday party?
xx ♥ m
(Visited 3,987 times, 1 visits today)