I'm participating in the Winter Holiday Hop hosted by Projects for Preschoolers. The Winter Holiday Hop is all about child focused holiday ideas, activities, handmade gifts, goodies & recipes.
If you've been following along with me & my two little's, we simply think that sensory bins are the best thing since sliced bread. So it truly made sense for us that we make a sensory bin for this blog hop! I continued in the direction that I have been headed lately – adding learning to the sensory bin to enhance it further (my fall sensory also included a learning aspect). For this blog hop we've decided to make a winter sensory bin with some word recognition thrown into the mix.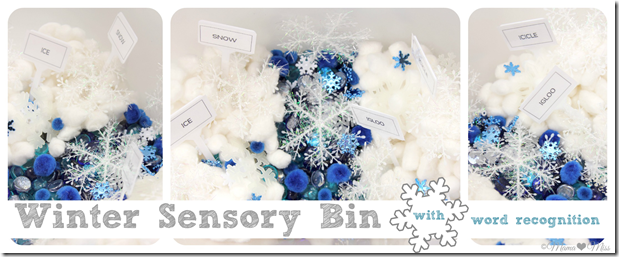 This sensory bin is very simple to make and with the free printable I've included, it has a fun learning tool to add.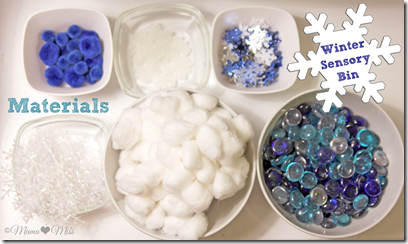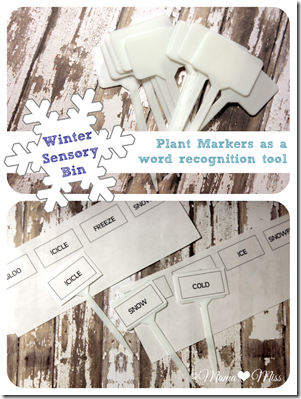 Materials/Tools
bin
glass beads
cotton balls
plastic snowflakes (table scatter, ornaments)
blue pom pom's
plastic plant marker
or popsicle stick
double stick tape
plenty of cups, sorters, spoons, etc.
word printable (see below)
optional: laminator or clear contact paper

Directions
The directions are very simple. Arrange all your materials in the bin in desired arrangement. Print out 2 copies of the word printable. If you are laminating them, do so now. With the first sheet cut out each word & using your double stick tape, adhere word label to the plant marker or popsicle stick. Cut out the other sheet into two parts (like shown in pic above), or leave as a whole (this sheet is the board to match too). Place word markers into the sensory bin. Have your child use the sticks to repeat the word and then match it to the board. And then, let them have tons of fun enjoying their new sensory bin! V loves sorting and scooping the best :)
I have a feeling this will be V's new favorite sensory bin…I also have the feeling I will be finding cotton balls EVERYWHERE very, very, very soon! :)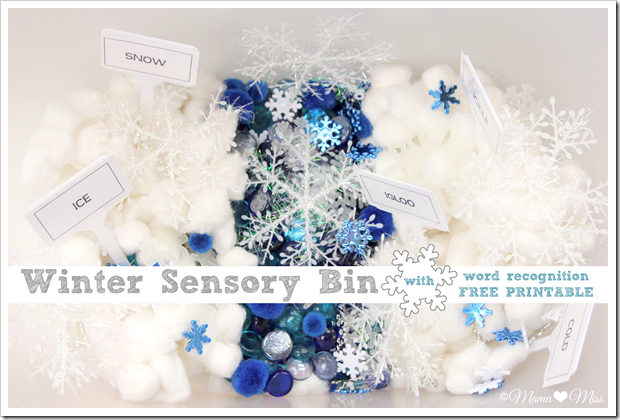 What is your favorite winter activity to do with your kiddos?
xx ♥ m
Other participating sites:
Projects for Preschoolers * www.projectsforpreschoolers.com
Steve Spangler * www.stevespangler.com
Rainy Day Mum * www.rainydaymum.co.uk
Laura Kelly Designs * www.laurakellydesigns.com
Raising Figure Skaters * www.raisingfigureskaters.com
Rockabye Butterfly * www.rockabyebutterfly.com
Here Come the Girls * www.herecomethegirlsblog.com
Housing A Forest * www.housingaforest.com
Creative Learning Fun * www.creativelearningfun.blogspot.com
We are excited to see what you came up with for the Winter Holiday Hop!
Please add your links to any child focused holiday idea, activity, handmade gift, goodie & recipe posts to the blog hop linky here.
Here's the button you can grab if you are participating!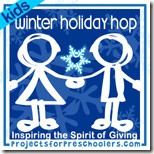 (Visited 10,924 times, 1 visits today)