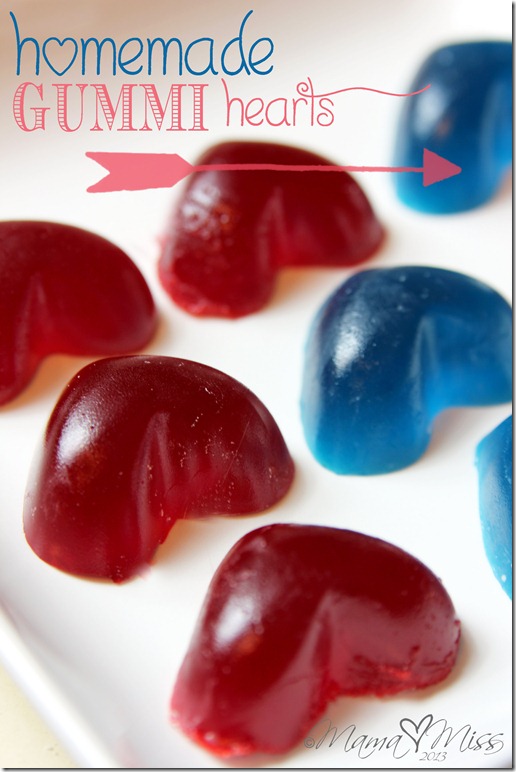 To say that little miss V has a small love for "gummies" would be an understatement!
The girl has gone gummi crazy :)  If I allowed her to, she would eat gummies morning, noon & night.
So, I bet you can imagine the EPIC joy that was involved when I told her we were going to make some more gummies (we made stars in June) :)
These are a delight in any child's eyes, and are an all-time favorite in our house! Now you can make your own homemade gummies too with these simple steps.
Ingredients
2 – 3oz. boxes of Jell-O
3 – 1/4 oz. packages of unflavored
gelatin
(each 1 oz. box has 4 packs, each pack is 1/4 oz.)
1/2 cup cold water
cornstarch
Instructions
Pour water into a small saucepan.
Sprinkle the Jell-O and unflavored gelatin over the water; Stir.
Let stand for 10 minutes.
After 10 minutes, place saucepan over medium heat & stir until gelatin is dissolved, about 5 minutes.
Remove from heat and let stand for 1 minute to cool slightly.
Pour from saucepan into a heat-proof pourable container.
Pour Jell-O mixture into mold.
Allow to sit for 20-30 minutes (depending on the depth of your mold) to cool completely.
Dust the backs of the gummies and a cutting board with cornstarch to prevent sticking.
Peel gummies out of mold and onto the cutting board, covering them with cornstarch on the front & back (it will be tough to pry these out of the mold, but you will not hurt the shape of the gummi by doing so).
Store in a sealed container at room temperature – these do not need to be refrigerated.
Eat yummy gummies!
Notes
https://www.mamamiss.com/blog/2013/01/29/fun-eats-homemade-gummi-hearts/
All rights reserved Copyright 2012-2019 Mama Miss Blog and Designs
Note: {my silicone heart molds are from Target last year (pink) & Ikea (red), if you don't have access to those, these are similar
}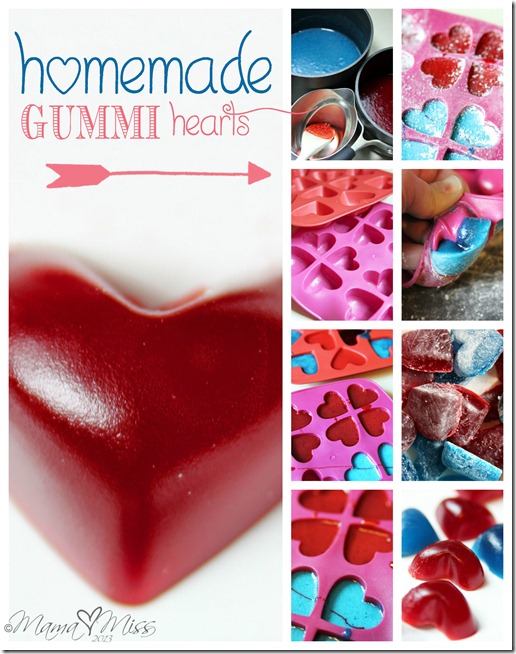 xx ♥ m
(Visited 4,515 times, 1 visits today)