The GoldieBlox products in this post and giveaway (see below) were supplied by the brand to facilitate our GoldieBlox Bash – but ALL opinions, praise, & excitement all all my own!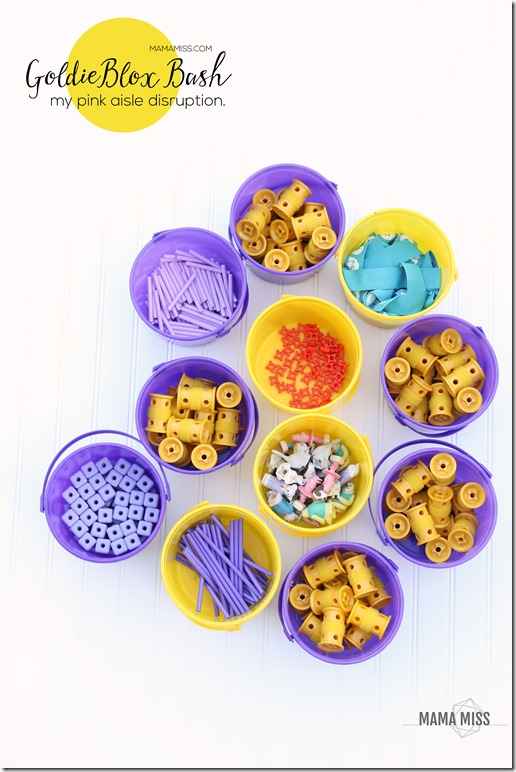 DOWN WITH THE PINK AISLE!!
Well, kinda-sorta – in a well, planned amazing STEM-filled way ;)
Girls love their dolls (V has a TON of them – I just kissed the boo-boo'd knee of one just last night), they love their kitchens, they love their PINK!  This is not breaking news.  But what happens when you introduce a group of little girls, all different ages, to a non-pink product, a typical "non-girl" building product?!  AH-mazing things, that's what!!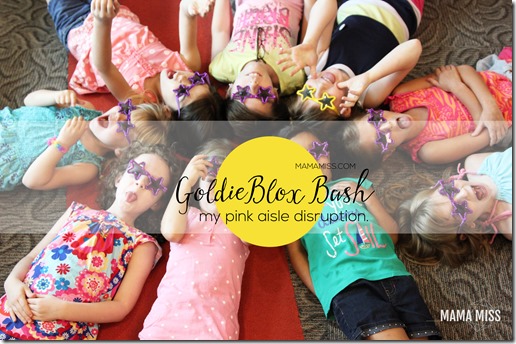 GoldieBlox is one of those products, one of those genius products created by a woman, a woman on a mission to engage little girls in typical boy ways – with STEM (science, technology, engineering, math) activities.  The best way to engage a little girl (at least my little girl who LOVES her books) is through reading.  Now create a story, and build along with the story, engaging the little girl in a STEM activity associated with the reading – man, now that is the magic potion!!!  That's GoldieBlox!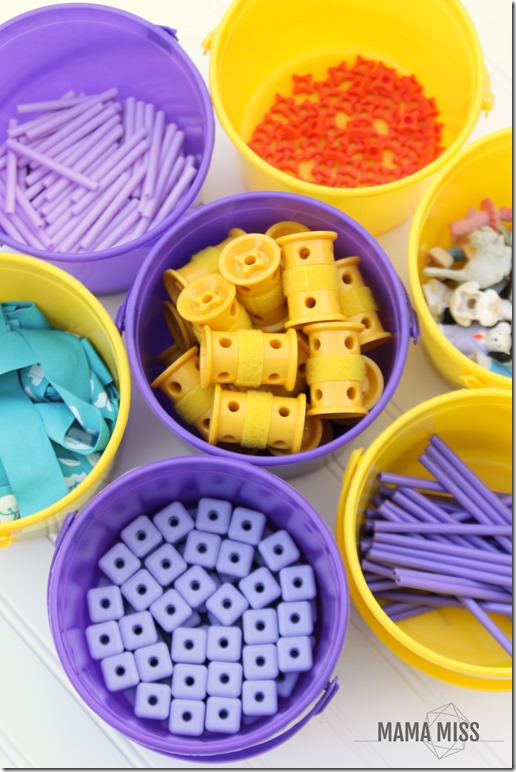 A couple of weeks ago I got to host a really fun event – a GoldieBlox Bash!  We had nine little girls ranging in age from 4-9 attending our event.  The purpose of the GoldieBlox bash was to gauge the interaction with the product.  Well, I felt my purpose to be more – engage these nine little girls with GoldieBlox in many different ways!
I started off the bash with a bucket for each girl, all with the exact amount of pieces it would take to build the float from the book we were reading, GoldieBlox and The Parade Float.  I read the book, the girls built – the older girls fast forwarded to parts not even read yet, excited for the next step, the younger girls needed a little help along the way & then got the hang of it.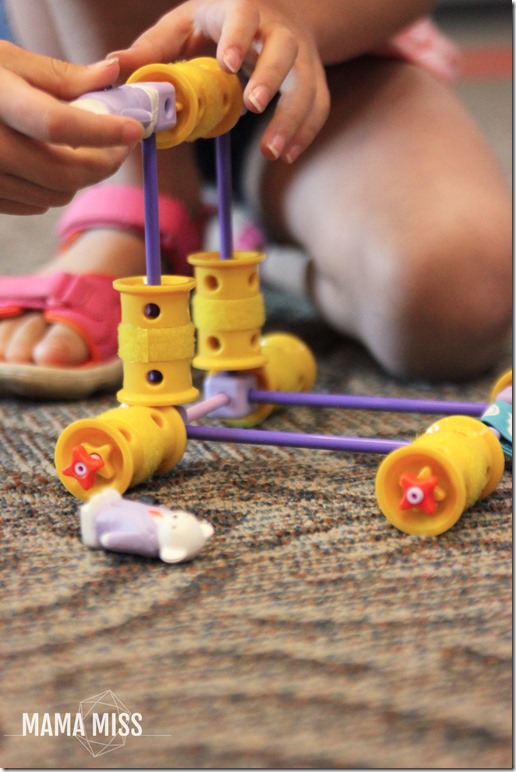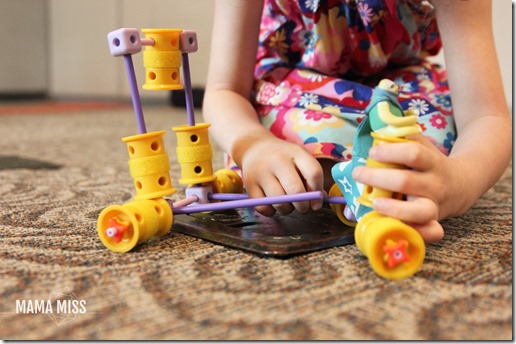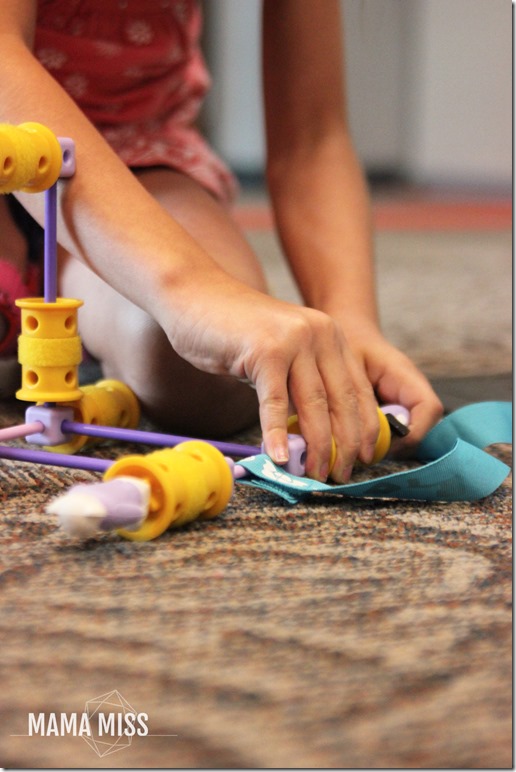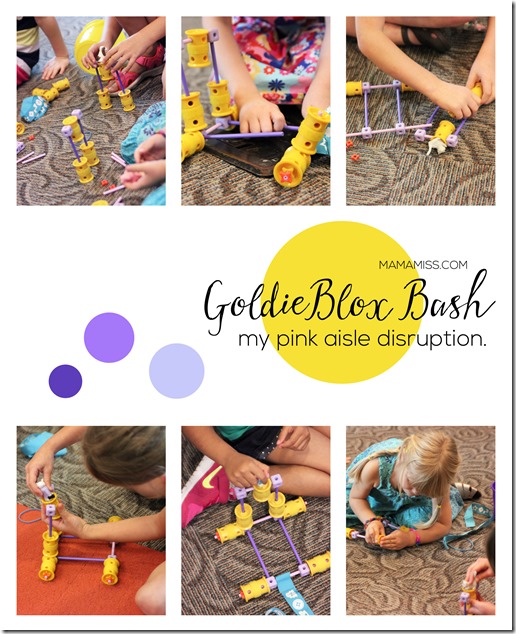 Once they built their floats, we brought out the ramp for the girls to race their floats!  From the excitement of the cardboard ramp – that was their favorite – racing THEIR creations down the ramp, helping each other, crashing their floats, building them back up again – and so on, and so on.
From the girls…
"awesome" – C
"so cool" – E
"eeeeek" – V
"let's move the ramp up higher and see what happens!" – C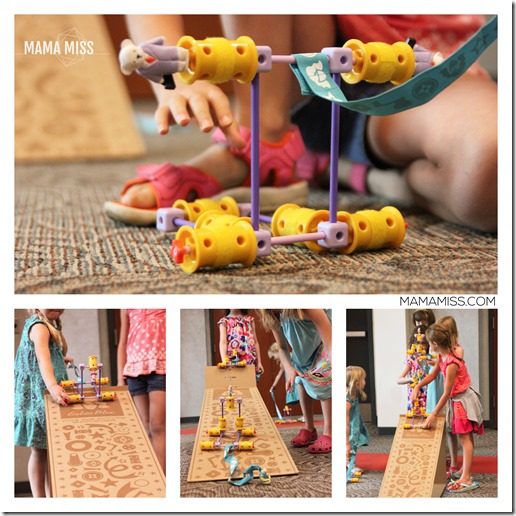 After the float racing commenced, I suggested taking them all apart & putting the pieces in the middle "to play".  Well something incredible happened next – they built, and built, and built, ALL TOGETHER, as a team!  There was no instruction from me, or the moms, telling them to do so, they did this all on their own – working together.  Most were strangers, but all were girls, girls eager to build, eager to create – and that's what they did!!  They created this huge contraption, I do believe utilizing almost all the pieces!!  It was amazing – the moms kept saying that was their favorite part too, the girls building TOGETHER, all on their own.
From the moms…
"I can't believe they built that together while we were talking – that's awesome" – Julie
"that's amazing" – Priyanka
"look – look at all of them – they are all over their together – building together" – Melissa
"our next girl engineers busy building" – Patricia
"love that this toy promotes engineering" – Linda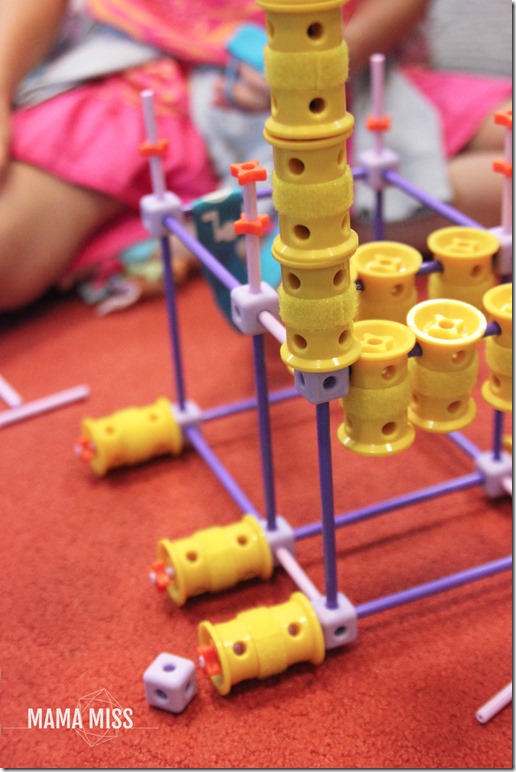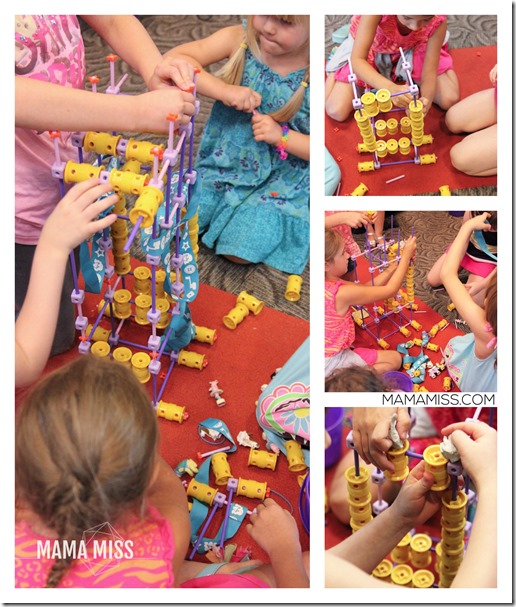 After all that work play – the girls (and parents) indulged in some cupcakes (of course there were cupcakes –  any excuse for cupcakes I say :), and some take home STEM favors.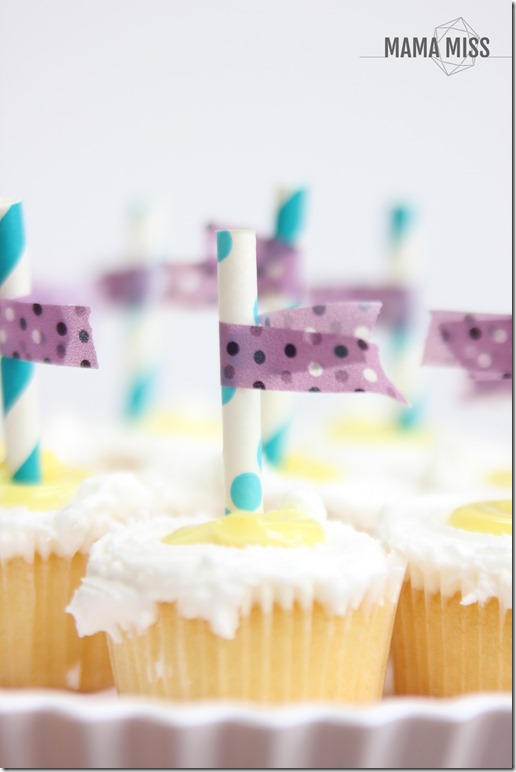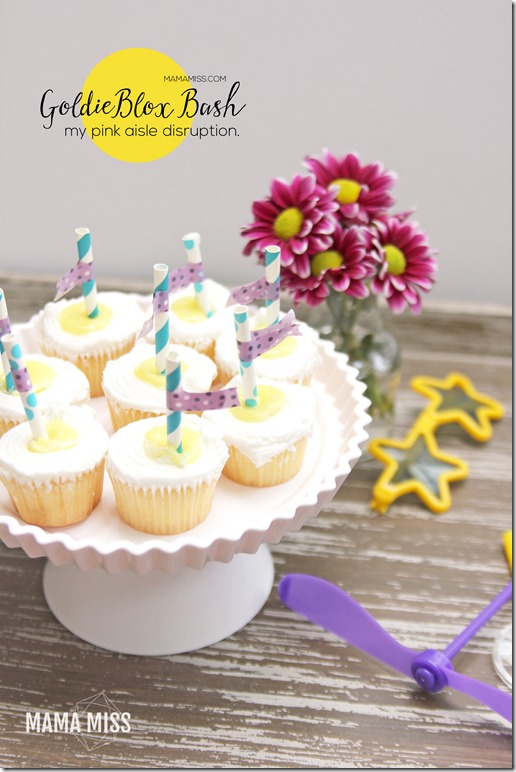 Let's be honest here – I was a HUGE fan of GoldieBlox, even before our GoldieBlox Bash.  I was an early follower, all the way back from their Kickstarter campaign.
Have a look…
They have been on my wish list for V, for forever, but we had not used them prior to receiving our box for the bash in the mail.  They were on her wish list, but the pink always pushed it back in the gift giving, until now!
If you've followed along with me, and my blog for a while, you already know that I only write about, apply for, or accept campaigns that I stand behind, that fit me, that fit my blog – you can always expect that from me.  This is one of those products, one of those products that I would be writing about even if I wasn't given the means to facilitate it.  It is that awesome.  Anything that engages in a STEM activity for either of my children is beyond a doubt – a "yes" in my book!!
So, how stoked was I when I got chosen for this campaign?!  (pretty stoked!!)
And how stoked am I to be offering you guys a chance to get a GoldieBlox of your own?!  (even more beyond stoked!!)
ENTER TO WIN!
Enter to win a prize pack that contains TWO GoldieBlox products, the Dunk Tank, and the Parade Float!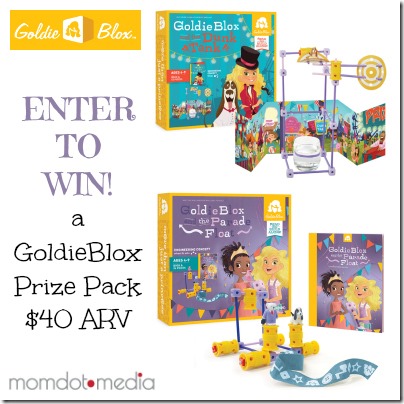 Love GoldieBlox as much as we do?!  Catch up with them here:
Website  // Twitter  // Facebook  // Google+
————————————–

♥
Like what you see?!
You can connect with me on:
Pinterest || Facebook || Twitter || Google +
And don't miss any updates…
♥
© Mama Miss. All images & content are copyright protected.
Feel free to share ONE picture and linking directly to this post for download.
Please do not copy directions, ingredients, or pdf files for your own website or Facebook page, visuals or words.
Copying my post partially, or fully, is strictly prohibited.
All work by Mama Miss is licensed under Creative Commons Attribution-NonCommercial-NoDerivs 3.0 Unported License.
♥♥♥
(Visited 762 times, 1 visits today)